The Dish With Ann – Black Dirt
Jonathan Justus, a James Beard nominated chef; has been cooking since he was four years old. "My sister, who is quite a bit older, actually caught me standing on a stool, cooking bacon and eggs, much to her surprise. I was doing it practically every morning while my mother was working on her doctorate in pharmacy." This incredibly bright and creative man has always had a daring streak, which has served him well as a restaurateur. He received a bachelor of fine arts and a master of fine arts degrees from ArtCenter College of Design in Pasadena, California. After he graduated, he repossessed cars and worked as a bike messenger, due to the poor economy in the 1980s. He met his wife, Camille Eklof, at a skater punk bar. While he was in the south of France, trying to make a living as a fine arts painter, he took a job in a kitchen and was cooking professionally a week before his 33rd birthday. Since then, he has been in kitchens in Paris, San Francisco and finally in the Mediterranean but was forced to leave in 2006 due to the fact that he didn't possess work papers. Eventually, Camille and Jonathan made the journey back to his deeply established roots.
The couple have been the owners of Justus Drugstore in Smithville, Missouri, for more than 11 years. It's a destination for passionate foodies, known for its farm to table, haute Midwestern cuisine. The property has been in Jonathan's family since 1840. His grandfather built the building in 1955 and then Jonathan's mother, who started out working as a soda jerk, ran the business for 40 years.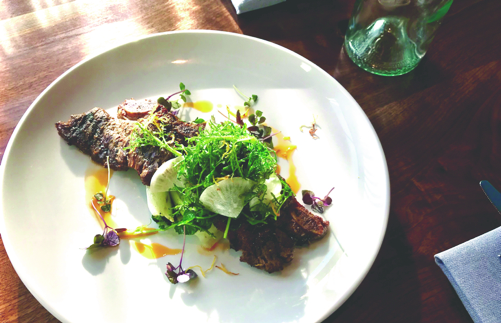 After much anticipation, Camille and Jonathan opened up a second restaurant, Black Dirt, in January, and they work as a team.  Jonathan is the 'face' and chef of the restaurant, whereas Camille operates the business side. "I wanted to create a menu that is more eclectic, with simple yet bold flavors that I could change quickly and easily," explained Jonathan. "And it was important to have a dining experience, as compared to Justus Drugstore, that was less on your wallet and less of your time."  He also chose to be close to the Country Club Plaza because he wanted to be part of the fabric of a walkable neighborhood. "No way was I opening up in a strip mall."
When our smart and lively group of five entered Black Dirt, it was difficult to navigate our way to our table because we kept running into so many people we knew. The good word of mouth on this spot had obviously spread throughout Our Town. 
The restaurant, designed by Generator,  has a bold, modern vibe, with just the right mix of rustic chic, from the cool gray barn wood wainscoting to a chandelier made out of a hackberry tree. With his strong art and design background, though, Jonathan helped create the bar and even cut down the tree for the chandelier. Black Dirt seats 160 people, which includes the restaurant, bar and patio. A section of the restaurant can be made into a private dining room for 20 people. 
We started out with a brandade, a potato dip. "This has a smoky bacon flavor and just the right amount of salt." said Katie. We ordered a variety of small plates and large plates to share. Out came the Missouri Caesar, with bruléed romaine, aged Shatto lilly cheese, catfish bites, and trout tasting like anchovy dressing. "I thought these were croutons. They are so good," said Stephanie. Katie said that the Caesar salad was unexpected and extraordinary. Then our lovely server, Madison Loughlin, brought the pecan pear salad with ginger pickled carrots, spicy pecans, compressed pear, white wine shallot vinaigrette, and apple cracklins'. "Such an explosion of flavors," said Bruce. 
The duck confit fritters, made with Missouri rice, butternut squash/malted barley puree, pickled red cabbage, and poblano chive aioli, were next for our eating pleasure. "This duck is fantastic," stated Katie. "It's so crispy and flavorful." We also shared the seared scallops with acorn squash broth, pepita pesto and grilled bread. "The scallops are delicious and so tender," said Stephanie. But our favorite of the meal, hands down, was the fried chicken, in herbed breading with mashed potatoes, greens and sage gravy. According to Bruce, it was so juicy, so tender, that he was able to cut it with a fork. "Such sophisticated fried chicken," said Katie. Stated Stephanie: "I don't feel like I'm eating fried chicken. It doesn't feel sinful." Some friends of ours, Ann and Doug, were sitting at the table next to us, and of course I just had to sample a couple of their French fries which were flavorful and perfectly crispy. 
Naturally, when it came to dessert, we had to have chocolate so we ordered the flourless chocolate torte with banana/chocolate chip ice cream, strawberry sauce and topped with a walnut cookie (And guess what, folks. This beauty is gluten free.) We also sampled the lime pots de crème, with pineapple chutney, toasted meringue and pecan crisp (gluten AND dairy free). "The ice cream is fabulous on the chocolate torte," stated Tom, who happens to be a big banana fan. "The lime dessert has a kick to it from the pineapple chutney," said Katie. "I liked every bite, but I would have been happy just with the fried chicken and the desserts," declared Bruce, as we hugged each other goodbye and happily rolled out of Black Dirt into the cold evening air.
Also featured in the April 14, 2018 issue of The Independent
By Ann Slegman
Black Dirt
5070 Main Street
Kansas City, Missouri 64112
816-214-5947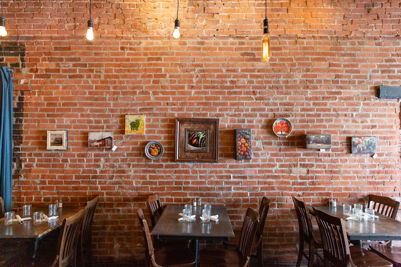 Co-owner and Chef Michael Foust feels fortunate that his restaurant, Black Sheep + Market, is located in the same spot as one of Our Town's iconic, now-shuttered bistros, Cafe Allegro.…
Leasa Caron, the owner of Jovito's Italian Café, is steeped in the lore of Our Town's local food establishments. Her former in-laws, The Fiorellas, owned all the Smokestacks and Jack…
Rick Mullins, executive chef at Café Sebastienne at Kemper Museum of Contemporary Art, got into cooking by default "I was working in bars throughout my '20s, living close to the…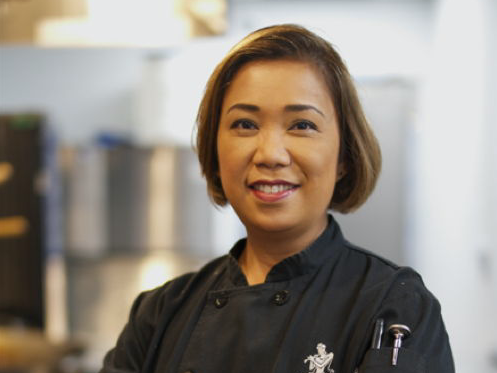 As the executive chef at Waldo Thai Place, Pam Liberda represents a new generation, a branch of a storied family tree that consists of her husband, Ted, and her mother-in-law,…