EMBRACEMENT OF RICHES: Ballet's 'state-of-the-company' season-opener offers rewards
By Paul Horsley
One of the challenges of the Kauffman Center these days is for the resident companies to prove that the brilliant successes of the first two seasons were not a fluke. The Kansas City Ballet's first 2013-2014 program that opened October 11th augurs well for the company's attempts at constant renewal: Its generous third Kauffman opener includes masterworks by Balanchine and Robbins, premieres by the previous artistic director and the newly arrived one, and a beautiful new work by an auspicious voice in American choreography, Jodie Gates. In a single program the company has managed to summarize where it has been and where it's going, and the result was richly satisfying even if it did leave one feeling a bit overstuffed. The program also features several fresh new company dancers and five members of the Ballet's new KCB II.
Opening the evening with the most heavily marketed work was a gutsy choice, but the freshness of Jerome Robbins' choreography and Leonard Bernstein's music for Fancy Free delighted the eye and ear and whetted the appetite for more. This story ballet, which later morphed into On the Town, recounts the events of an evening's shore leave for three lonely and (let's face it) sexually pent-up sailors. Nearly 70 years after its premiere in 1944 it retains its freshness: It has become almost an archetypical American fable. Oliver Smith's striking original set depicts a tavern whose walls jut out diagonally toward stage right, and Robbins wastes no time introducing us to the sailors (Logan Pachciarz, Josh Spell and Ryan Jolicoeur-Nye on opening night). Their energy is quintessential Robbins, West Side Story machismo tempered with balletic touches that one might not normally associate with members of our Armed Forces. The dance is abstract until the girls start to enter – first Nadia Iozzo, who is treated rather roughly by the men, then slinky and non-chalant Jill Marlow, who holds her own but gradually becomes compliant to Logan's vigorous moves. While the two ladies look on, each of the three sailors struts his choreographic stuff: Logan is as taut and boisterous as a Bolshoi principal, all showy leaps and prowess; Josh is gentler, suave and debonair, Astaire to Logan's Kelly, confident in his own quiet way.
Ryan plays his solo like the Fonz, with exaggeratedly sensual moves and hip-swivels that look like he stepped out of the Nutcracker's "Arabian." Enter Aisling Hill-Connor, the loose woman in teal, to stoke new fires just as they are about to be put out. Shore leave is over, alas, and we can't help chuckling at the fact that the frustrated sailors are back to square one.
Triple Play by former AD William Whitener is fresh and simple, three movements for two dancers set to music of Poulenc. Moments of classical ballet mingle with modern touches from William's broad range of vocabulary. Logan is in black and Molly Wagner in white, and the two tousle playfully in a jovial contest. His tough bravado is countered by her tawny muscularity, but in the end she lets him do most of the work.
Jodie Gates is a former Joffrey dancer with deep roots in classical ballet and a powerfully contemporary outlook (she danced with William Forsythe), but her choreography is singular and specific. Keep Me Wishing in the Dark to the music of Bach (performed admirably by pianist Dan Velicer and the Kansas City Symphony in the pit) begins with a haunting image of 14 dancers facing upstage, ignoring us as it were, dressed in flowing sea-green, lavender and blue capes. (The soft, lovely costumes are by Melanie Watnick, the arresting lighting by Kirk Bookman.) Slowly the tension is unwound by dancers breaking out, singly and in pairs and groups, while the rest of the company strikes angular poses and gradually notices that we, the audience, exist. Occasionally a lick of rapid-fire movement breaks out, as the group dissolves into distinct and individual ensembles that suggest Jodie's dance sources without aping them. After a silence, Bach's G-minor Piano Concerto begins with a jolt that injects new energy. The concerto's slow movement, which begins with seven dancers, fades into a stirring pas de deux in which the woman (Rachel Coats) is in constant motion with a varied series of turns, some balanced and some off-balance, manipulated graciously by nimble Ryan Jolicoeur-Nye. The company returns, again with solo piano without orchestra as at the outset, met paradoxically with a frenetic ensemble in which the female soloist centers the energy. Again the tension – as the company faces upstage once more, fading into oblivion.
Allegro Brillante is one of Balanchine's most intricate and delightful works, and on opening night KCB's performance featured excellent solo work by Tempe Ostergren and Anthony Krutzkamp. The company is all in cream hues, with Tempe in light pink and Anthony in pale blues. To the almost laughably silly music of Tchaikovsky (a fragment of a piano concerto he never quite finished, performed with whimsy by pianist Sam Beckett), Tempe demonstrated a beautifully natural presence onstage: She is utterly in command and quite the match for Anthony.
Ensemble work was especially tight here, as the company showed practically the whole rich Balanchine bag of tricks; Anthony was the patrician primo uomo, but the cadenza goes to Tempe, who danced a deft, detailed, singularly virtuosic solo. The company returned for a series of "tangles untangled" and a whimsically frenetic close.
Devon Carney, the Ballet's new artistic director as of this summer, created a piece Opus 1 that was clearly designed both to serve as a finale (the music is the buoyant last movement of Schubert's Ninth Symphony) and to display the entire company in its 30-plus-member glory. Included were members of the new KCB II, and with the exception of Nutcracker one has rarely, if ever, seen so many company dancers onstage at once. The women were in tulle and lavender and sporting tiaras, the men dressed in courtly purple outfits with vests. In a dizzying series of symmetrical and divergent ensembles Devon showed off a knack for handling large groups, which moved with clear purpose and (for the most part) accuracy of detail.
The Ballet's program runs through October 20th. For tickets call 816-931-2232 or see kcballet.org.
To reach Paul Horsley email phorsley@sbcglobal.net or find him on Facebook (paul.horsley.501). 
A slider with the ID of 2 was not found.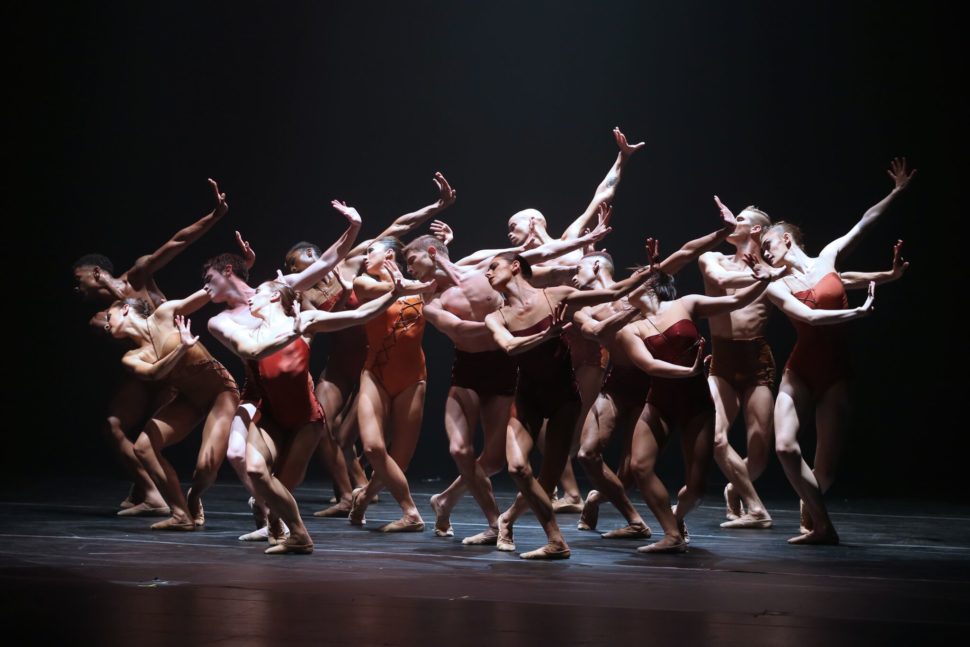 Again our potpourri of intriguing events draws from all performance levels and all walks of life, a reflection of the burgeoning variety and cultural interest in this once-sleepy city on…
Classical music has proven itself to be one of the last bastions of "high-brow" art, but even its stubborn notions of the superiority of cultivated European tradition are giving way.…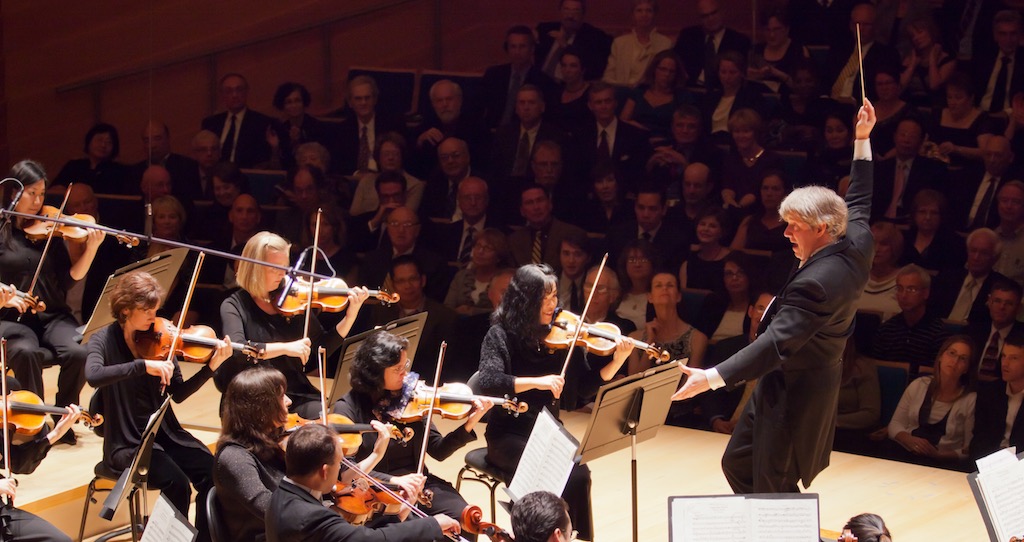 For Michael Stern the centenary celebration of musical icon Leonard Bernstein is a personal journey. The Kansas City Symphony Music Director not only grew up around the enormously gifted conductor-composer-pianist,…
Mention composer Harold Arlen's name to music lovers and they're likely to say, "Oh yeah, he was one of those old Broadway guys, right?" But then drop into the conversation…