WRITING ABOUT WRITING: Unicorn's swift, witty production of Rebeck play is like a runaway train
By Paul Horsley
Artists are always being told to create art about what they know, even though many live such insulated lives that they know little beyond the world of their own art. But it can work: From Nabokov's Pale Fire to Fellini's 8 ½, from 30 Rock to Rembrandt's "The Artist in His Studio," art about itself is a perilous proposition that succeeds best when it most vociferously attacks or pokes fun of itself – pointing out foibles that only an insider can see while at the same time revealing (perhaps) truths about the act of creation. Such a piece is Theresa Rebeck's Seminar, a 2011 Outer Critics Circle and Drama League nominee for best play, which had its local premiere October 19th at the Unicorn Theatre's main stage, directed by Theodore Swetz. This co-production with UMKC Theatre is an inward play about the world of creative writers: Terms like postmodernism and "interiority-exteriority" are tossed about like intellectual junk food. ("Postmodernism has really fallen on hard times," one character opines, as he pushes for a new "magical realism.") But it is brightly witty and shrewdly constructed, with big laughs early on giving way to vicious personal attacks that make you wince. Finally, it does touch on deeper truths about lives and careers and relationships. I found it a delightful 90 minutes in the theater, and as usual I enjoyed the chance to marvel at the theatrical talent that resides right here in our midst (including some quite gifted UMKC Conservatory graduate students).
Four young aspiring writers in New York have hired a veteran novelist, Leonard (Robert Gibby Brand) to provide professional tutoring sessions, in which he will read their work and critique it in an intimate group setting. Ostensibly the four are friends, but we quickly realize they are all fiercely competitive and ferociously critical of each others' writing. Douglas (Noah Whitmore) is the smarmy enfant terrible who has great success getting his facile prose published, and we hate him almost instinctively. ("I won't go anywhere but Yaddo or MacDowell anymore," he boasts.) Martin (Logan Black), who has never been accepted at the prestigious MacDowell artists' colony, resents Douglas' successes. Leonard praises the offbeat writing of the fiery Izzy (Chioma Anyanwu), perhaps because he wants to sleep with her, perhaps not. At the center of this tempest is Kate (Courtney Salvage), whose writing Leonard brutally mocks. Until, that is, she submits something that "a friend of hers" has written – a "transvestite Cubano gang-banger" named Luis, she says – which Leonard loves.

But wait, it turns out that Kate wrote the piece by "Luis," ostensibly to expose Leonard as a fraud who is only drawn to the bizarre, the contemporary, the "street." Yet we are left to wonder: Was Leonard hoodwinked by false expectations of an earthy writer living outside the confines of his Bohemian bourgeois existence? Or has Kate actually become a better writer by herself "becoming" someone outside of her milieu? We never know, as we never get to read her story. What we do learn is that the real diamond in the dirt of the group is the one we least expect, and the play's ending presents some surprising twists.
The performances are excellent throughout, expertly led by Ted Swetz' seasoned control of tone and pacing. Robert is in command as the officious, arrogant and viciously witty Leonard, and Chioma bursts forth with her usual fiery charisma. Among the youngsters Logan was especially spot-on as the bespectacled, slightly slovenly but somehow lovable Martin; he's the one you want to succeed but don't really believe he has what it takes – and he doesn't seem to believe it, either. Jeff Ridenour's two scenic designs, lit by Adam Raine, were splendidly apt, from Kate's über-modérne Upper West Side apartment to Leonard's jarringly different Village apartment – dark, dingy and almost ominously book-lined.
Seminar runs through November 10th. For tickets call 816-531-7529 or go to unicorntheatre.org.
TREE OF LIFE: KC Rep's season-opening Robeson tribute is deftly conceived but falls slightly short
One wanted to like the Kansas City Rep's production of The Tallest Tree in the Forest, which received its world premiere August 30th-September 28th on the Rep's ungainly Copaken Stage. The project, a one-man show written and performed by Daniel Beaty and directed by Moisés Kaufman, sought to encapsulate the complex career of singer-actor-activist-and-all-around-American-hero Paul Robeson. The creators' attention to detail and basic historical accuracy was impressive, as the play told the story of Robeson's early successes on stage and screen, his Broadway breakthrough as Othello, his activism as he tried to mold himself into "a new kind of black man," even as he nightly sang songs such as "Ol' Man River" that upheld antebellum stereotypes. It also chronicles Robeson's attempts to get Congress to enact anti-lynching laws, his visits to the Soviet Union, his being branded a traitor and a Communist. It's a sad story of a white America that was not ready for a strong, incredibly gifted African American who was smart enough to challenge the status quo, and courageous enough to defy the injustices of the lives of black Americans. "Let him sing, yes, let him play Showboat and The Emperor Jones and even Othello but don't let him get all political on us."
Daniel's ability to move in and out of characters is remarkable, as he plays Robeson's father, his brother, his wife, and all manner of other characters large and small, male and female. As the man himself he is quick-witted and funny, though at times one wanted more of the gravity that was Robeson. Important to the narrative are the 12 songs Daniel sings through the show, from "Ol' Man River," to "Great Day," "Happy Days are Here Again" to "Scandalize My Name." Derek McLane's scenic design and John Narun's projections move us swiftly and efficiently through time and space, giving us the clues we needed to know what era we were in at any given time. The projected silhouettes of lynchings during the bloody 1940s are especially chilling.
The Tallest Tree in the Forest is beautifully conceived, produced, directed and acted. A co-production with the La Jolla Playhouse, it has all the trappings of an intricate play that is inching its way toward Broadway. But for me it lacked a certain spark of brilliance. At times it felt more didactic than dramatic, so concerned with telling Robeson's (albeit fascinating) story that it didn't always seek a narrative "arc," a sense of conflict and resolution. Perhaps that's inevitable for the story of a man whose concerns about justice remain unresolved.

Another problem with Tallest Tree is that our memory of Robeson, kept alive through recordings, films and now YouTube, is so powerful that no actor or singer could hope to fill expectations that Robeson himself created. Tall, rugged, magnificently handsome (and by all reports intensely charismatic in person), Robeson acted with the poise of an Olivier and sang with a heart-rending bass voice that seemed to grow out of the earth itself. Daniel has a fine voice, a bit raspy at the bottom but firm and resonant at mid-range and sweet at the top, and he is a gifted actor. But Robeson was one of the greatest singer-performers America has produced, and portraying him with justice is an order so tall I doubt anyone alive could pull it off. Nevertheless his story needs to be told: His unjustly tainted reputation deserves full resuscitation, and Daniel and Moisés are to be applauded for helping to move this forward.

COULD NO LONGER CALL MY SOUL MY OWN: Actors Theatre turns oddly pale in O'Neill classic
Even more disappointing was the Actors Theatre's much-anticipated (and rare) production in September of Eugene O'Neill's sprawling Long Days Journey Into Night, which normally clocks in at nearly four hours but was reduced by about 30 percent. This whisky-drenched tale of addiction, cruelty and family dysfunction can be heartbreaking, but it rides chiefly on the performances of the elders of the house, retired thespian James Tyrone and his wife Mary, a morphine addict. Neither guest star Paul Vincent O'Connor nor our own great Merle Moores seemed to strike the right pitch as the parents, skewing the drama too often toward the sons (Brian Paulette as James, Jr. and Doogin Brown as Edmund) and their problems. Paul was masterful at playing the light-spirited, debonair former man of the theater, with a deft touch that displayed, for all to see, James' fundamentally weak spine. But I yearned for more of this character's harsh, muscular cruelty, around which the frenzy of dysfunction can swirl and take root.
Merle was a bit soft at the center: Yes, Mary's addiction has decimated her inner self, but there should be some vestige of a great woman inside, which I rarely detected. (Still, we couldn't help feeling her pain when she cried out, at the end of Act 2, "I'm so lonely!") Brian and Doogin didn't seem up to the gravity at the heart of their roles, either, though they showed a palpable bond that convinced you they could be brothers. The biggest problem, really, was not that director John Rensenhouse had trimmed the play to its essentials, but that he seemed to have urged his actors to deliver their lines as quickly as possible. This play needs a languorous pace, with plenty of pauses for contemplation, silent intervals that allow the misery and cruelty and hopelessness sink in. There were fine production values, though, in particular Douglas Macur's lighting design, which made Mary's arresting final appearance at the top of the stairs – her wedding dressed drooping sloppily off of her shaky, drug-addled body – especially harrowing.
To reach Paul Horsley, email phorsley@sbcglobal.net or find him on Facebook (paul.horsley.501).
A slider with the ID of 2 was not found.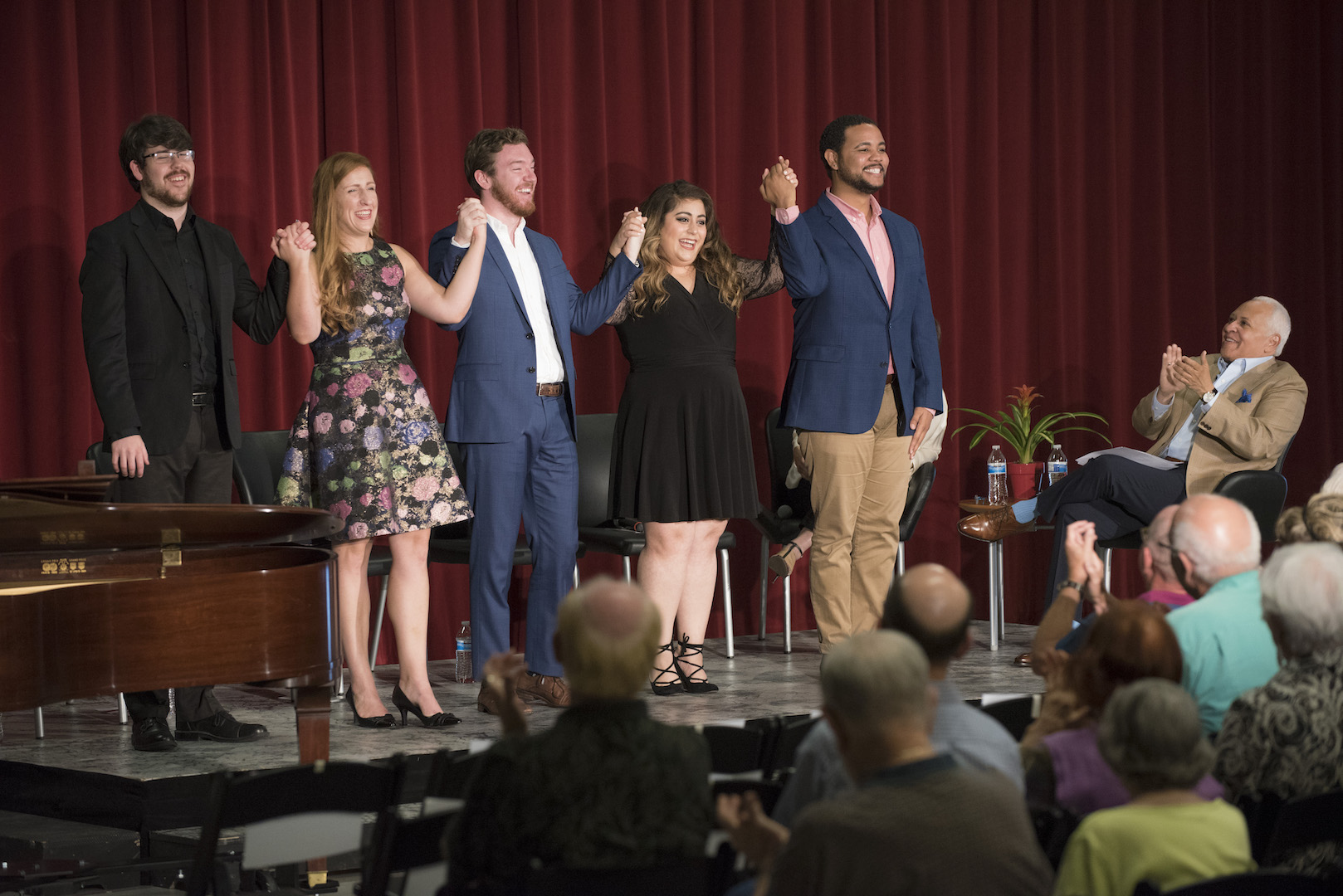 People seldom become opera singers willy-nilly. It's a step-by-step process not unlike the acquisition of any other professional skill. It's also an art-form, and thus success can be more elusive.…
That Rigoletto is regarded as one of Verdi's most beloved operas might seem surprising considering what an ugly story it recounts. First performed in 1851 but based on a tawdry…
The Kansas City Ballet's New Moves is gradually coming into its own. The project that Artistic Director Devon Carney launched shortly after arriving in 2013 (an outgrowth of a previous…
If you still think of Kathleen Battle as an opera singer, you haven't been paying attention for the last 40 years. It's true that the soprano, who possesses one of…