2018 Directors of Philanthropy
In the Directors of Philanthropy issue, The Independent celebrates the remarkable people in Our Town who donate so much of their time and talents to charitable organizations. They make Kansas City a better place to live.
---
Wonderscope Children's Museum
To spark a lifelong love of learning through the power of play.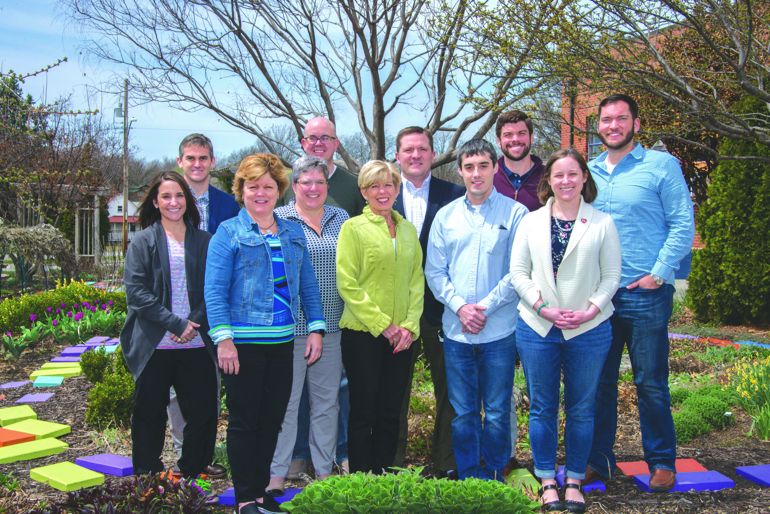 Board Members: (Front row) Katie Kincaid Longhauser, Sara Prem, Melinda Mehaffy, Sally Stanton, Sam Clevenger, and Kate Regnier Bender, board chairman (back row) Jon Atlas, Matt Heimsoth, Aaron Siders, Ryan Patton, and Eric Newell (out of camera range) Michael Bell, Jennifer Berhorst, Molly Breitenbach, Jennifer Dameron, Chelan David, Nilson Goes, Ken Schaefer, Gina Stingley, and Emily Tilgner Photo Credit: Charles Welborn
---
Kansas City Young Matrons

 To encourage social, educational, and personal relationships and to identify needed services to provide a positive impact within the community.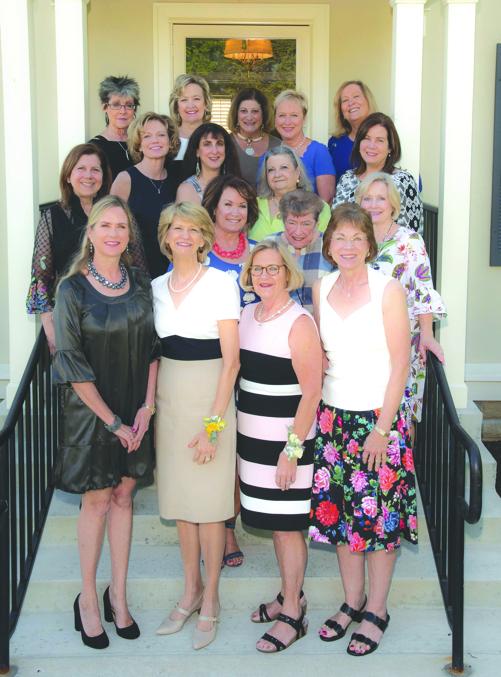 Board Members: (First row) Karen Leimer, president-elect; Joni Etherington, president; Diana Cusser and Jo Anne Dondlinger (second row) Connie Schenke, Virgie Bancroft and Nina Hollabaugh (third row) Gigi Rose, Julie Maggart, Juliette Singer-Spinks, Janie Ono, and Mary Katz (fourth row) Sue von Geyso, Sue Lund, Edie Downing, Bobbie Messick, and Valerie Burke (out of camera range) Joni Siplon Photo Credit: David Remley
---
Kansas City Sports Commission & Foundation
 To drive Kansas City's overall sports strategy, to enrich the quality of life, create economic impact and raise visibility for our region.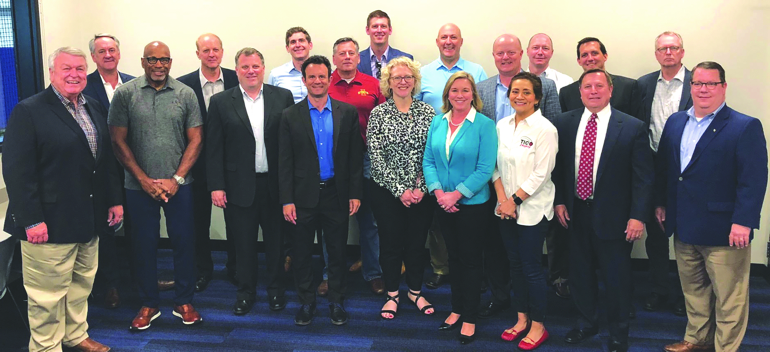 Board Members: (Front row) John Kane, chairman; Rick Frazier, Michael Chalfie, Steve Cosentino, Stacey Paine, secretary; Kathy Nelson, Kansas City Sports Commission & Foundation; CiCi Rojas, Charlie Rozanski and Tom Terry (back row) Randy Bredar, Tom Busch, legal counsel; Matt Kenny, Mike Deggendorf, Jake Reid, Jay Felton, Denny Scott, executive vice chairman; Jason Booker, marketing vice chairman; Adam Zieren and Tom Waggoner, events vice chairman (out of camera range) Babette Macy, WIN for KC board chairman; Regina Croucher, finance vice chairman; Angela Hurt, Kevin Noblet, Kevin Pistilli, and Julie Wilson
---
Wayside Waifs 
To place adoptable companion animals in responsible homes. To accomplish this, they employ three key strategies: Providing temporary shelter for homeless companion animals, educating the public and developing partnerships, collaborations and strategic alliances.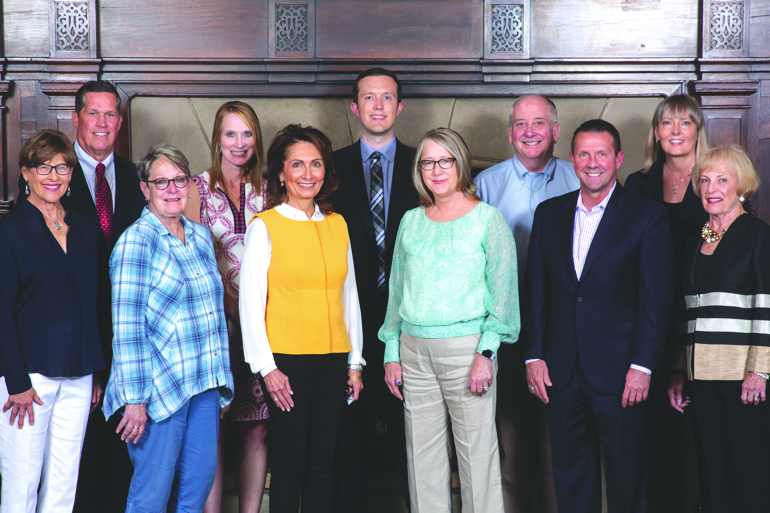 Board Members: (Front row) Sandy Johnson, Ellen T. Hanson, internal affairs chairman; Susan Wally, external affairs chairman; Chris Trainer, Craig Wallace and Betty Scott (back row) Rusty Smith, secretary; Ruth Brackney, Andy Ellebrecht, treasurer; W. Perry Brandt, chairman; and Lisa Rolf (out of camera range) Harold Melcher, chairman emeritus; Jodi Robinson, vice chairman; and Jill Turner
---
Women's Committee for the UMKC Conservatory of Music and Dance 
To raise scholarship funds to support Conservatory students, to advocate for scholarship students, to create opportunities for members to experience the talents of Conservatory students and faculty, and to provide opportunities for scholarship students to perform.
Board Members: Michele Hamlett-Weith, Lois Scanlon-Geffert, Sheri Izzard, Jane White Brown, Napaporn Schwegler, Linda Eddy, Jeanne Redick, Marylou Turner, Jean Rosenfield, Emily Ballentine, Lyn Buckley, Nancy Ryan, Cheryl Sue Herbert, and Charlotte Brown, president
---
Center for Practical Bioethics 
To raise and respond to ethical issues in health and healthcare.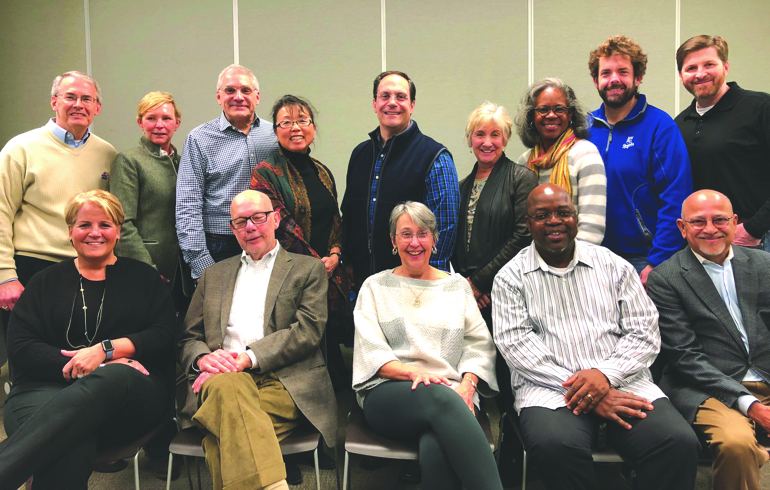 Board Members: (Seated) Eva Karp, secretary; Dr. John Yeast, chairman; Mary Beth Blake, Center co-founder; Abiodun Akinwuntan and Sukumar Ethirajan (standing) Stephan Salanski, Liza R. Townsend, Alan Edelman, Jane Lombard, Darrin D'Agostino, Karen Miller, Dr. Sandra Stites, Drew Billingsley, treasurer; and Peter Wilkinson (out of camera range) Nancy Cohn and Jan Murray
---
High Aspirations 
To raise African American males' aspirations by initiating innovative ways to improve their lives socially, emotionally, academically, and spiritually. To be the recognized resource in the Kansas City urban core for developing personal and life-skills in African-American young men to enable them to live socially productive lives.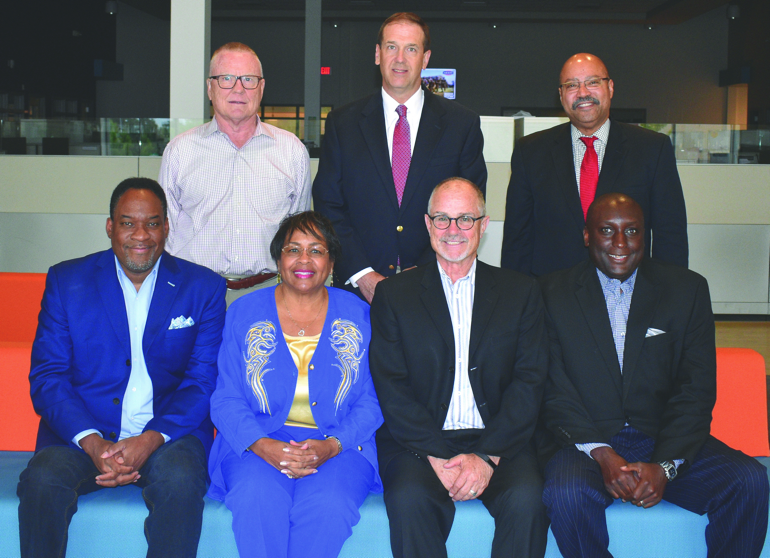 Board Members: (Seated) Damon Bryant, chairman; Anita Maltbia, Bill Dunn, Jr., vice chairman; and Henry Wash, president and founder (standing) John Schmidt, Robert Sniezek and Dr. Lester Blue
---
Johnson County Young Matrons 
To promote a positive future for members of our community through volunteerism, financial support and education.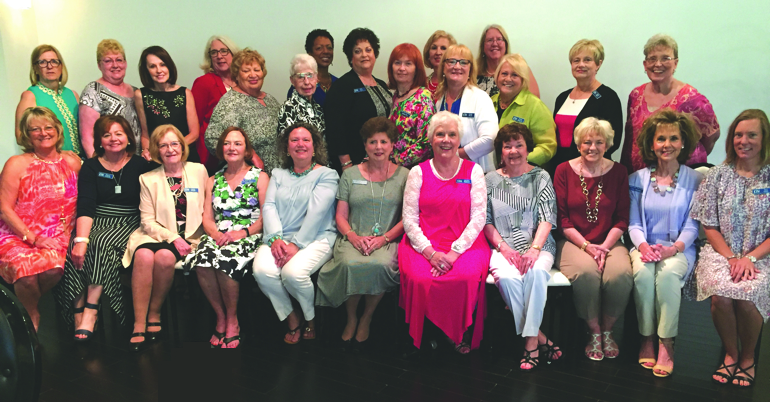 Board Members: (Seated) Patty Gay, Marci Forbach, Linda Wright, Trish Mack, Mary Ann Cappo, Margie Harden, Martha Wofford, Snookie Krumbiegel, Sheryl Alderson, Cathy Misemer, and Tara Gatti (standing) Barb Cook, Rhonda Lewis, Marcia Artman, Teri Orr, Doris Yantis, Shay Ashley, Rosie Bettis, Debra Scott, Margie Ray, Revelyn Alpaugh, Kathy Hood, Cheryl Gettinger, Winky Bergeson, Judy Ransom, and Nancy Nash
---
Metropolitan Community College Foundation
To provide access to quality education and career opportunities.
Board Members: Rafael Garcia, Christopher Lipp, Matt McFadden, Jason Dalen, Michael Roane, Mark Larrabee, Vicki Westerhaus, Dr. Kimberly Beatty, Ruth Stricklen Pullins, Jessica Ramirez, Ryan Morehead, and Carolyn Watley
---
Hope House
 To break the cycle of domestic violence by providing safe refuge and supportive services that educate and empower those impacted by domestic violence. Hope House will advocate social change that protects and engenders a person's right to live a life free of abuse.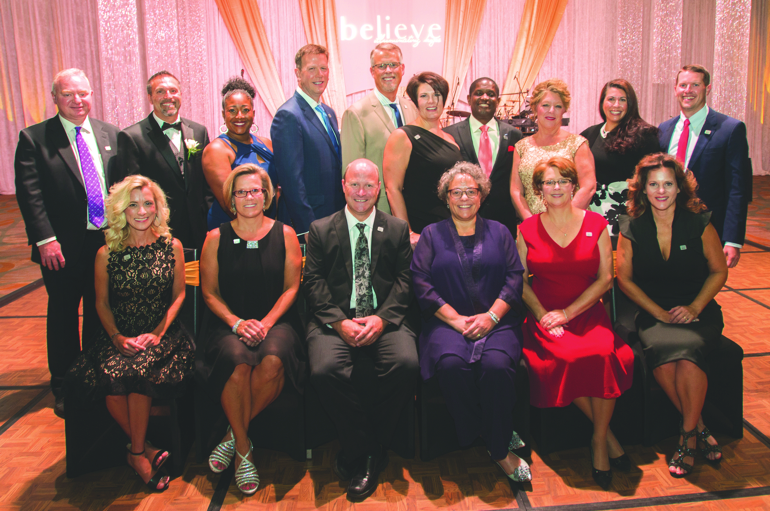 Board Members: (Seated) Abby Mocek, Carolyn Walters, Michael Moore, MaryAnne Metheny, Hope House; Carol Baker and Julie Ross (standing) Brian Herrmann, Lee Moore, LaToya Garcia, Michael Cline, Doug King, Angela Presnell, Michael Williams, Monica Alderson, Sarah Millin, and Ben Thompson (out of camera range) Whitney Bartelli, Meghan Comisky, Neil Getzlow, Brad Homant, Douglas Schmitt, and Janelle Williams
---
Saint Luke's Hospital Auxiliary
 To benefit and promote the charitable, social, scientific, educational, civic, health-related, research, and social welfare interests and activities of Saint Luke's Hospital of Kansas City.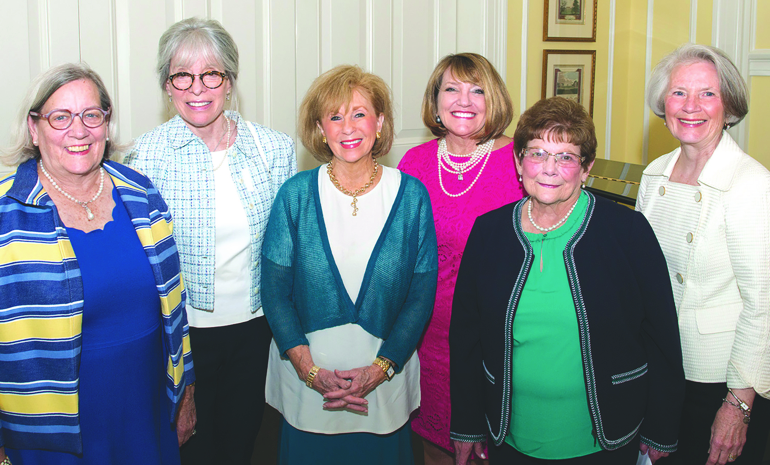 Board Members: Jean T. Kiene, president; Laura Pierce, Carol Margolin, news editor; Terri Curran, Holly Ball co-chairman; Joyce Squires, assistant treasurer; and Blythe Launder, Holly Ball co-chairman Photo Credit: Dean Shepard
---
KC Scholars 
To increase postsecondary education attainment in the greater Kansas City area. KC Scholars provides the means – through scholarships, financial incentives to promote college savings and support services – for low and modest-income students and adults.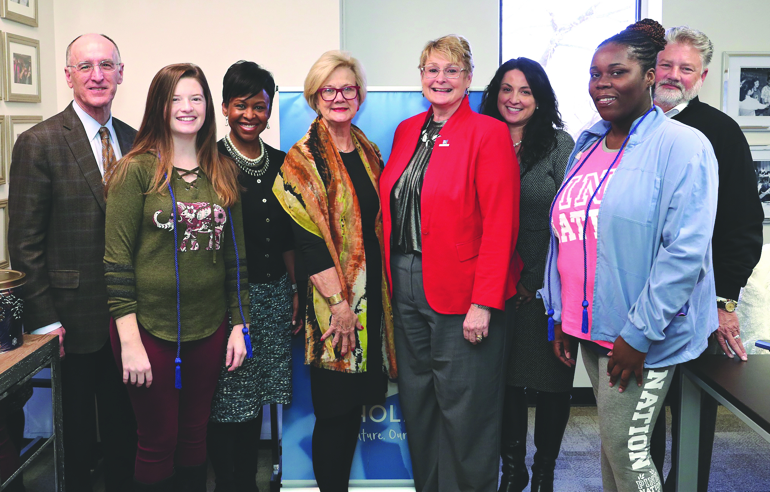 Board Members: David Warm, Teeka Hodge, adult learner scholarship recipient graduate; Tammy Edwards, Jan Kreamer, Beth Tankersley-Bankhead, Michelle Kay, Joslyn Brockman, adult learner scholarship recipient graduate; and Terry Bassham
---
Heartland Therapeutic Riding
 To serve children and adults with disabilities and to improve quality of life through equine-assisted activities and therapies. Committed to changing lives, one ride at a time.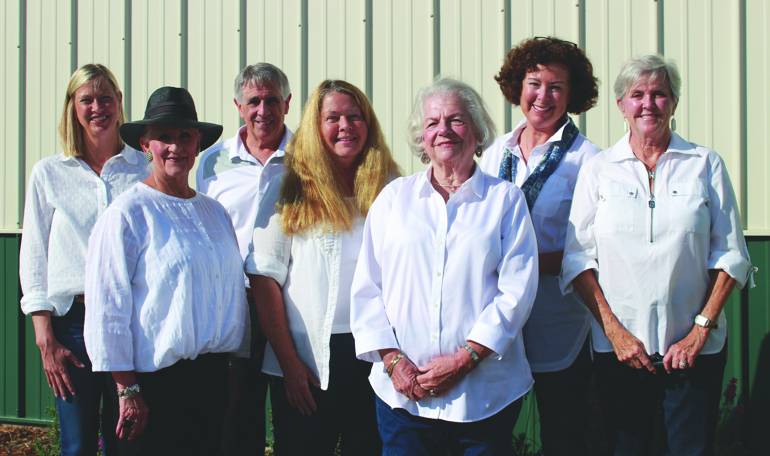 Board Members: Courtney Fahey, Vinita Canright, Stan Woodworth, Joni Roeseler, Sandy Rose, Pam Cowan, and Vicki Messbarger (out of camera range) Dana Benjamin, Austin Berke, Eric and Kelly Carlson, Rob Holland, Greg Lee, Katie Loomis, Parrish Lucas, Skip Peavey, and Melissa Scher
---
Baptist-Trinity Lutheran Legacy Foundation 
To provide support in the greater Kansas City area for crisis related medical assistance, neighborhood school health grants and health education programs and services. To seek philanthropic support for these areas of emphasis. To preserve the legacies of Baptist Medical Center and Trinity Lutheran Hospital and their Foundations.
Board Members: (Seated) Bette Croes, Al Tikwart, Dr. Stephen Salanski, vice president; Sara Colt, Craig Roeder, secretary; and Liz Deckert, treasurer (standing) Robert Schlicht, Shelly Iseman, Harley Metcalfe, Dr. James Earnest, Beth Radtke, BTLLF; Rich Jones, Jason Lofton, Sara Goodburn, board chairman; and Cheryl Anderson (out of camera range) Jim Carr, Virginia Coppinger, Susie Law, Dr. Jane P. Rues, Kurt Saylor, and Dr. Jennifer Tieman
---
Cornerstones of Care
 To create safe and healthy communities. Serving more than 10,000 children and families through education, mental and behavioral health, foster care and adoption, youth and family support, and community trainings in Kansas, Missouri and beyond.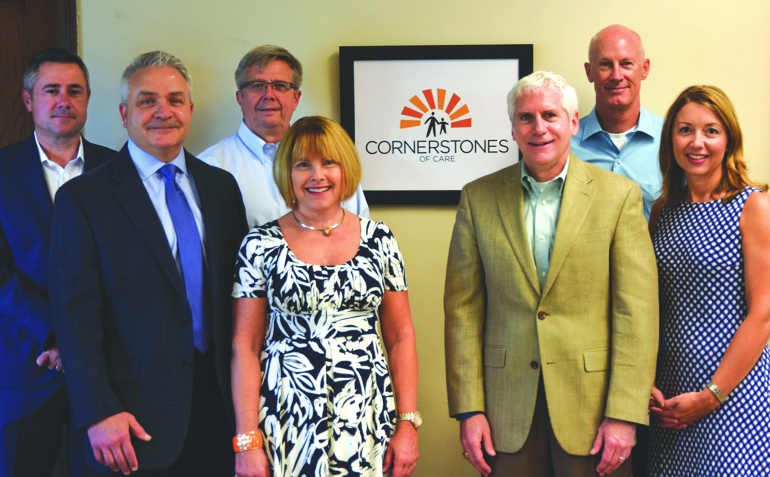 Board Members: (Front row) David Leavitt, board chairman; Julie Barnett, Jim Hogan, fundraising/development council chairman; and Stephanie Rawe (back row) John Burgess, vice chairman/program council chairman; Jon Appleby, audit council chairman; and Patrick Gahagan, strategy council chairman
---
Jackson County CASA 
To be a child's voice in court. To recruit, train and support lay volunteers who act as advocates on behalf of the best interests of abused and neglected children.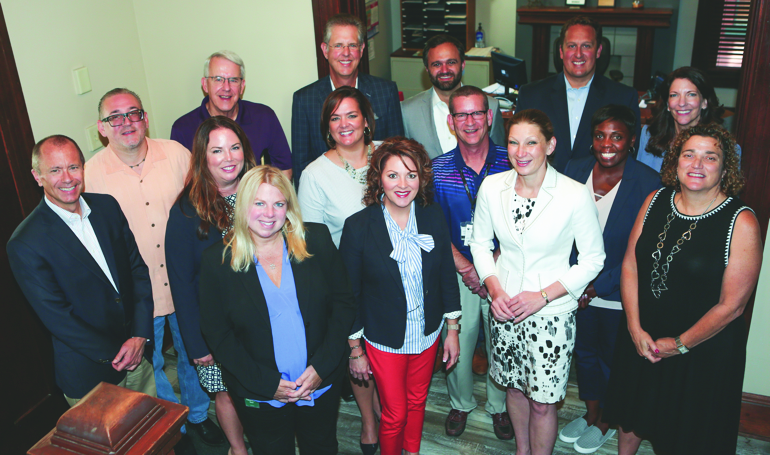 Board Members: (Front row) Twynette Neer, Rebecca David, Mira Mdivani, and Sandi White Fried (middle row) Nicole Fisher, Angie Blumel, Jackson County CASA; Greg Adams, treasurer; and Stephanie Robinson (back row) Don Kirkpatrick, Michael Macias, Dennis McCarthy, ex-officio; John Newsam, board chairman; John Vaglio, Zach Bickel, vice chairman; and Jenny Meegan (out of camera range) Gary Bussing, secretary; Jon B. Gray, Dr. John Lantos, Kelly McCambridge, vice chairman; Luke McGlynn, Bert Seefeldt, Vanessa Sims, Monica Tiffany, and The Honorable John Torrence
---
First Call 
To reduce the impact of alcohol, drugs and addiction by providing quality services to individuals, families and the community.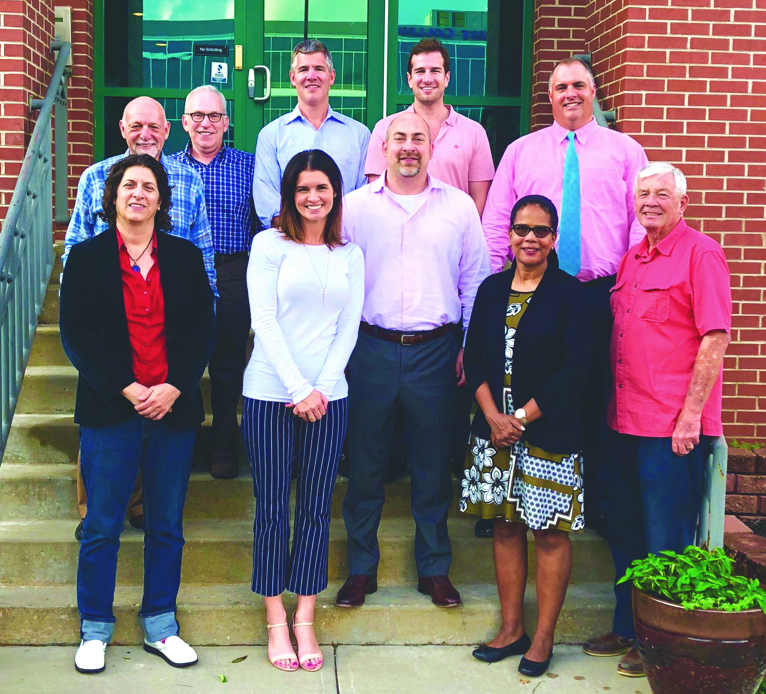 Board Members: (Front row) Nicole Esquibel, Trisha Hokanson, Kurt Hadermann, Kirby Randolph, and Ralph A. "Lon" Switzer, Jr. (back row) Richard D. Rhyne, vice chairman; Dee Pack, chairman; Jeffrey Kuntz, Chris Rosburg and George Lopez, treasurer (out of camera range) Lena Price, secretary; Dr. Jeffrey Cameron, Tom McGuire and Laura Mussulman
---
Junior League of Kansas City, Missouri
 To promote voluntarism, develop the potential of women and improve communities through the effective action and leadership of trained volunteers. Its purpose is exclusively educational and charitable.
Board Members: (Seated) Celeste Greenlee, JLKCMO; Katherine Fowler, president; Katie Werner, president-elect; and Kristen Yates-Booth, board assistant (standing) Stephanie Davis, step-up director of marketing; Julia Sobek, director of sustainers; Robin Rowland, director of training; Liz Webb, bylaws chairman; Erin Lambert, nominating chairman; Kimberlee Ried, director of planning; Heidi Hedges, director of community; Sara Harris, director of finance; Sarah Dempster, director of membership; Megan Allen, step-up director of fund development; and Alma Azuara, director of marketing (out of camera range) Katie Minnis, director of fund development; and Robyn Wagner, step-up director of community
---
Ronald McDonald House Charities of Kansas City 
To reduce the burden of childhood illness on children and their families.
Board Members: (First row) Jon Gribble, Steve Fleischaker, Gretchen Gold, Donn Hess, and Deanna Disalvo (second row) Stephanie Williams, Tami Greenberg and Jodi Fischer (third row) Stacie Prosser, Darlia Morris and Sheri Johnson (fourth row) Vernon Williams, Julie Zanone, Scott Rockwell, and Chris Habiger (fifth row) Mike Gremaud, Jon Wright and Paul Neidlein Photo Credit: Gallery Portraiture
---
Bra Couture KC
 To raise funds for uninsured/underinsured cancer patients in the Greater Kansas City area who cannot pay for their cancer supplies such as cancer medication, transportation to treatment, prosthetics, wigs, surgical supplies, blankets, food, and lymphedema garments.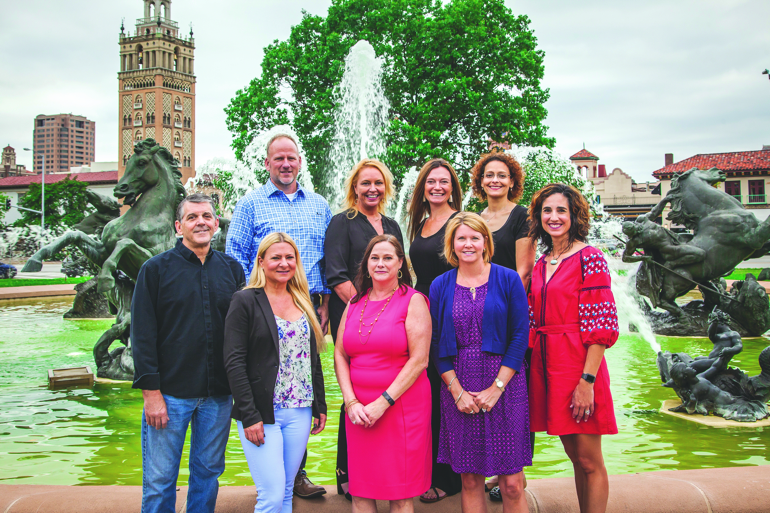 Board Members: (Front row) Gary Williamson, Julie Terry, Brenda Poor, Melissa Shriver, and Amy Bradshaw (back row) Bill McCann, Rita Hoop, Kelly Meiners, and Cynthia Olavarria Kaufman
---
Community LINC
 To end family homelessness in Kansas City for this generation and the next.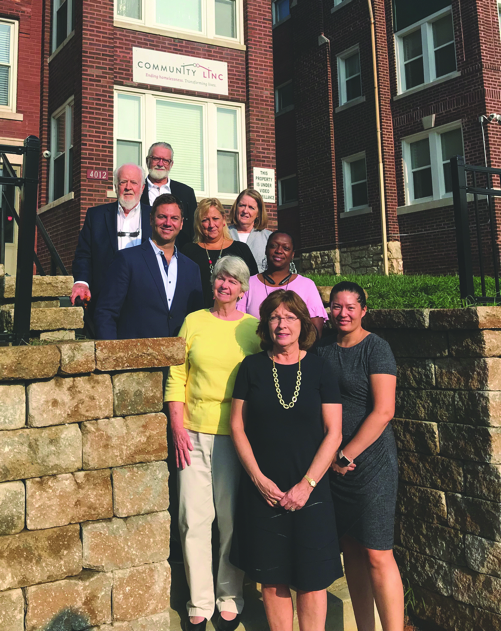 Board Members: (First row) Deb Eveans and Jessica Borries (second row) Ann Harbin and Jackie Hunter (third row) Dan Carroll, board chairman; Tina Ussery-Franklin and Carol Gilstrap (fourth row) Jim Hoyt and Bob Kroeker
---
FIRE Foundation 
To provide children with special needs the opportunity for an inclusive Catholic education in their home parish schools.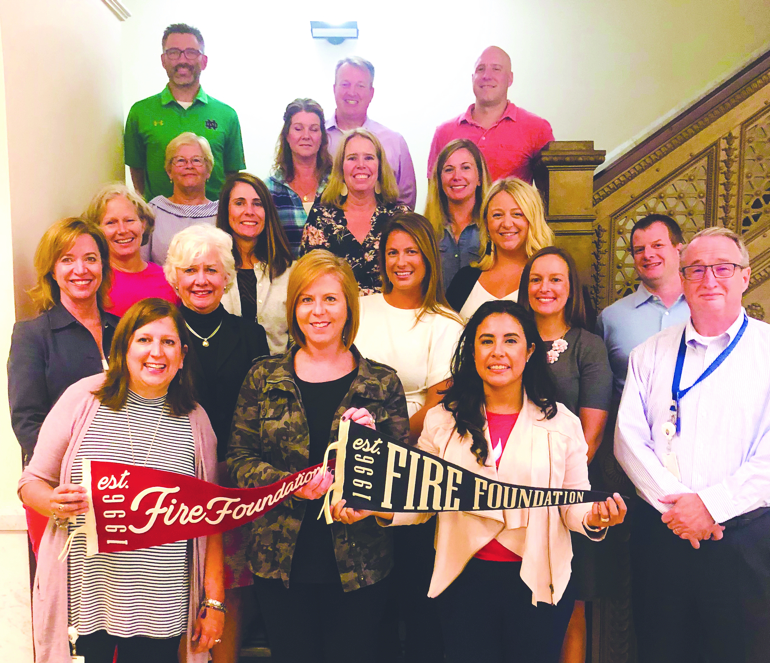 Board Members: (First row) Lynn Hire, FIRE Foundation; Erin Neuburger, Marie Kissick and Dr. Dan Peters (second row) Mary Madden, vice president; Katheigh Degen, Lindsey Anderson, Jenny Stasi, and Sean Switzer (third row) Debbie Wittaker, treasurer; Gretchen Vosburgh and Mary Stuckey, secretary (fourth row) Peggy VanDyke, Carol Caron, Buffy Gunter, and Erin Duba (fifth row) John Joyce, president; Pat Fanning and John Tyner (out of camera range) Caitlin Kaczmarczyk, Michele Markey, Adriana Martinez, and Mark Ungashick
---
The Angel Board of The Children's Place
 The Angel Board is a fundraising auxiliary dedicated to supporting the agency's mission by investing in the needs and well-being of young children who have experienced abuse, neglect and other traumas.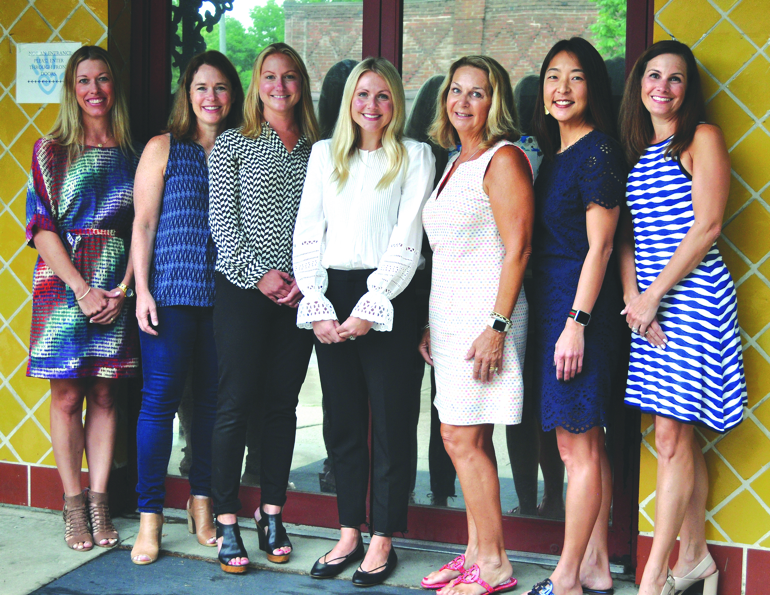 Board Members: April Crosser, Karie Nelson, Melissa Batz, Lynsey Jager, Ann Crampton, Jenny Kim, and Kathy Schirger, chairman (out of camera range) Karen Bailey, Lisa Brady, Jennifer Call, Cheryl Donaldson, Ericka Duker, Katherine Ellis, Jane Emley, Courtney Fadler, Anne Graves, Julie Grimaldi, Jenny Hobick, Amanda Lambright, Jan McConnell, Rita Saladino, Ashley Sight, Lauren Slocum, Kellie Stauffer, Mandi Trotter, Laurie Warwick, Katie Wasserstrom, Jill Wehner, and Kelly Wolf
---
The Children's Place
 To nurture and promote the healthy development of young children who have survived abuse, neglect and trauma by providing specialized services and family support within a safe and caring environment.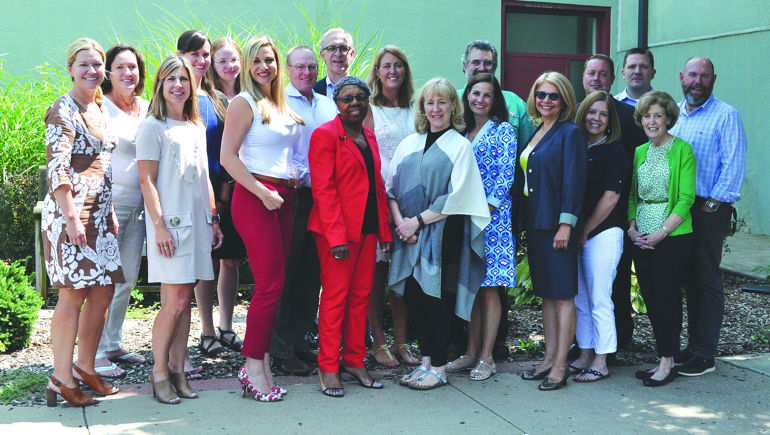 Board Members: (Front row) Nora Lockton, Gretchen FitzGerald, Kalinda Calkins, Josephine Njoroge, Mary Widmer, Kathy Schirger, Mabel Tinjaca, Angela Fera, and Melanie Griffey (back row) Laura Jones, Katie Erwin, Dr. Christy Kleinsorge, Paul Schieber, Jacob Bayer, Jr., Ann Tinsman, chairman; Dr. Vincent Barone, Nathan Tesmer, Aaron Siders, and Richard Wetzel (out of camera range) Matt Benge, Michael Ensz, Celeste Greenlee, Scott Hall, David Hellen, Mitch Peterson, Chad Rock, Stacey Saladin, Anne Scharf, Meyer Sosland, and Adam Zieren
---
Giving the Basics 
To provide hope, dignity and self-worth through the provision of free personal care hygiene items not covered by government assistance.

Board Members: (Front row) Tom Holcom, Brian Leitner, Anna Vogel, Kelley Scharosch, Heath Hoobing, Teresa Hamilton, founder; Kristi Macaluso, and Shelly Koehler (back row) Kim Newton, Ron Edelman, Nick Warren, Scott Fillmore, Brandon Henry, Peter Hardy, and Thomas Charles
---
KidsTLC 
To transform lives of children and families in our community.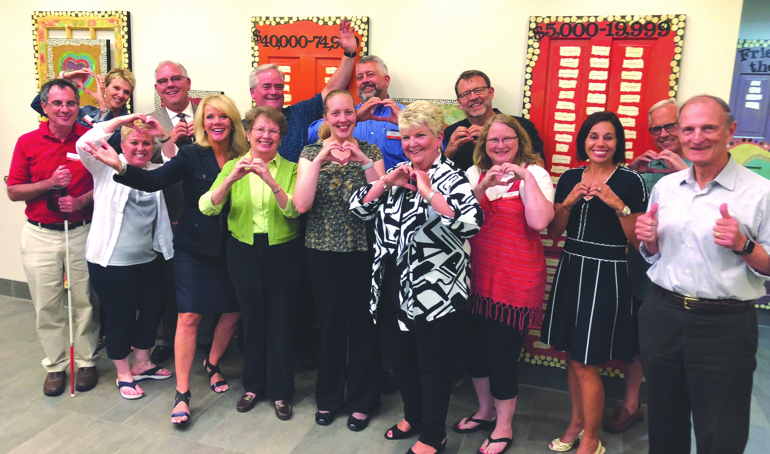 Board Members: (Front row) Doug Greenwald, Shelley Coe, board assistant; Erin Dugan, KidsTLC; Sister Marie Joan Harris, Heather Winiarski, Pat All, Kathy Baker, Jill Phillips, and Rick Poccia (back row) Rhonda Harrelson, Darren Odum, Gary Church, Darrin Ives, Joel Jacobsen, and Tom Mertz (out of camera range) Tim Danneberg, Shawn Barber, Catherine Bell, Mike Butaud, Brian Dunn, Tim Grunhard, and Bobby Love II
---
The Nelson-Atkins Museum of Art
 To welcome and provide free admission to all and deliver unparalleled opportunities to enjoy, appreciate and understand the finest visual arts and the varied cultures they represent – on our campus, online and throughout Kansas City.
Board of Trustees: (Seated) G. Kenneth Baum, William B. Taylor, treasurer; Susan McGreevy, Robert Bernstein, Richard C. Green, chairman; Donald Hall, Jr., Sandra A. J. Lawrence, Kent Sunderland, and Charles S. Sosland (standing) Bill Gautreaux, Grant Burcham, Ramón Murguía, Mary Atterbury, William M. Lyons, Julián Zugazagoitia, The Nelson-Atkins Museum of Art; Shirley Bush Helzberg, Maurice Watson, Thomas M. Bloch, Neil D. Karbank, secretary; and Mark M. O'Connell (out of camera range) Greg Maday and Sara Morgan Photo Credit: Jason Tracy
---
Children's Campus of Kansas City 
To promote the well-being of children and families through collaborative research, practice and advocacy.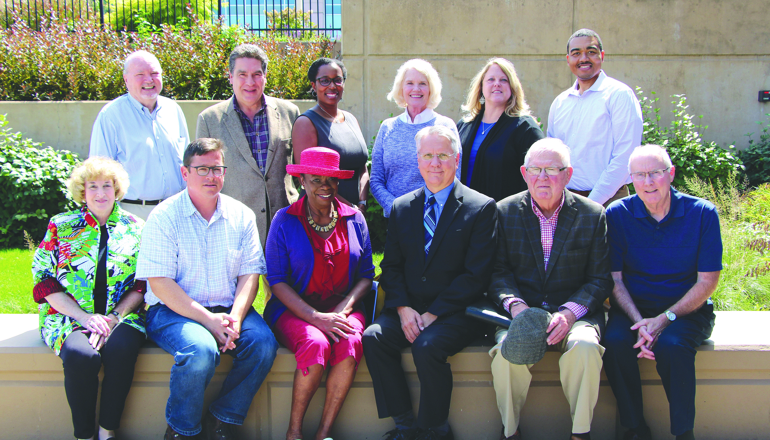 Board Members: (Front row) Barb Friedmann, Bill Dunn III, Betty Shelton, Dean Olson, Bob Graham, and Jery Nunn (back row) W. Terrence Brown, Joe Privitera, Cynthia Fails, Martha Staker, Kim Shaw, and Brian Boyd (out of camera range) Brian McKiernan and Jaime Masters
Also featured in the September 29, 2018 issue of The Independent
October 28th is the date for American Cancer Society's Making Strides Against Breast Cancer of Kansas City, which will be held at Crown Center. The Walk is a celebration of…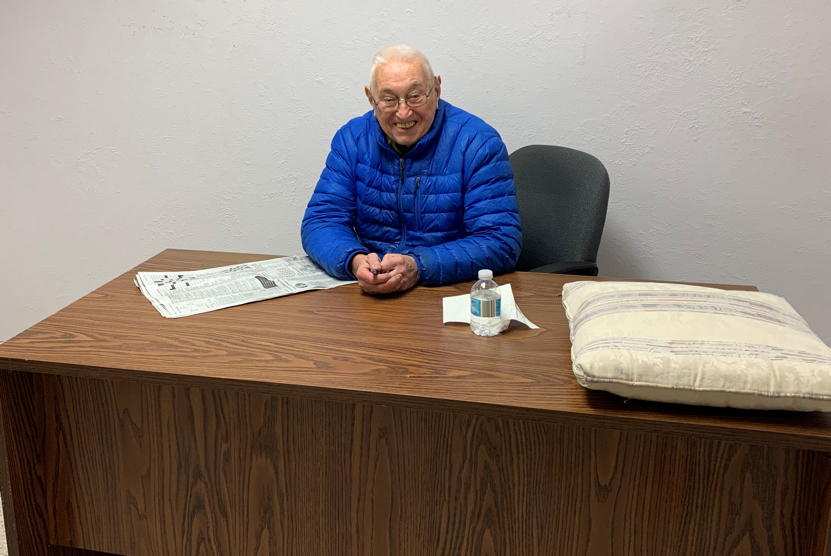 Charlie Lynn volunteers at the SKC Serve & Lift Center of Catholic Charities of Kansas City-St. Joseph. What does he do there? He helps in any way he can. Charlie…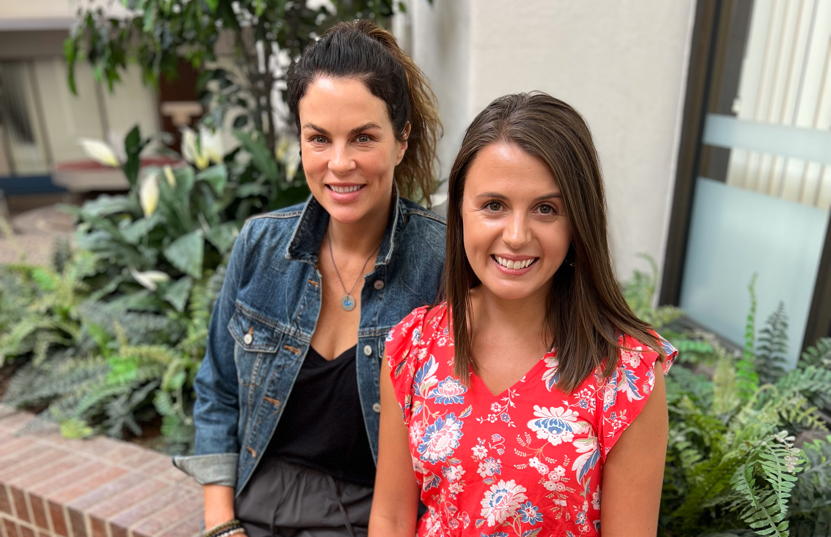 The 19th annual Night Out with MOCSA Cocktail Party and Auction will be held at The Midland Theatre on November 4th. Tiffany Melton Meeks and Lisa New are serving as…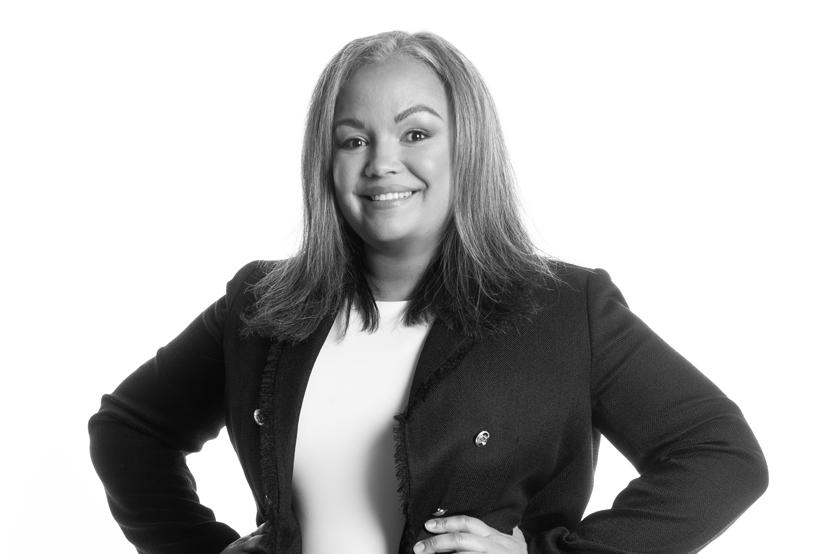 As a model of Kansas City's civic spirit, Amy Guerich's steadfast altruism has earned her the title of Rising Star by The Independent. With a diverse range of philanthropies and a…