Local Colleges and Universities Announce Powerful Season Lineups
This week we supplement the information placed on this blog in April summarizing the 2010-2011 seasons of the Kansas City Symphony, the Lyric Opera of Kansas City, the Kansas City Ballet, the Harriman-Jewell Series, and the Friends of Chamber Music. Today we look at the series offered by area institutions of higher learning, which over the years have become an essential part of Kansas City's music, dance and entertainment scene. Yet to be announced is a newly designed series at the UMKC Conservatory to be unveiled in July.
The Performing Arts Series at Johnson County Community College: 2010-2011 season
In just 20 years since its founding in 1990, the Performing Arts Series at Johnson County Community College has grown from a small suburban series to a national powerhouse that has at times provided stiff competition to Kansas City's downtown presenters. With the opening of the Carlsen Center in 1999 — with its three state-of-the-art performance venues, including Yardley Hall, and plenty of free parking — the series took off. It is now a revered international presenter that brings a wide variety of cultural offerings to Johnson County and co-commissions new works from such major artists as Philip Glass and the Paul Taylor Dance Company. It has also made itself an integral part of the community through extensive outreach and educational programs.
The 2010-2011 season offers one of the most auspicious lineups in the Series' history, with big-name pop artists, theater, comedy, dance, classical music and programs with a global outlook. There's even the guy from TV's Jack Hanna's Animal Adventures, a jazz tribute to Kansas native Stan Kenton and the Tony Award-winning musical Spamalot! And in September, eight-time Grammy Award winner Natalie Cole will be on hand for an official 20th anniversary celebration.
"It's an exciting and wonderful place to be and a great place to work," says Emily Behrmann, who becomes general manager of the series this July 1st after a year as interim manager. (She succeeds Charles Rogers, who retires this summer after a decade of making the series strong.) As the only series of its kind in Johnson Country, the PAS strives to serve the citizens whose taxes largely support the college, with a variety of offerings that is as broad as any series in the area. But of course everyone is welcome, and many have found the Carlsen Center's ease of access a selling point. "We also want to serve as a complement to everything going on the Kansas City area," Emily says, adding that she is especially excited about Natalie and comedian Martin Short and about the first presentation of a musical. "In audience surveys, no matter what we ask, people always say, 'you should do more Broadway.' " The series also stresses numerous auxiliary educational activities such as master classes, workshops and lecture-demonstrations, in which students interact with and learn from leading artists. It's all part of a process of making audiences "feel real ownership" of the series, she says. "And we want to appeal to them on an ongoing basis."
All shows begin at 8 p.m. in Yardley Hall of the Carlsen Center unless otherwise noted. For subscription and ticket information, call 913-469-4445 or go to www.jccc.edu/TheSeries.
September 10th: Takács Quartet, Grammy-winning string quartet
September 11th: American Voices, Songs of Our Nation, Larry Gatlin, Crystal Gayle and Andy Cooney
September 25th: The "Still Unforgettable" Natalie Cole, 20th anniversary celebration
September 30th: Jungle Jack Hanna, featuring the star of TV's Jack Hanna's Animal Adventures (7 p.m.)
October 16th: The Seasons Project, part of the world premier tour of a Philip Glass composition, a PAS co-commission, with violinist Robert McDuffie and the Venice Baroque Orchestra
October 20th: Michael Bolton, singer-songwriter (7:30 p.m.)
October 22nd and 23rd: Capitol Steps, political comedy troupe
October 29th and 30th: Quixotic Fusion, Lux Esalare, Kansas City ensemble of musicians, dancers, aerialists
November 5th: DRUMLine Live, created by the music team behind the hit movie Drumline
November 6th: beatlegras, bluegrass arrangements of Beatles tunes by a fab three (Polsky Theatre)
November 12th: Jigu! Thunder Drums of China, a world-class company of drummers, percussionists and musicians steeped in the culture of Shanxi province
November 20th: Naturally 7, award-winning septet with a distinct a cappella style called "vocal play"
December 3rd: Christmas Bells Are Swingin'!, Boston Brass and the Brass All-Stars Big Band play holiday selections arranged by jazz legend and Stan Kenton
January 29th: Lar Lubovitch Dance Company, internationally renowned modern dance company
February 4th: The Hot Club of San Francisco, Gypsy jazz, in Silent Surrealism
February 12th: An Evening with Martin Short, starring the legendary comedian, film star and SNL alumnus
February 26th: Vienna Choir Boys, the legendary vocal ensemble that traces its history back five centuries
March 4th: Opole, Philharmonic of Poland, with soprano Iwona Sobotka, light classics by Viennese composers
March 5th: Hot Tuna Blues, guitarists Jorma Kaukonen and Jack Casady of Jefferson Airplane fame, blues-harp player Charlie Musselwhite and country-and-bluegrass artist Jim Lauderdale
March 12th: Janis Ian, singer, guitarist, songwriter ("At Seventeen")
April 2nd: Joffrey Ballet, world-renowned Chicago-based ballet company
April 16th: Béla Fleck, banjo; Zakir Hussain, tabla/percussion; and Edgar Meyer, bass
May 1: Spamalot, a Broadway musical based on Monty Python and the Holy Grail (7 p.m.)
Shakespeare's humor often stirs deep, mirthful reflection on the human condition and yes, sometimes it makes us laugh out loud. We don't normally think of the bard's subtle, fleet-footed humor…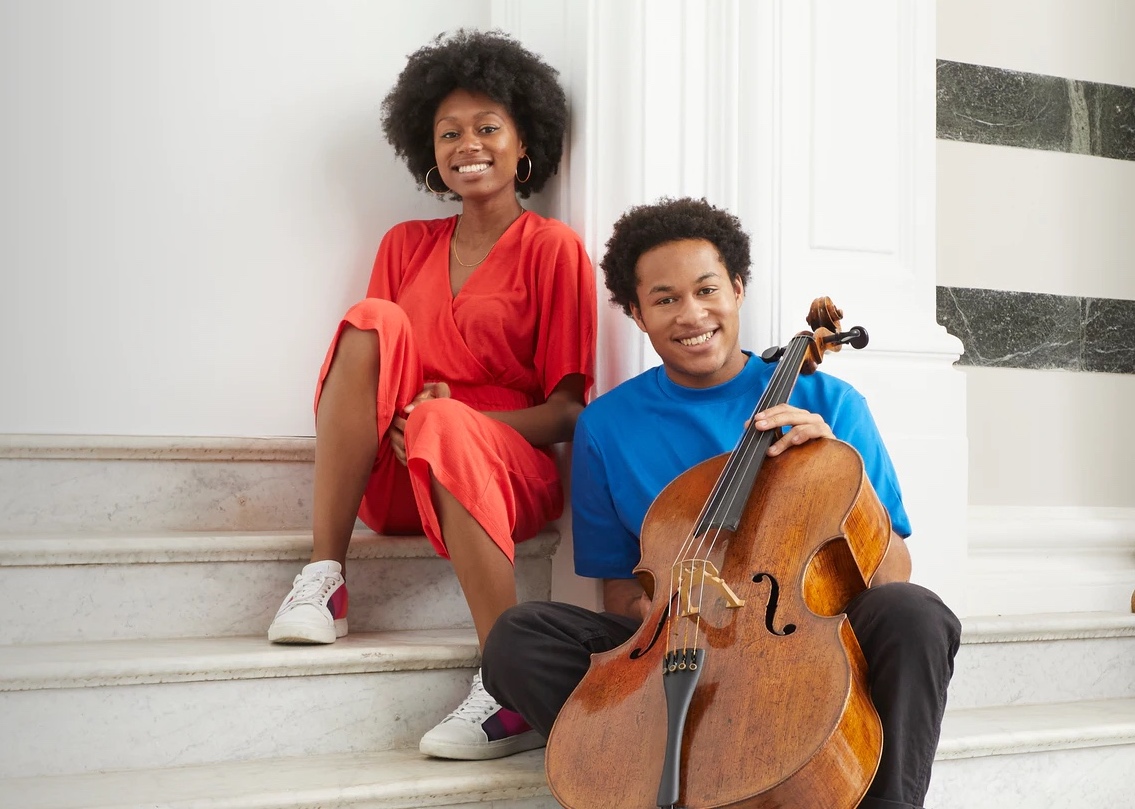 Pianist Isata Kanneh-Mason and cellist Sheku Kanneh-Mason are two of seven highly gifted siblings from Nottingham, England, who are creating a worldwide sensation. Sheku is best known for his performance…
Because Steve Jobs brought us the iPhone, the iPad, iTunes, the Mac, and a host of other indispensable devices, there are always going to be retellings of his life. One…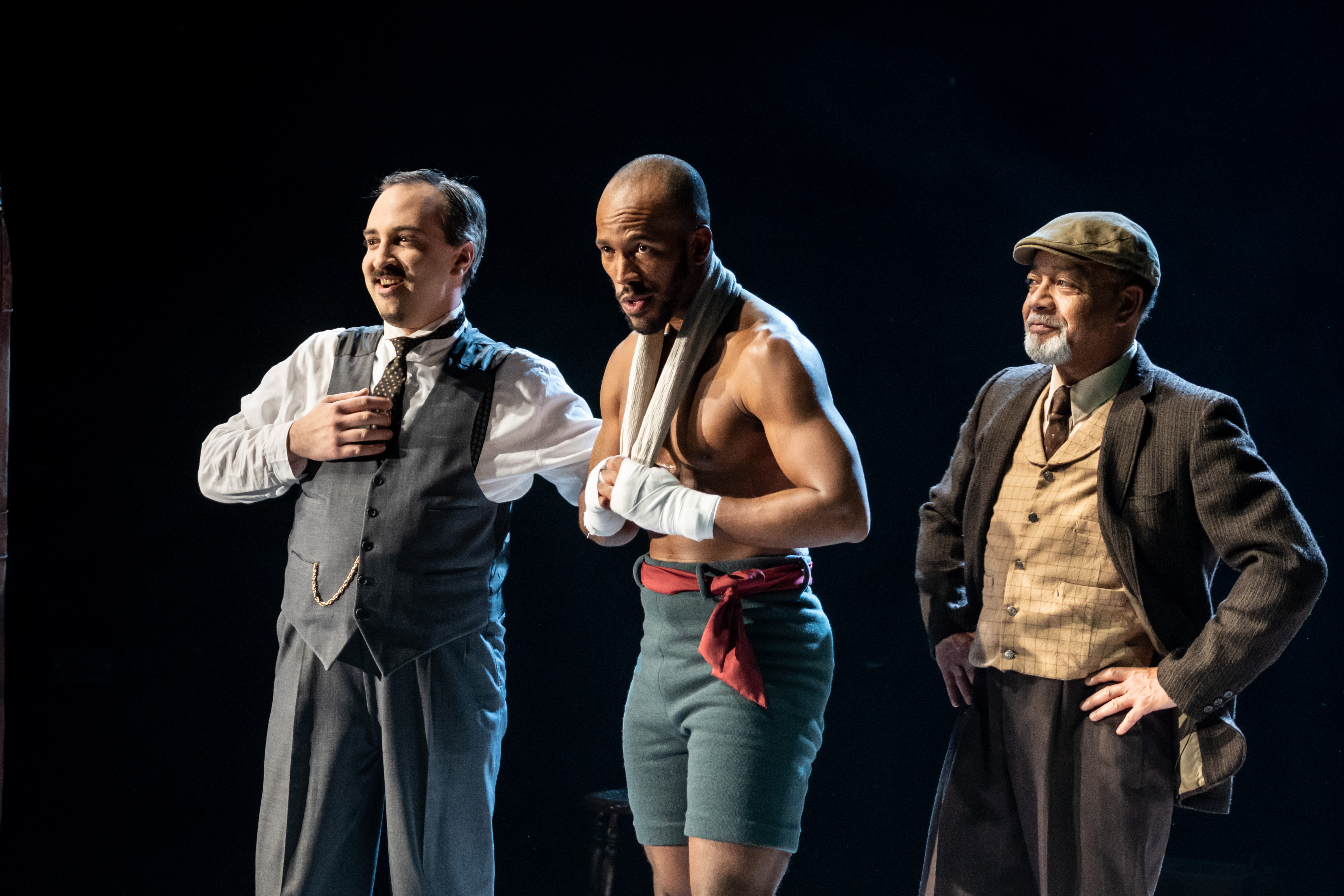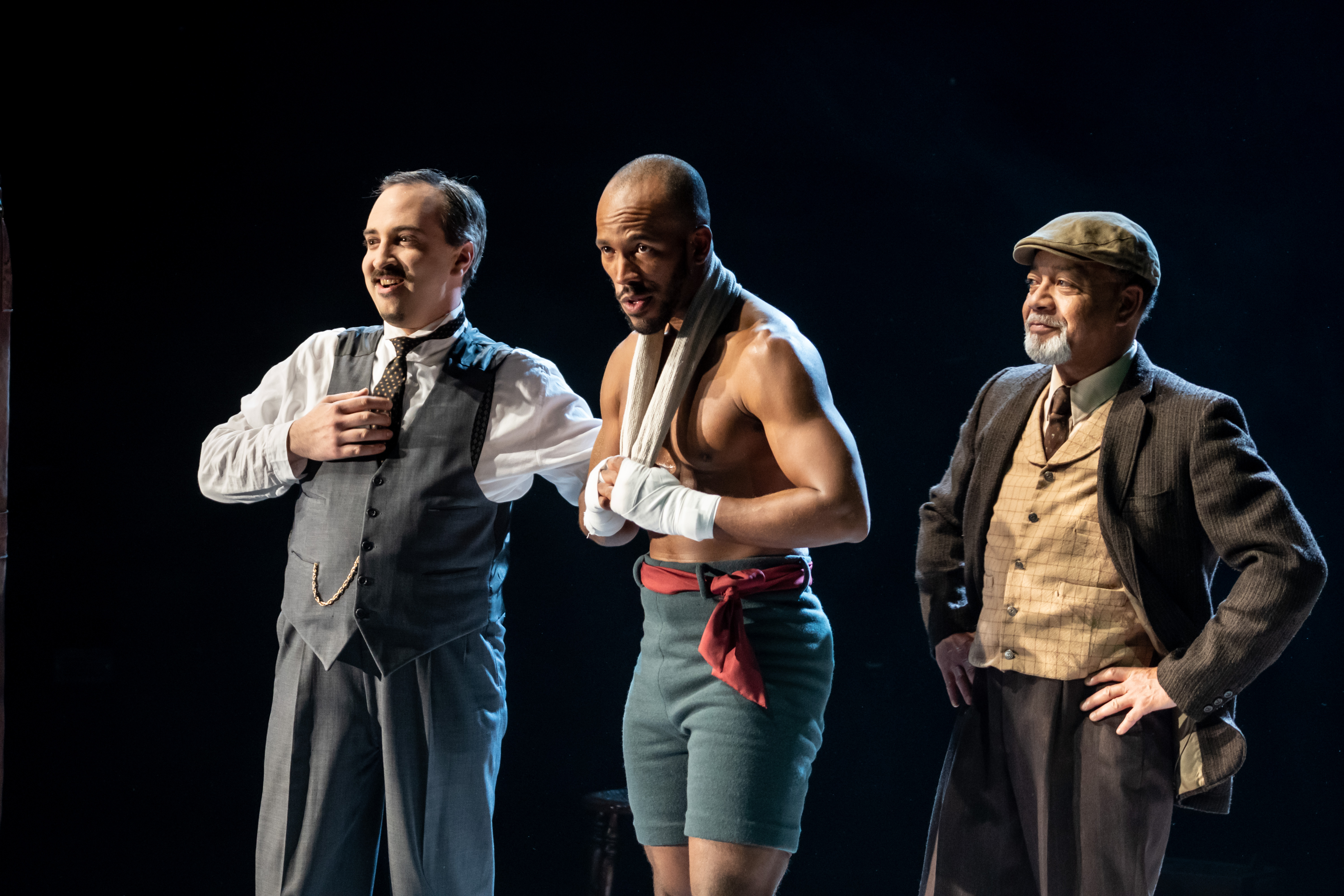 The Royale is a powerfully crafted piece of theater that addresses an issue that is still with us. Marco Ramirez' 85-minute play reflects on the legacy of Jack Johnson, the…