ANALYZE THIS: Lyric's 'Così' is scintillating fun that spares us needless exegesis
The glory of Così fan tutte is, to a great extent, its music: Mozart is the reason we continue to treasure this masterpiece, more than two centuries after its premiere in Vienna in 1790. Thus we were grateful, at the opening of the Lyric Opera of Kansas City's production on March 16th, that director James Alexander has taken a somewhat minimal approach to the "moving parts." Stage antics were kept to a minimum for the most part, and as a result we avoided the excess of "hijinks" that can easily mar this piece: Instead, we got to see the singers remain still enough to deliver Mozart's glorious music unfettered by silliness. Fortunately, the singers were, to a person, strong enough to make a case for this first-class production.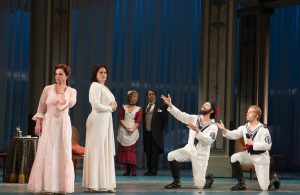 But more to the point, conductor Jane Glover, whose knack for Mozartean wit and style is matched by few musicians I know, helped everyone sound wonderful: even the Kansas City Symphony, which for once sounded as good in the pit as it does in Helzberg Hall next door (and perhaps even better).
We got to hear the sparkling Overture with the curtain closed, a welcome change from the now de rigueur practice of opening an opera with some contrived pantomime to set up a "Regieoper" back story. Nevertheless, when the curtain did open we were treated to the now-cliché "frozen" action: a stageful of players who came to life as the real music for Act I began.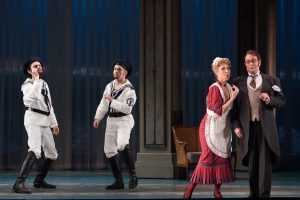 We plunge right into the story: Ferrando (Alasdair Kent) and Guglielmo (John Viscardi) think they are in love with Dorabella (Daniela Mack) and her sister Fiordiligi (Rebecca Farley), and the feelings are purportedly mutual. Don Alfonso (Patrick Carfizzi, looking a tad like a wry Nathan Lane) is skeptical about this, and wagers with the men that he can prove to them that their ladies are like all women: In his jaded world-view, if a man puts his mind to it, he can break any woman's willpower, regardless of how honorably she may have pledged her love to another. Patrick projected here with a voice notably larger (and deliciously robust) than those of the others, so that he really did sound like a patrician bully.
The men accept the bet, of course, and supposedly march off to war. The plan is that they will come back disguised as exotic foreigners (Albanians, to be exact), and each will test the faithfulness of the other guy's girlfriend. Sure enough, the women put up resistance but eventually give in. If you haven't figured it out by now, Così is a farce: It's more cartoon than Ibsen, and trying to overanalyze it is like bringing serious critique to the sexual politics of Mickey and Minnie Mouse.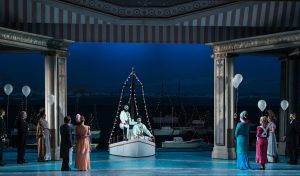 That being said, the piece is a dramma giocoso, which implies that (as with Mozart's other collaborations with librettist Lorenzo Da Ponte) it's not strictly a "comic opera" in the purely rom-com sense. This jarring clash between comic and serious jumps out at you already in Act I, in fact, when (shortly after the sisters have sung, in harmony, of their love for the two young men) the sorely tempted Dorabella finds herself falling for the "wrong" Albanian.
Her "Smanie implacabili" is not usually as comically over-the-top "tragic" as it was here (the score had been so compressed to fit into three hours and fifteen minutes that at times the action seemed to tumble head-over-heels over itself), but it was masterfully sung. Nonetheless Dorabella's naïve despair was met with bemusement not just from her sister (who smirked and checked her nails throughout) and from the wise-acre servant, Despina (Maureen McKay), but also from the tittering audience.
The more worldly Fiordiligi is a tougher pistachio to crack, and her Act I "Come scoglie" was, by design, more reserved, even removed, from the situation. Rebecca showed she has the vocal chops for this demanding aria, though the focus seemed to be more on mastering the technical challenges than on characterization. This was also the case for her Act II "Per pietà, ben mio perdona," which actually called for more fire; Rebecca did, finally, break into real passion (significantly) when she finally gave in to her Albanian!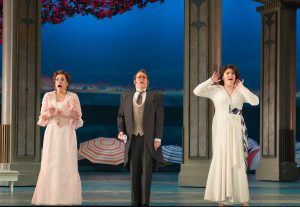 Alasdair sang his "Un' aura amorosa" with natural, sweet dexterity: He has about as lovely a Mozart tenor as we've heard on this stage, despite sounding at times thin at the top. (He sang the aria's reprise lying flat on his back, which I didn't think would work but actually did.) Viscardi is a favorite among today's American baritones, and he sang with burnished elegance. The fabulous large-scale ensembles consistently demonstrated a "matched set" in terms of vocal size: though these balances (which were spot-on with the orchestra as well) might again be traced back to Jane's peerless experience with the work.
One had the sense that Maureen's soprano is perhaps more polished than she was able to demonstrate, as she'd been asked to play a saucy Despina whose comedic portrayal was, for the most part, more important than suave vocal display. She was, however, quite funny (as in her Act II "Una donna a quindici anni"), and she brought off her goofy disguises (first as Dr. Mesmer, then as a Chaplain-esque notary) with controlled mirth. The chorus, an odd assortment of beachside revelers, wandered onstage now and then to sing a few bars. (The setting was 1918 Monte Carlo, with elegant, brightly hued sets adapted from designs originally created for San Francisco and Opéra de Monte-Carlo; these were satisfactory for Act I, but Act II featured boats strung with electric lights that felt oddly out-of-place, and the spa-turned-war-hospital seemed to come out of nowhere.)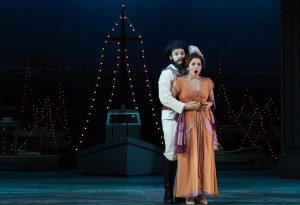 Paul Hackenmueller's lighting design was quite deftly executed, and made the beautiful sets glow warmly. The only bit that felt clunky was the "fade to cold blue" when Alfonso announced that the boys had to march off to military service. One directorial touch was disarmingly piquant: At moments where characters reflected on the idiotic nature of what they were doing, they'd step downstage and the curtain would close behind them, with footlights up: Suddenly they were vaudeville hucksters, trying to sell Da Ponte's silly plotline with a bit of soft-shoe razzle-dazzle. It was a wink and a nod: "Please don't take this too seriously."
Così contains one of the most brilliantly enigmatic conclusions of any opera: First there is a "canon," in which the singers agree to disagree and sing what we would today call a "round": all except Guglielmo, who is still not on board with the arrangement, and refuses to join in. More jarring, however, is the uncertainty as to how the love stories really end: Once the men are unmasked and the sisters realize they have a Hobson's choice in front of them, they're not sure what to do. The authors have left this open, and James' solution (which I will not reveal) is both logical and ingenious, even though it avoids spelling out exactly how the couples are going to feel about each other tomorrow morning, or next week, or next year.
 All photos by Elise Bakketun for the Lyric Opera of Kansas City.  The Lyric's Così plays at the Kauffman Center through March 24th. For tickets call 816-471-7344 or to go www.kcopera.org. To reach Paul Horsley, performing arts editor; send email to paul@kcindependent.com or find him on Facebook or Twitter (@phorsleycritic).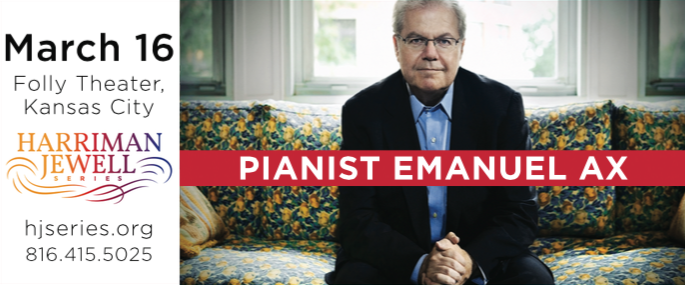 After more than two decades and four deans, it was beginning to look as if the UMKC Conservatory's dream of a new facility would remain just that: a dream. Until…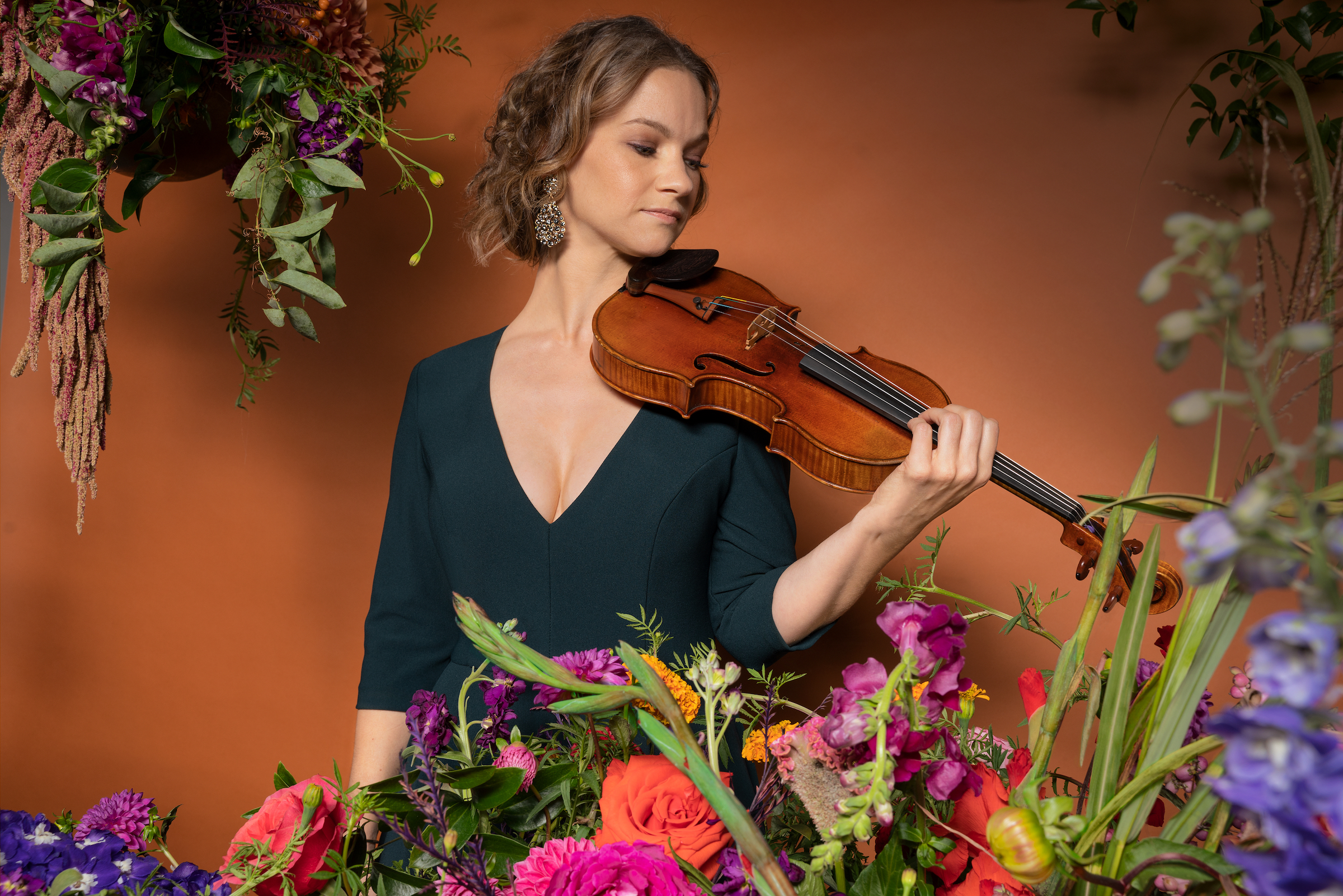 One woman, standing alone onstage. No pianist, no music-stand: Just Hilary Hahn and her violin, creating miracles. That is what Harriman-Jewell Series audiences are likely to experience this October 13th,…
Oh the weather outside is frightful(ly hot). But it won't be for long, so take a close look at this fall's diverse and provocative mix of music, dance, and theater:…
Kansas City Ballet always seems to be building something. For decades, it engaged in refitting existing buildings to meet its day-to-day needs: from the Westport Allen Center to the National…