Art Scene – Cara Spencer
Cara Spencer grew up in Lyndon, Kansas, a town of about 1,200 people, 30 minutes outside of Topeka. She had 56 people in her senior high school class and graduated from Sterling College in Sterling, Kansas, where she got a teaching degree in theatre education. "In high school, I had done some murals, but I kind of fell into scenic art in college because no one else wanted to do it. In scenic art, you work from show to show. You give people what they want. It's the same in the freelance world. You can paint an elephant for a mural or trucks for a shipping company. Whatever I do, I like making people's dreams come true. And there's a lot of overlap between the theatre world and the mural world," Cara said.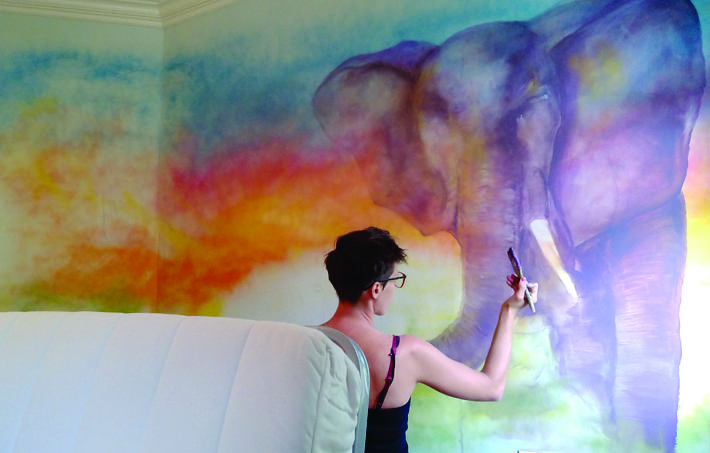 After college, Cara did scenic art at Music Theatre Wichita as well as freelance art and taught high school in Liberal, Kansas. "Two of my mentors were Rachel Downs and Amy Larink. Rachel is a freelance artist and taught a scenic art workshop at Sterling College and has worked at many theatres. I learned so much from her, especially about faux finishes. Amy was my boss at Music Theatre Wichita. She really knew how to run a shop and manage people, and she taught me a lot about being a scenic artist. I still talk to her regularly."
Cara eventually went back to school and got her master of fine arts degree in scenic art from the University of North Carolina School of the Arts. "Howard Jones, who was my professor, taught me how to work on details and be an all-around better artist. He showed me how to be creative, to problem solve, and he helped me develop an eye for detail. He always emphasized the importance of having everything look really professional."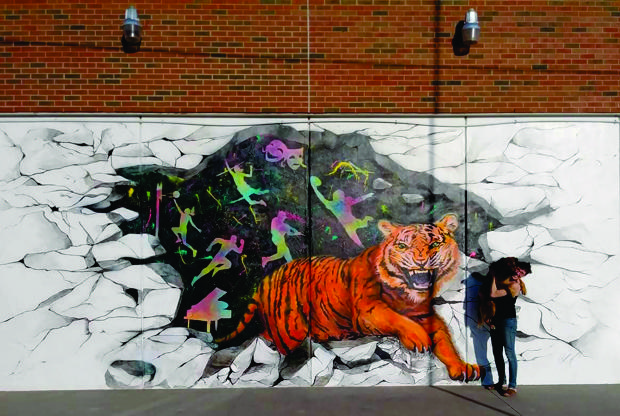 ---
After graduating, Cara was hoping to work her way back to the Midwest. "My parents still live in Lyndon, and I wanted to be closer to them. My nephew also lives in Ottawa, Kansas, and I wanted to be able to hang out with him and the rest of my family on a Saturday night." After a short stint in Houston, she got her dream job in 2019 at Kansas City Repertory Theatre as a charge artist. "Each show has its own scenic designer, and many of them have previously worked at Kansas City Repertory Theatre. Most of them are from out of town and definitely have their own style. What I do as a charge artist is to communicate and manage the scenic designer's vision and convey it to the scenic artists and the technical director. I also do the purchasing and decide what scene we are designing first. It's perfect for me because I love interacting with people. In addition, I also do a lot of hands-on work. For instance, I got to paint wallpaper for Fun House. It has to look both realistic and be larger than life because it's for theatre. I get to do things in theatre that you wouldn't be able to do in the art world, such as use six different stencils. This is what I love about UMKC. I get to paint backdrops as well as scenic details. It's a way for me to still have fun and play. I split my time between managing people and painting."
In addition, Cara was returning to her first love, teaching, and she had one class per semester, scene painting one and two, at UMKC. "I found there was a lot of overlap between my experience as a charge artist and as a teacher. As a manager, you have to figure out which way a person works and communicates. The same goes for when you are a teacher."
The other shows Cara got to work on were Cat on a Hot Tin Roof, For Colored Girls Who Have Considered Suicide When The Rainbow Is Enuf, and A Christmas Carol. "We were in the middle of the New Works Festival when COVID-19 hit. Our last show was supposed to be Noises Off, and I'm afraid that everything is being thrown into the dumpster as we speak.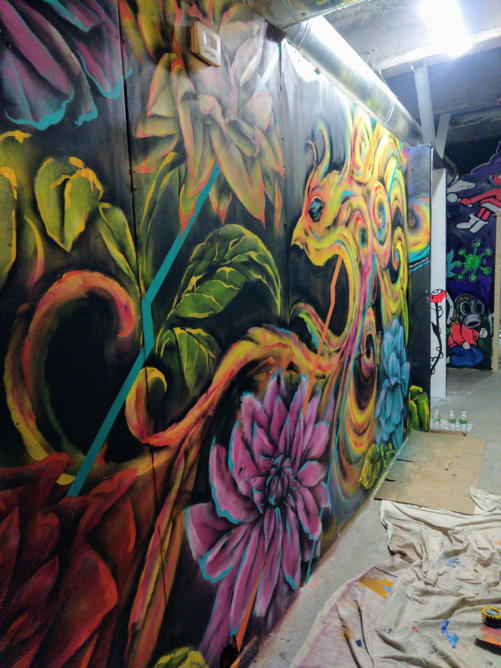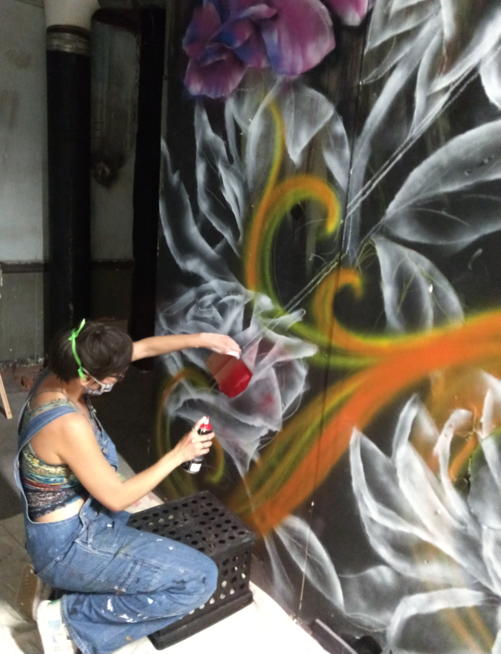 ---
Since Cara has lived in Kansas City, she has had the opportunity to work on a couple of murals, one in Independence at an apartment complex. Another is on Merriam Lane off of I-635. "I use a lot of the same techniques to paint murals as I would to paint a set. Instead of big paint brushes, I use spray paint. In both instances, you step back and keep the whole picture in mind. And, of course, there's a crossover, size wise. Both styles of art play off of each other and make you a better painter." One street artist Cara has found inspiring is Brady Scott, who is from Hutchinson, Kansas. "He is a graffiti and mural artist and is my current favorite."
Until Kansas City Repertory Theatre is up and running again, Cara is living with her parents and substitute teaching choir at the Osage City middle and high schools. "The kids are really good about wearing their masks while they sing," she said. Cara also is substitute teaching theatre one and two classes at the elementary, middle, and high schools. "Actually, it's been fun being around kids again since I started out as a teacher. A few students are doing virtual learning, but most are back in-person. Since it's such a small community, there have virtually been no cases of COVID-19."
Cara is optimistic that she will be back at Kansas City Repertory Theatre in December. "We are hoping to have shows in the spring, whether they will be at KC Rep Spencer Theatre or at Copaken Stage. "We are all playing it by ear. I had been living the dream at Kansas City Repertory Theatre and have truly loved my experience in Kansas City."
Also featured in the October 31, 2020 issue of The Independent
By Ann Slegman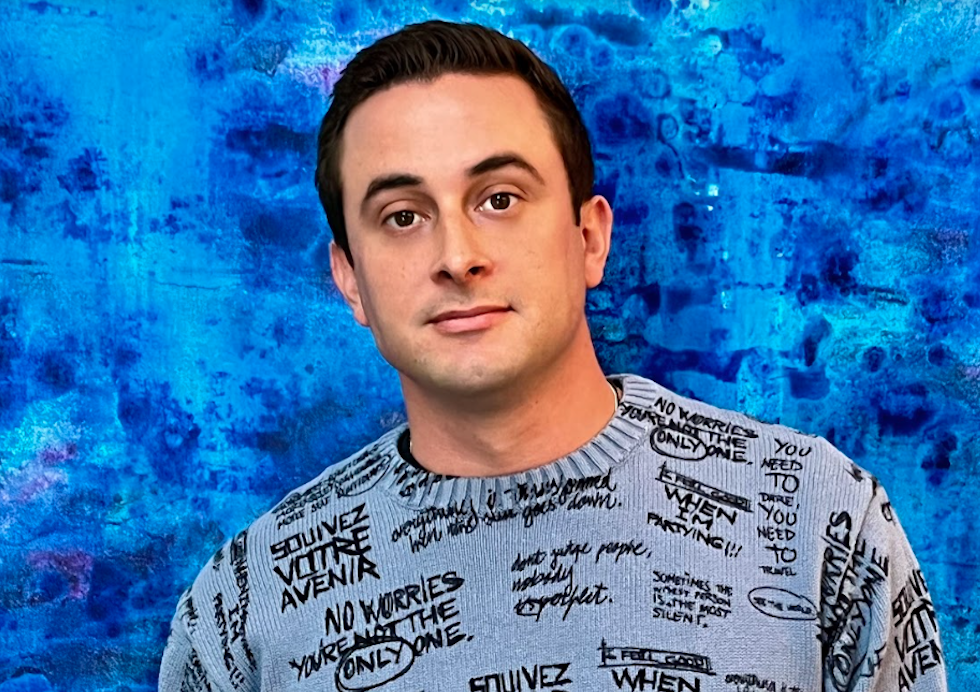 Homegrown and brilliant, Designer and Artist Brady Legler might be the most significant creative export from Kansas City in the last few decades. While he calls New York home now,…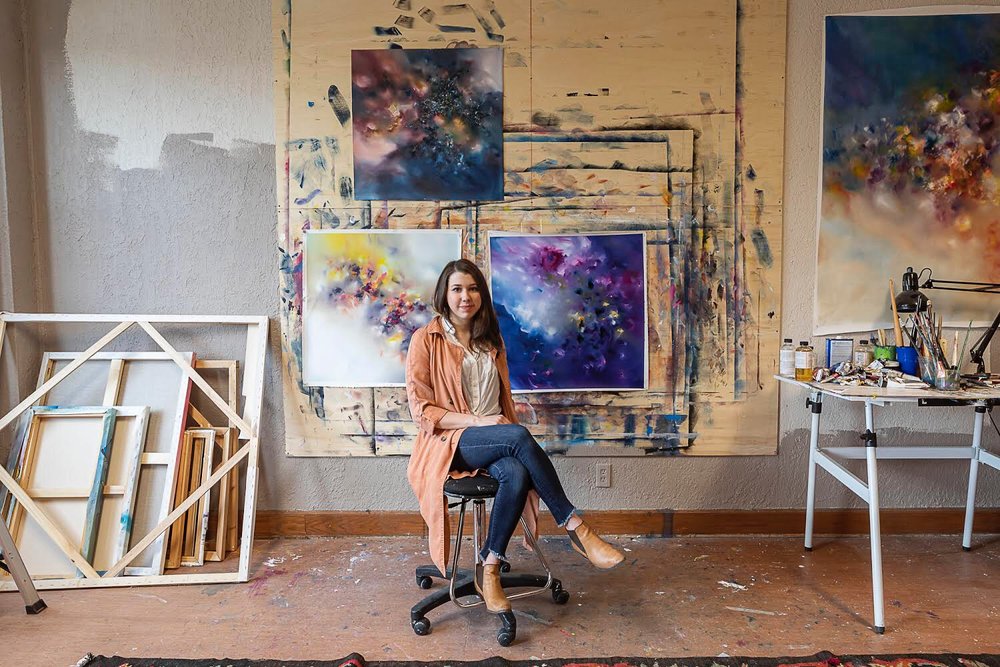 Imagine interpreting the world in a certain way and assuming that everyone else has the same interpretation – that all music is not only heard by the ears, but it…
Wedding gifts have varied over the years as much as brides' hair styles and dresses have changed. Need we remind our dear readers that dowries used to be the only…
When a beloved grandmother asks for a poem to be memorized and recited, consider it done. Glenn North, at the age of eight, did exactly what his grandmother challenged him…