HIGHLIGHTS OF 2012: A Dozen Priceless Performances
The year 2012 was a golden one for performing arts in Kansas City, part of an incredible flowering that has been going on for more a decade. This is not so much a "best of" list as it is a collection of performances that struck a nerve with me.
The Mousetrap (Kansas City Actors Theatre, August 4st through the 26th): Agatha Christie's classic mystery, now in its 60th year of continuous production, is as fun and as intriguing as ever. With KCAT you know you're dealing with a class act, and the intricate direction by Mark Robbins and excellent performances upheld that: Natalie Liccardello, Charles Fugate, Rusty Sneary, Matt Weiss, Peggy Friesen, Gary Neal Johnson, Emily Peterson and Victor Raider-Wexler.
Mark Morris Dance Group (Harriman-Jewell Series, September 28th): Long a bellwether for bringing the world's best dance to Kansas City, the Harriman Series presented the company formed by one of America's iconic choreographers.  The program spanned three decades of Morris' work, from the Canonic ¾ Studies (1982) to the Festival Dance (2011). America's best dancers performing works by one of the greatest choreographers of our time – What's not to love?
Carmina Burana (Kansas City Ballet, October 12th through the 21st): Toni Pimble is one of dozens of choreographers to have tackled Carl Orff's popular score, and she has one of the better Carminas around. Of course the KCB took on the challenge of performing the music live, and the Muriel Kauffmann Theatre was pushed to capacity with three choruses, vocal soloists and the Kansas City Symphony the pit. Talk about a wall of sound!
Joyce DiDonato, mezzo-soprano (Harriman-Jewell Series, November 16th): Kansas City's favorite hometown mezzo also happens to be one of the world's favorite mezzos, and she is in the best voice of her life. She feels very much at home on the Folly Theater stage, and she gave a stunning recital of works from her latest CD, Drama Queens, which she performed with the 18th-century ensemble Il Complesso Barocco. It was her fifth time on the Harriman series, and her second appearance here this year. In March she performed with the Kansas City Symphony and Michael Stern, in a program that became a PBS specialHomecoming: The Kansas City Symphony Presents Joyce DiDonato, which recently was nominated for a Grammy Award.
Vivica Genaux, mezzo-soprano (Harriman-Jewell Series, February 3rd): The competition for "best vocal recital" of 2012 was tough, but my vote goes to this brilliant Alaskan-born mezzo, whose program of Baroque arias "Vivaldi Pyrotechnics" was a deeply musical experience. Her voice can simply melt your heart, and her virtuosity is sine qua non. She was accompanied by Europa Galante, one of the more dynamic of Baroque instrumental ensembles these days, which found a sympathetic middle ground to the mezzo's fiery countenance.
Juan Diego Flórez (Harriman-Jewell Series, February 19th): It's no secret that Flórez, probably the finest bel canto tenor of our time, greatly admired the late Richard Harriman, who presented the singer's American recital debut in 2002 and invited him back three times. They were so close that Juan Diego invited Richard and Beth Ingram to his wedding in Lima, one of the biggest events in the Peruvian capital in decades. The tenor's recital of bel canto favorites was a gem.
Nixon in China (Lyric Opera of Kansas City, March 10th through the 18th): The Lyric's production of the first "CNN opera" was a milestone for the company and one of its most ambitious undertakings ever. Intent on showing off the full capabilities of the new Kauffman Center's opera house, this production of John Adams' 1987 opera did great service to this path-forging work. StarringJames Maddalena, the original Nixon when the opera was first performed 25 years ago, the production included Michael Cavanagh's direction and a cast of singing actors that made the Lyric seem like one of the most important opera companies in America – which apparently it is these days!
The Whipping Man (Kansas City Repertory Theatre, March 23rd through April 8th): Set in a singular time and place in American history, Matthew Lopez' play about a Virginia family in the days just after the Civil War confronts big questions. Bossy landowner Caleb (Kyle Hatley), who will die if his leg is not amputated, beseeches his former slave, Simon (Michael Genet) to help out. Simon agrees not because he has to but "because it's the right thing to do." The explosive revelations come one right after another. Eric Rosen brilliantly directed this theatrical hot potato, which challenged us partly because we find ourselves still living with slavery's legacy.
Time Stands Still (Unicorn, April 14th through the 29th): Donald Margulies' Tony Award-nominated play examines the role of journalists in recording the horrors of war. The play takes a unique look at the bravery not just of those in uniform but also of those who risk their lives to cover war. Hard-hitting photojournalist Sarah (Carla Noack) has nearly died from a roadside bomb in Iraq, and her boyfriend (David Fritts) is suffering from PTSD. Brilliantly directed by Sidonie Garrett, with a bracingly realistic portrayal by Carla, the Unicorn scored big here.
The Barber of Seville (Lyric Opera, April 21st– through the 29th): Artistic director Ward Holmquist and director William Theisenclosed out the company's first Kauffman Center season with a witty and beautifully sung Barber, featuring the lovely Sandra Piques Eddy as Rosina and top-drawer baritone Joshua Hopkins. His voice was a delight, mellow and naturally supported, and he was a confident presence who avoided slapstick but made it clear that he was in charge.
"Masters of American Dance" (Kansas City Ballet, May 4th through the 13th): This clever program of works by choreographers connected to New York City Ballet included works by George Balanchine (Serenade), Jerome Robbins (Afternoon of a Faun), the KCB's late artistic director Todd Bolender (Souvenirs) and Peter Martins (Les Gentilhommes). Not surprisingly, the Balanchine was the most striking, causing the audience to gasp when the curtain opened, simply from the look of the piece. It was a program that revealed much about Balanchine's legacy to American dance.
Joshua Bell, violin and Paul Jacobs, organ (Kansas City Symphony, June 15th through the 17th). This concert had not one but three headliners, beginning with a new piece by Stephen Hartke commissioned by the Symphony (City of Fountains) followed by Bell in the Brahms Concerto. The real treat was the Saint-Saëns' "Organ" Symphony, featuring organist Paul Jacobsperforming on Helzberg Hall's new Casavant organ. For once I heard this piece not thinking "What is the organ doing here?" but instead "Wow, this makes sense!" This million-dollar organ is destined for greatness.
Most of us have experienced at least one extraordinary moment in our lives in which we feel we've been visited by a miracle: and perhaps we have been. Such a…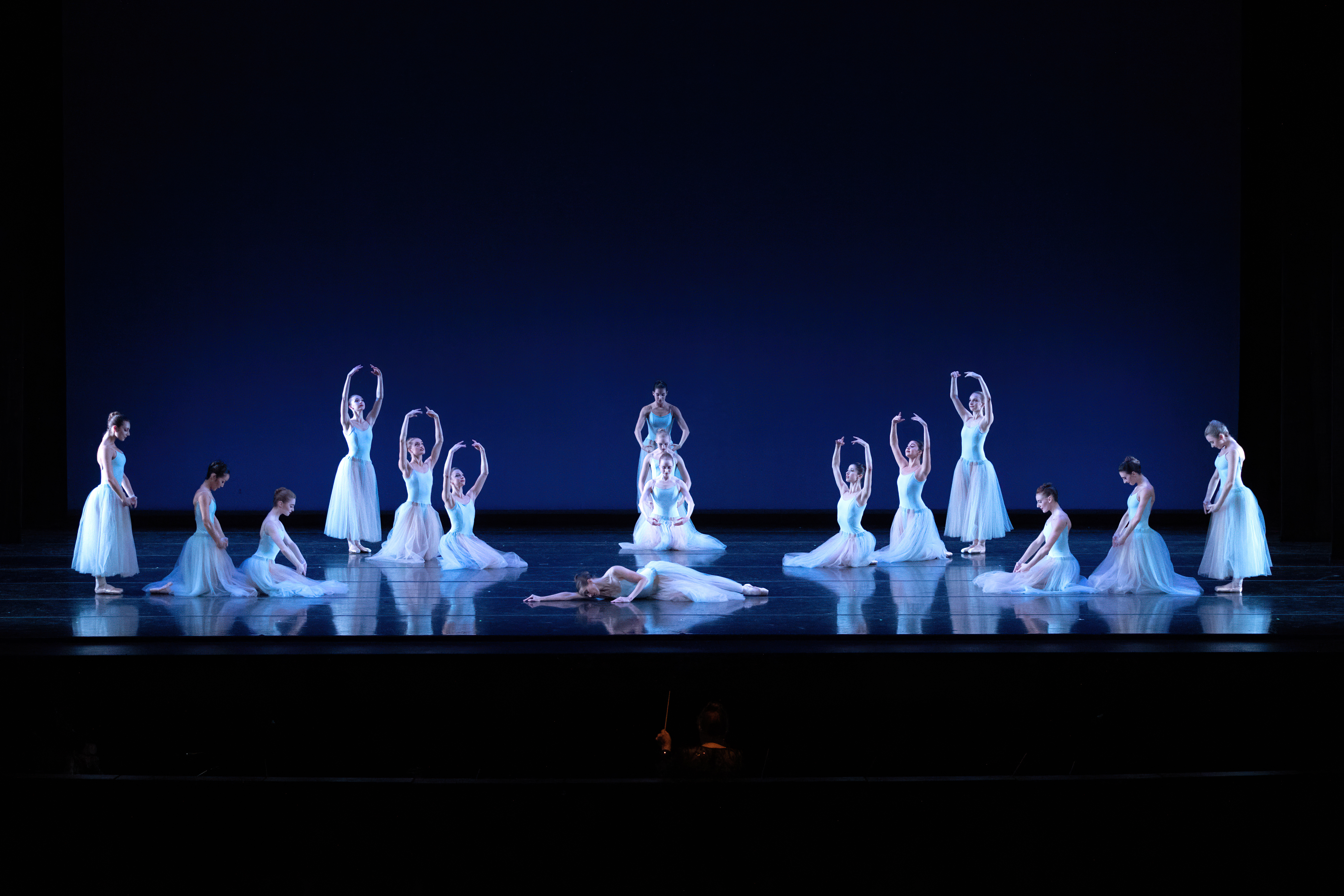 Oh, how George Balanchine's teachers back in Russia must have chafed at the finale of his Serenade, in which three women assert themselves through the most startling of means: After…
Many of the shows we are highlighting this fall are actually indoors! But always confirm your event a day or two ahead. SEPTEMBER August 27-September 19 Kansas City Repertory…
Devon Carney's great affection for classical ballet stands front and center in his lovingly choreographed Swan Lake, which the Kansas City Ballet introduced here in 2016 and is currently revisiting.…