Congratulations, Emily & James!
Sara Fischer of Los Angeles, California, is pleased to announce the engagement of her daughter, Emily Fischer Bylsma, to James William Joseph Cooling, the son of Mr. and Mrs. James Edward Cooling of Our Town. The bride-to-be is the granddaughter of Mr. and Mrs. Joseph Fischer. Emily is a graduate of the Brentwood School in Los Angeles, California. She received a bachelor of arts degree in English from Washington University in St. Louis. Emily careers with WME | IMG in San Francisco, California. 
Her groom-elect is the grandson of Mrs. William G. Dietrich of Our Town and the late Mr. Dietrich and the late Mr. and Mrs. Lester Cooling. James is a graduate of The Pembroke Hill School. He was a member of the Jewel Ball floor committee as well as an escort in 2007. James earned a bachelor of science degree in mechanical engineering from Miami University. He is a member of Sigma Alpha Epsilon fraternity and was a BOTAR escort in 2011. James is currently working towards a juris doctor degree at the University of San Francisco School of Law. Theirs will be a September 4th wedding at the home of the bride's grandparents in Beverly Hills, California.
Also featured in the May 14, 2016 issue 
Abby Lynn Hale and Cooper Dean Heidebrecht were united in marriage on June 10th at Country Club Christian Church in Kansas City, Missouri. Abby is the daughter of Shirley and…
Double the pleasure, double the fun! Darling twin boys, William David Collins and Wesley Porter Collins, arrived on January 27th. Their proud parents are Monica and David Collins of Vero…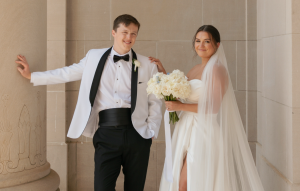 Adele McConnell Royle and Blake Clemens McCartney were joined in matrimony on July 22nd at the Cathedral of the Immaculate Conception in Kansas City, Missouri. The bride is the daughter…
Mr. and Mrs. Stephen Kent Hickerson of Overland Park, Kansas, are pleased to announce the engagement of their daughter, Emily Anne Hickerson, to Peter Bryant Milledge, the son of Mr.…