Congratulations, Mary & Kyle!
Mr. and Mrs. Thomas Edward Weiford of Overland Park are pleased to announce the engagement of their daughter, Mary Catherine Weiford, to Kyle Michael Kramer, the son of Mr. and Mrs. James Kelly of Overland Park and the late Mr. Terry Kramer. The bride-to-be is the granddaughter of the late Mr. and Mrs. Frank A. Hughes and the late Dr. and Mrs. Edward C. Weiford. Katie is a graduate of Notre Dame de Sion High School. She earned a bachelor of arts degree in theatre arts and communications from Marquette University and a master of arts degree in education from Avila University. Katie is the founder and co-owner of Kookiedoodle Crafts. 
Her groom-elect is the grandson of Mrs. Wilbur Bishop of Overland Park and the late Mr. Bishop and the late Mr. and Mrs. William Kramer. Kyle is a graduate of Emporia High School in Emporia, Kansas. He earned a bachelor of science degree in accounting and business administration from The University of Kansas. Kyle is employed with Grant Thornton. Theirs will be an October 30th wedding at Top of the Rock Chapel at Big Cedar Lodge.
Also featured in the September 19, 2015 issue of The Independent
Photo Credit: Wirken Photography
Abby Lynn Hale and Cooper Dean Heidebrecht were united in marriage on June 10th at Country Club Christian Church in Kansas City, Missouri. Abby is the daughter of Shirley and…
Double the pleasure, double the fun! Darling twin boys, William David Collins and Wesley Porter Collins, arrived on January 27th. Their proud parents are Monica and David Collins of Vero…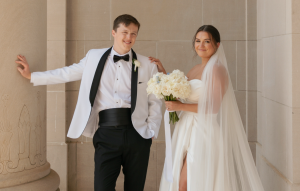 Adele McConnell Royle and Blake Clemens McCartney were joined in matrimony on July 22nd at the Cathedral of the Immaculate Conception in Kansas City, Missouri. The bride is the daughter…
Mr. and Mrs. Stephen Kent Hickerson of Overland Park, Kansas, are pleased to announce the engagement of their daughter, Emily Anne Hickerson, to Peter Bryant Milledge, the son of Mr.…