Congratulations, Mr. & Mrs. Kraemer!
Christine Ashley Ginter and Joseph David Kraemer were married at Our Lady of Perpetual Help Redemptorist Catholic Church. The bride is the daughter of Mr. and Mrs. Barry Ginter of Lee's Summit, Missouri. Christine is the granddaughter of Mr. and Mrs. Gary E. Haggerty of Lee's Summit and Mrs. LeRoy Ginter of Salisbury, Missouri, and the late Mr. Ginter. Her groom is the son of Mr. and Mrs. Dave Kraemer of Blue Springs, Missouri. Joseph is the grandson of Mr. and Mrs. Harlen Mehrer of Sauk Centre, Minnesota, and Mr. and Mrs. Raymond Kraemer of Osakis, Minnesota. On the evening prior to the ceremony, the groom's parents toasted their son and future daughter-in-law at the rehearsal dinner, which was held at Stoney Creek.
The bride's parents hosted the wedding reception at Arrowhead Stadium. Mary Kroening served as matron of honor, with Heather Crutcher as maid of honor. The bridesmaids were Kelsey Shireman, Courtney Campbell, Taylor Polson, Erica Zink, Brittanie Hill Nelson, Ali Cavanaugh, and Courtney Miller. Bryce Clark was the best man. Nick Kraemer, Sam Kraemer, Brett Nelson, Justin Ginter, Jared Ginter, Austin Harness, Chris Pernice, and Brian Davidson were groomsmen, with Jake Cavanaugh serving as honorary groomsman. Following a honeymoon in Hawaii, the couple is at home in Lee's Summit. Christine is a personal stylist with Tina + Crutch, and Joseph is employed with CommunityAmerica Financial Services.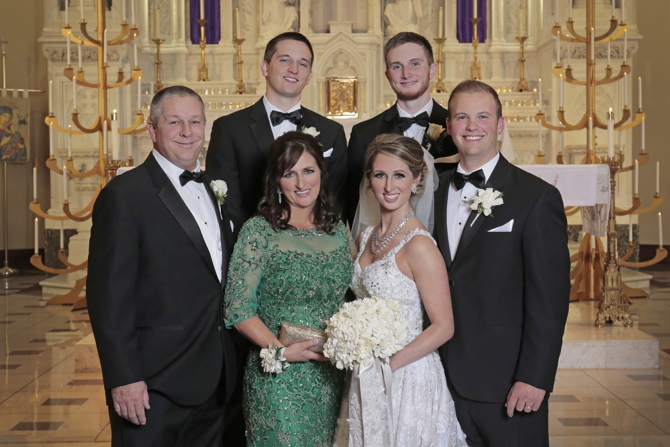 (Front row) Barry and Lisa Ginter with the bride and the groom (back row) Justin Ginter and Jared Ginter
Also featured in the June 24, 2017 issue of The Independent
Photo Credit: Clayton Jenkins
Abby Lynn Hale and Cooper Dean Heidebrecht were united in marriage on June 10th at Country Club Christian Church in Kansas City, Missouri. Abby is the daughter of Shirley and…
Double the pleasure, double the fun! Darling twin boys, William David Collins and Wesley Porter Collins, arrived on January 27th. Their proud parents are Monica and David Collins of Vero…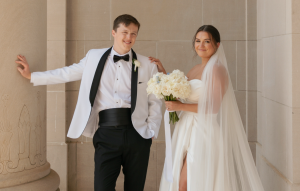 Adele McConnell Royle and Blake Clemens McCartney were joined in matrimony on July 22nd at the Cathedral of the Immaculate Conception in Kansas City, Missouri. The bride is the daughter…
Mr. and Mrs. Stephen Kent Hickerson of Overland Park, Kansas, are pleased to announce the engagement of their daughter, Emily Anne Hickerson, to Peter Bryant Milledge, the son of Mr.…