Congratulations, Mr. & Mrs. Osmundsen!
Megan Anne Sinclair and Mark Robert Osmundsen were married on May 1st at the Four Seasons Biltmore Resort in Santa Barbara, California. The bride is the daughter of Mr. and Mrs. Ronald Sinclair of Wichita, Kansas. Her groom is the son of Mr. and Mrs. Robert Osmundsen of Black Mountain, North Carolina. The evening prior, the groom's parents hosted a rehearsal dinner at The Wine Cask. Following the ceremony, the bride's parents hosted a beautiful reception at The Biltmore.
Monica Talboy was the matron of honor, and Kelly Klinkon was the bridesmaid. Matt Osmundsen served as the best man, and Steven Cress was the groomsman. Alice Osmundsen served as the flower girl. The happy couple enjoyed a honeymoon to Bora Bora and is at home in Fairway. Megan careers with Andrews McMeel Universal, and Mark is employed with Black & Veatch.
Also featured in the November 12, 2016 issue
Photo Credit: Birds of a Feather
Abby Lynn Hale and Cooper Dean Heidebrecht were united in marriage on June 10th at Country Club Christian Church in Kansas City, Missouri. Abby is the daughter of Shirley and…
Double the pleasure, double the fun! Darling twin boys, William David Collins and Wesley Porter Collins, arrived on January 27th. Their proud parents are Monica and David Collins of Vero…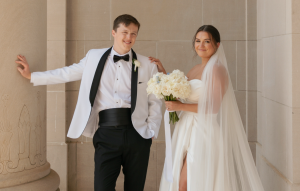 Adele McConnell Royle and Blake Clemens McCartney were joined in matrimony on July 22nd at the Cathedral of the Immaculate Conception in Kansas City, Missouri. The bride is the daughter…
Mr. and Mrs. Stephen Kent Hickerson of Overland Park, Kansas, are pleased to announce the engagement of their daughter, Emily Anne Hickerson, to Peter Bryant Milledge, the son of Mr.…