Congratulations, Mr. & Mrs. Rau!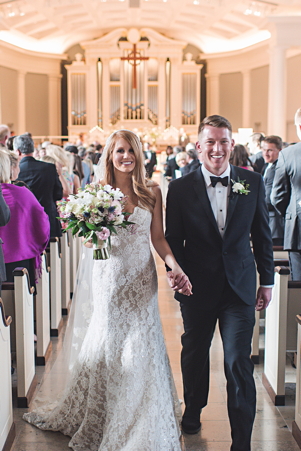 Linda Ann Howard and Matthew Stephen Rau were married on April 8th at Village Presbyterian Church. The bride is the daughter of Mr. and Mrs. Steven Kent Howard of Prairie Village. She is the granddaughter of Mr. and Mrs. Richard Charles Jensen, Jr., also of Prairie Village, and the late Mr. and Mrs. Paul Leroy Howard. The groom is the son of Mr. and Mrs. Matthew Bouchard and Mr. and Mrs. Christopher Henderson Rau, all of St. Louis, Missouri. He is the grandson of Mrs. Walter Haessig of St. Louis and the late Mr. Haessig and the late Mr. and Mrs. Godfried Henry Rau. The groom's parents hosted a rehearsal dinner at Grand Street Cafe on the evening prior to the ceremony.
The bride's parents fêted their daughter and new son-in-law with a reception at The Kansas City Country Club. Jennifer Howard, sister of the bride; was the maid of honor. Laura Hill was the matron of honor. Allison Tapko, Megan Pence, Caroline DeGoler, Vanessa Lakbachi, Kelly Reardon, and Kellie Reilly served as bridesmaids. Lauren Rau and Liz Stockmann, sisters of the groom; were attendants. John Kimminau and Ryan Penfield were the best men. Clayton Suter, Corey May, Jordan Wilson, Lewis Heacker, Ryan Roepke, and Scott Humphrey were groomsmen. Dan Howard, brother of the bride; and T.J. Rau were ushers. The readers were Kristyn Kimminau and Emilee Weltner. Theo Wilson was the ring bearer. Following a honeymoon in Riviera Maya, Mexico, the couple is at home in Prairie Village. Linda careers with Blue Cross Blue Shield of Kansas City, and Matthew is employed with Ferguson Properties.  
Also featured in the June 10, 2017 issue
Photo Credit: epagaFOTO
Abby Lynn Hale and Cooper Dean Heidebrecht were united in marriage on June 10th at Country Club Christian Church in Kansas City, Missouri. Abby is the daughter of Shirley and…
Double the pleasure, double the fun! Darling twin boys, William David Collins and Wesley Porter Collins, arrived on January 27th. Their proud parents are Monica and David Collins of Vero…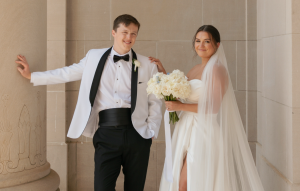 Adele McConnell Royle and Blake Clemens McCartney were joined in matrimony on July 22nd at the Cathedral of the Immaculate Conception in Kansas City, Missouri. The bride is the daughter…
Mr. and Mrs. Stephen Kent Hickerson of Overland Park, Kansas, are pleased to announce the engagement of their daughter, Emily Anne Hickerson, to Peter Bryant Milledge, the son of Mr.…