Culinary Curiosity – Bamboo Penny's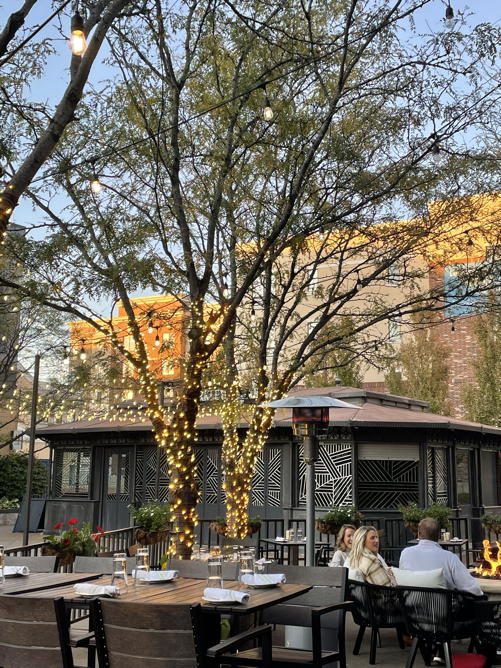 An increasingly high demand for quality Thai food has brought about a third location for Penny and Doug Mufuka to Our Town. Also the proud owners of the Thai House and KC Thai, they have opened Bamboo Penny's in Park Place in Leawood. If a host of menu options and an even larger restaurant footprint are on our "Thai-must-have" list, Bamboo Penny's is the place to go! The space boasts ample indoor seating, patio seating with a firepit and dining space, plus the Polynesian-inspired  Bamboo Room on the second floor for happy hours, a private event space, or just hanging out and enjoying the view. 
While being comfortable is certainly a benefit when dining out, the comfort level of Penny's fare is beyond compare. One astute diner in our party noted that her Pad See Ew was possibly the best Thai comfort food around. It's a good thing they have online, to-go ordering. 
The impressive menu is divided into the sections of authentic salads and more, stir fry, Penny's specialties, rice dishes, noodle dishes of Thailand, Thai curry, small plates, bowls, and desserts. The cocktail selections are authentic and quite tasty. Since we simply could not sample it all, we chose what we hoped would be a little beyond the norm. As it turns out, we hit home runs all the way. 
Starting with the small plates, we tried the crunchy salad rolls, which were a divine and healthy way to start! Translucent rice-paper wrappers held lettuce, crisp apple, carrot, cucumber, and mango served with a sweet dipping sauce. Not filling, but full of flavor – the perfect start. We also found the pan-seared pork dumplings to be light, well-seasoned, crispy, and delightful – a great savory alternative to the salad rolls. 
Penny's specialties was our next stop on the menu, and of course we had to try Pad Thai À La Penny. A lovely, thin egg crepe arrived cradling rice noodles stir-fried with cabbage, farm fresh egg, fresh bean sprouts, and scallions in a sweet, sour, and salty sauce. We added the chicken from the large list of protein options. The presentation was as good as the dish! Also found in this category was the most amazing shrimp dish we've ever encountered. The crispy jumbo garlic prawns were to die for! Pan-seared jumbo split prawns are coated with a secret crispy-something that holds up to tossing and saucing, and the prawns are served over broccoli, carrots, garlic, bell peppers, and celery, and served with steamed white rice. This was a true culinary find!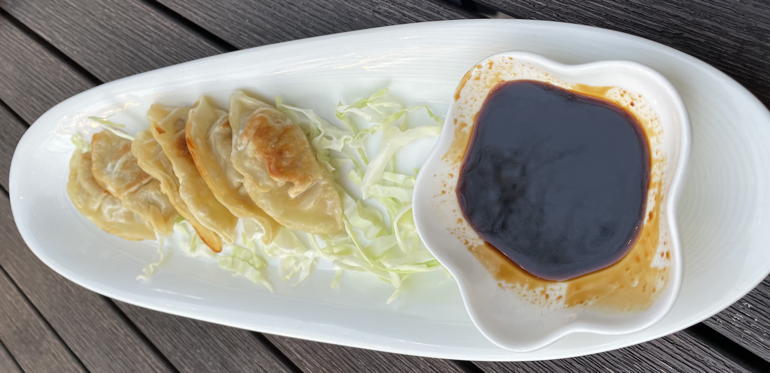 ---
From there, we ventured to noodle dishes and found the aforementioned Pad See Ew, of comfort-food fame. Flat, wide rice noodles tossed with bok choy, egg, Chinese broccoli, and mushrooms were mixed in a sweet soy sauce. The sweet sauce presents as an original and tasty take on the traditional Pad Thai, and the noodles were cooked to perfection. 
While hard to imagine, we did have room for dessert, because of… Chocolate Rangoon. Well, that and the Sweet Sticky Rice & Mango! Both desserts were as interesting as they were tasteful. The Chocolate Rangoon is exactly as it sounds – crispy, warm wraps hold a chocolate confection, which is then dipped into a dark chocolate sauce to end up with – well, fabulousness. This particular dish merits listings in two sections of the menu; besides being listed with the desserts, it is also in the small plates section so one can start (and end) with dessert. The Sweet Sticky Rice & Mango is a Thai classic option for something sweet. A generous portion of sliced mango is served over rice and coconut cream (and it's a serving of fruit!). 
---
All in all, it's an enjoyable experience, if not a bit crowded in these early days. A reservation would be an added bonus to consider (closed on Mondays). If the weather is nice, the patio (with heaters) has a lovely backyard feel. The service was quite good, even if they were still trying to get the "feel" of the place. Penny, herself, was seen perusing the dining areas and adjusting a few details to make the experience perfect for diners. Our only regret can be readily fixed by a quick drive to Park Place again. We didn't try the curry, and it is beckoning us for another visit. Choosing from Massaman, Panang, green, yellow, or red with mild and hot options is a must-do on our list. As Penny claims, "…this is where 'mild, medium, or hot' isn't a question of preference, but a test of one's courage."
Read more from the November 13, 2021 issue of The Independent
By Anne Potter Russ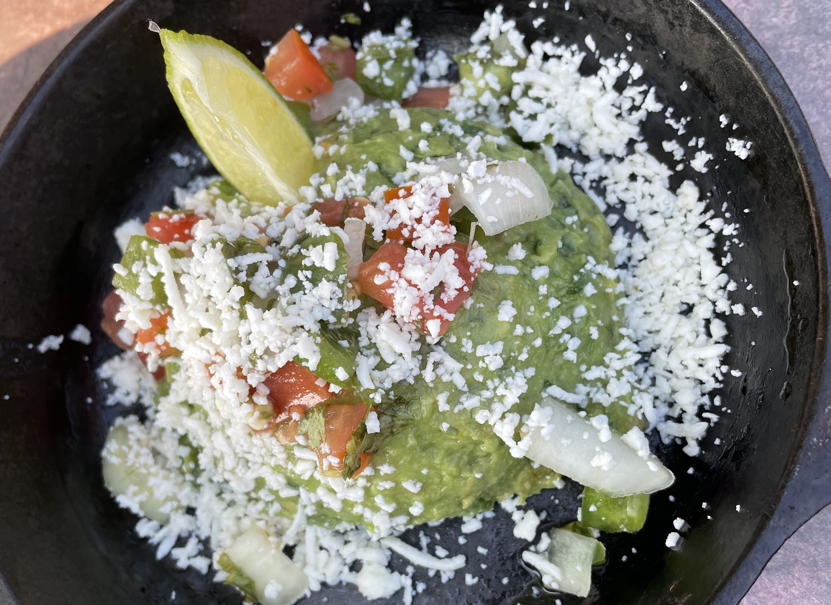 It's all about the happy hour and beverages and bites! Whether it is a date night, a girls' night out, or a spur of the moment gathering of friends, the…
Want it spicy? Want it mild, want it fresh, want variety? Want original? Want a personality larger than life to recommend what is best? Want true Mexican fare with four…
Contemporary comfort food with a creative flair, convenience in Prairie Village, and local owners – what's not to love? Scratch Gourmet Express and Catering is the newest, and possibly most…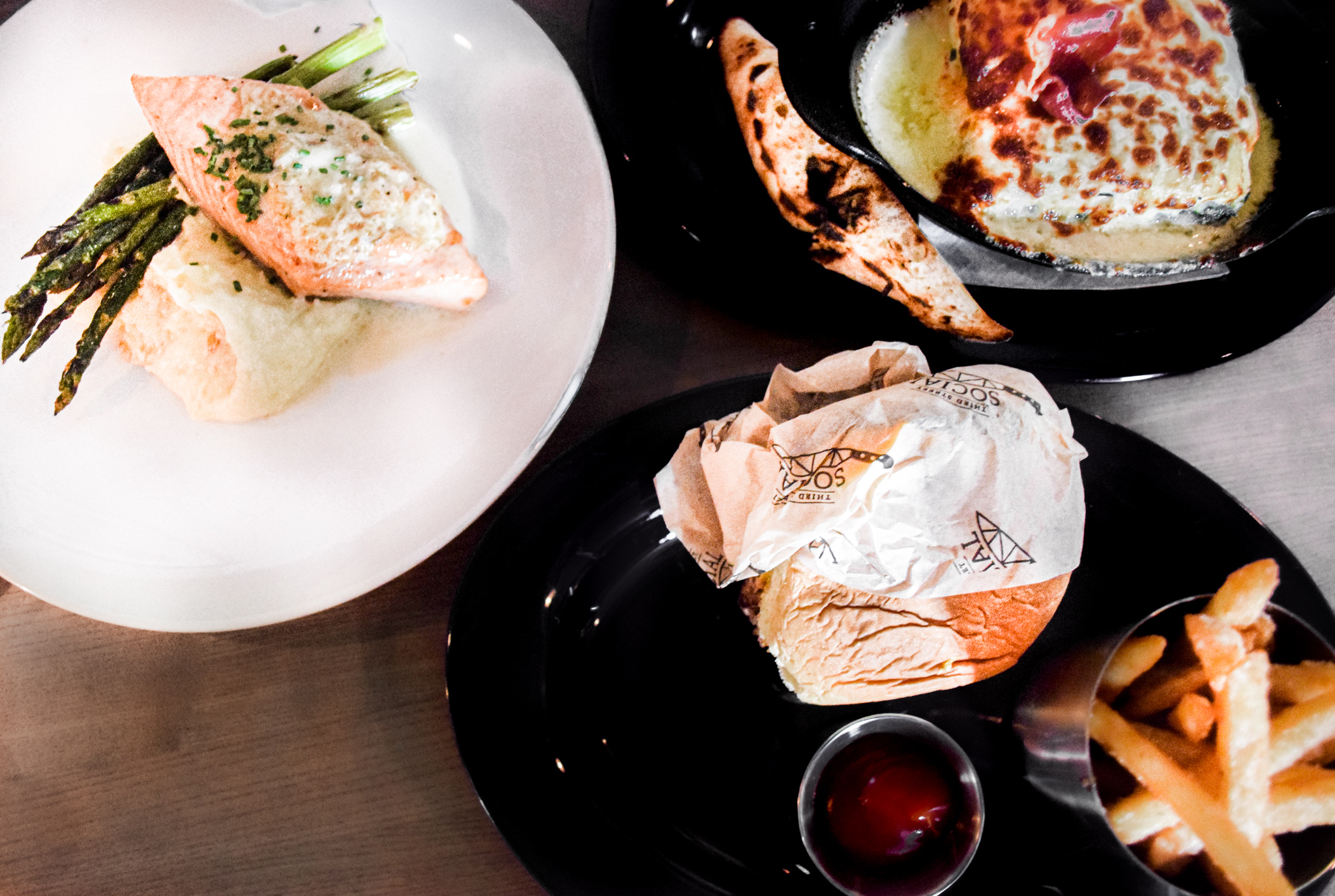 A nice drive to Lee's Summit would have been required until recently to access some of the most amazing comfort food – chicken and waffles – but not anymore! Andy…