IN REVIEW: Harriman-Jewell delights with 'Acis,' KC Rep fascinates with 'An Iliad'
By Paul Horsley
You have to believe in Baroque opera to make it convincing, and Mark Morris believes in it absolutely. His Acis and Galatea, a delightful amalgam of dance, music, theater, costumes and lighting design, remains true to the madcap spirit of Handel's original masque-opera, and on February 6th and 7th at the Kauffman Center it formed a highlight of the Harriman-Jewell Series' 50th anniversary season. With the dancers of the Mark Morris Dance Group, verdant-leafy scenic designs by Adrianne Lobel, costumes by Isaac Mizrahi (who nowadays works extensively in opera) and masterly lighting design by Michael Chybowski, the co-production (commissioned by the Harriman-Jewell Series together with Lincoln Center and several other presenters) embedded fine singers into Mark's ever-inventive choreography, creating a visual feast that was served by the music, rather than the other way around.
The piece began with a darkened stage, curtain up, and an orchestra and chorus of local musicians led by Mark's longtime music director, Colin Fowler, who happens to be a Kansas City native. Male dancers entered in groups of four, shirtless and wearing long skirts printed with the same forest-like pattern as the drops ("centaur-like," as Mark has said), which in turn were inspired by Adrianne's own plein air paintings. The movement is loose and free, balletic but tinged with whimsy, each quartet representing, roughly, a section of the chorus: a visual design to reflect the musical texture.
Throughout the tale of the shepherd, Acis, and his beloved nymph, Galatea (and the gigantic but attractive "monster" Polyphemus, who loves Galatea too) the dancers supported, cajoled and underscored the action, gathering around the singers at times to guide them, or swooping around in tender, forceful upstage-to-downstage loops. The women dancers, dressed similarly to the men but wearing tops, often used the same movements but with more quirkiness, as in the extraordinary solo for "Love sounds th'alarm," in which one woman facing us was inspired to a comical series of twitches and arm-swishes. At times the dancers served almost as stage props, as when Acis walked between a series of couples who parted like living arches as he passed through ("Where shall I seek the charming fair?"). During the "Wretched lovers" chorus that opened Act II the dancers formed into symmetrically arranged trios, bending as units like trees, as if shaking from Polyphemus' monstrous strides. And in Damon's "Would you gain the tender creature" the dancers aided the singer in trying to teach clueless Polyphemus how to treat a woman (gently, not like a brute). Alas, he was unable to heed the advice.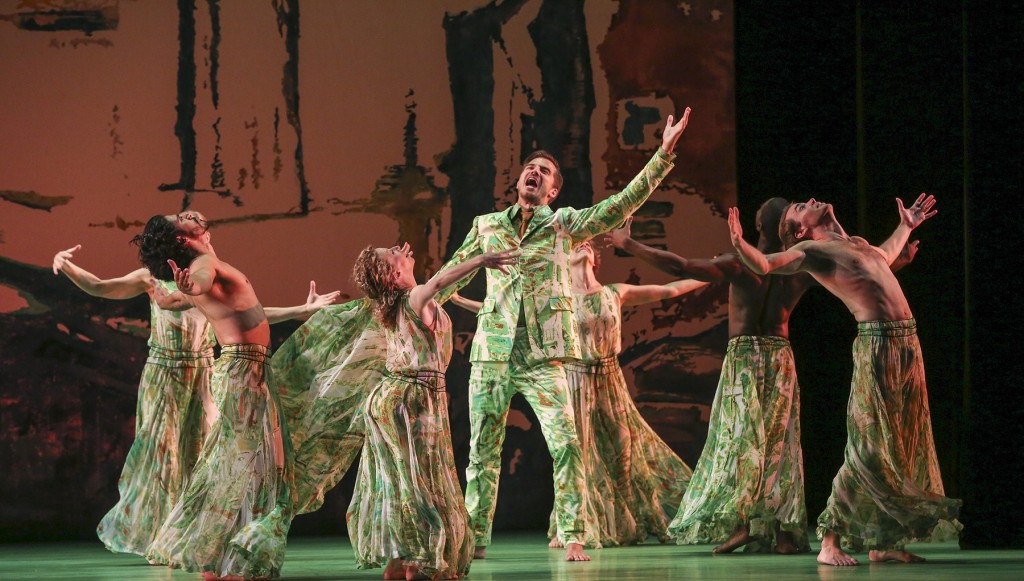 Douglas Williams as Polyphemus, the only singer dressed in the leafy pattern of the dancers (because he is "of the earth"), sang with rich aplomb and abandon, his delicious bass-baritone negotiating the complex lines with great agility. His "O ruddier than the cherry" aria in Act II was made especially scandalous in this version by Polyphemus' wanton propensity to touch the private parts of dancers (of both sexes) as they paraded by him. Douglas, who performed Acis and Galatea in a Friends of Chamber Music program a few years back, sang with great humor and a strong feel for Baroque style.
Soprano Yulia Van Doren was a clear-voiced and forthright Galatea, and Thomas Cooley sang Acis with conviction even though his voice, like that of Isaiah Bell as Damon, didn't seem to settle into the style until Act II. All three were dressed in solid-color "street clothes," which though they were geared toward the palette of the sets and dancers' costumes still managed to look a bit out-of-place. The chorus, consisting of members of the William Jewell College Choral Scholars (and well-trained by Anthony Maglione), sounded strong throughout. The orchestra played capably and with a sense of period style, though it it didn't always quite sound up to the level of the dancing and the designs.
It was dance that made this production worthwhile, finally, especially moments such as Polyphemus' hilarious Act II aria, or the penultimate scene where Acis is dying and the chorus is exclaiming "Cease, Galatea, cease to grieve!" With dancers spread on the floor in a circle, lying in various twisted positions, they leapt and spun suddenly with each "cease," then were still again, in a hair-raising moment that reminded us of why Mark Morris is one of the great choreographers of our age.
IN BRIEF: KC Rep's An Iliad is virtuosic theater for insiders
Some artworks are created, whether wittingly or not, for an audience of insiders. That's okay. Strauss' Ariadne auf Naxos is best appreciated by those in opera or theater, and artists such as Leopold Godowsky or Nelson Freire are often described as "pianists' pianists." An Iliad by Lisa Peterson and Denis O'Hare is a brilliant one-man tour-de-force that attempts to evoke a Homeric retelling of the Trojan War, and as the first production of 2015 it was a courageous diversion from the KC Rep's more traditional fare. It was realized in truly virtuosic fashion by Kyle Hatley ("The Poet"), who together with Raymond Castrey ("Musician") moved about with agility on Martin Andrew's enormously inventive set design: a skeletal ruin resembling the bottom of an ancient ship (and reminding us a bit of Alien).
Kyle, who has himself carved out a career as a playwright whose works often reinterpret literary classics, was superb in this role, which required him to talk pretty much non-stop, and often at speeds that the ear could scarcely keep up with, for 95 minutes. Initially wearing street clothes, sock cap and a backpack, he told the tale slowly at first, half-remembering, much as bards may have told histories before they were written down (accurately or not). "Every time I sing the song, I hope it's the last time," he said, in a monologue that included witty colloquialisms ("It's always one thing or another, right?"). He tells of soldiers who gathered from far and wide, contemporizing it for us by theorizing that it might be like an army of boys from Missouri, Texas, New Jersey, and so on. While he spoke of gods and men and women (Hector, Achilles, Patroclus, Hecuba, Helen) and their uneasy relations through the centuries, the Musician accompanied on a series of instruments ranging from a dulcimer-like lute to a rack of nailed-on boards that served both as marimba and as part of the set itself.
In the midst of these gripping stories were lists: of wars through the ages, of cities destroyed through war. Impressive as they are, they had something of the effect of reading the "begats" from the Bible. Yes, they're there for a reason, and yes it's stunning to hear an enormous parade of every major war since Troy, but (looking at my watch) couldn't we get on with the story? For me the chief problem with this play was that, as we learned from the film My Dinner with André (and as college professors and their students can tell you), no matter how interesting a storyteller or his story, one tires of a single person's voice after about an hour or so. Moreover An Iliad neither strives toward actual poetry nor is "sung," or even half-sung, as we believe Homeric epics might have been long ago. Nevertheless this play was an impressive telling of a tale we don't hear told nowadays, and Kyle's acting ability, as he coaxed and cajoled and laughed and cried through this tragic history, was on full, glorious display.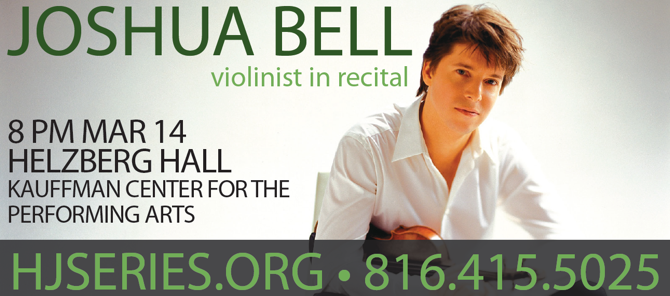 To reach Paul Horsley, performing arts editor, send email to phorsley@sbcglobal.net or find him on Facebook (paul.horsley.501). For upcoming Harriman-Jewell Series performances go to hjseries.org and for Rep shows, including Angels in America that opens February 28th, go to kcrep.org.
[slider_pro id="2″]
[slider_pro id="3″]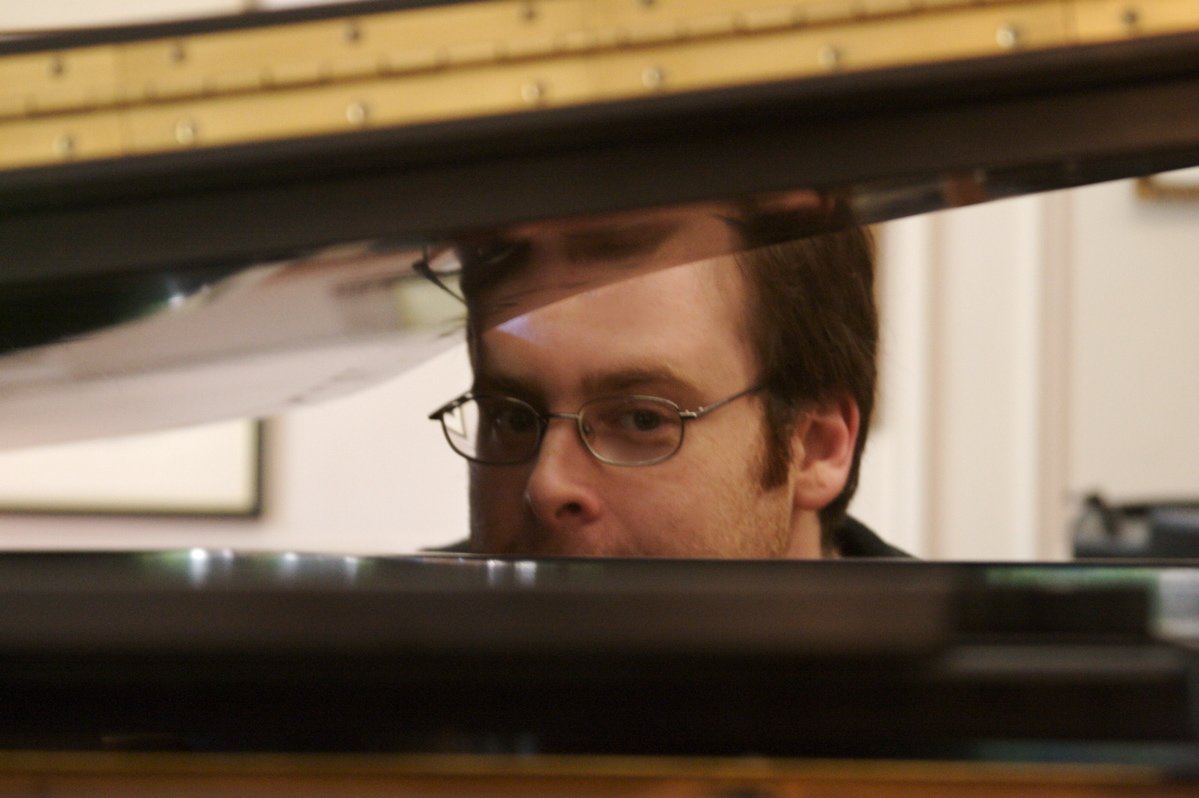 By Paul Horsley David Ludwig knows better than to attach a "back-story" to a piece irrevocably, although he has openly stated that his new Violin Concerto was inspired by his…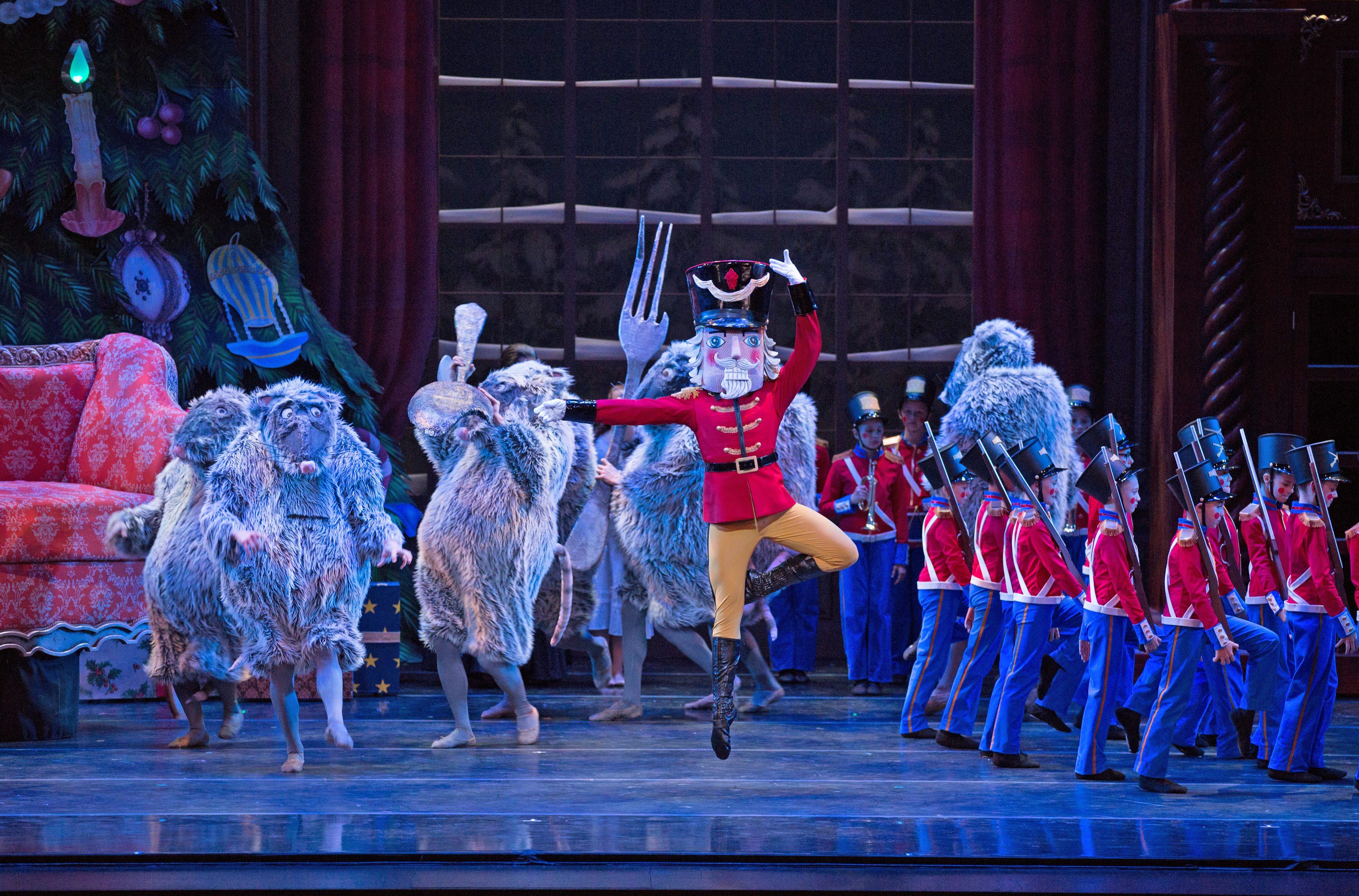 By Paul Horsley Each production of The Nutcracker is to some extent a balancing act between spectacle and dance. At best it seamlessly integrates the colors and stagecraft that keep…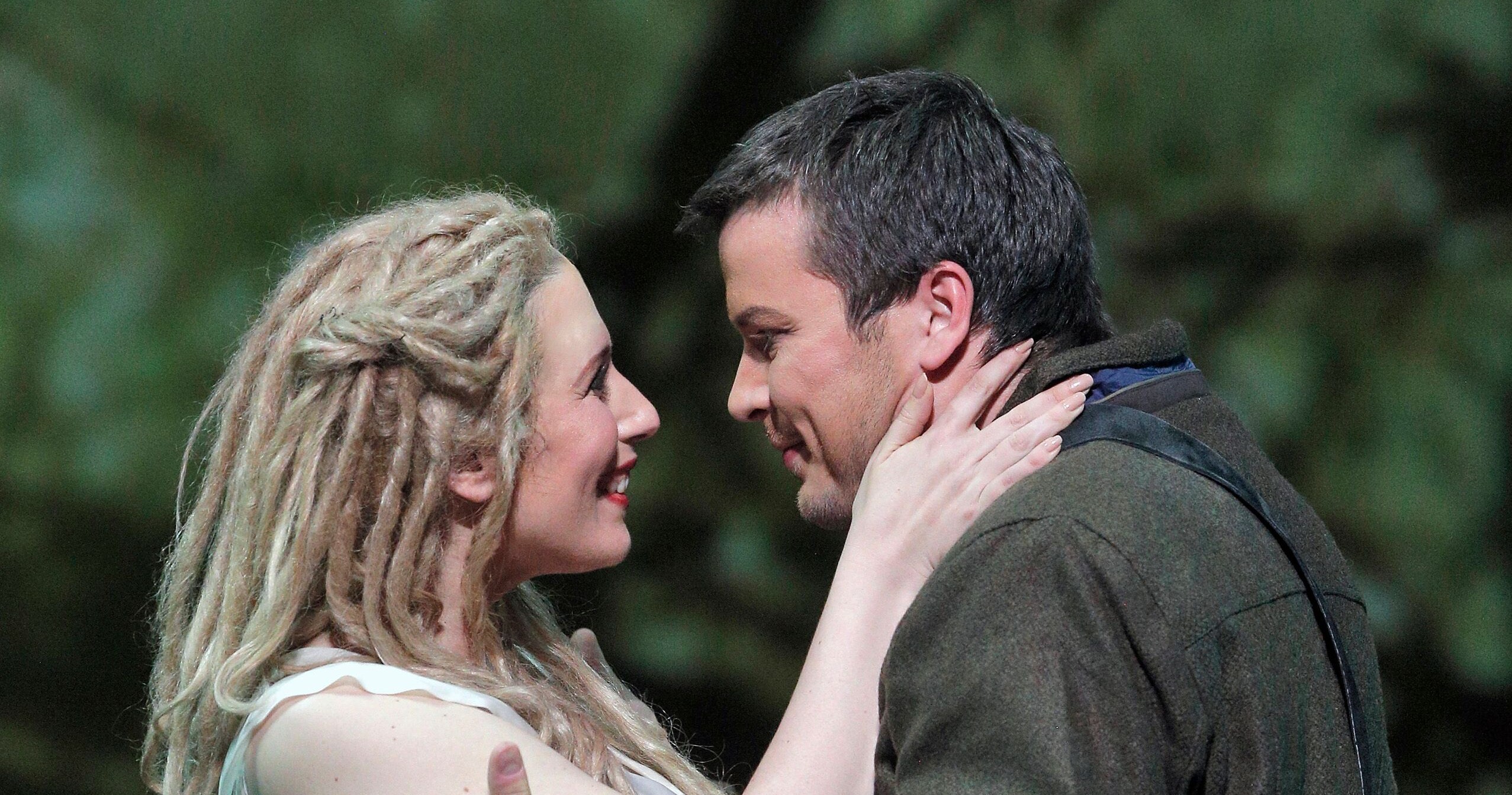 By Paul Horsley The Lyric Opera of Kansas City deserves applause for taking on an opera in Czech for the first time in its history, but the opening performance of…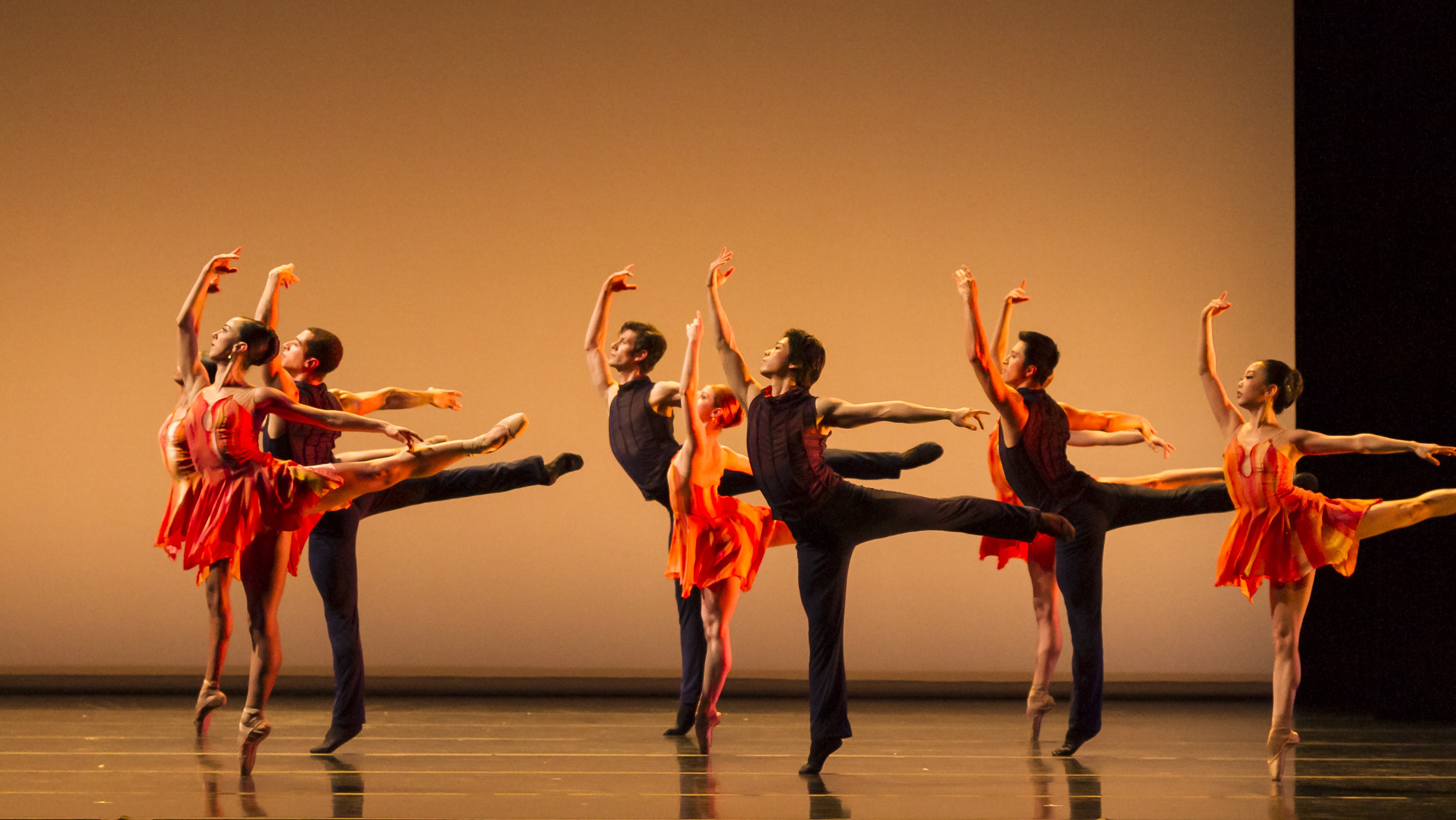 By Paul Horsley Balanchine's The Four Temperaments is a work of such startling visual clarity, musicality and modernity that it's astonishing to contemplate that it predates not just most of…