NEW WINE IN NEW BOTTLES: Midwest Trust Center and Opus 76 Quartet team up for unprecedented residency
Classical music might occupy a radically different place in American culture if more of us thought about it the way Keith Stanfield does. The violinist and founder of Kansas City's Opus 76 Quartet trained as a professional soccer player before steering his career toward music.
As a result, he thinks of his "team" of four string players (which in the past three years has become a major force in Kansas City's musical life) as something equivalent to the Chiefs or the Royals or Sporting KC.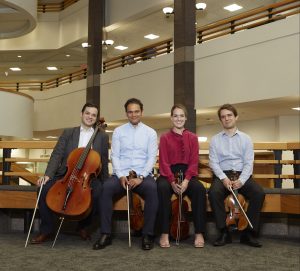 Armed with this populist view of an art form traditionally viewed as elitist, Opus 76 has become the Quartet-in-Residence for Johnson County Community College's Midwest Trust Center, where it will perform regular concerts, foster young string players, and in general help connect the Center's profile as a presenter of outside talent to its interest in uplifting local artists.
"The Kansas City Chiefs play nine to 10 games a season at home," said Keith, who represented Western Samoa in the 2010 FIFA World Cup Qualifiers and has coached soccer here and in the United Kingdom. "We would be very proud to be serving our community in a similar way, in between representing them around the country." (Opus 76 opens its 2021-2022 season in Georgia, in fact, before performing its first virtual concert here in early November.)
Normally when a group becomes a "resident quartet," it is to serve a conservatory or music school. The Takács Quartet, for example, whose founding second violinist Károly Schranz has been a mentor to Opus 76, has for nearly four decades heightened the profile of the College of Music at the University of Colorado-Boulder.
There is reason to believe that that Opus 76 can serve a similar function for Midwest Trust Center, whose values are not that different from those of a conservatory.
"We want to support our local artists, and this pandemic has really pointed out how important that is," said Emily Behrmann, Midwest Trust Center's executive director for performing arts. When last season's Quartet-in-Residence program had to pivot to online streaming, that process underscored the importance not only of an online presence but of connecting the Center to local arts groups.
With the proliferation of new arts groups in Kansas City, many of which have no permanent home, the Center has happily played host: It is becoming an increasingly popular and accessible place for performances by Owen/Cox Dance Group, Bach Aria Soloists, and other organizations. Mesner Puppet Theater has taken up official residence at the Center, and Emily would like to continue to build on this and on Opus 76's residency.
A Quartet-in-Residence is indeed rare for an arts presenter, but Emily believes it makes perfect sense for an institution of higher learning. "We are part of the college, and we want to support local artists, so it makes sense to me from that perspective."
Moreover, the Center might eventually strive toward bringing prominent guests to perform with Opus 76, in a process that "marries the presenting arm of what we do with this local partnership," Emily said, "and gives them more exposure and more opportunity to broaden what they are doing. … There's a lot of potential."
Keith, who trained at Purcell School of Music, the University of Colorado, and London's Royal Academy of Music, believes that classical music can learn from sports. "The focus on audience experience is what makes American sports so successful and unique," he said. "And learning from our cousins in entertainment could be a good idea."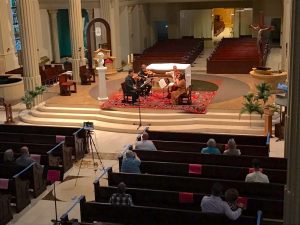 Toward that end, during last season's COVID-19 restrictions, Opus 76's first season at MTC was as "Digital Artists-in-Residence." That virtual series allowed them to launch the Eat, Drink, Play series, in which each concert featured a local chef preparing a dish in conjunction with the performance. The 2021-2022 season will feature two more streamed concerts in this vein.
"If you're going to watch this at home, say, with your family," Emily said, "it would be nice to put it into a format that's going to be conducive to people spending time together, and maybe eating dinner and watching the concert together."
This January the quartet (which also includes violinist Zsolt Eder, violist Ashley Stanfield, and cellist Daniel Ketter) will begin presenting live concerts, in the Center's Yardley Hall and the Polsky Theatre. The first includes the Op. 131 Quartet of Beethoven. February's program features one of Mozart's Six Quartets Dedicated to Haydn, and a March concert includes Brahms' Piano Quintet with guest pianist Julie Coucheron.
The quartet's achievements to date are indeed impressive. In the fall of 2020 they released a nine-CD set of the complete Beethoven String Quartets, recorded live. Other projects have included recordings of Mendelssohn's Op. 44, No. 1, Brahms's Piano Quintet (with pianist Julie Coucheron), Schubert's Quintet in C major, and the String Quartet No. 1 by JCCC-based composer Michael Moreland. More recently the ensemble competed a recording of all six Mozart "Haydn Quartets."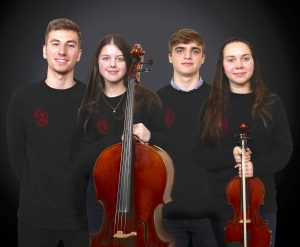 Another important part of Opus 76's residency is its fostering of young musicians each season: This year's ensemble performed virtually as the Opus 76 Sunrise Quartet. Chosen by audition, the current members have been "passionate, intelligent, and highly engaged young musicians," Keith said. "It's been a pleasure to work with them … and watch them become a fine young quartet in their own right." For the 2021-2022 season, Opus 76 will add an additional quartet of younger musicians to the mix.
Ultimately, Opus 76 and Midwest Trust Center have compatible goals: To foster the performing arts in the Kansas City community as a whole. "A large part of my ambition … is getting more people engaged with classical music," Keith said. "That will take time and consistent effort. We've been given a wonderful opportunity by Midwest Trust Center to achieve those ambitions and to impact the local community in a lasting way."
Having been named Quartet-in-Residence for such a prestigious organization represents a 'win' for the musicians. "It's a sign of recognition that the group has significant artistic value, which merits the regular support and faith of a presenting partner," Keith said. "It means we've essentially reached 'Major League Chamber Music'status."
—By Paul Horsley
For information on Opus 76 and its Midwest Trust Center residency, go to opus76.org or jccc.edu/midwest-trust-center.
To reach Paul Horsley, performing arts editor; send an email to paul@kcindependent.com or find him on Facebook (paul.horsley.501) or Twitter (@phorsleycritic).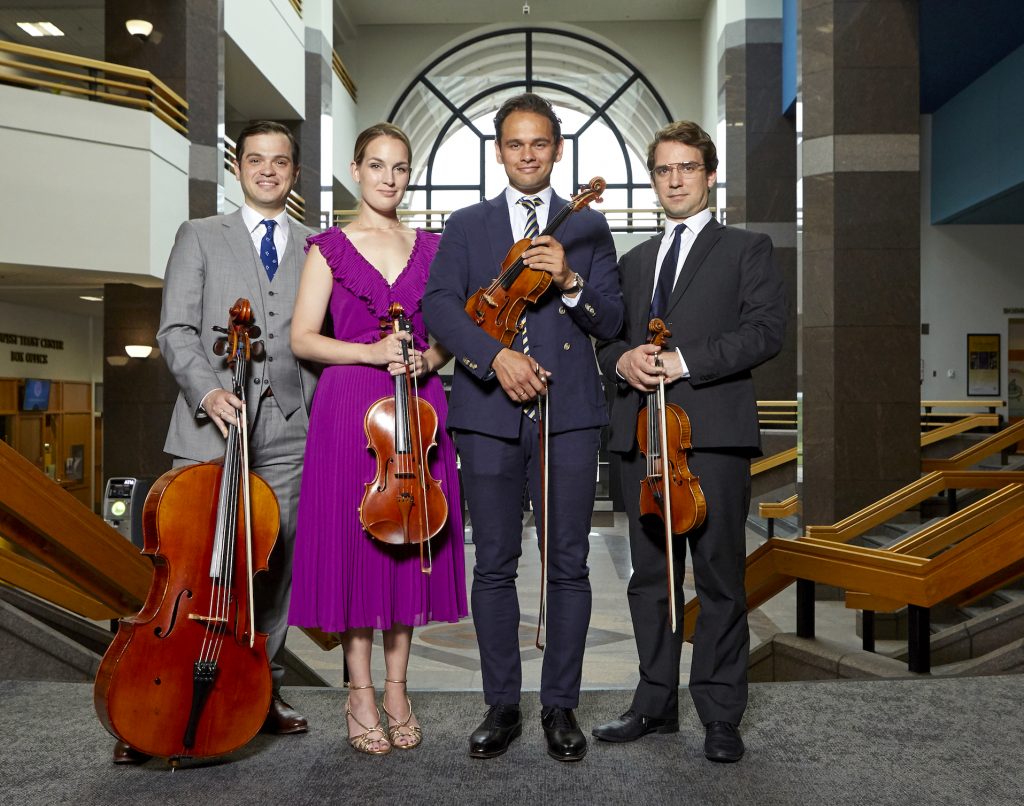 After more than two decades and four deans, it was beginning to look as if the UMKC Conservatory's dream of a new facility would remain just that: a dream. Until…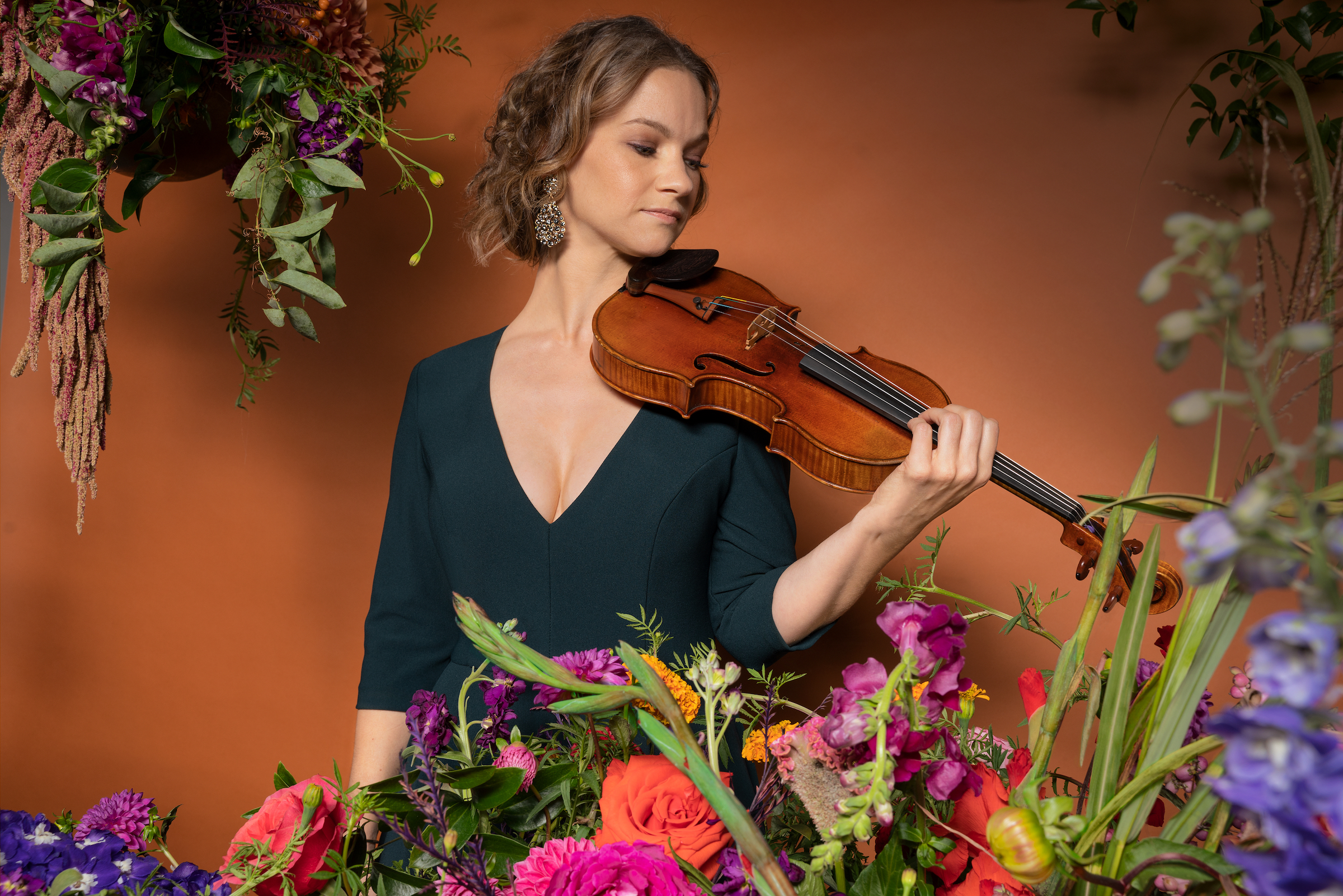 One woman, standing alone onstage. No pianist, no music-stand: Just Hilary Hahn and her violin, creating miracles. That is what Harriman-Jewell Series audiences are likely to experience this October 13th,…
Oh the weather outside is frightful(ly hot). But it won't be for long, so take a close look at this fall's diverse and provocative mix of music, dance, and theater:…
Kansas City Ballet always seems to be building something. For decades, it engaged in refitting existing buildings to meet its day-to-day needs: from the Westport Allen Center to the National…