IN REVIEW: Lyric sings lovely Barber, splashing color and silliness into the mix
Is opera music, or is it theater? That the best answer to that question is "yes" is part of what makes this art form so intriguing: The struggle over whether "la musica" or "la parola" (the word) should prevail in opera has raged since its inception around 1600. As I watched the Lyric Opera's production of Rossini's The Barber of Seville at its Kauffman Center opening on April 28th, though, I found myself wondering how far a musical masterpiece can be stretched dramaturgically before it becomes something else. Is the purpose of an operatic staging to serve the music, or is music just "background" for what is essentially a play?
True, the company had assembled a fine cast of singers and brought a solid Rossini conductor (Leonardo Vordoni, who also led the Lyric's loopy An Italian Girl in Algiers in 2014), but there were times when director Michael Shell's albeit inventive concept overwhelmed the eyes so much that we lost track of the peerless score in the commotion.
Though their bodies of work are separated by nearly two centuries, Rossini and film director Pedro Almodóvar do share some common ground: Both are known for dropping strong-willed women into untenable situations and watching them fend for themselves—using only their wits and their wit. It took guts and no small amount of audacity for Michael and his design team to draw parallels between the unbridled comedy of Barber and the downright unhinged comic vision of films such as Women on the Verge of a Nervous Breakdown, Tie Me Up/ Tie Me Down, High Heels, Kika and Volver.
It's easy to see how a director might be drawn to Pedro's madcap humor—even as disparate as these two aesthetic worlds seem to be—or how the riotous palettes could inspire scenic, costume and lighting designers to "reimagine" this opera as a contemporary comedy. First seen at Opera Company of Philadelphia in 2014 and at Opera Theatre of St. Louis the following year, the production fell short of brilliance, but was not short on fun. The musical performance was, on the whole, exceptional, and to be sure the barrage of color and stage antics elicited a great deal of laughter from the Opening Night audience.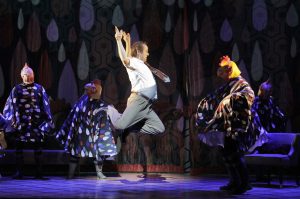 Nevertheless, I remained unconvinced of an easy link between the 18th-century ethos of Beaumarchais' 1773 play (on which Cesare Sterbini based Rossini's libretto) and the more blatantly sexual and often jarringly disturbing films that burst forth during the 1980s and '90s in the aftermath of the oppressive Franco régime. Yes, the vivid scenic designs (by Shoko Kambara) and exuberant costumes (by Amanda Seymour) cheekily echoed the Almodóvar "look": a jumble of hypermodern and often aggressively gaudy interiors for which (in the films) much is owed to collaborators such as cinematographer José María Alcaine and costume designer José María de Cossío.
In order to give themselves license to ape the director's extravagance, the design team chose to set the opera at Seville's still-running April Fair, in which revelers dress (by design) in a variety of historical costumes. This gave the crowd scenes a sort of bewilderingly random eclecticism: Circus-like figures and a guy on stilts mingled with smartly dressed Almodóvar characters and a gaggle of goofy keystone cops who entered and exited with more noise than dramatic purpose.
Leonardo and members of the Kansas City Symphony established a crisp, clean orchestral sound from the outset, though, and put us comfortably in the mood for the frolic. The Italian-born conductor showed an even stronger command of the amassed forces here than he had at the Lyric's Italian Girl, though the garrulous, large-scale vocal ensembles still yearned for a bit more reigning-in. (It often feels that the Muriel Kauffman Theatre presents more difficulties to performers trying to "hear each other" onstage than does the adjacent Helzberg Hall—on which much acoustic design was lavished precisely to prevent this problem, at the expense, perhaps, of the ballet/opera house.)
Cassandra Zoé Velasco presented a Rosina who was both innocent and world-savvy: She is the "ward" of old Doctor Bartolo but is being wooed by Count Almaviva (the tenor, of course), who disguises himself as a pauper, an anachronistically uniformed soldier, and (in Act II) a hippie-clad sitarist (so that she'll love him for who he is and not for his dough). Cassandra sang her famous "Una voce poco fa" aria with grit and good humor: She has a deliciously dark-hued mezzo and a pleasant, full-bodied upper range as well. Jack Swanson as Almaviva sang his serenade "Se il mio nome" with fetching naturalness, and Jarrett Ott (Figaro) showed bravura command of his "Largo al factotum," delivered with a burnished baritone and polished comic flair. Jarrett cuts a strong stage presence, and it's easy to see why his Figaro is much in demand.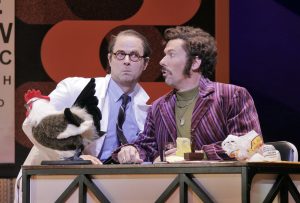 Matthew Burns (Bartolo) sang with resonant heft, and Brian Banion (Basilio), Armando Contreras (Fiorello) and Ruby Dibble (Berta) filled out the cast admirably. It did seem a bit odd that, as glamorous as she looked, Berta felt she was doomed to be an old maid: Fortunately, here she turned out to be a good match for Bartolo. Robert Gibby Brand was the quiet but hyperactive servant, Ambrogio, rolling about as if on wheels.
The lighting design of Driscoll Otto was ideally gauged for the ever-shifting scenic designs, though it inevitably heightened the sense that there was too much going on. There was Elvis, there were references to Frankie Valli, and there were chickens: lots and lots of chickens. Doctor Bartolo (who is an ophthalmologist here) seems to have a penchant for collecting them, much like people who for unknown reasons are fond of collecting statuettes of elephants or frogs or pigs. Weird.
I finally laughed, at the 2-hour-45-minute mark, when Rosina, upon learning that the hippie is the Count, puts her hand to her chin and looks thoughtfully toward the audience. Call me a curmudgeon—I never laugh with the stupid laughtrack of the M.A.S.H. TV show, either, so maybe I'm just un-American—but the subtlety and ambiguity of that tiny moment was funnier than all the previous antics combined.
—Paul Horsley
For information about the Lyric Opera's 2018-2019 season, which includes Bernstein's  West Side Story, call 816-471-7344 or go to kcopera.org. 
To reach Paul Horsley, performing arts editor, send an email to paul@kcindependent.com or find him on Facebook or Twitter. 
After more than two decades and four deans, it was beginning to look as if the UMKC Conservatory's dream of a new facility would remain just that: a dream. Until…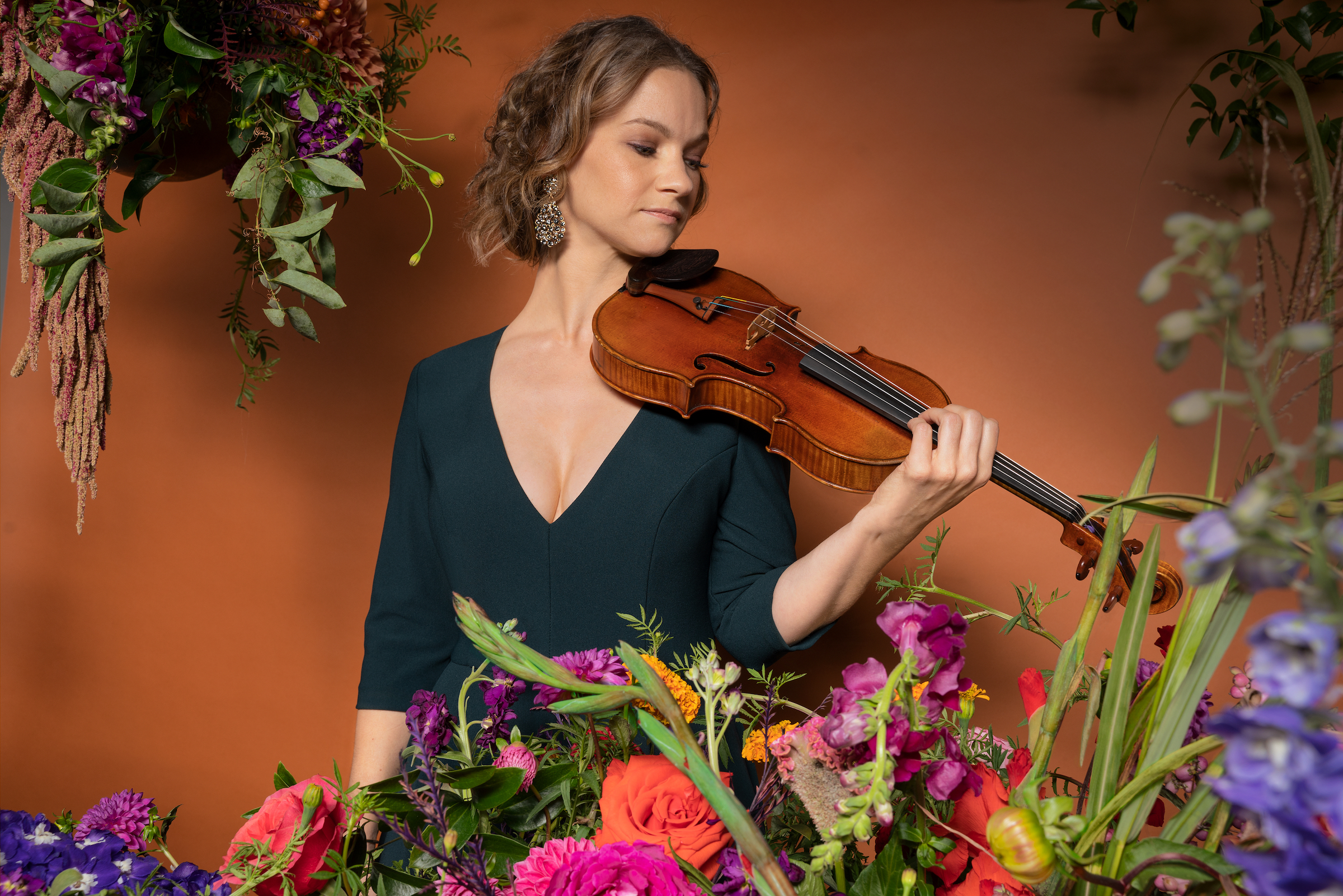 One woman, standing alone onstage. No pianist, no music-stand: Just Hilary Hahn and her violin, creating miracles. That is what Harriman-Jewell Series audiences are likely to experience this October 13th,…
Oh the weather outside is frightful(ly hot). But it won't be for long, so take a close look at this fall's diverse and provocative mix of music, dance, and theater:…
Kansas City Ballet always seems to be building something. For decades, it engaged in refitting existing buildings to meet its day-to-day needs: from the Westport Allen Center to the National…