BRAVE NEW HALLS: Kauffman Center is poised to spur Kansas City's culture to new heights
The 2011-2012 performing-arts season is one of the most exciting in Kansas City's history, thanks partly to the inauguration of the Kauffman Center for the Performing Arts. But the new downtown icon is not the only game in town: In fact its presence seems to have spurred other groups to new heights, in the spirit of competition. So fire up your browsers, pick up your phones, and start planning what could be the busiest performance season of your life! Below are our highly opinionated suggestions for the best 25 offerings of the fall season.
August 11th through the 28th: Andrew Lloyd Webber's Evita (Musical Theater Heritage, Off Center Theatre at Crown Center). An organization devoted to preserving classic American musical theater presents Webber's and Rice's tale of love, politics and death with a cast that includes Katie Karel, Tim Scott and Christopher Sanders. Sarah Crawford directs. 816-842-9999 orwww.mthkc.com.
August 16th through September 11th: Harold Pinter: The Birthday Party; and August 18-September 11: Pinter one-act playsThe Lovers, The Collection and Night (Kansas City Actors Theatre, H&R Block City Stage). The late British playwright's works are some of the most provocative and controversial of our time. 816-235-6222 or www.kcactors.org.
September 20th through October 2nd (previews September 14-18): Red (Unicorn Theatre). Producing artistic director Cynthia Levin directs this searing play – which won the Tony Award for Best Play in 2010 – about artist Mark Rothko and his struggles to fulfill the biggest commission of his career. Jim Birdsall and Sam Cordes star. 816-531-PLAY or www.unicorntheatre.org.
September 13th through October 9th: The Outsiders (Coterie Theatre). S.E. Hinton's classic 1967 novel, which Francis Ford Coppola made into a hit movie, takes to the stage here in a compelling production, featuring a fascinating set design conceived by producing artistic director Jeff Church and Jordan Jonota.  816-474-6552 or www.coterietheatre.org.
September 16th through the 18th: Opening Weekend (Kauffman Center for the Performing Arts). Tenor Plácido Domingo is featured at Friday's An Evening of Theatrical Wonders and violinist Itzhak Perlman and jazz artist Diana Krall are the stars of Saturday's An Evening of Acoustical Delights. At Sunday's Open House (from noon to 5 p.m.) the public is invited to explore the Center, with continuous live music on both stages. For tickets call Estela Fennel at 816-994-7231 or go towww.kauffmancenter.org.
September 16th through October 9th: August: Osage County (Kansas City Repertory Theatre, Spencer Theatre). The Rep's Eric Rosen directs this Pulitzer- and Tony Award-winning play, a dark comedy that The New York Times called "the most exciting new American play Broadway has seen in years." 816-235-2700 or www.kcrep.org.
September 23rd through the 25th: Grand Celebration! (Kansas City Symphony, Helzberg Hall). The Symphony's opening subscription concert in the Kauffman Center features pianist Emanuel Ax in Beethoven's mighty "Emperor" Concerto and the world premiere of a new work by UMKC Conservatory composer Chen Yi. Michael Stern conducts. 816-471-0400 orwww.kcsymphony.org.
September 23rd through October 23rd: Noël and Gertie (Quality Hill Playhouse). Songmeister Kent Barnhart leads a witty revue chronicling the lives and careers of Noël Coward and Gertrude Lawrence, stars of stage and screen during one of show business' most elegant eras. 816-421-1700 or www.qualityhillplayhouse.com.
October 1st: Jazz at Lincoln Center Orchestra with Wynton Marsalis (Harriman-Jewell Series, Helzberg Hall). The legendary trumpeter and his ensemble open the season with great fanfare, in the first of several Harriman Series presentations in the Kauffman Center. 816-415-5025 or www.hjseries.org.
October 1st through the 9th: Turandot (Lyric Opera of Kansas City, Muriel Kauffman Theatre). An immensely lavish new production of Puccini's masterpiece graces the Kauffman Center's new theater, featuring megastars Lise Lindstrom and Samuel Ramey. 816-471-7344 or www.kcopera.org.
October 9th: Laurie Anderson (Kauffman Center Vanguard Series, Helzberg Hall). The renowned experimental singer-songwriter-violinist-keyboardist opens the Kauffman Center's new presentation series, which will offer artists who have gained popularity even while challenging the limits of performance art. She's incredible. www.kauffmancenter.org, or after August 30thcall 816-994-7222.
October 13th through the 30th: Children of the Damned Corn (Coterie at Night Series, performed at Just Off Broadway Theatre). Local theater icon Ron Megee has brewed up a stage spoof of the creepy classic movie, suitable for audiences 13 and up, set in Gatlinville, Nebraska – allegedly the former home to the world's largest creamed corn factory. (Groan.) 816-474-6552 orwww.coterietheatre.org.
October 14th: The Darwin Project (Friends of Chamber Music, Helzberg Hall). The Friends opens its season in the Kauffman Center with a collaboration (with more than 35 organizations and individuals) to celebrate the life and work of Charles Darwin. Featuring Gary Neal Johnson as Darwin and music by the Daedalus String Quartet. 816-561-9999 or www.chambermusic.org.
October 14th through the 23rd: Tom Sawyer (Kansas City Ballet, Muriel Kauffman Theatre). To open the Ballet's first Kauffman Center season, artistic director William Whitener and Tony Award-winning composer Maury Yeston team up for the first-ever full-length ballet on an American subject produced by an entirely American creative team. History in the making! 816-931-2232 or www.kcballet.org.
October 15th: Marc-André Hamelin, piano (Harriman-Jewell Series, Folly Theater). One of the most spellbindingly virtuosic pianists of our time offers a program that includes the peerless (and quite different) sonatas of Alban Berg and Franz Liszt. 816-415-5025 or www.hjseries.org.
October 22nd through November 13th (previews October 19th through the 21st): God of Carnage (Unicorn Theatre, with Kansas City Actors Theatre and UMKC Conservatory Theatre). Mark Robbins directs the 2009 Tony Award-winning Best Play byYasmina Reza about the perils of parenthood. 816-531-PLAY or www.unicorntheatre.org.
October 27th: Midori, violin (Harriman-Jewell Series, Folly Theater). The legendary soloist is featured in her fourth Harriman recital, with music by Mozart, Schubert, Schumann and Shostakovich. 816-415-5025 or www.hjseries.org.
November 6th: Munich Symphony with Gloriae dei Cantores, Mozart's Requiem and Schoenberg's Transfigured Night(Performing Arts Series at JCCC, Yardley Hall). Two milestones of Western music share the bill in a concert featuring a magnificent Massachusetts-based choir with an international profile. 913-469-4445 or www.jccc.edu.
November 12th: Suzanne Farrell Ballet (Lied Center of Kansas). George Balanchine muse Suzanne formed her own Washington, D.C.-based company partly to carry on the legacy of the greatest choreographer of our time. It has carved out a niche of its own. 785-864-2787 or www.lied.ku.edu.
November 12th: Esterházy Quartet (Venue Visitation). As part of its newly energized presenting series, Venue Visitation at Visitation Church brings a Columbia-based string quartet that specializes in the music of the Classic period (Haydn, Mozart, Beethoven). 816-235-6222 or www.venuevisitation.net.
November 16th through the 19th (including Gala on the evening of the 19th: Alvin Ailey American Dance Theater (Muriel Kauffman Theatre, presented by the Kansas City Friends of Alvin Ailey). The company founded by legendary dancer-choreographer Alvin in 1958 is going strong more than a half-century later. It considers Kansas City its "second home." Call 816-471-6003, Ext. 10 or go to www.kcfaa.org.
November 18th through the 20th: Behzod Abduraimov, piano (Kansas City Symphony, Helzberg Hall). The astonishing young Uzbek pianist from Park University, who won the London International Piano Competition in 2009, teams up with Michael Stern for Rachmaninoff's Rhapsody on a Theme of Paganini. 816-471-0400 or www.kcsymphony.org.
November 18th through December 24th: Christmas in Song (Quality Hill Playhouse). Kent Barnhart's annual revue is a highlight of the holiday season. 816-421-1700 or www.qualityhillplayhouse.com.
December 3rd through the 24th: The Nutcracker (Kansas City Ballet, Muriel Kauffman Theatre). This holiday classic, making its Kauffman Center debut, has staying power thanks largely to choreography by the Ballet's artistic director emeritus, the late Todd Bolender. 816-931-2232 or www.kcballet.org.
December 13th through the 18th: Blue Man Group (Theatre League, Music Hall). Three guys put on blue masks, and hijinks ensue. This high-energy blend of theater, music and technology has become a hit on stages the world over, and it opens the League's season (which will also, by the way, include performances at Muriel Kauffman Theatre). 800-745-3000 orwww.theatreleague.org.
Most of us have experienced at least one extraordinary moment in our lives in which we feel we've been visited by a miracle: and perhaps we have been. Such a…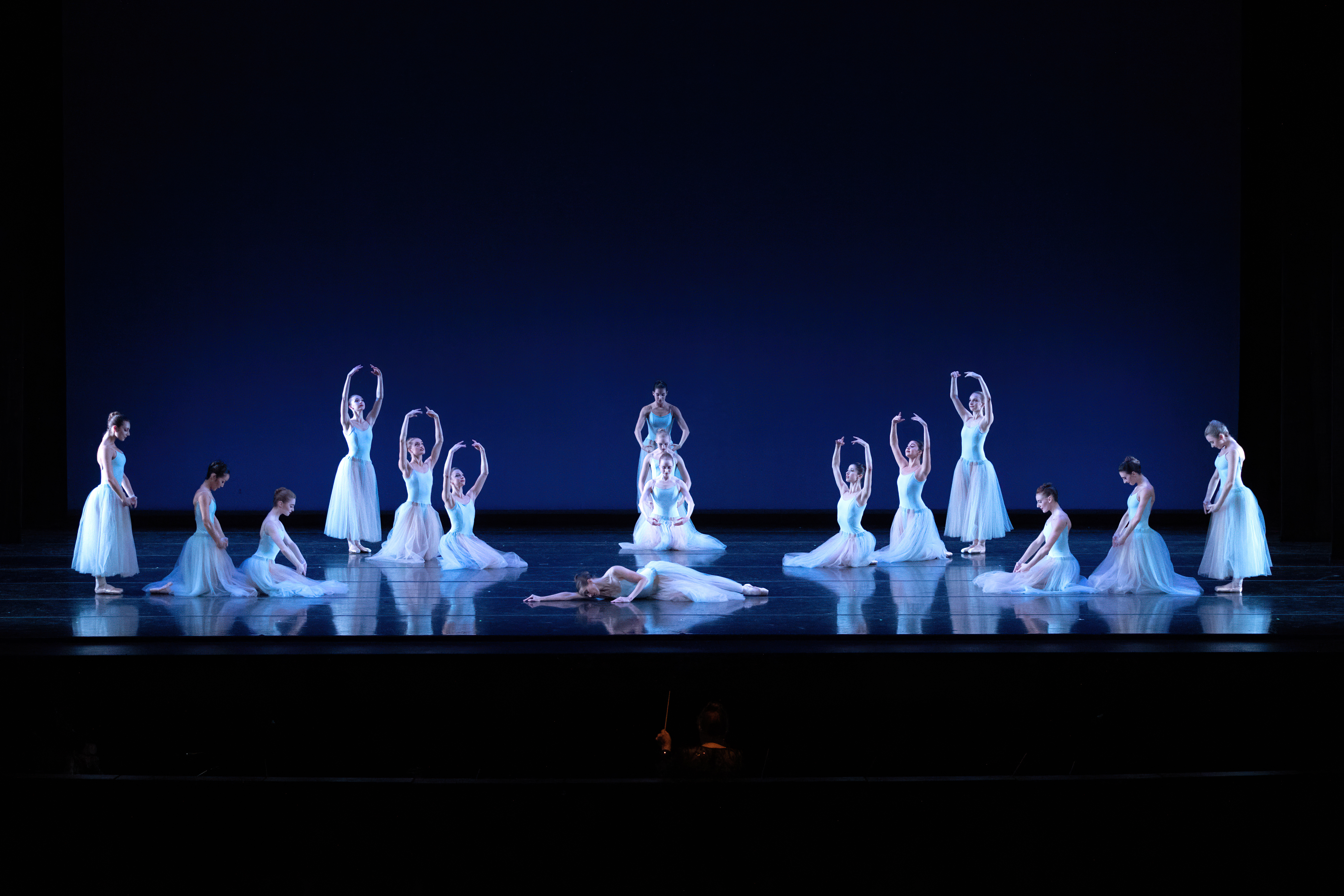 Oh, how George Balanchine's teachers back in Russia must have chafed at the finale of his Serenade, in which three women assert themselves through the most startling of means: After…
Many of the shows we are highlighting this fall are actually indoors! But always confirm your event a day or two ahead. SEPTEMBER August 27-September 19 Kansas City Repertory…
Devon Carney's great affection for classical ballet stands front and center in his lovingly choreographed Swan Lake, which the Kansas City Ballet introduced here in 2016 and is currently revisiting.…