Philanthropy MATTERS
To learn more about becoming a member of the Association of Fundraising Professionals, Greater Kansas City Chapter, please visit afpkc.org.
The Independent is proud to be the exclusive media partner of AFPKC.
---
Robyn Burky recently joined the American Red Cross as its regional philanthropy officer. She is excited to build relationships within the Greater Kansas City and Northwest Missouri region. Robyn is a graduate of the University of Missouri–Kansas City and loves all things Kansas City, including the Royals and the Chiefs. She enjoys supporting the community through various endeavors, including animal rescue and military veteran support. "The joy of connecting one's passion to a cause is the foundation of why I love philanthropy," Robyn said.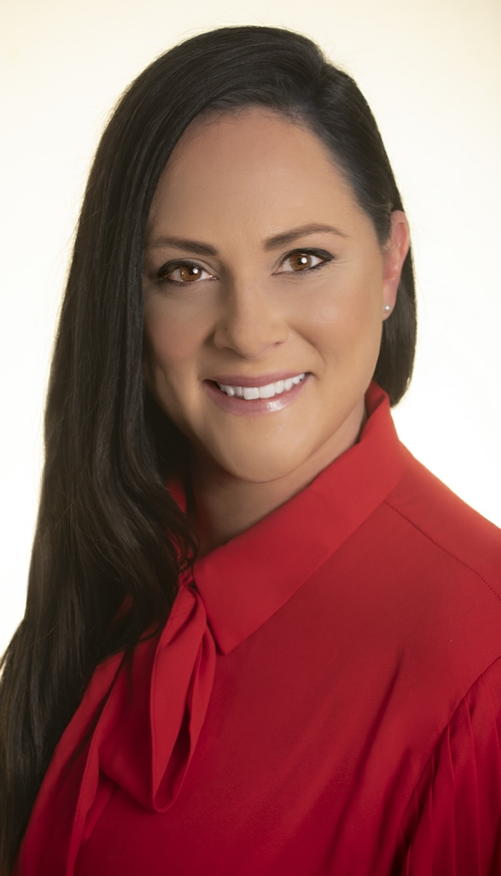 Robyn Burky, regional philanthropy officer, American Red Cross
Also featured in the April 17, 2021 issue of The Independent
---
B. Michael McFarland is the director of development for the Foundation for a College Education (FCE) organization, serving students in and around East Palo Alto, California. FCE is the most successful college access and success program serving students of color, mostly first-generation, in the East Palo Alto area. B. Michael, who is based in Kansas City, has worked for the organization since 2013, and manages a $1.4 million budget. He rejoices in knowing that each day he is impacting someone and making another person's life a little better. "Could there be a better way to begin and end each day?" asked B. Michael.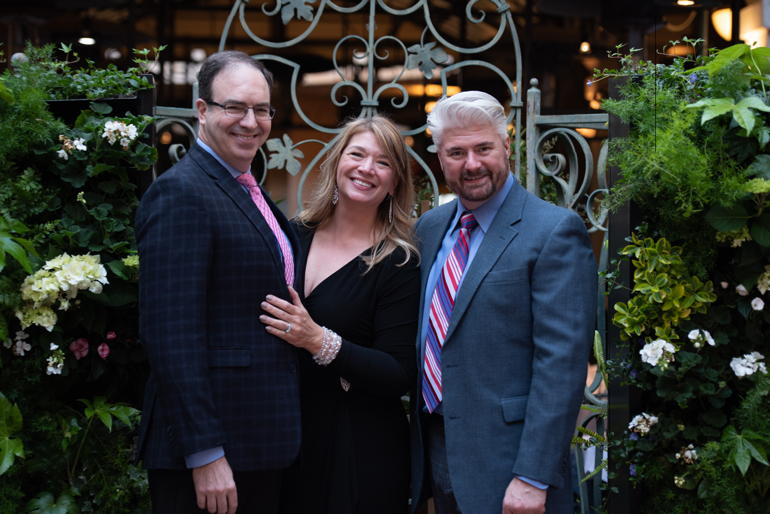 David Barnes, Jill Taylor-Barnes, and B. Michael McFarland
Also featured in the April 3, 2021 issue of The Independent
---
Caitlin Wilde serves a critical role at Harvesters – The Community Food Network as major gifts manager. She takes great pride in connecting with people who are passionate about fighting food insecurity in our region. She also appreciates her connections through AFPGKC, saying, "AFP has been such a resource for connection, inspiration, and feeling less isolated during such a tumultuous time." Caitlin has a bachelor of arts degree from Truman State University and started her non-profit career as an AmeriCorps VISTA with Big Brothers Big Sisters in Lawrence, Kansas. 
Also featured in the March 20, 2021 issue of The Independent
---
Lauren Mattleman Hoopes has been the executive director of The Jewish Community Foundation of Greater Kansas City since 2003 and has worked in the non-profit sector since 1992. A graduate of Yale College, Lauren also holds a juris doctor degree from New York University Law School. As an extremely well-versed philanthropist, Lauren has presented and taught numerous courses related to non-profit management. Married to her college sweetheart, they are the parents of two grown children. Lauren's motto is, "Our true purpose is for each of us to use our unique gifts to try to improve the world."
Also featured in the March 6, 2021 issue of The Independent
Photo credit: Emmalee Schaumburg
---
Being the director of advancement at the Kemper Museum of Contemporary Art suits Don Schreiner well. Not only does he enjoy raising funds and awareness for the renowned Museum, but he believes that art makes the world a better place. Armed with an art history degree from The University of Kansas and a master of public administration degree from UMKC, Don owes his success and love of the arts to his mentors and parents who instilled a "solid work ethic and unbounded curiosity." Don believes that, "People who are generous with their time and treasure are the nicest you'll ever meet." We couldn't agree more.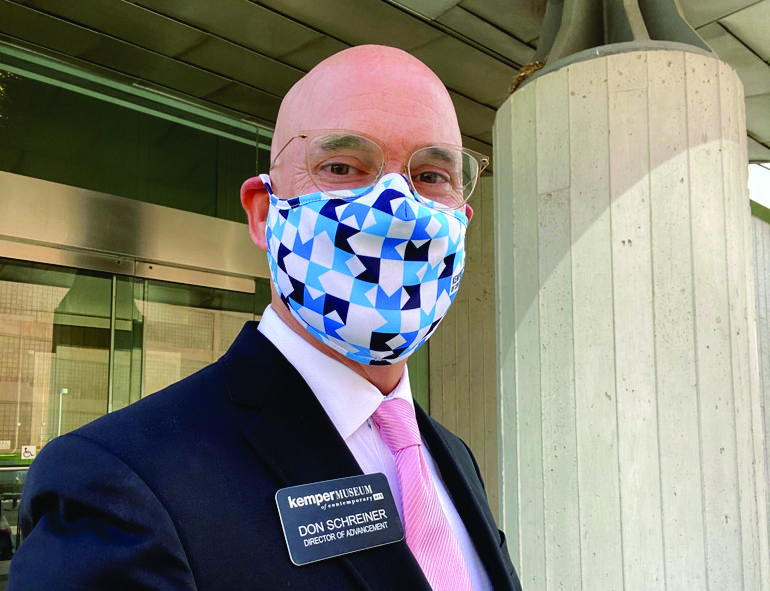 Also featured in the February 6, 2021 issue of The Independent
---
Meggan Rorvig is passionate about working with non profits, as her role at M&C is that of senior marketing and development manager. She caters specifically to non profits all around the country with professional boutique services. When Meggan is not working, she is volunteering on the board of the Association of Fundraising Professionals Greater Kansas City, or helping to raise funds for Children's Mercy. This busy career woman and mom is grateful to Children's Mercy and Ronald McDonald House Charities for having provided services to her family. "Both personally and professionally, philanthropy has played a major role in my life," said Meggan.
Mark and Meggan Rorvig with their children, Emma and Grady
Also featured in the January 23, 2021 issue of The Indpendent
---
Dan Ryan is the director of development for Tri-County Mental Health Services, where he leads the charge raising funds, managing social media, and coordinating special events. The agency provides services for families battling mental health and substance use issues in Platte, Clay, and Ray counties in Missouri. Dan's route to working in philanthropy came after practicing law and then moving into fundraising at UMKC. He believes his interest in helping others came after he didn't make the soccer team as a freshman in high school. His late father advised him that helping others might be a good antidote to his moping. The advice seems to have been quite right. Keep up the good work, Dan!
Also featured in the January 9, 2021 issue of The Independent
---
As the director of The Veterans of Foreign Wars Foundation, Richard Potter serves a unique and critical role of fundraising by expanding corporate relations. Founded in 1899, the VFW service organization serves all veterans by assisting them with navigating 'red tape', gaining access to benefits and more. Richard has been working in non profits for 35 years. He has an MBA from the University of Dubuque. Richard and his wife, Tracy, have raised two children who also chose to work in public service. As Richard so aptly put it, "Kansas City is known as one of the most philanthropic cities in the USA, and there is no better place to raise a family."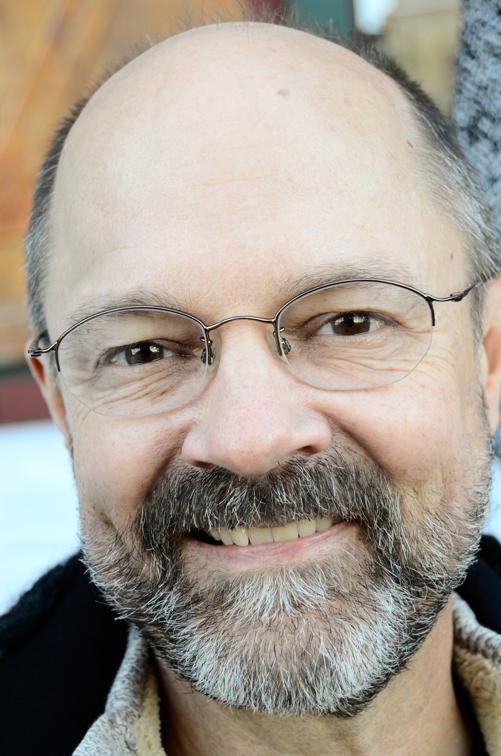 Also featured in the December 19, 2020 issue of The Independent
---
Matt Astleford is the vice president for advancement of University of Saint Mary, where he leads the fundraising and alumni engagement efforts and serves as the chief development officer. Matt is also a student at the school: he is studying toward a master's degree in business administration. A native of South Dakota, Matt is a graduate of Buena Vista University and a CFRE (Certified Fundraising Executive). He serves on the AFP Greater Kansas City Chapter's membership committee and is a volunteer organizer with the 2021 Mid-America Conference on Fundraising (MAC). "Although relatively new to Kansas City, I have been amazed by how deeply people care about the community and how willing they are to step up and make a difference when given the opportunity to give back and help others," Matt said.
Also featured in the November 28, 2020 issue of The Independent
---
Erika Brant is divisional events and corporate engagement manager for The Salvation Army. Her responsibilities have included fundraising and planning for the Civic Lunch (usually held in May) and the Rock the Red Kettle Concert (a highlight of past Novembers), in addition to setting up box fan, food, and toy drives, and arranging for employee bellringing days, among other activities. "It's a privilege to work in the philanthropy community in Kansas City and it all feels more worthwhile because I know someone is getting fed, given shelter or emergency assistance because of my effort," she said. Erika is a member of the Junior League of Kansas City, Missouri, and a past chairman of Holiday Mart.
Also featured in the November 14, 2020 issue of The Independent
---
Alfredo Garcia is the director of major giving for the Bloch School of Management at the UMKC Foundation, where he seeks funding for the programs and initiatives associated with the 1,800 students who attend the Bloch School each year. Alfredo has a bachelor's degree from Duke University, a master's degree from Harvard University, and yet another master's degree and a doctorate degree from Princeton University. He serves on the diversity, equity, and inclusion board of Big Brothers Big Sisters Kansas City, the BARRE KC board of the Kansas City Ballet, and the board of OneKC Radio. Alfredo said, "I often describe my work in fundraising as my 'super power' because I am able to effect profound change in people's lives through my work."
Also featured in the October 31, 2020 issue of The Independent
---
Kelley Carpenter is the director of development and marketing at Cross-Lines Community Outreach, which provides crucial services in Wyandotte County, addressing hunger relief, housing stabilization, and basic needs. Kelley was the first person in her family to graduate from college. After receiving her degree from the University of Missouri – Columbia School of Journalism, Kelley was originally a newspaper journalist. For the past 24 years, she has been a fundraising and marketing professional – and she remains a dedicated writer who loves her work. "I can't imagine a more rewarding job than telling the stories of incredibly brave people who are overcoming overwhelming obstacles and connecting them with generous people with kind hearts who truly want to make a difference," she said.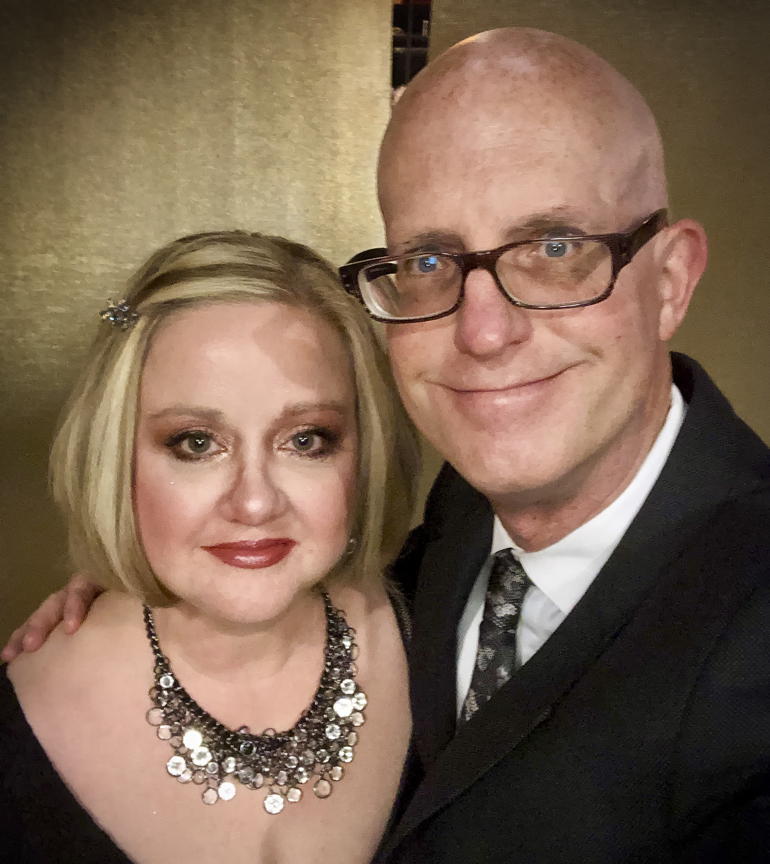 Also featured in the October 17, 2020 issue of The Independent
---
Brian Williams is the executive director of Hillcrest Hope, which has been serving Clay and Platte counties since 1978. The organization's mission is to empower the homeless and working poor to achieve personal independence through transitional housing, education, accountability, and community support. Brian's career with non profits began when a mentor encouraged him to join his development team at United Way of Chicago. "Philanthropy is magical! How many people can say they make a living helping someone who wants to make meaningful change in the world and then connect them with an organization/program to literally make generations of transformational change?" Brian said. He currently serves as the board president of the Arts Council of Johnson County.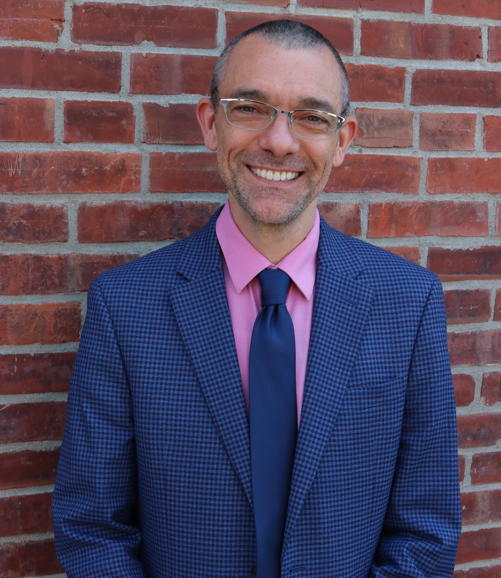 Also featured in the October 3, 2020 issue of The Independent
---
Joy Richardson came to Kansas City as a student at William Jewell College. She is now the senior manager of annual giving for Harvesters–The Community Food Network, a regional food bank that serves 26 counties in Northwestern Missouri and Northeastern Kansas. Her work includes leading team members in special events and donor cultivation. "This pandemic has amplified what I have always known and experienced to be true of our community. Kansas Citians and friends surrounding the metro truly care about their neighbors in need and respond in powerful, generous ways," Joy said. In addition to spending time with her husband and their children, Joy takes an interest in community theatre. She serves on the advisory council of the Theatre in the Park and is a member of the board of directors for Mid-Life Players. Joy is also a volunteer in the children's department at Redeemer Fellowship – Midtown.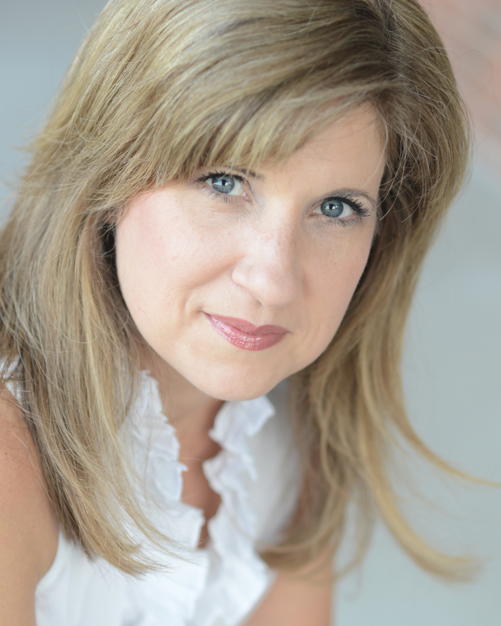 Also featured in the September 19, 2020 issue of The Independent
---
David M. Fulk is the director of philanthropic giving at KCUR 89.3. He oversees the station's fundraising efforts which include membership, major gifts, foundation support, and event sponsorships. David says that the most rewarding part of his work is connecting people's passions for free and independent journalism with their desire to make sure it continues as part of our democratic fabric. "Philanthropy is in all of us. I love playing a small role in helping others unleash it," he said. David grew up on a farm in Platte County and graduated from William Jewell College, where he launched his career in fundraising. Today, he lives in Liberty and serves on the board of AFPKC. David is the concert host of the Liberty Summer Band.
Also featured in the July 11, 2020 issue of The Independent
---
Megan Boos is the assistant director of community engagement and events at Children's Mercy, where she oversees the community fundraiser program. Megan also assists with the Hospital's signature fundraisers, Red Hot Night, Big Slick, and Dream Big Day, and serves as a hospital liaison with the auxiliary volunteer groups. "In my role, I have the pleasure of meeting people who only want to do good and make a difference for others. It's inspiring, humbling, and a daily reminder of how the simplest acts of kindness can bring a smile and make an impact in our community," said Megan. She serves on the board of directors of the Association of Fundraising Professionals. Megan volunteers with Big Brothers Big Sisters Kansas City, Ronald McDonald House Charities of Kansas City, and Lead to Read.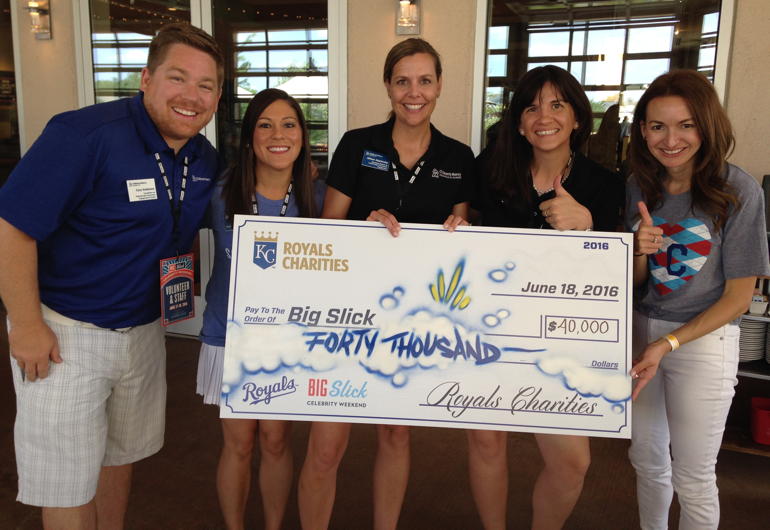 Cory Anderson, Ashley Lopez Anguiano, Ali Abplanalp, Megan Boos, and Tara Smyth
Also featured in the June 13, 2020 issue of The Independent
---
Whether Chad Jansen is serving in his current position as a consultant for Donor Centric Consulting, or in his previous position as director of development at the YMCA of Greater Kansas City, his passion is for philanthropy. Chad's professional life centers around helping non-profit organizations enhance fundraising, focus on leadership development, and provide training. "It is a blessing – a gift – to have the opportunity to serve in philanthropy. To me it's about them: the donor and the transformation they want to accomplish through a meaningful investment in others' lives," Chad said.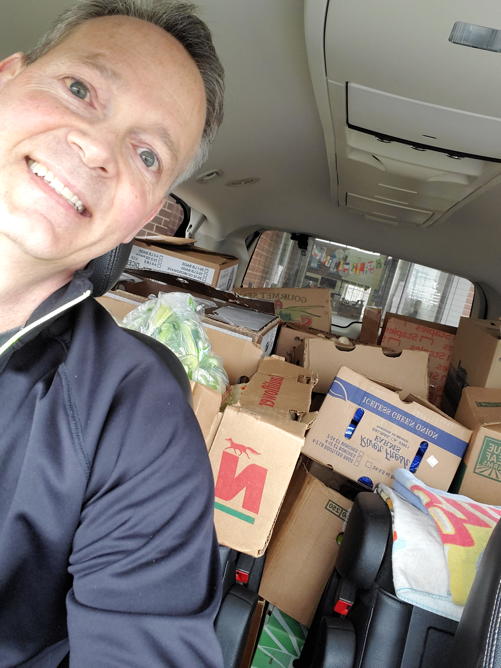 Also featured in the May 30, 2020 issue of The Independent
---
Jennifer Ingraham serves as the assistant vice president for development at the UMKC Foundation, where she brings more than 25 years of fundraising experience in the arts and higher education. She provides strategic leadership and supervises a team of eight in the area of University philanthropic priorities. "It is truly an honor to help donors fulfill their dreams of making a difference for a cause they care about," Jennifer said. When not wearing her professional hat, Jennifer has been a working mother of two, as well as a volunteer and board member for the Coterie Theatre, Madam President Camp, and Tri County Mental Health Services Foundation.
Also featured in the May 16, 2020 issue of The Independent
---
Shamika Hogan serves as director of development for reStart. She has a bachelor's degree in public administration and a master's degree in management and fundraising. Shamika has worked and contributed to the growth and success of both corporate and non-profit organizations. She has a proven commitment to community development and advocacy. reStart's mission is to empower all people facing or experiencing homelessness by providing housing and services that inspire hope. Shamika said, "I've always had a passion for the housing equity issue and serving the underserved, so reStart's mission is an excellent fit."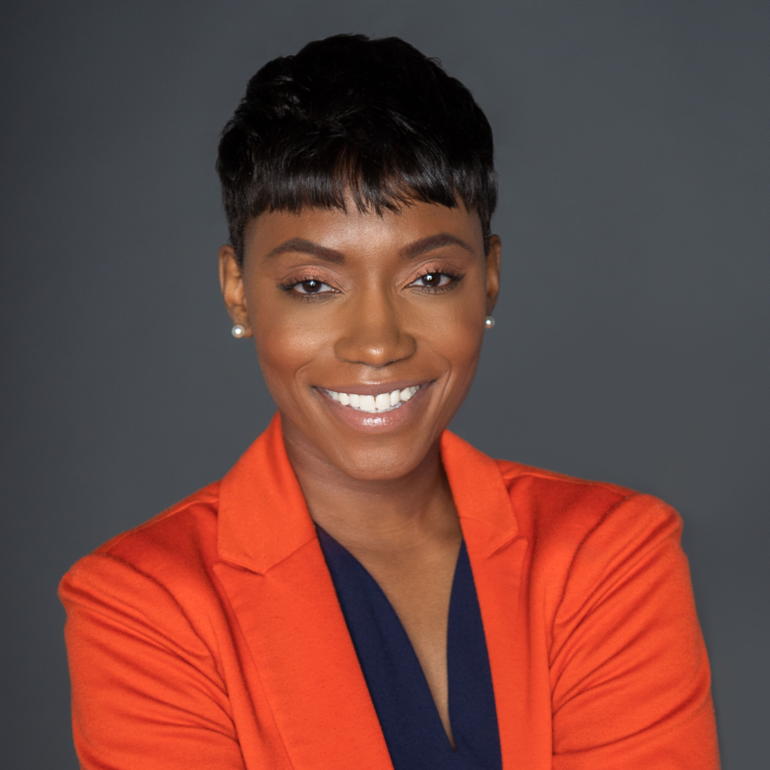 Also featured in the April 4, 2020 issue of The Independent
---
Jonathan Thomas is the senior manager of individual giving for the Lyric Opera of Kansas City. He returned to the Kansas City area from San Francisco in 2018, where he served as the development manager for The Walden School, a music program for aspiring composers and musicians. Jonathan enjoys performing and is passionate about the arts. He said, "No other discipline combines virtuosic vocal and orchestral music and singing, stagecraft, and dramatic narrative like opera. It is a collaborative triumph and a critical piece of a thriving arts community. Investing together in the arts connects us all, and it brings me joy to interact daily with area residents who share my passion to better our region."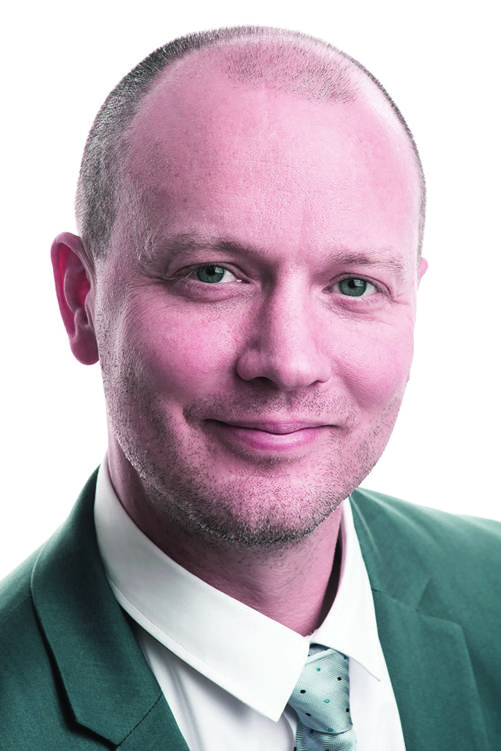 Also featured in the March 21, 2020 issue of The Independent
---
Katie Lord is the vice president of nonprofit development for Proof. She works with non-profit organizations to build deeper donor relationships by discovering the "Why?" that underlines their connection. "I absolutely love the philanthropic sector," Katie said. "I have always said I will be a 'lifer' in the sector working on, in, or for the advancement of philanthropy. It is my personal mission to do the most good for the most people I can." Katie has more than 12 years of experience in her field. She also is a speaker and trainer who enjoys passing along her skills to the next generation of non-profit fundraising leaders.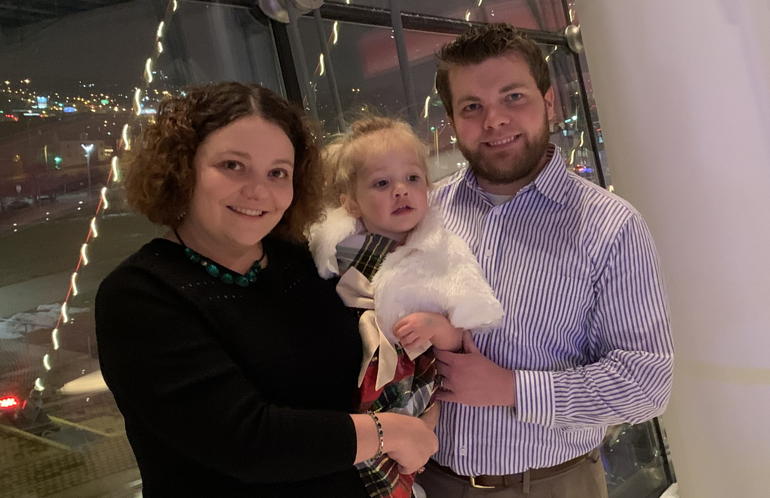 Katie, Madilyn, and Matt Lord
Also featured in the March 7, 2020 issue of The Independent
---
Chelan David is the director of development for Youth Volunteer Corps. The organization creates volunteer opportunities for youth, ages 11 to 18, so that they are inspired to continue showing a commitment to service throughout their lives. Chelan is impressed with the resolve of the young participants and the philanthropic spirit shown by the residents of Our Town. "I love waking up every day knowing that we are developing empathy, a sense of belonging, and leadership skills to a generation of future leaders," he said. Chelan isn't the only member of his family to be involved with YVC – his two daughters are regular volunteers.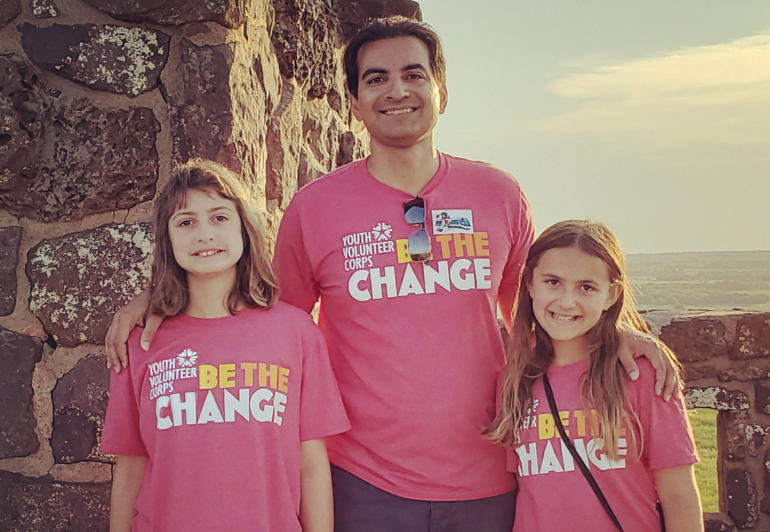 Neah David, Chelan David, and Kylie David
Also featured in the February 22, 2020 issue of The Independent
---
Laura Berger is the director of development for Saint Luke's Health System. She started her non-profit career with the Greater Kansas City Chapter of the American Red Cross. "As a member of the Saint Luke's Foundation, I have the opportunity to connect passionate donors with the wonderful services provided through our health system – in particular, Bishop Spencer Place and Saint Luke's Home Care & Hospice. It's incredibly rewarding to be part of Kansas City's only locally-owned, non-profit/faith-based health system."
Mark and Laura Berger on a trip to Alaska
Also featured in the February 8, 2020 issue of The Independent
---
Christopher Stibbs is the events and donor manager for Newhouse Shelter. The Omaha, Nebraska, native came to Our Town seven years ago to study at Rockhurst University. Christopher fell in love with the community and decided to stay. He describes Newhouse as a place of transformation, where 24-hour care is provided to women, children, and men who have bravely stepped away from the life they don't deserve, to build the life they do deserve. "There is a powerful energy in the philanthropic community of Kansas City and my favorite part is going to work everyday where I hear stories and see donors who believe deeply in our mission," Christopher said.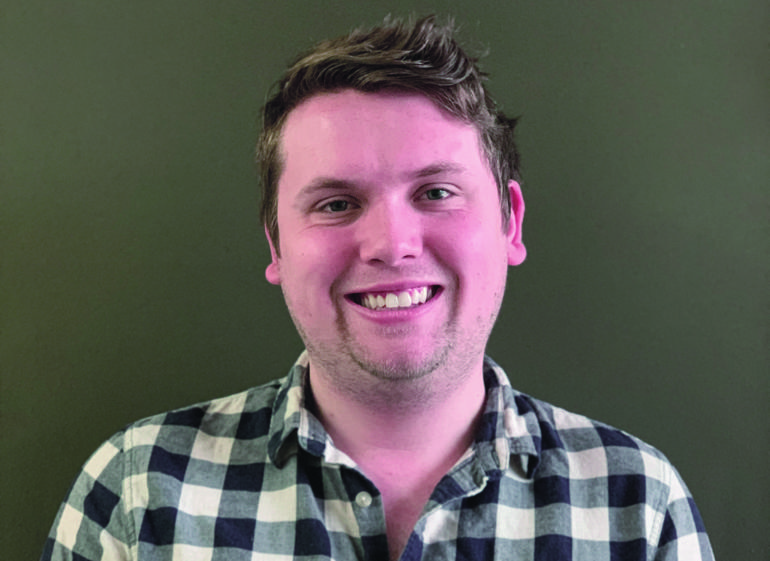 Also featured in the January 25, 2020 issue of The Independent
---
Marcus Oatis is a native of Our Town. Following a career as a ballet dancer, he decided his next goal was to make a difference in the community. That's why he founded Providence School of Arts, a private Christian elementary school with an emphasis in the arts. After-school enrichment courses and summer camp programs are also offered. "I love working in philanthropy because it reminds me that change is possible – that bit by bit, we can make our world better for ALL to live in. For me, that's the American Dream," he said.
Also featured in the January 11, 2020 issue of The Independent
---
Molly Moody has been the special events manager for Wayside Waifs since 2017. Wayside Waifs is Kansas City's largest no-kill animal shelter, working tirelessly to find homes for more than 6,200 abandoned, abused, and homeless pets annually. Molly oversees the organization's two major fundraisers, Fur Ball Gala and Strutt With Your Mutt Walk/Run, with a combined goal to raise more than $1.45 million annually. "I have met the kindest of individuals working in non profit — people who donate not only their money but their valuable time to serve the mission they are most passionate about," she said.
Molly Moody, Special Events Manager, Wayside Waifs; holding her dog, Bear, and Casey Waugh with Megan Harding and Pete
Also featured in the December 7, 2019 issue of The Independent
---
Reid Samuel is the annual fund manager for the Alpha Phi Omega National Service Fraternity, which was founded in 1925 and has its headquarters in Kansas City. His responsibilities include managing direct response, online giving, and sustaining giving programs. In addition, he had a key role in the organization's first-ever capital campaign, which drew $4.25 million in pledges. When Reid moved to Our Town in 2010, he was pleasantly surprised. "I've really come to appreciate the spirit of generosity," he said. "I'm fortunate to work and volunteer alongside so many great people."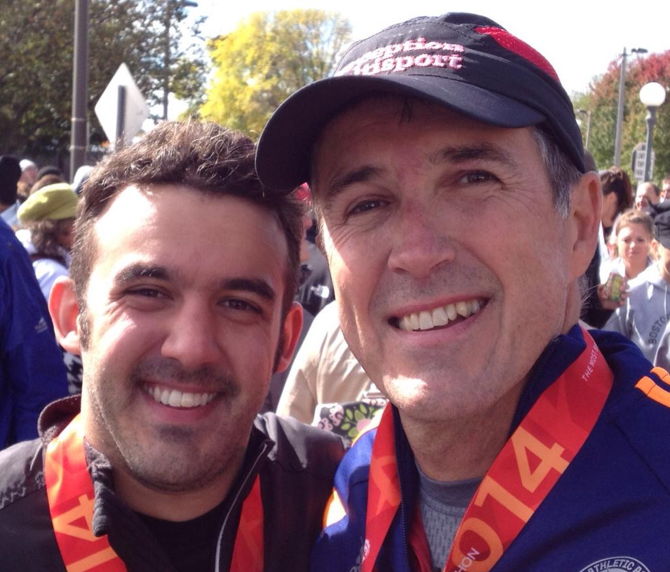 Reid Samuel with Roger Samuel
Also featured in the November 9, 2019 issue of The Independent
---
As director of corporate relations for the Kansas City Ballet, Karen Massman VanAsdale is excited to connect her dots – a passion for the arts, extensive storytelling and marketing experience, and a lifelong commitment to contributing time, talent, and treasure to causes and organizations that are important to her and the community. According to Karen, the arts have the unique power of bringing diverse people together to inspire, educate, and entertain. "I'm a fourth-generation Kansas Citian with deep roots in the philanthropic community, so for me, giving is a privilege and a responsibility. I am thankful to live and work in a town where every individual really does have the opportunity to make a difference. I am so proud to be part of such an incredible organization."
Karen Massman VanAsdale, Sue Massman, and Claire VanAsdale
Also featured in the October 26, 2019 issue of The Independent
---
April Padgett began her career in development five years ago. She came to Our Town in the summer of 2018. April is director of individual and corporate giving for Vibrant Health, a network of safety net health clinics in Wyandotte County, Kansas. She enjoys interacting with donors and colleagues. "One of the best parts of my job is working with donors who are making their first gift – either to our organization or their first philanthropic contribution ever," April said. After hours, she loves spending time with her husband, Nelson Padgett, and their dog, Winston.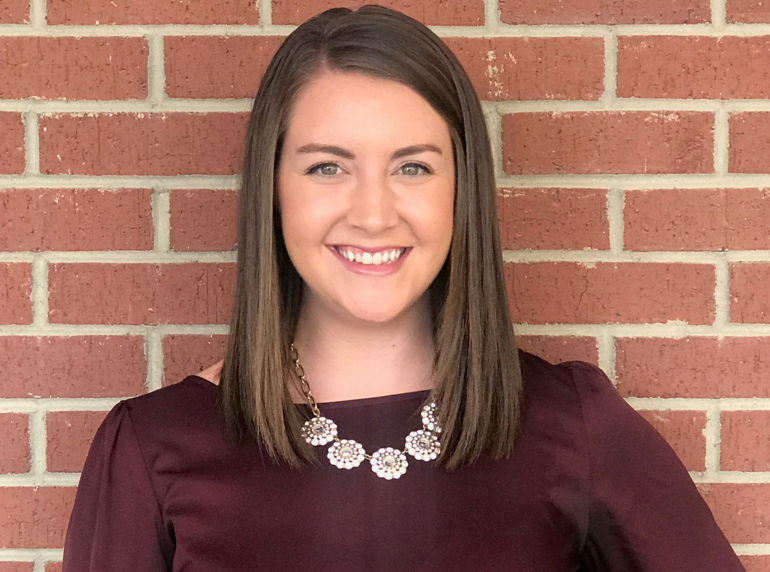 Also featured in the October 12, 2019 issue of The Independent
---
Dionne M. Pleasant is a donor development strategist for the American Academy of Family Physicians Foundation. "Every day I see so much good, but conversely, so much opportunity," she said. "Working in philanthropy has given me the chance to play a tiny role in improving lives and communities. Luckily, Kansas City is full of people who want to help." Dionne earned both a bachelor's degree in journalism and a master's degree in journalism with an emphasis on strategic communications from the University of Missouri. In addition to her involvement with the Association of Fundraising Professionals Kansas City, she serves on the Mizzou Black Alumni Network Executive Board and is a member of Delta Sigma Theta sorority. The highlights of her work with the American Academy of Family Physicians Foundation have been participating in a medical delegation to Haiti in 2018 and distributing scholarship checks to medical students and residents. As Dionne said, "It's so inspiring to see how generosity touches lives."
Also featured in the September 28, 2019 issue of The Independent
---
John Shehane views himself as "a life-long learner." He was one of the founders of the local AFP chapter, and of what is now Nonprofit Connect, in addition to being one of the first members of the Mid America Planned Giving Council. "I served on the AFP's National Ethics Committee that created our first Code of Ethics and Standards of Professional Conduct," he said. After 52 years in fund development at the local, regional, and national levels, his goal is to become the first 100-year-old fundraiser. He is a little more than 21 years away from that point. "As Jerold Panus, our profession's guru, said, 'all philanthropy is about changing and saving lives.'" As John sees it, that is what he and his colleagues at AFP do every day in "an amazingly wonderful and caring city, filled to the brim with fantastic, generous donors, volunteers, and nonprofit leadership." Recognize that description? It's Our Town!
Also featured in the September 14, 2019 issue of The Independent
---
Kate Migneron is the leader of a team of gift officers at Children's Mercy who present potential donors with options that will lead to a positive impact on the lives of patients and their families. She is a lifelong resident of Our Town who is excited to see the growth of the Children's Research Institute at Children's Mercy. "I believe everyone should have access to affordable, inclusive and state-of-the-art medical care," Kate said. "This goal is possible in Kansas City with an incredible collection of clinicians, researchers, and teachers from different institutions collaborating to change the way we practice healing."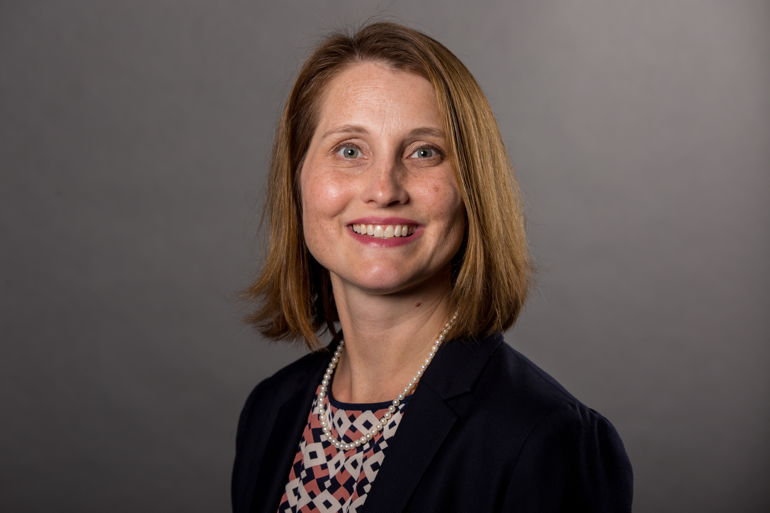 Also featured in the August 31, 2019 issue of The Independent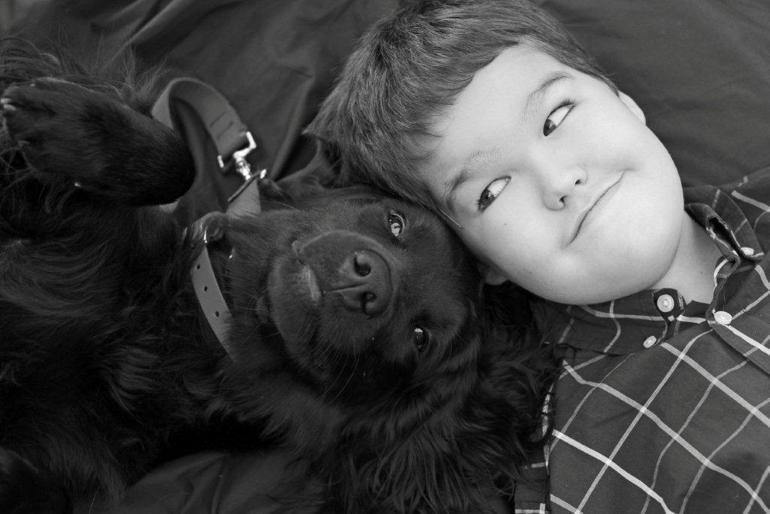 "I have found that when you are deeply troubled, there are things you get from the silent devoted companionship of a dog that you can get from no other source."…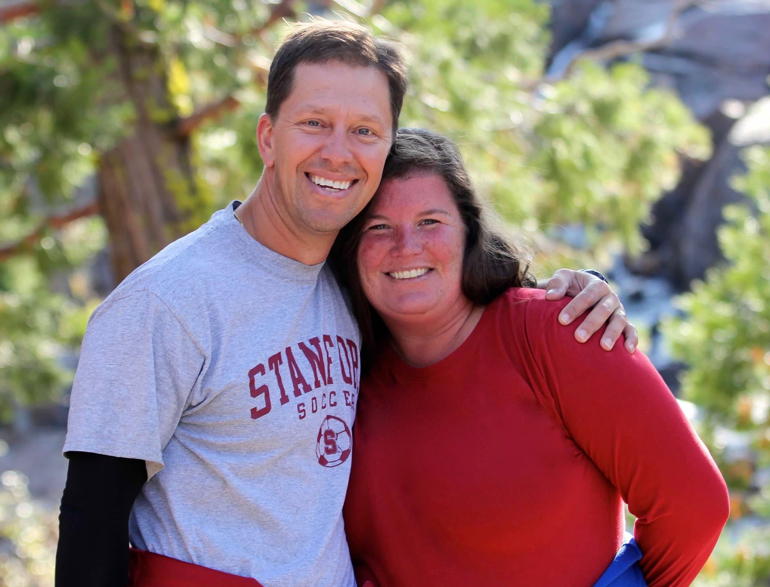 The University Academy Foundation, (formerly known as Friends of University Academy), is hosting its 2021 Spring Event on June 3rd at the UA Stadium. The plans call for family-friendly fun,…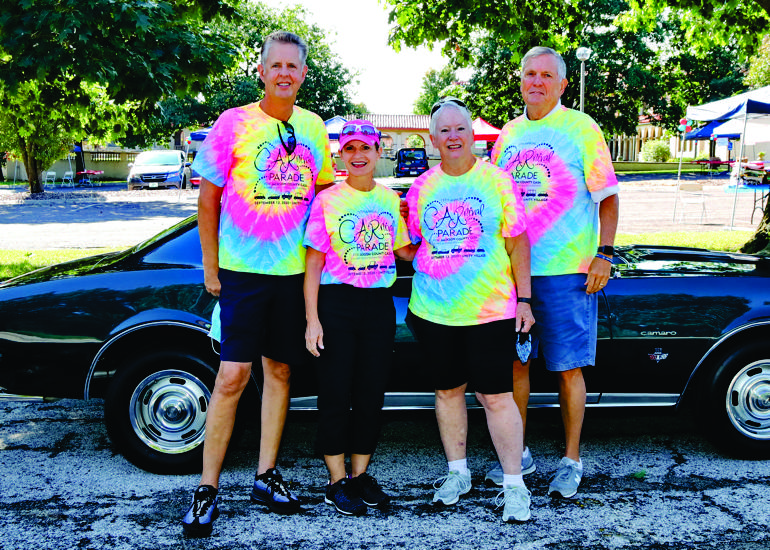 Kathy and Gary Bussing make a fantastic philanthropic couple, and Jackson County CASA (Court Appointed Special Advocates) is very grateful to them for their time and talent. These longtime supporters…
Molly Krause works as a tax manager for CBIZ. In her free time, Molly is a dedicated volunteer at Junior Achievement. She serves as a Future Women's Leadership Forum mentor…