REIMAGINING THE CLASSICAL: Kansas City Ballet opens season with precision, playfulness, and a modern turn
Oh, how George Balanchine's teachers back in Russia must have chafed at the finale of his Serenade, in which three women assert themselves through the most startling of means: After 20 minutes of perfectly turned-out, bun-headed classicism, they let down their hair, literally. And how cataclysmic this revolutionary moment can feel when this chilly classic is performed with the dazzling eye for detail, color, and synchronicity that the Kansas City Ballet brought, in spades, to its October 15th season opener.
Kaleena Burks, Kelsey Ivana Hellebuyck, and Taryn Mejia lolled about the stage with Humberto Rivera Blanco (and later, Liang Fu) on opening night, with tresses flowing and attitudes to match. (Casts change during the run, which continues through October 24th.) One realized that the shock of this finale "clicks" only if the previous movements of Tchaikovsky's Serenade (which Balanchine has mischievously mis-ordered) are executed with purposeful mood and movement.
Victoria Simon, a peerless former Balanchine dancer whom "Mr. B." picked in the mid-1960s to re-stage his works, brought luscious detail to a piece many view as a foundation of contemporary ballet. (Victoria could be seen after the show greeting admirers in the Kauffman Center lobby, her charisma undimmed.)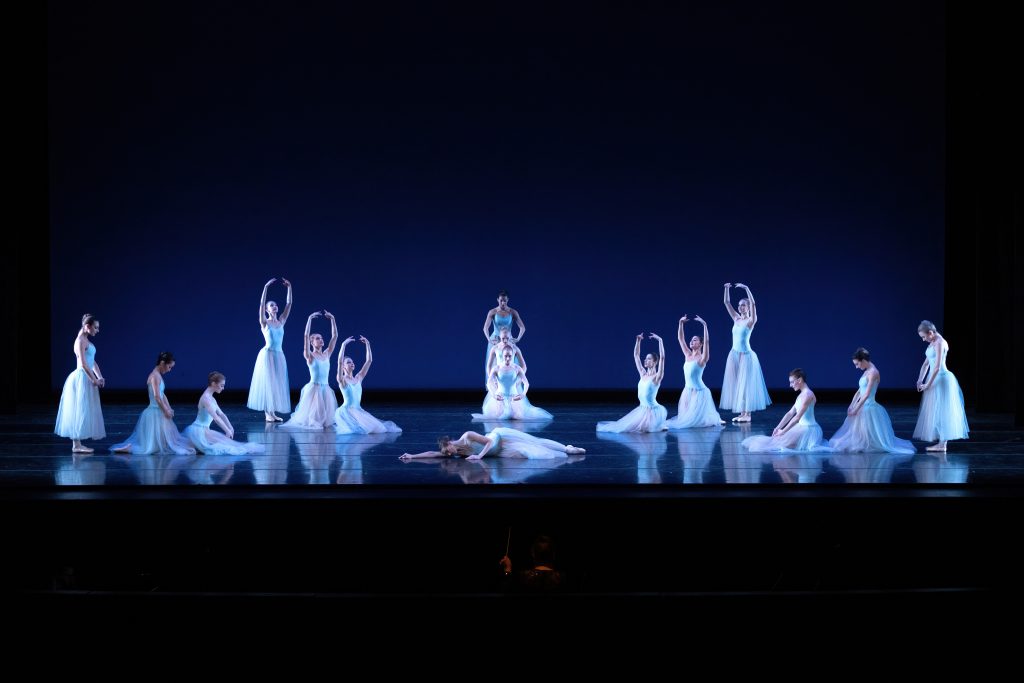 It was as if the Kansas City Ballet knew it needed to come off the pandemic with a bang, and this performance delivered. One sensed that the dancers were so excited to be onstage that they could barely contain themselves, but they managed to channel this energy into stealth and decisiveness. The impact of Balanchine's nose-thumbing was rounded out by the expressive lighting design of Trad A Burns. The piece was accompanied a group of string players organized by the Opus 76 Quartet.
The Ballet was determined to offer as wide a range of works as possible on this mixed-repertory program, and the contrasts were daunting. Next up was a reprise of Edwaard Liang's 2009 Wunderland, performed here in 2015 but with recorded music. This time the musicians of Opus 76, and Ramona Pansegrau on the single solo-piano movement, brought a full-bodied flavor to Philip Glass' music that notably enhanced the choreography.
Opening with ruby-red hues that enlived Glass' mesmeric rhythms, five pairs set the tone with jaunty jabs at classicism: with dancers poking their heads here and there and elegantly twisting themselves around their partners' bodies.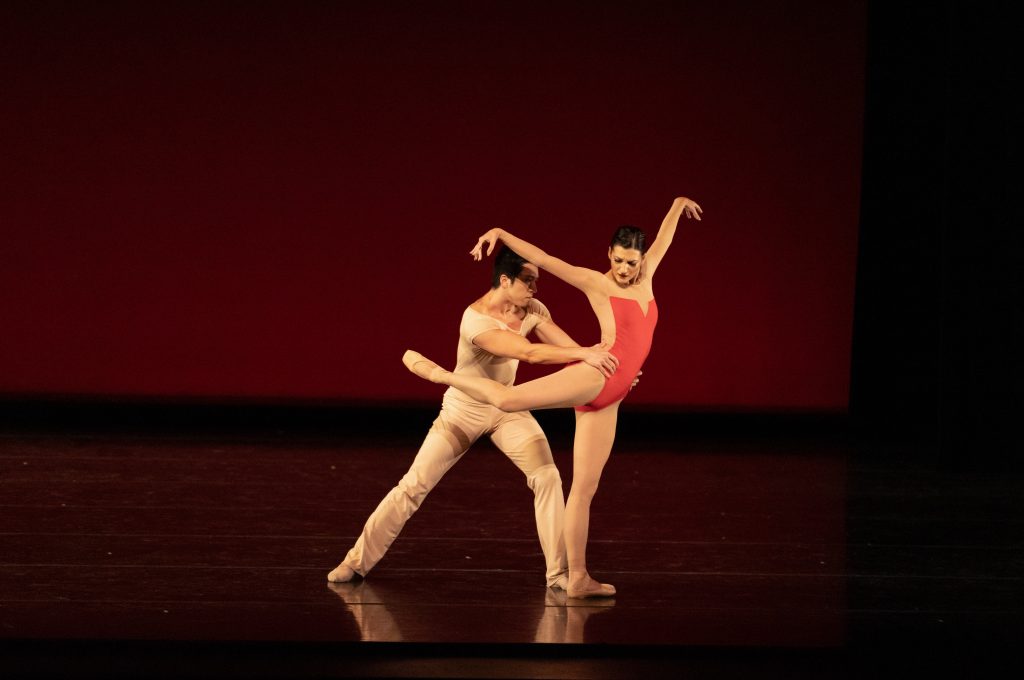 A series of pas de deux (Emily Mistretta and Liang Fu were breathlessly in sync) alternated with scenes, perhaps, from life in a Russian village: The men preen and joust, the women gaze upstage a lot, as if looking for a way out. (Edwaard has said the work was inspired by a snow globe he saw on his Russian travels.) As the day progresses, snow begins to fall, not once but twice, and during the last moments the men use the snowy ground to slide partners about like kids on a Siberian morning.
The evening concluded with Lila York's Celts, a paean to Irish dance created for Boston Ballet in 1996. (Devon Carney, Kansas City Ballet's artistic director, danced in Boston at the time and performed in the original cast.) It is worth noting that this piece preceded the appearance of the heavy-handed Lord of the Dance phenomenon, and happily itis considerably more subtly varied and virtuosic.
Still, there was no shortage of the limpid legwork that makes up this folkloric style, the best of which was seen at the outset, with soloist Cameron Thomas's legs virtually a blur. Intricate ensembles and pas de deux demonstrated a fantastic array of balletically engineered Irish dance steps. At one point, a mostly male group performed what resembled an ancient, ritualistic circle-dance. In the end, Celts is as much playful fun as it is serious choreography, best taken in the jovial spirit in which it is served.
—By Paul Horsley
---
Celts runs through October 24th at the Kauffman Center. For tickets go to kcballet.org or call 816-931-8993.
To reach Paul Horsley, performing arts editor; send an email to paul@kcindependent.com or find him on Facebook (paul.horsley.501) or Twitter (@phorsleycritic).
Read more in the October 16, 2021 issue of The Independent
September 17th was the date for Kansas City Young Matrons' September Soirée Under The Stars. Nancy and Jeffrey Brown hosted the festive event, which featured cocktails, an array of treats,…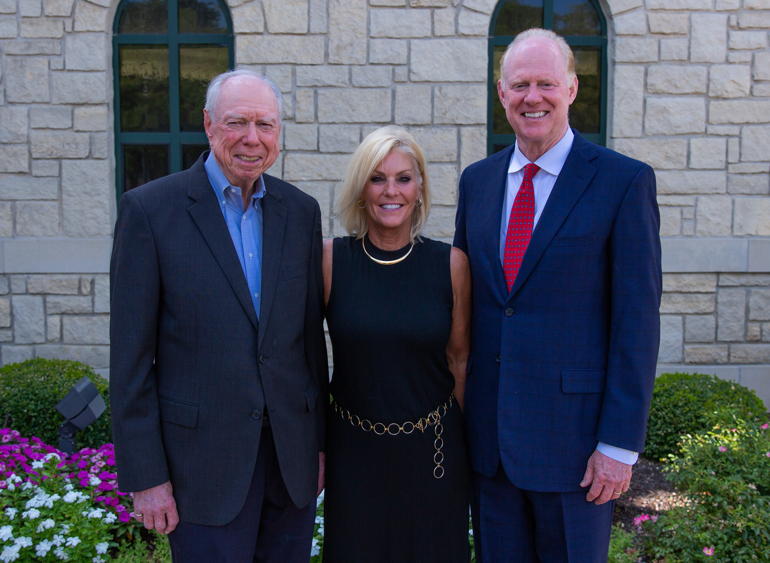 January 15th will be the night for the 48th Annual Snow Ball. Guests have a choice of attending virtually or at the Overland Park Convention Center, where the agenda will…
December Brammer and Kristal Ronnebaum served as co-chairmen of HappyBottoms' inaugural Diaper Bowl. More than 400 guests enjoyed delicious sips and bites, live music, silent and live auctions, a reverse…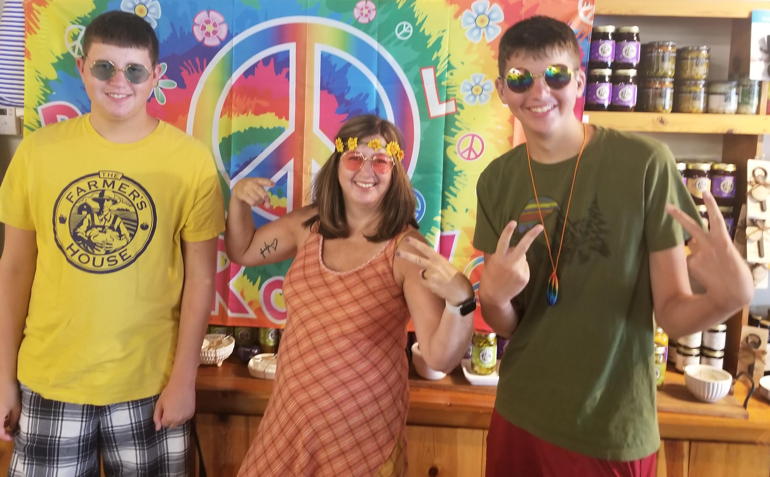 August 28th was the date for The Farmer's House's Peace, Love & Happiness Virtual Tour and Auction. Guests sported their favorite groovy attire and gathered at fun watch parties around…