REVIEW: Lyric Opera finally able to present its innovative Amahl to live audiences
Most of us have experienced at least one extraordinary moment in our lives in which we feel we've been visited by a miracle: and perhaps we have been. Such a moment is at the heart of Gian Carlo Menotti's Amahl and the Night Visitors, which despite being a specifically Christian story contains fundamental truths that have been touching audiences since its premiere on NBC-TV on Christmas Eve, 1951: the first opera composed specifically (though not exclusively) for performance on live television.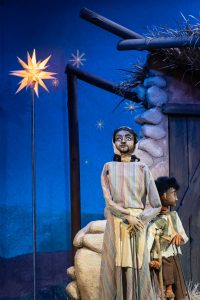 The Lyric Opera of Kansas City's pioneering production of the hour-long chamber opera, created last year for live performance but ultimately viewable only on webcast because of COVID-19 concerns, finally made it to the public stage on December 2nd, and it is a delight. "Pioneering" because last year, in a stroke of genius-forged-from-necessity, the Lyric decided to create a version of Amahl for life-sized puppets, with singers, chamber orchestra, and puppeteers all well-distanced from each other.
Despite the shutdown, the 2020 production was quite moving to watch on the web. But this year's live experience (which features new singers and some new creative-team members) was all the more impactful, and it is highly recommended as a light-hearted holiday outing. Held at the Lyric Opera's Frost Production Arts Building, the production runs through December 12th. And evidently the Lyric intends to make this into an annual tradition, on the order of The Nutcracker and A Christmas Carol.
The Frost Building is situated just a few blocks from Hallmark's world headquarters, and one couldn't help reflecting that Amahl was initially a genius-stroke for Hallmark, which sponsored the broadcast at considerable expense: partly because J.C. Hall had a hunch that television might just be the wave of the future, and he felt that arts and culture should be a part of the more mundane content flooding the networks.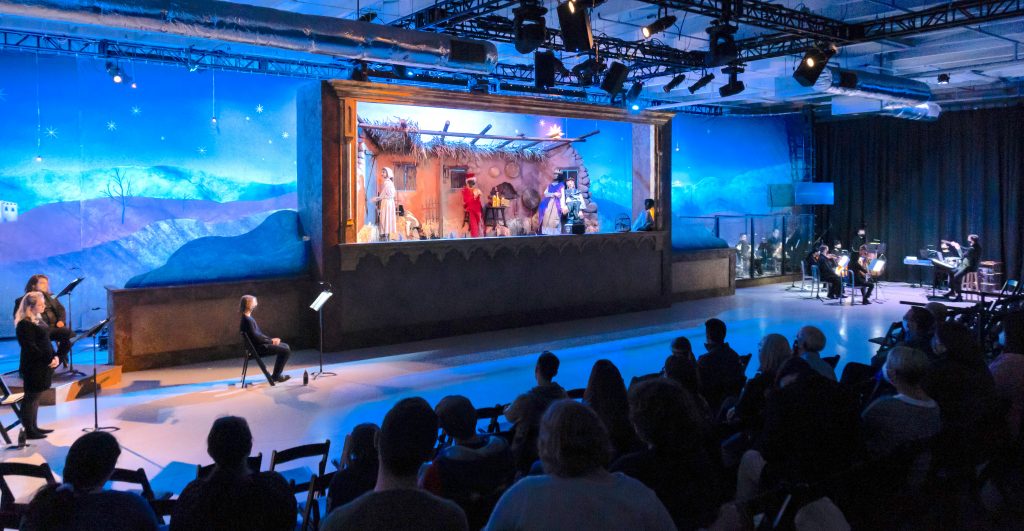 The live broadcast, which NBC repeated for several years under the rubric of NBC Opera Theatre, became for many TV fans an annual tradition comparable to watching Mr. Potter swindle the Baileys each year. It also became the seed for the Hallmark Hall of Fame and, eventually, the Hallmark Channels with their annual flood of holiday fare.
Amahl, cut from finer cloth than those eye-rolling movies, tells of an imaginary boy whose high spirits belie both the stark poverty in which he and his mother live and his disability: He is lame in one leg and walks with a crutch. Yet he has retained a loving heart and a generous spirit, both of which are key to the story. In addition to the brilliant puppetry by Paul Mesner (who designed and built the life-sized rod puppets, controlled from below), the Lyric has assembled a fine cast of singers, largely from its Resident Artist Program. At the heart of opening night was the luscious singing of Aubrey Odle, whose warm, plummy mezzo-soprano lent authenticity and pathos to the role of the Mother. Young Delilah Rose Pellow sang Amahl with a crystal-bright voice and a remarkable knack for pitch. (The roles of the Mother and Amahl are double-cast with Danielle Beckvermit and Finn Kuykendall.)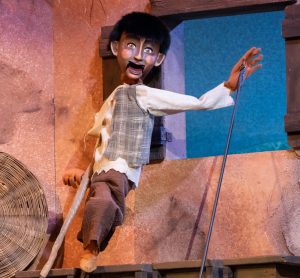 In addition to maneuvering arms and legs, the puppets must of course move their "lips" to live singing, a task that the team of 11 puppeteers, concealed by a panel beneath the stage, pulled off quite convincingly.
Amahl was inspired by Hieronymus Bosch's 15th-century painting The Adoration of the Magi, which the composer lit upon while wandering through New York's Metropolitan Museum searching for ideas for his TV opera. The painting (a copy of which the Lyric has hung in its lobby) depicts three richly dressed, bejeweled kings gathered around the infant Jesus.
Paul's puppets follow centuries of accrued church tradition (as does, to an extent, Bosch's image), namely that the kings represent different regional origins: the Far East, "Arabia," and Africa. Wayd Odle (Kaspar), Keith Klein (Melchior), and especially Peter Morgan (Balthazar) provided deliciously resonant "three-king" trios, with Nathan Whitson as a strong-willed Page. There was whimsy to the puppetry, including considerable physical comedy and a white cat that scurried and preened (an alteration of Bosch's image, which instead features a rather disengaged dog).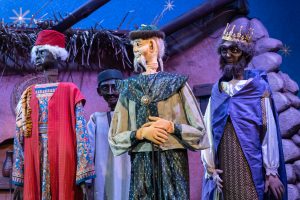 A chamber orchestra and offstage chorus were led with skill by Piotr Wiśniewski, with soloists placed on the opposite side of Steven C. Kemp's elaborate scenic design. The use of puppetry in this production, which was conceived by Shawna Lucey last year and staged by James Smith, allowed us to embark on a sort of make-believe journey in an imaginary land, enhanced by "exotic" costumes by Nancy Robinson and otherworldly lighting design by Michael Clark (realized by Mario Raymond).
Yet this tale is rooted in historical tradition: Amahl's miracle is tied directly to the fact that the kings are nearing Bethlehem with their gifts, and thus the time and place of the action are quite clear. Perhaps in future years the Lyric might alternate its puppet version with one in which the singers appear onstage, to bring a different sort of vividness to this tender tale.
—By Paul Horsley
Amahl runs through December 12th. For tickets go to kcopera.org or call 816-471-7344.
To reach Paul Horsley, performing arts editor; send an email to paul@kcindependent.com or find him on Facebook (paul.horsley.501) or Twitter (@phorsleycritic).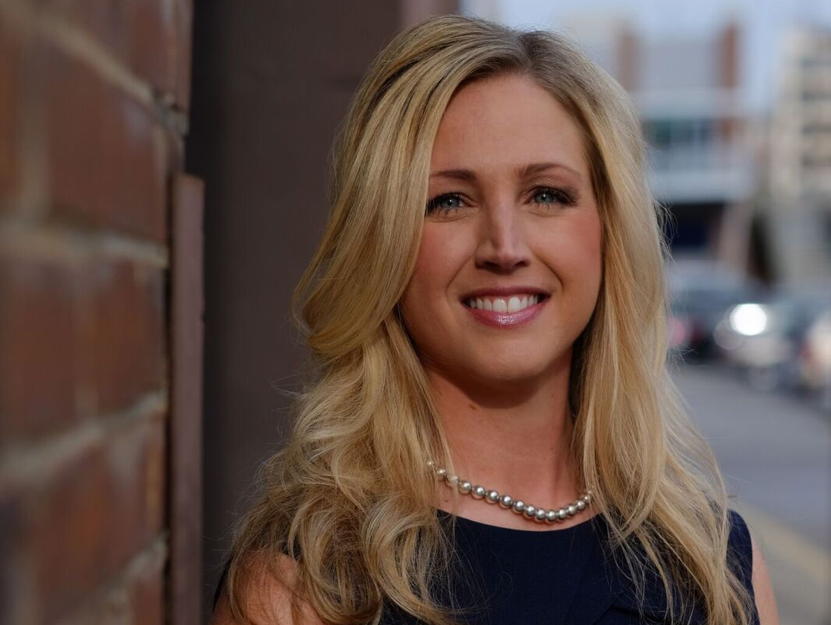 To learn more about becoming a member of the Association of Fundraising Professionals, Greater Kansas City Chapter, please visit afpkc.org. The Independent is proud to be the exclusive media partner of AFPKC.…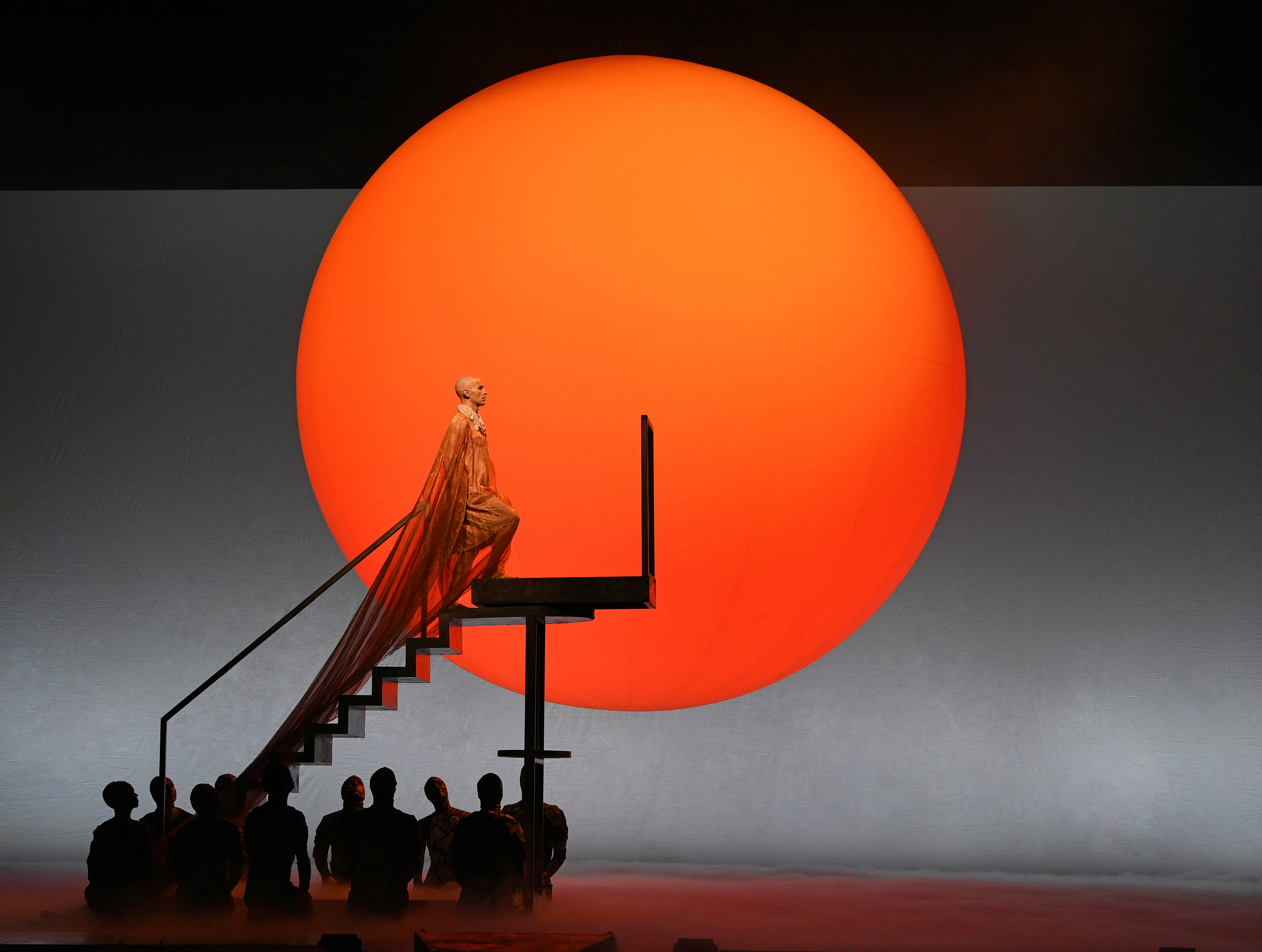 Countertenors have been with us for hundreds of years. If it seems that they are suddenly everywhere, it's partly because the demand for them internationally has spurred conservatories toward a…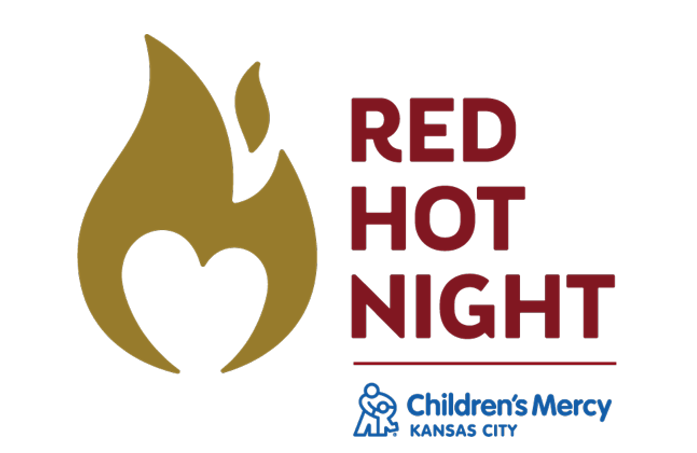 April 2nd is the date for Red Hot Night 22, a benefit for Children's Mercy. The event will be held at the Kansas City Convention Center and as a virtual…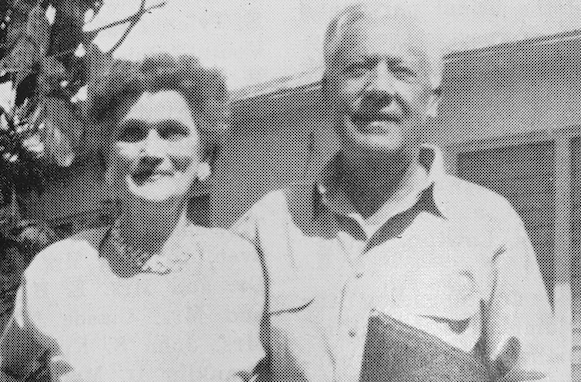 Richard Liggett owned and operated several movie theaters and then, at the behest of his brother-in-law, he went to work for a company that made and sold vacuum cleaners.  You're…