SEASON OF DREAMS: Arts Groups Announce New Seasons
Several of Kansas City's major performing arts organizations have announced their 2012-2013 seasons in recent weeks and now is the time to think about subscribing or renewing your existing subscriptions.
Some renewal deadlines have already passed, so call soon. Phone numbers are listed below. Check websites for more information. Scroll down for a summary of the Harriman-Jewell Series, which was posted a few days ago.
LYRIC OPERA OF KANSAS CITY
September 15th through the 23rd: Madama Butterfly. Elizabeth Caballero, who virtually stole the show for her searing portrayal of Liu in this season's Turandot, returns to the Lyric as Puccini's tragic heroine Cio-Cio San. The traditional Japanese woman desperately loves a rough-hewn U.S. Navy lieutenant who loves but ultimately betrays her. Weston Hurt sings Sharpless, and the stage director is Mark Streshinsky, whom Lyric fans know for his work on Julius Caesar in 2008 and more recently the wacky Le nozze di Figaro (2011).
November 3rd through the 11th: Il trovatore.  Lyric artistic director Ward Holmquist calls Trovatore "the most vocally challenging piece in the Verdi canon. … There are incredibly high expectations for all of the principal singers because each performs highly recognizable arias." One of opera's most memorable stories features a gypsy, two infant boys who are swapped at birth, and a doomed love affair. In short, the very stuff of 19th-century opera. Kathleen Belcher directs; the scenic designers are Jay Lesenger and Michael Baumgarten.
March 2nd through the 10th: The Flying Dutchman. For the – time in 38 years, Wagner's tale of an doomed sea captain takes to the Lyric stage, in a production directed by Bernard Uzan, a local favorite noted for his recent Carmen here. Appearing in the title role is Richard Paul Fink, the magnificent baritone who performed the role of Rigoletto here in 2010 and was also Henry Kissinger in Nixon in China this season. The brand-new production is designed by the Lyric's own crack scenic designer, R. Keith Brumley.
April 20th through the 28th: The Mikado. Gilbert & Sullivan's biggest hit appears for the first time in the Kauffman Center, in a production that is sure to underscore yet again the Lyric's well-established knack for comedy.
Renewal deadline is April 30th. For tickets and information call 816-471-7344 or go to kcopera.org.
KANSAS CITY BALLET
October 12th through the 21st: Carmina Burana. One of the most stellar successes recently at the Ballet was Concerto Grosso, a new piece by Oregon-based choreographer Toni Pimble that was on the Independent's Top Performing Arts Events of 2012. The Ballet's season opener features Toni's Carmina Burana, with Carl Orff's timeless music performed live by the Kansas City Symphony and Chorus. The program also includes Lynn Taylor-Corbett's Mercury and Ben Stevenson's End of Time.
March 15th through the 24th: A Midsummer Night's Dream. More than a decade ago, Ballet artistic director William Whitener dazzled Kansas City with his visually stunning version of Shakespeare's comedy, with Mendelssohn's score performed live by the Kansas City Symphony. Also on the program are two reprises: Toni Pimble's Concerto Grosso and Jessica Lang's pas de deux Splendid Isolation III.
May 3rd through the 12th. One of the highlights of the Ballet's Joyce Theater debut in New York in 2005 was a piece commissioned especially for the occasion, Donald McKayle's Hey-Hay, Going to Kansas City, which is set to jazz hits with Kansas City roots. It was admired by New York critics and public alike. This program also includes Margo Sappington's Common People (set to the vocals of no less than William Shatner) and a new piece by Lawrence native Karole Armitage.
*December 1st through the 23rd: The Nutcracker. Not part of the regular subscription package,  tickets for the Ballet's annual holiday classic are available to subscribers for discounts of up to 25 percent.
Renewal deadline for current subscribers was April 1st, so call immediately to make sure you can lock in your existing seats. Call 816-931-2232 or go to kcballet.org.
KANSAS CITY SYMPHONY / CLASSICAL SERIES
All concerts conducted by music director Michael Stern except where noted.
September 28th through the 30th: Vadim Gluzman, violin; music of Adam Schoenberg (Finding Rothko), Tchaikovsky (Violin Concerto) and Mussorgsky (Pictures at an Exhibition).
October 5th through the 7th: Jorge Federico Osorio, piano; music of Barber (Symphony No. 1), Grieg (Piano Concerto) and Brahms (Symphony No. 4).
October 26th through the 28th: Eighth Blackbird, ensemble; music of Rossini (Overture to La gazza ladra), Jennifer Higdon (On a Wire) and Beethoven (Symphony No. 3, "Eroica").
November 16th through the 18th: Nicholas McGegan, conductor; music of Haydn (Symphony No. 94, "Surprise") and Orff (Carmina Burana).
November 23rd through the 25th: Lise de la Salle, piano and Osmo Vänskä, conductor; music of Sibelius (En saga), Prokofiev (Piano Concerto No. 1) and Beethoven (Symphony No. 6, "Pastoral").
January 11th through the 13th: Mahler, Symphony No. 6 ("Tragic").
January 18th through the 20th: Pinchas Zukerman, violin; music of Hindemith (Mathis der Maler) and Elgar (Violin Concerto).
February 1st through the 3rd: Narek Hakhnazaryan, cello; music of Martinu (The Frescos of Piero della Francesca), Schumann (Cello Concerto) and Adam Schoenberg (Newly commissioned work, world premiere).
February 8th through the 10th: Garrick Ohlsson, piano; music of Dvorák (Symphony No. 6), Copland (Piano Concerto) and Gershwin (Rhapsody in Blue).
February 22nd through the 24th: Christine Brewer, soprano; music of Christopher Rouse (Odna Zhizn), Strauss (Four Last Songs) and Tchaikovsky (Symphony No. 2, "Little Russian").
April 5th through the 7th: Caroline Robinson, organ and the Kansas City Symphony Chorus (Charles Bruffy, director); music of Rachmaninoff (The Bells), Poulenc (Organ Concerto) and Scriabin (The Poem of Ecstasy).
May 17th through the 19th: Asher Fisch, conductor and piano; music of Mahler ("Blumine" movement from Symphony No. 1), Mozart (Piano Concerto No. 17) and Brahms/Schoenberg (Piano Quartet).
May 31st through June 2nd: Gil Shaham, violin; music of Carl Ruggles (Angels), Berg (Violin Concerto) and Schubert (Symphony No. 9, "The Great").
June 7th through the 9th: Season finale; music of Mozart (Symphony No. 40) and Strauss (Eine Alpensinfonie).
The renewal deadline for existing subscribers was March 30th, so call immediately to make sure you retain your current seat. Call 816-471-0400 or go to kcsymphony.org.
Most of us have experienced at least one extraordinary moment in our lives in which we feel we've been visited by a miracle: and perhaps we have been. Such a…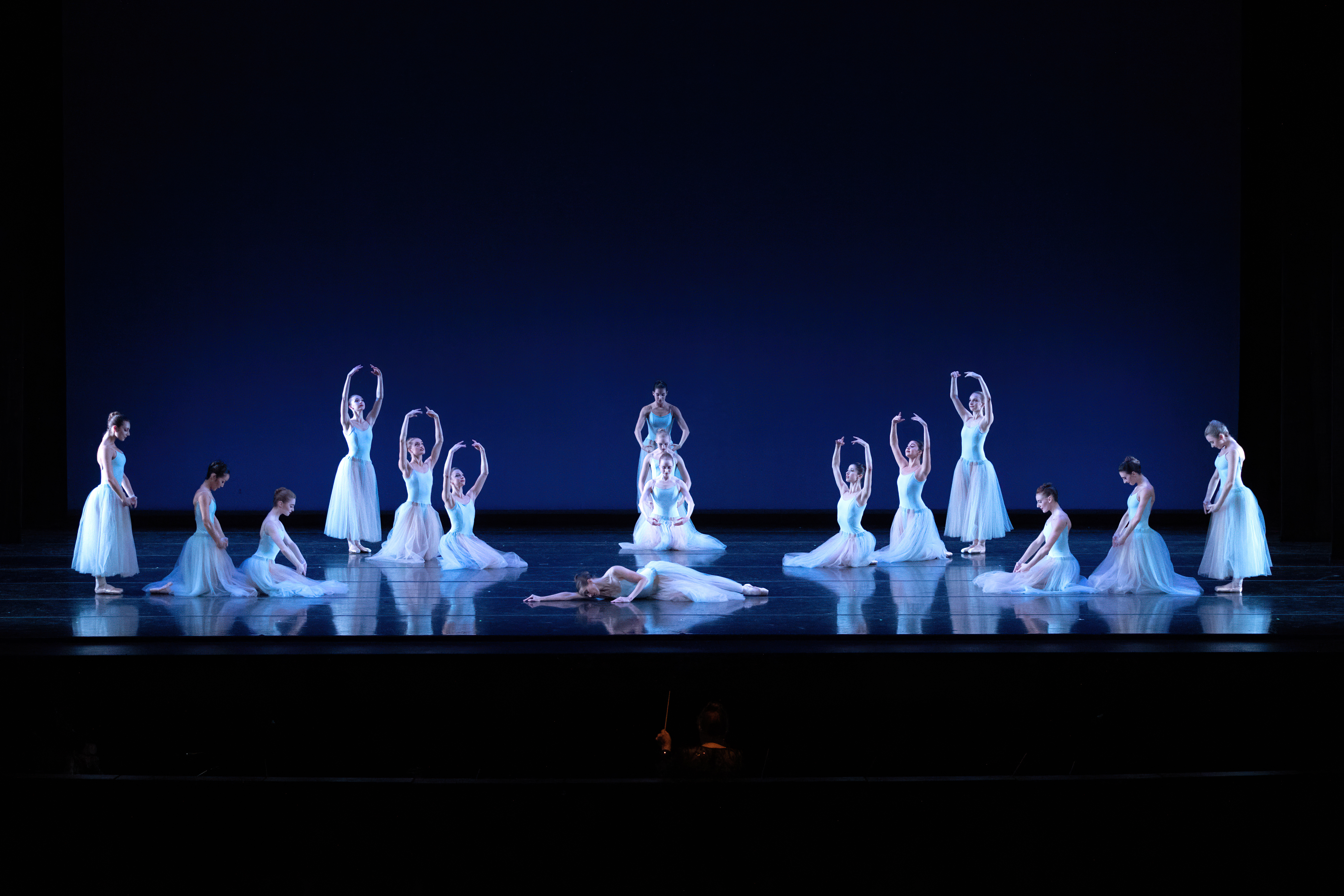 Oh, how George Balanchine's teachers back in Russia must have chafed at the finale of his Serenade, in which three women assert themselves through the most startling of means: After…
Many of the shows we are highlighting this fall are actually indoors! But always confirm your event a day or two ahead. SEPTEMBER August 27-September 19 Kansas City Repertory…
Devon Carney's great affection for classical ballet stands front and center in his lovingly choreographed Swan Lake, which the Kansas City Ballet introduced here in 2016 and is currently revisiting.…