IN REVIEW: KC Ballet's new 'Nutcracker' is boisterous, busy, dazzling fun
By Paul Horsley
Each production of The Nutcracker is to some extent a balancing act between spectacle and dance. At best it seamlessly integrates the colors and stagecraft that keep holiday audiences coming back with the ballet traditions on which the 1892 Russian classic is based. When the Kansas City Ballet under Artistic Director Devon Carney challenged itself to create its first new Nutcracker in 34 years, the pressure was to craft a production that would make a splash initially but also form a foundation that the company can use, year after year, for at least a couple of decades.
So the Ballet hired an international team of designers and set out to create, in near-record time, a Nutcracker that would make national news. The forcefully lavish production, which opened December 5th at the Kauffman Center, presents enough visual dazzle, physical fun and meticulously rethought choreography to suggest that the reported two-million-dollar price tag was not inordinately high, in light of the result. While clearly still a work in progress (opening night featured a handful of missteps), the Ballet's busy new version could very well serve as a durable Nutcracker for many years to come.
The best news is that Act I, which in KCB's dance-theater-heavy previous version by Todd Bolender was a bit of a snooze until the mice showed up, has been brought brilliantly to life. At the same time Devon and his company have filled Act II so full of dancers and props that one will need a few years to digest it all, though on a first take it felt overloaded. There was much to entertain the eye and mind through the busy Act II "variations," but the initial impression was to yearn for some of the detailed focus on individual dancers that was a hallmark of Todd's compact, Balanchine-derived version.
But that is to jump ahead. This year, instead of the curtain opening to a dark, anonymous street scene, the show opens in Drosselmeier's gorgeously outfitted workshop, where the magician-uncle is putting finishing touches on life-sized dancing dolls for the tykes. The huge central tool-cabinet and handsome workbenches on either side help flesh out Herr Drosselmeier as a personality (we always wondered what he really did with his time), and on opening night Ryan Jolicoeur-Nye captured the odd fellow's elegant mystery while imbuing him with a bit of the doddering tinkerer. (Casts vary through the run, with many of the professional roles triple-, quadruple- or even quintuple-cast.) He is teaching the dolls how to move realistically, but he's in a hurry to get to the Silberhaus' Christmas party, so he transforms the dancer-dolls back into foot-long versions that can be packed neatly into gift boxes.
There are still plenty of kids from the KCB School in the Party Scene, but they have more to do and they engage more readily with the adults than before. Set designer Alain Vaës' lushly outfitted living room could feasibly pass for a palace, for a change, and Holly Hynes' party costumes are rich in subtle shades. Both of these artists have brought generous detail and whimsy to this handsome production. Trad A Burns' lighting, which reportedly employs some fancy new lights purchased specifically for the production, is eye-catching throughout.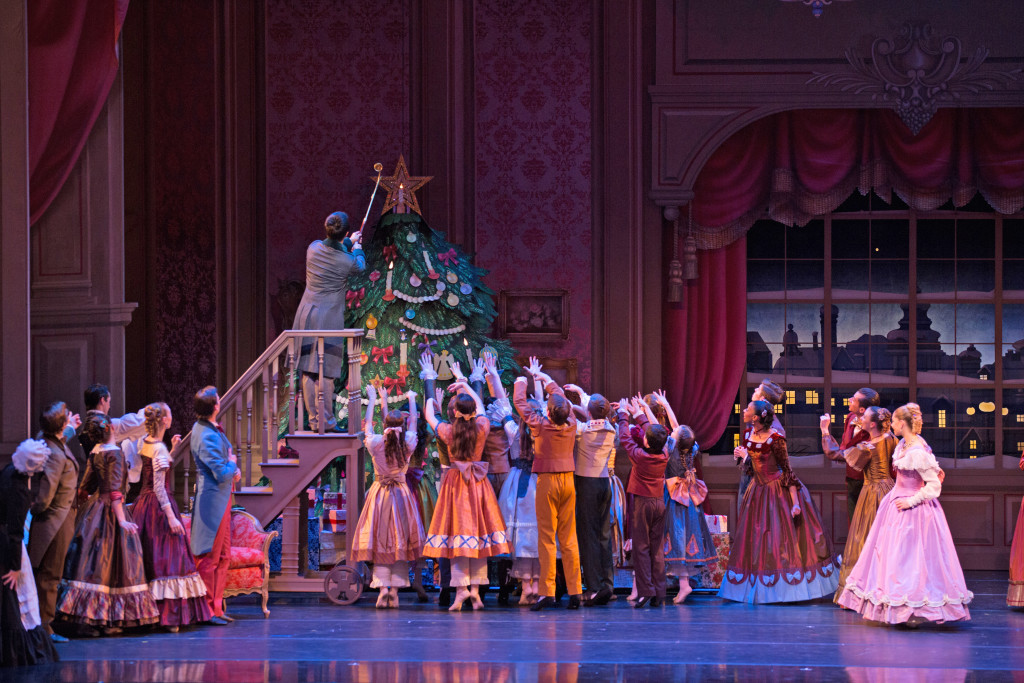 There's more music, too (Ramona Pansegrau, who conducts the Kansas City Symphony in the pit, has "opened some of the cuts" in Tchaikovsky's score), and in the midst of the party fervor Sarah Chun and Dillon Malinski (Maid and Butler) dance a charming divertissement. Then, presto: Drosselmeier pulls out a puppet-theater that is the large set in miniature: and the dancer-dolls come to life. We first get a graceful dance by Harlequinade and her Harlequin (Laura Hunt and Yoshiya Sakurai), then a Dancing Bear (Ivan Braatz) in an enormous padded costume, who rolls around good-naturedly and can't resist an anachronistic fanny-shake.
Familiar elements remain, including Fritz's audacious outburst where he breaks the Nutcracker (this time, rather alarmingly, in two pieces), the wacky Grandfather's Dance (here turned near-hiphop by Joshua Bodden), and the bed-time adieus. Clara is still a young girl (Sarah Waller at the opening), and the Nutcracker is also the Prince (Charles Martin), but the two of them take off in a gigantic hot-air balloon rather than the usual sleigh, an inventive touch.
The mice battle has been turbocharged with delightful new costumes and a great deal more activity. The battle is comically frenetic, and the furniture transformation, borderline expressionistic. The mice, in various sizes, use table cutlery and pens for swords, and the soldiers mix their balletic moves with jazzier motions. Angelina Sansone and newcomer Thom Panto were exquisite as Snow Queen and King on opening night, their choreography seeming at once familiar and fresh. Especially striking was the translucent top-lighting toward the end of "Snow," in which the Kingdom takes on a weird, otherworldly warmth despite the "cool" colors.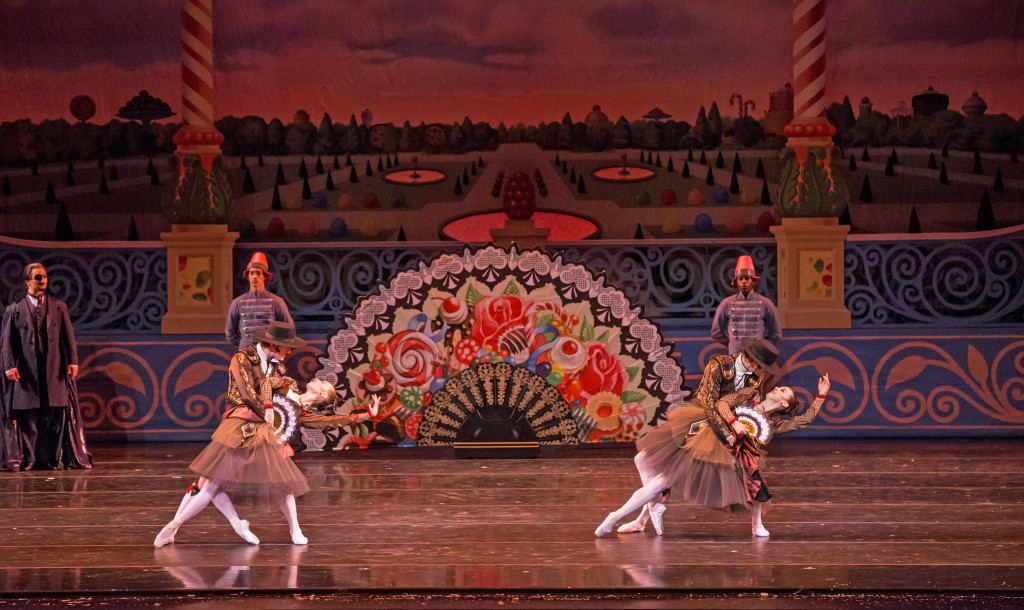 Act II was, as they say, a different plate of candy. The Angels this year are young women holding miniature lyres and striking Hellenic poses, accompanied by youngsters billed as Cherubs who sport brightly lit halo-headdresses. The Sugar Plum Fairy was, on opening night, the always fascinating Tempe Ostergren, who with her Cavalier (Lamin Pereira dos Santos) brought the balletic foundation of this piece to the fore—with a bit of pantomime thrown in. Spanish is now performed in front of a gigantic foldout fan, with dancers in oranges and chocolate-browns playing toreador-bull games. Arabian is danced by a lone woman (Angelina Sansone), carried onstage in a veiled litter by four male servants who fawn over her. Chinese is a multi-hued pas de deux (with Amanda DeVenuta and Michael Davis) in which eight Tea Children sport umbrellas, and a lovingly designed dragon-puppet ducks and weaves through the group. Shepherds (Marzipan) featured Taryn Mejia and Dillon Malinski in a somewhat diffuse ensemble filled out with four additional dancers and a quartet of lambkins.
Russian brought us a lumbering line of giant nesting-doll figures, and a trio of men dancing muscular trepak-like moves. Mother Ginger is now a giant puppet controlled by a single dancer, which bobs awkwardly about like a parade float, unable to do much more than let the eight little Polichinelles in and out of her skirt. The Waltz of the Flowers features a lead dancer, Rose (Sarah Chun) and an array of flowers who dart gracefully but rather fussily about. This was the one place I found myself yearning for the more architecturally "sculpted" design of the old version. Tempe and Lamin danced the final Grand Pas with detailed charisma, its energy growing ever more florid throughout as the deeply personal interplay of the previous version is turned into something more specifically classical in nature.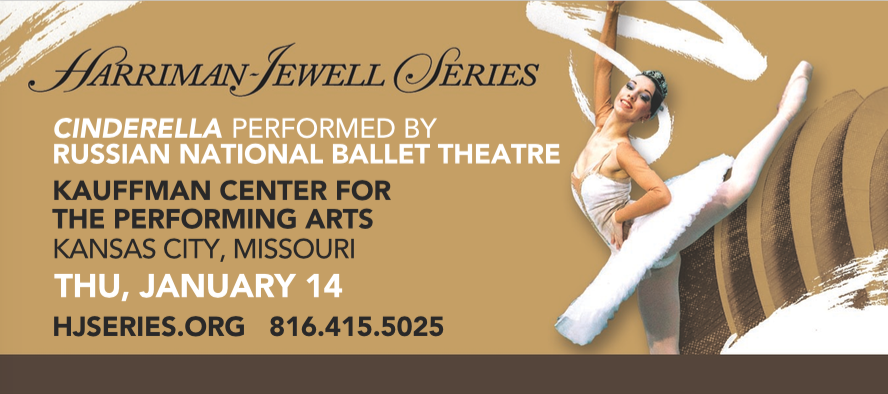 The Kansas City Ballet's The Nutcracker runs through December 24th at the Kauffman Center. Call 816-931-8993 or go to kcballet.org.
To reach Paul Horsley send email to paul@kcindependent.com or find him on Facebook (paul.horsley.501) or Twitter (@phorsleycritic).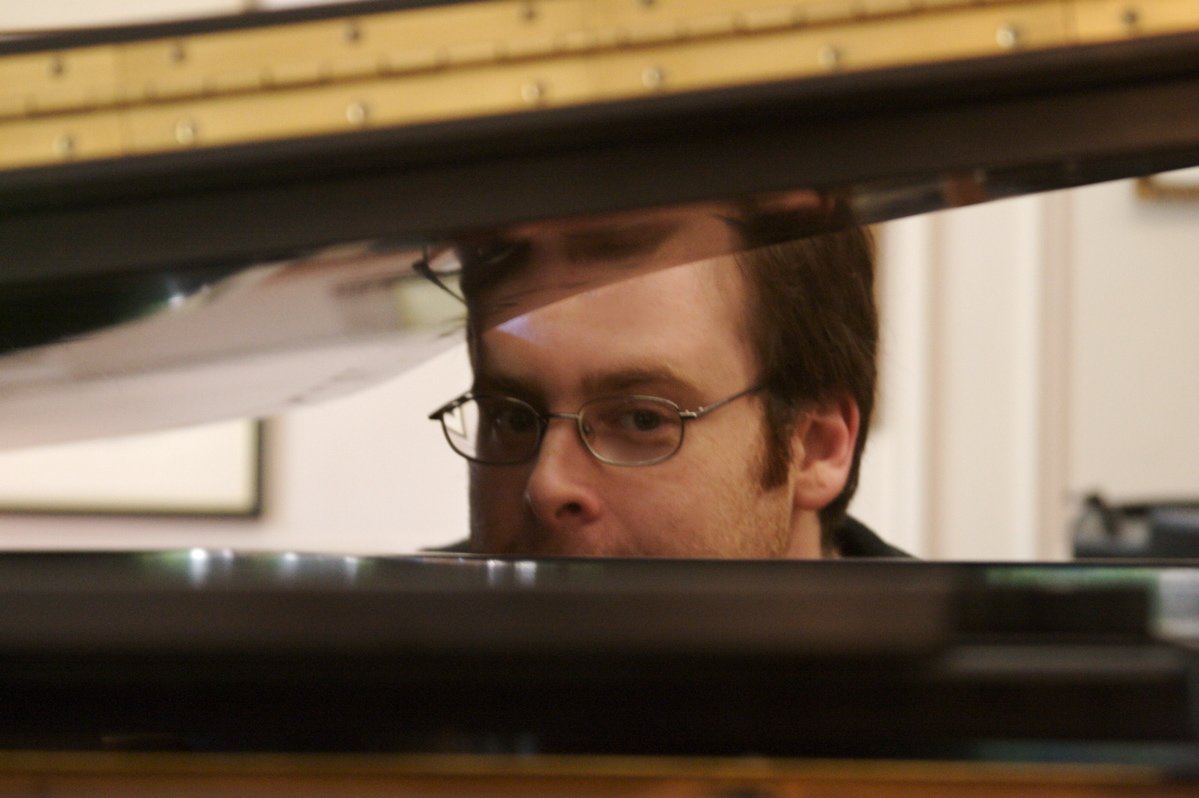 By Paul Horsley David Ludwig knows better than to attach a "back-story" to a piece irrevocably, although he has openly stated that his new Violin Concerto was inspired by his…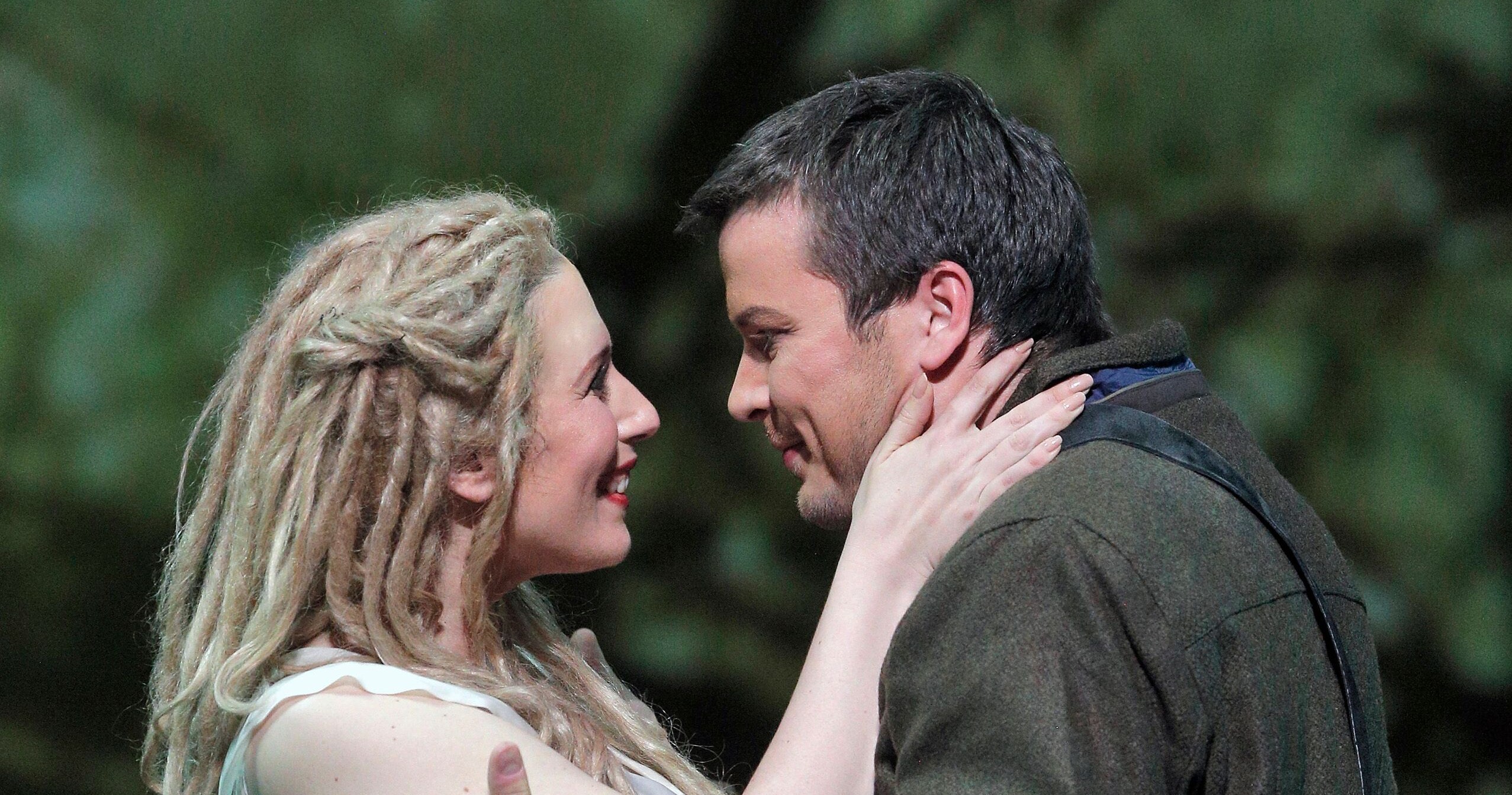 By Paul Horsley The Lyric Opera of Kansas City deserves applause for taking on an opera in Czech for the first time in its history, but the opening performance of…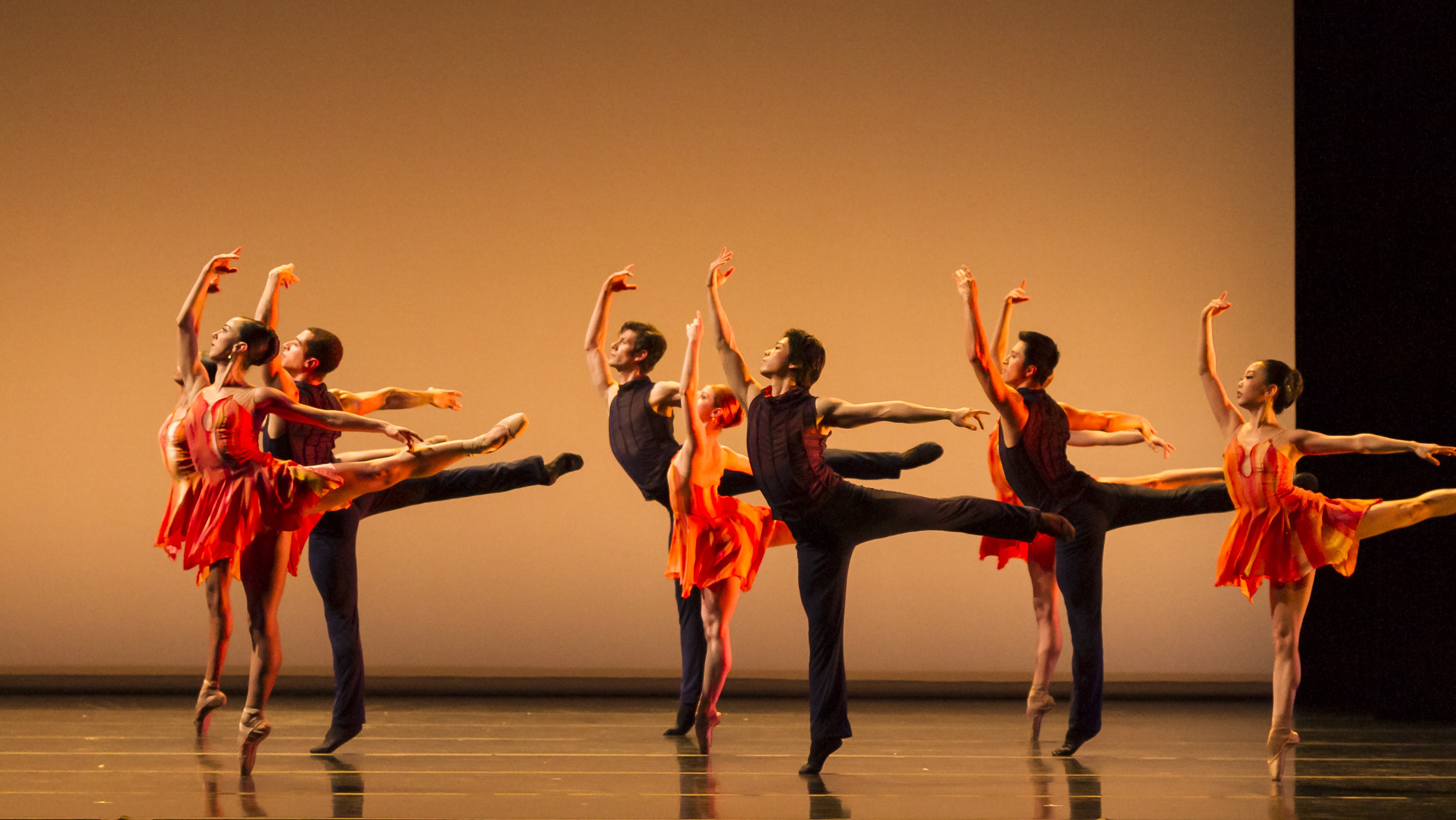 By Paul Horsley Balanchine's The Four Temperaments is a work of such startling visual clarity, musicality and modernity that it's astonishing to contemplate that it predates not just most of…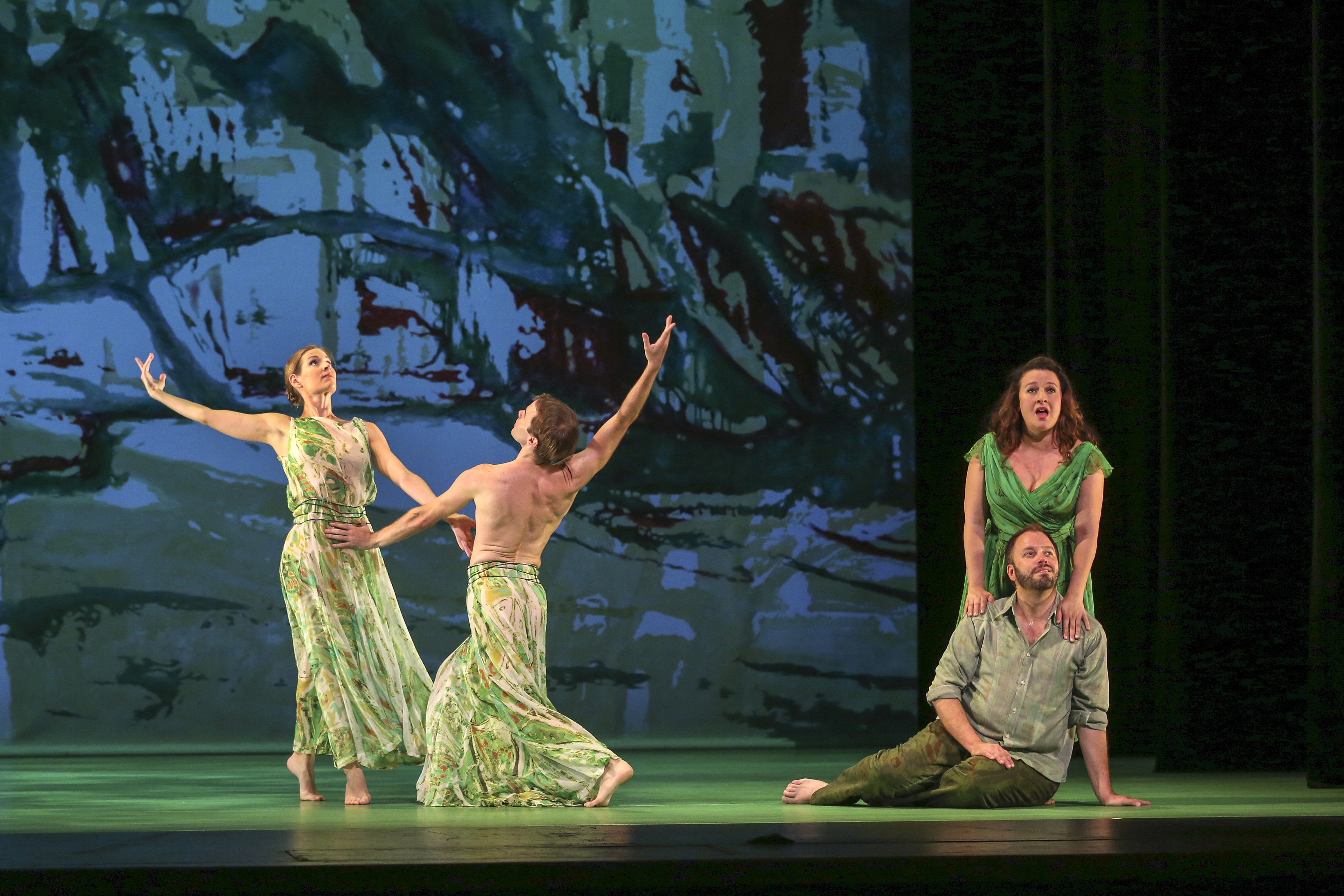 By Paul Horsley You have to believe in Baroque opera to make it convincing, and Mark Morris believes in it absolutely. His Acis and Galatea, a delightful amalgam of dance,…