SUN IN THE FUN: Kansas City's Cultural Summer Sizzles in 2011
Ah, summer. Kansas City used to be a downright sleepy place during the warm months, culturally speaking—but no longer. In recent years, perennial favorites such as the Starlight Theatre, the Heart of America Shakespeare Festival and Summerfest have been joined by all sorts of presentations large and small. To help you keep it all straight, we've compiled a calendar of the best events in music, theater and dance from now through early September. Get out of the house and go experience Our Town's finest!
MUSIC
June 17th through the 19th: Kansas City Symphony's final concerts of the season—and their last in the Lyric Theatre—feature my favorite young violinist, Stefan Jackiw; Michael Stern conducts a program that also includes Mendelssohn's HebridesOverture and Tchaikovsky's Fourth Symphony. Call 816-471-0400 or visit www.kcsymphony.org.
June 24th: Conductor Bruce Sorrell and the Kansas City Chamber Orchestra perform Beethoven's Sixth Symphony (the "Pastoral") at Unity Temple on the Plaza, and they are joined by violinist Tamamo Gibbs in Mozart's Violin Concerto No. 5. The program opens with Rossini's La scala di seta Overture. Call 816-235-6222 or go to www.kcchamberorchestra.org.
July 9th and 10th: Summerfest, Kansas City's summer chamber-music series, opens with music of Elizabeth Brown, Lester Trimble and Henry Purcell, as well as Mozart's path-forging G-minor Piano Quartet. The season continues July 16th and 17th(with music of Vivaldi, A. and D. Scarlatti and Thomas Albert); July 23rd and 24th (music of Haydn, Carlos Chavez, Lowell Lieberman and Bohuslav Martinu); and July 30th and 31st (with music of Muzio Clementi, Karim Al-Zand, and Joan Tower, and Brahms' Serenade, Op. 11). Each Saturday concert is at White Recital Hall on the UMKC campus, and the Sunday concerts are at St. Mary's Episcopal Church. Call 816-235-6222 or go to www.summerfestkc.org).
July 10th: Voices of Prometheus, an American vocal consort based in Columbia, Missouri, performs under the direction of Paul Crabb, at Grace and Holy Trinity Cathedral. Go to www.ghtc-kc.org and click on Music as information becomes available.
July 17th: The Gospel According to Love, faith-based one-man Broadway revue featuring the multi-talented Richard Preis, at Grace and Holy Trinity Cathedral. For more information to go www.ghtc-kc.org and click on Music.
July 28th through August 5th: Jewell Early Music Summer Festival. Our Town's only festival of early music features the Kansas City Baroque Consortium and St. Louis Baroque and is held on the William Jewell College campus. Featuring performances, master classes and other events. For information write to trillmont@kc.rr.com or see www.facebook.com/group.php?gid=109592836034.
August 7th: Summer Music at the Cathedrals opens with John Schaefer, organ (Grace and Holy Trinity Cathedral) and continues on August 14th with Jonathan Gregoire, organ (Cathedral of the Immaculate Conception); August 20th and 21stincludes the Summer Singers of Kansas City (Grace and Holy Trinity) and on August 28th organist Hector Olivera performs (Immaculate Conception). See www.ghtc-kc.org.
September 3rd: Pops in the Park featuring the Kansas City Symphony, the 29th annual free Labor Day concert, at Shawnee Mission Park, Shawnee. 816-471-0400 or www.kcsymphony.org.
THEATER
*Now through June 19th: The Odd Couple, New Theatre Restaurant. The group that Wall Street Journal called "the best dinner theater operation in the country" presents Neil Simon's classic comedy, starring George Wendt and Tim Kazurinsky. Call 913-649-SHOW or go to www.newtheatre.com.
*Now through June 19th: The 39 Steps, American Heartland Theatre presents the two-time Tony Award winner that is like a mixture of Hitchcock, a crime novel and Monty Python. Hilariously twisted who-dun-it is brought off by only four actors! 816-842-9999 or www.americanheartlandtheatre.org.
*Now through July 9rd: The Dinosaur Show, presented by Paul Mesner Puppets at their studio on Linwood and at other venues around the metro and the region; also see St. George and the Dragon (July 19th through the 29th) at various libraries around the city and Anansi the Spider (July 30th) at Crown Center. For more information call 816-756-3500 or go towww.paulmesnerpuppets.org.
*Now through August 7th: Starlight Theatre begins its 2011 season with The King and I featuring my favorite Hollywood actor,Lou Diamond Phillips (June 6th through the 12th). The season continues with 9 to 5 (June 21st through the 26th), Guys and Dolls (June 21st through the 26th), Cinderella (July 25th through the 31st), Mamma Mia! (August 2nd through the 7th) andXanadu (August 15th through the 21st). Tickets at 816-363-STAR, online at www.kcstarlight.org, or in person at 4600 Starlight Road.
June 14th through July 3rd: Macbeth, Heart of America Shakespeare Festival. Our Town's favorite outdoor theater event featuresJohn Rensenhouse in the title role and Kim Martin-Cotton as Lady Macbeth. Call 816-531-7728 or go to www.kcshakes.org. Theater at its finest, and free!
June 17th through July 17th: Closer Than Ever, Quality Hill Playhouse. This hit off-Broadway revue about love, friendship and family is wise and witty and stars J. Kent Barnhart, Alison Sneegas Borberg, Jon Daugharthy, Seth Golay and Molly Hammer. Call 816-421-1700 or go to www.qualityhillplayhouse.com.
June 21st through August 7th: The Wiz, Coterie Theatre. The Tony Award-winning musical tells a tale that Midwesterners know by heart. Call 816-474-6552 or go to www.coterietheatre.org.
June 23rd through August 28th: Joseph and the Amazing Technicolor Dreamcoat, New Theatre Restaurant. Andrew Lloyd Webber and Tim Rice's classic take on a Biblical tale has infectious tunes and plenty of wit. Call 913-649-SHOW or visitwww.newtheatre.com.
July 1st through the 17th: The Full Monty, a presentation by Padgette Productions, stars Emmy Award nominee Renée Taylorfrom TV's "The Nanny," and is held in the intimate, accessible Union Station City Stage. Call 816-460-2020 or go towww.unionstation.org/theater.html.
July 8th through August 21st: Honky Tonk Angels, American Heartland Theatre. Three young women come to Nashville to follow their countrified dreams, in this heartwarming comedy featuring a mix of country classics like "Stand By Your Man," "Coal Miner's Daughter," "Rocky Top" and others.  Call 816-842-9999 or visit www.americanheartlandtheatre.org.
August 16th through September 11th: Provocative classics by the late Nobel Laureate Harold Pinter include The Birthday Partyand three one-act plays (The Lover, The Collection and Night), all presented by the Kansas City Actors Theatre. Call 816-235-6222 or see www.kcactors.org.
DANCE:
August 26th: The Kansas City Ballet's Ribbon-Cutting Ceremony for the Todd Bolender Center for Dance & Creativity begins a whole week of activities that includes a KC Dance Day with a Ballet open rehearsal (August 27th); a World Dance Day showcasing dance from a wide range of nations (August 28th); and "Try It For Free" classes in ballet, jazz, modern, ballroom, yoga, Pilates, Zumba and more (August 22nd through September 1st). For up-to-date information go to www.kcballet.org or call 816-931-2232.
September 10th: Dance in the Park, Roanoke Park, the annual event is sponsored by City in Motion Dance Theatre Inc. For information as it becomes available go to www.cityinmotion.org.
Shakespeare's humor often stirs deep, mirthful reflection on the human condition and yes, sometimes it makes us laugh out loud. We don't normally think of the bard's subtle, fleet-footed humor…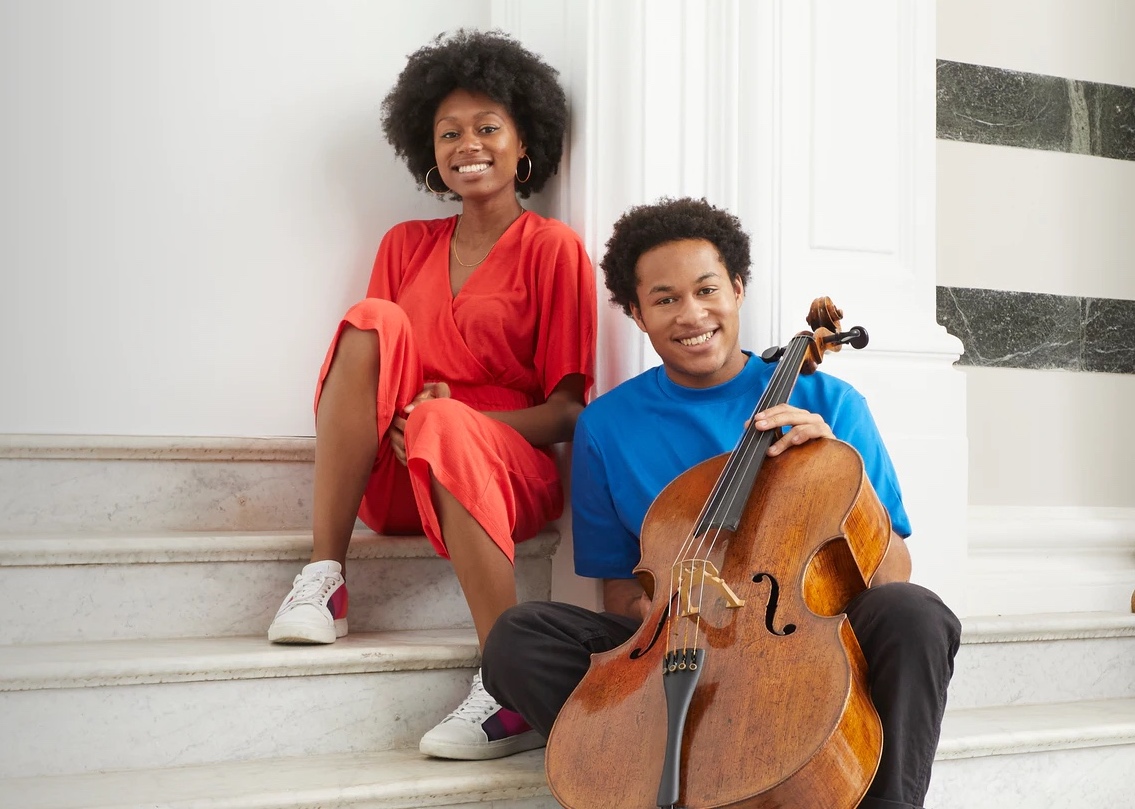 Pianist Isata Kanneh-Mason and cellist Sheku Kanneh-Mason are two of seven highly gifted siblings from Nottingham, England, who are creating a worldwide sensation. Sheku is best known for his performance…
Because Steve Jobs brought us the iPhone, the iPad, iTunes, the Mac, and a host of other indispensable devices, there are always going to be retellings of his life. One…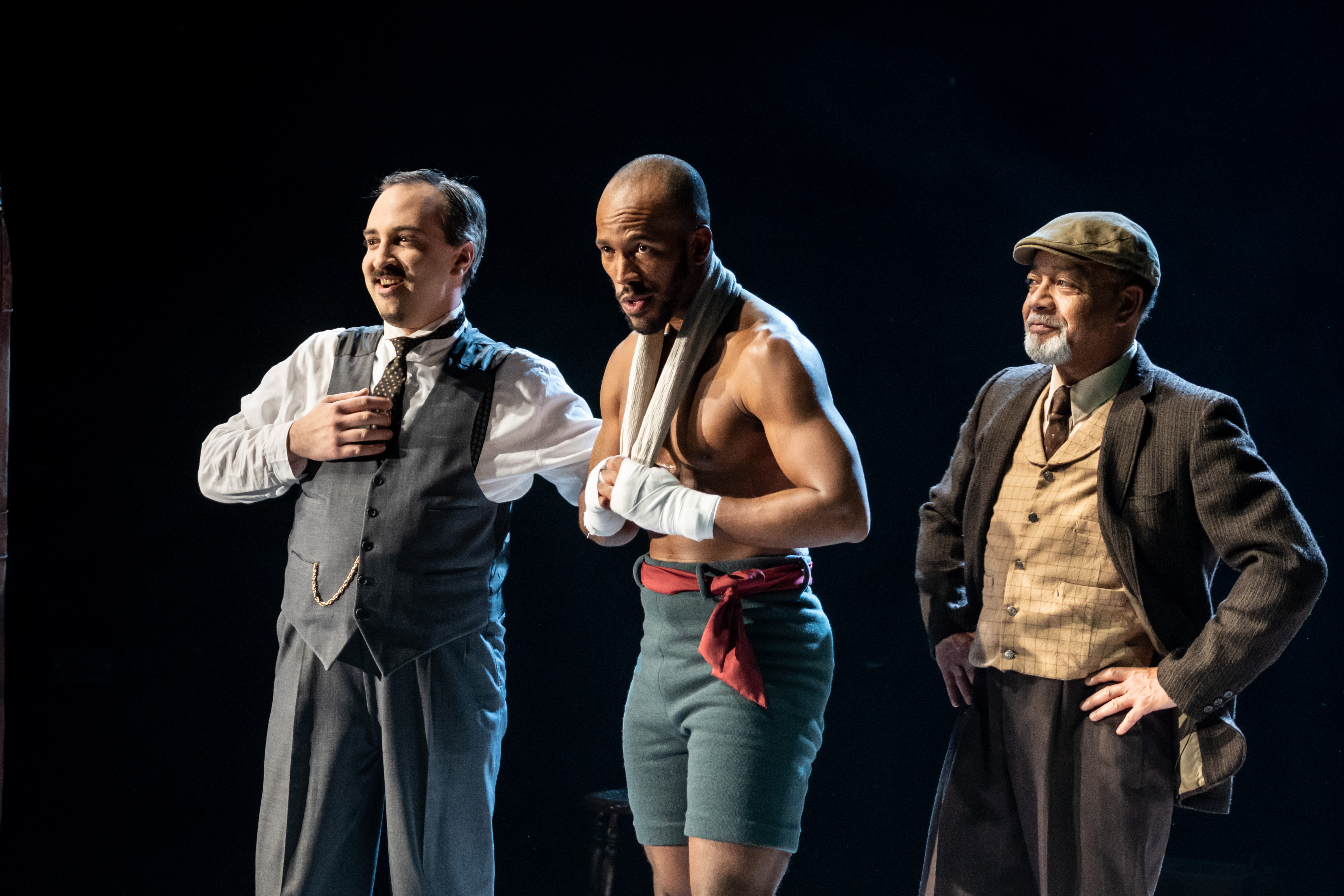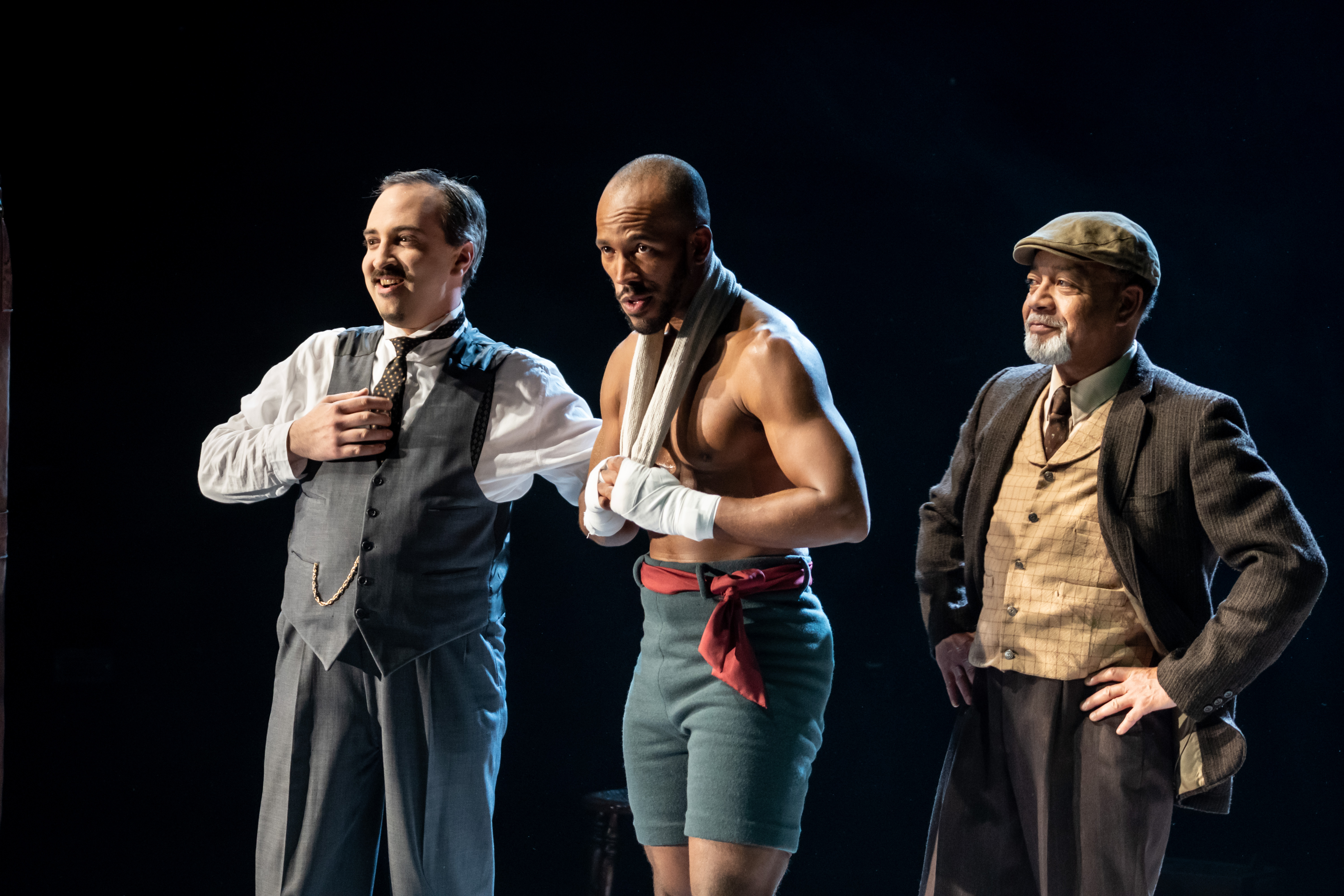 The Royale is a powerfully crafted piece of theater that addresses an issue that is still with us. Marco Ramirez' 85-minute play reflects on the legacy of Jack Johnson, the…