THE SNOWY PATH LESS TRAVELED: Local arts groups present an increasing array of holiday offerings
We hold holiday traditions close because they remind us of family and nostalgia, of childhood and gift-giving and sparkling lights. Kansas City is famous for its long-held performance traditions, but in recent years arts groups have begun to branch out, with offerings that are a bit off the beaten path. Don't worry: No one wants to replace our well-known favorites, but a new look at the season can be refreshing.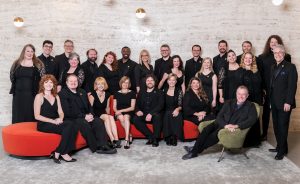 A choice example is the Kansas City Chorale's local premiere of Benedict Sheehan's A Christmas Carol (December 2nd through the 16th), a fresh version of the holiday favorite that is, I believe, destined to become a classic.
It is the brainchild of a Pennsylvania-based composer who has interwoven texts directly from the Dickens classic, as spoken by a narrator, with favorite carols and innovative special effects created entirely from choral voices.
"What I tried to do was to use the story to give a new and fresh meaning to these old, well-known Christmas carols," Benedict said recently, "but also to use the meaning of these carols to bring out themes and emotional elements of the story." Combining Dickens' story, which is fundamentally about spiritual self-awareness, with actual Christmas carols seemed like a no-brainer. A Christmas Carol is not specifically a Christian story but "a story of redemption," Benedict added, "of the idea that no matter how far gone we might be, there's always something we can hope for, be grateful for. That we can all be a little better than we are."
Another example of a new local tradition is that of The Jewish Nutcracker, which the White Theatre at the J introduced last year and is repeating by popular demand (December 4th through the 11th). It is both a retelling of the traditional tale and an opportunity for the students at Encore at the J (the Jewish Community Center of Greater Kansas City's dance program) to take part in their annual year-end performance.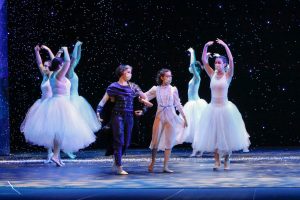 The story follows Rebecca and the Nutcracker on a magical journey from Bubbe's house to the Land of Nosh, where they encounter everything from mice to dancing dreidels. Encore Director Maggie Osgood Nicholls has created choreography that is set to Tchaikovsky's score and other related music.
"Our Center serves the whole community," said Keith Wiedenkeller, director of arts and culture for the Center and managing artistic director of the White Theatre. "But certainly part of the idea was to create for our Jewish families, participants, and members a holiday tradition that is analogous to the Christmas-oriented events that these kids… are going to be attending."
The result is a show that "checks a lot of boxes," Keith added, "not the least of which is giving all of our kids the chance to perform at the end of what is essentially the first semester of our Encore programming."
.
My 10 Favorite Slightly Offbeat Holiday Shows of 2022:
November 26-December 23: Theatre for Young America; The Best Christmas Pageant Ever; Barbara Robinson's beloved book, which has been adapted into a musical play, is actually a subversive look at Christmas pageants. The Herdman kids, seven in all, wreak chaos on the church's annual show but provide a fresh take on what is (let's face it) a harrowing story about a young couple fleeing a murderous tyrant; H&R Block City Stage at Union Station Kansas City. Contact: tya.org.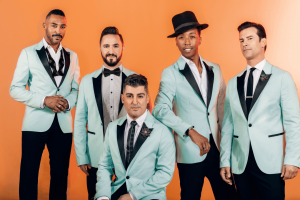 December 2: Kansas City Symphony; The Doo Wop Project Christmas; This version of a "holiday pops" concert features Broadway stars of such shows as Jersey Boys and Motown: The Musical, who transform holiday favorites into that most distinctive of pop styles, the Doo Wop. Associate Conductor Gonzalo Farias is on the podium for this feast; Kauffman Center for the Performing Arts. Contact: 816-471-0400 or kcsymphony.org.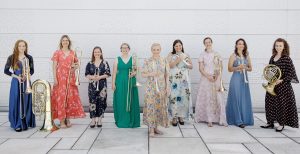 December 2: Midwest Trust Center; tenThing Brass Ensemble: A Feeling of Norwegian Christmas; This all-female ensemble, which has taken the brass world by a storm, explores holiday traditions of the European Continent with an ample serving of breathtaking virtuosity; Yardley Hall, Midwest Trust Center. Contact: 913-469-4445 or jccc.edu/midwest-trust-center.
December 2-11: Lyric Opera of Kansas City; Amahl and the Night Visitors; The Lyric created this remarkable version of Gian Carlo Menotti's classic, in collaboration with puppet-meister Paul Mesner, during the COVID-19 pandemic, then presented it for live audiences last season. The puppets are the "actors" but the singers and orchestra perform live on the sidelines; Stern Opera Center. Contact: 816-471-7344 or kcopera.org.
December 2-16: Kansas City Chorale; Benedict Sheehan's A Christmas Carol; See description at left; various venues. Contact: 816-444-7150 or kcchorale.org.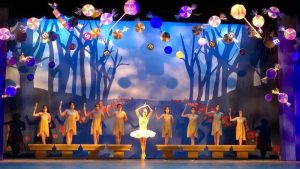 December 4-11: Jewish Community Center of Greater Kansas City; The Jewish Nutcracker; See description at left; White Theatre at the J. Contact: 913-327-8054 or thejkc.org.
December 6: Kansas City Jazz Orchestra; The Family, featuring Chloe & Lonnie McFadden; Like jazz itself, the holidays are about family, and few Kansas City families have achieved more national renown that the McFaddens. These phenomenal musician-dancers present a sort of musical "holiday dinner," accompanied by Our Town's own extraordinary jazz ensemble; Kauffman Center for the Performing Arts. Contact: 816-994-7222 or kcjo.org.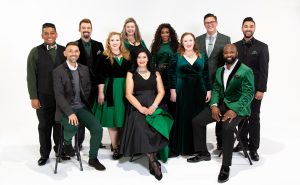 December 9: Harriman-Jewell Series; Voctave; The virtuoso a cappella vocal group from central Florida built its initial following through social media, with some 150 million views of its attention-grabbing videos, before breaking onto the traditional recording-and-concert circuit: The international sensation is making its Kansas City debut; Folly Theater. Contact: 816-415-5025 or hjseries.org.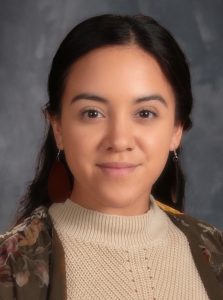 December 9: Voces Festivas; Navidad con Voces Festivas; Kansas City's Spanish-language choral ensemble, founded under the auspices of the Choral Foundation, celebrates Christmas and Hispanic heritage with its first-ever holiday concert, led by Music Director Leilani Velasco Vaughn; Our Lady of Sorrows Catholic Church. Contact: festivalsingers.org/vocesfestivas.
December 10: The Choral Foundation; Christmas with Kansas City Bronze; Kansas City's own elite handbell ensemble makes beautiful music on Malmark bells and chimes, the industry standard, and they'll be joined by guest artists in a program of carols and other works; St. Mary's Episcopal Church. Contact: 913-488-7524 or festivalsingers.org.
—By Paul Horsley
To reach Paul Horsley, performing arts editor, send an email to paul@kcindependent.com or find him on Facebook (paul.horsley.501) or Twitter/Instagram (@phorsleycritic).
Some of the most extraordinary inventions are born almost inadvertently, on the way to creating something entirely different. Even the Slinky was the byproduct of industrial springs manufactured to protect…
Enjoy the best of Kansas City's thriving arts landscape JUNE__________ June 2-4: Kansas City Symphony; Michael Stern conducts Mahler and Montgomery; Superstar Soprano Julia Bullock performs Jessie Montgomery's newly commissioned…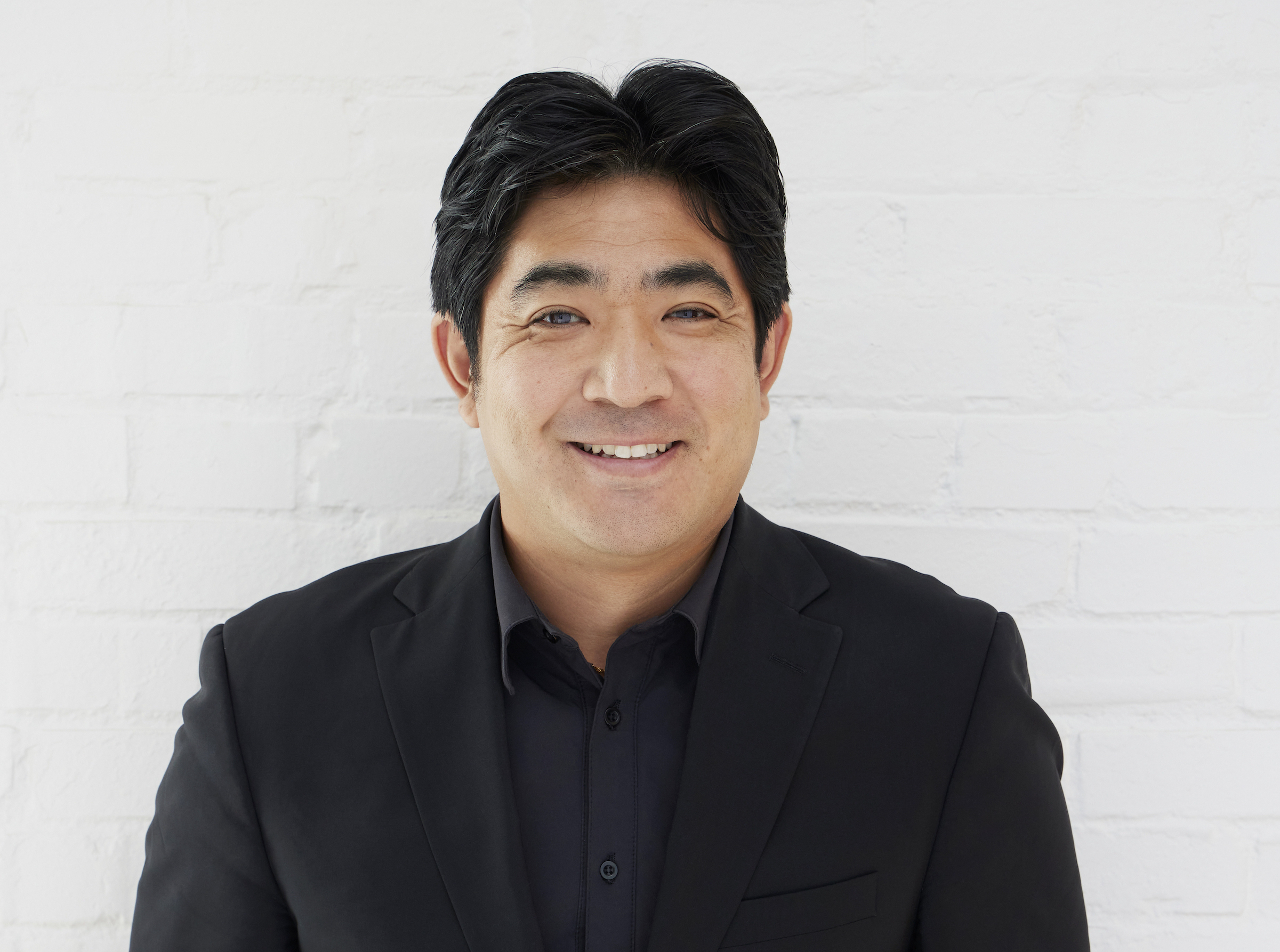 If you grow up in a home with a celebrated pianist for a mother and a world-renowned cellist for a father, there's a pretty good chance you'll at least consider…
There are many roads to a theater career. Andi Meyer prepared for her profession by way of several traditional routes: She studied theater as a teen in North Dakota and…