BIG TWELVE: Top dozen moments in music and dance for 2010
It was an auspicious year for the performing arts in Kansas City, with few signs that arts groups were "holding back" in anticipation of next year's first season in the Kauffman Center for the Performing Arts. We obviously weren't able to attend everything in 2010: It's been a long time, in fact, since Kansas City's burgeoning arts scene has permitted any one person to cover the whole scene. But these are a dozen of the moments that stood out in my mind. If I missed some that you think belong on the list, send me an email and I'll publish your comments at kcindependent.com.
12. Mahler's Symphony No. 4, Kansas City Symphony with Heidi Grant Murphy (April the 9th through the 11th) Orchestral musicians love playing Mahler's music because it pushes them to the edge of their expressive and technical capabilities. It's hard work, but it's fun. As part of worldwide celebrations of the composer's 150th birthday in 2010, Michael Stern led a bracing performance of what is, on most days, my favorite Mahler symphony. Michael's approach was one of interpretive restraint, which allowed the players to shine even more: They played like a world-class orchestra.
11. Slaughter on Tenth Avenue, Kansas City Ballet (October the 14th through the 17th) One of George Balanchine's most good-natured works, this show-bizzy ballet about dancing girls and Mafioso types has plenty of the choreographer's hallmarks (precise ensemble-work, beautiful visual symmetry and balance) but tosses in burlesque, tap dance, revue and physical comedy. The dancers of Kansas City's ever-developing company showed off their mastery of a wide range of styles, yet proved themselves adept at the core Balanchine values — the continued legacy, partly, of onetime Balanchine dancer Todd Bolender, but also the result of current artistic director William Whitener's nerve and determination.
10. Rachmaninoff, Suite No. 1 for Two Pianos (Fantaisie-Tableaux, Op. 5), Stanislav Ioudenitch and Behzod Abduraimov, Friends of Chamber Music (March the 5th) What had in some press outlets been announced as a performance of Rachmaninoff's more familiar Second Suite was in fact a rare appearance of the composer's youthful First Suite, written at the ripe age of 20. It received a transcendent rendering in the hands of Park University International Center for Music director Stanislav and his star pupil at Park, Uzbek international prizewinner Behzod — who is almost exactly the same age Rachmaninoff was when he wrote the Suite. Behzod also played a fanciful rendering of Chopin's 24 Preludes, Op. 28.
9. Renée Fleming, Harriman-Jewell Series (October the 9th)The music of the first decades of the 20th century, when tonality was coming apart at the seams, is too seldom performed on vocal recitals. It is, to some extent, music for connoisseurs. Renée was superb in this music during the first half of her Folly Theater recital, which consisted of music of Mahler, Zemlinsky, Korngold and (pre-dodecaphonic) Schoenberg, accompanied by the highly gifted pianist Bradley Moore. Perhaps because this music is a bit off the beaten path, America's favorite soprano made it sound alive and vital, without the excesses that sometimes plague her interpretations of more familiar music.
8. Richard Paul Fink in the title role of Rigoletto, Lyric Opera of Kansas City (March the 20th through the 28th) Sometimes a single performer makes an operatic production memorable, even when you might be lukewarm about other aspects of the show. Richard gave special meaning to the word coulrophobia(fear of clowns), with a portrayal of the pathetic, hunch-backed court jester that was so raw-nerved and visceral that it made me want to commit suicide — and I mean that in a good way. His huge baritone and earthy presence brought incredible desperation and power to this most challenging of Verdian roles.
7. Marc-André Hamelin, piano, Harriman-Jewell Series (February the 19th) The music of Charles-Valentin Alkan has often struck me as overwrought, even bombastic, so it's a testament to Canadian-born André's musicianship that he convinces you of its greatness through sheer conviction. In fact one can honestly say that this 19th-century French composer's reputation among worldwide audiences today has benefited noticeably from Hamelin's championing of it. Alkan's amazingSymphonie for solo piano was the culmination of a recital of Haydn, Mozart and Liszt that was one of the most fascinating and memorable piano programs I can remember.
6. Trey McIntyre Project, Harriman-Jewell Series (September the 8th) The late Richard Harriman had a genius for identifying the New Big Thing in music and dance, and he certainly hit the nail with Wichita native Trey, one of the darlings of international dance today. Trey's nine-member company, now based in Boise, Idaho, brought what was surely one of the most daring and vivacious evenings of dance in the Harriman series' history. The program included Pork Songs, Wild Sweet Love and Trey's new piece on Basque culture Arrantza, receiving only its third performance. (At its second performance at Jacob's Pillow Dance Festival, it received a rare rave review from The New York Times.) Grounded in ballet, Trey's choreography reminds you of Tudor, Taylor, Tharp, Forsythe and others, but it has a distinctive quality you can't quite get out of your head.
5. Norma, Lyric Opera of Kansas City (November the 6ththrough the 14th) Bellini's classic bel canto opera is not easy to put on the stage, because it requires top-notch singers and savvy direction. At the Lyric's company premiere of the 1831 opera, all the elements — direction, singing, acting, sets, lighting, costumes — came together for a truly rewarding theatrical experience. Stage director Kristine McIntyre, a Lyric favorite, demonstrated once again her aplomb for naturalistic and psychologically complex direction, soprano Brenda Harris was strong in the title role and luscious-voiced mezzo-sopranoLaura Vlasak Nolen (Adalgisa) proved herself a talent of the first order.
4. Brahms' Second Viola Sonata, Pinchas Zukerman and Yefim Bronfman, Friends of Chamber Music (November the 19th) In the hands of these legendary artists, Brahms' late sonata for viola and piano took on the character of a rhetorical conversation between philosophers. I do not know another person on earth who can make the viola sound so spectacularly beautiful. His tone was like glowing embers, with sparks and flames and searing whispers. It was an auspicious contribution to the Friends' high-octane 35th-anniversary season.
3. Toni Pimble's Concerto Grosso, Kansas City Ballet (May the 6th through the 9th) The Ballet scored big this spring with two new works by women choreographers, including a ballet that is surely one of the strongest pieces the company has ever commissioned. Toni Pimble, the British-born founding director of the Eugene Ballet Company in Oregon, has set her piece to Ernest Bloch's Concerto Grosso No. 1, and her choreography demonstrates a full conceptual absorption of Bloch's neo-Baroque style — which she expressed with a masterly and fluid catalog of classical and contemporary movements. The concerto received a deft live performance in the pit, too, by pianist Dan Velicer and the Kansas City Symphony under conductor Ramona Pansegrau. Also on the program was the fascinating A Solo in Nine Parts by the smart young choreographer Jessica Lang.
2. Brahms' German Requiem with conductor Joseph Flummerfelt, UMKC Conservatory (March the 26th) Can anybody remember attending a standing-room-only classical concert in Kansas City? This spring, choral fans flocked in droves to hear one of the great conductors of our time, delivering a piece that is obviously very close to his heart. Anyone who can whip 200 college students into a near-professional-sounding group, and then make real music with them, classifies as a genius in my book. It brought tears not just to my eyes but to those of quite a few around me.
… and the number one event in Kansas City music and dance for 2010 was …
1. Clytemnestra, Martha Graham Dance Company, Performing Arts Series at Johnson County Community College (March the 13th) It's not often that you get to experience history in the making, but that's what this revival of Martha Graham's 1958 masterpiece felt like. The only evening-length work she produced, it had sort of faded into the background in subsequent years, and especially after the choreographer's death in 1991. But her company resuscitated the piece in 2008 to celebrate its 50th anniversary, with the original high-concept sets and décor by the late Isamu Noguchi and original music by Halim El-Dabh. Here the choreographer has made the reviled ancient character of Clytemnestra into a sympathetic protagonist, and she tells her archetypal story as that of a mistreated woman coping in a brutally male-dominated world. It's an ingenious construct that works dazzlingly, and it's a visual feast. My one complaint was the use of Halim's scratchy original recording of the score, when a live performance would have made the evening notably more compelling. But Martha pulls out all the stops here choreographically — it's like a compendium of her artistry and career — and the result is quite simply one of the great works of American dance.
Shakespeare's humor often stirs deep, mirthful reflection on the human condition and yes, sometimes it makes us laugh out loud. We don't normally think of the bard's subtle, fleet-footed humor…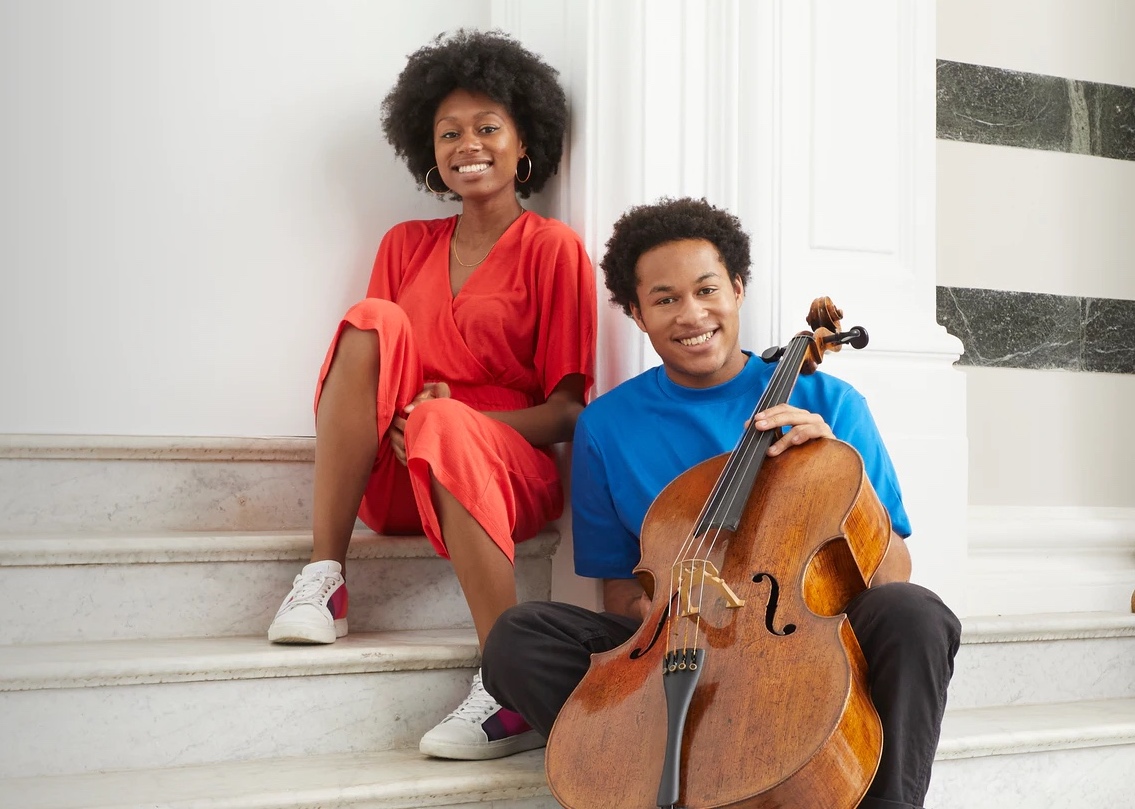 Pianist Isata Kanneh-Mason and cellist Sheku Kanneh-Mason are two of seven highly gifted siblings from Nottingham, England, who are creating a worldwide sensation. Sheku is best known for his performance…
Because Steve Jobs brought us the iPhone, the iPad, iTunes, the Mac, and a host of other indispensable devices, there are always going to be retellings of his life. One…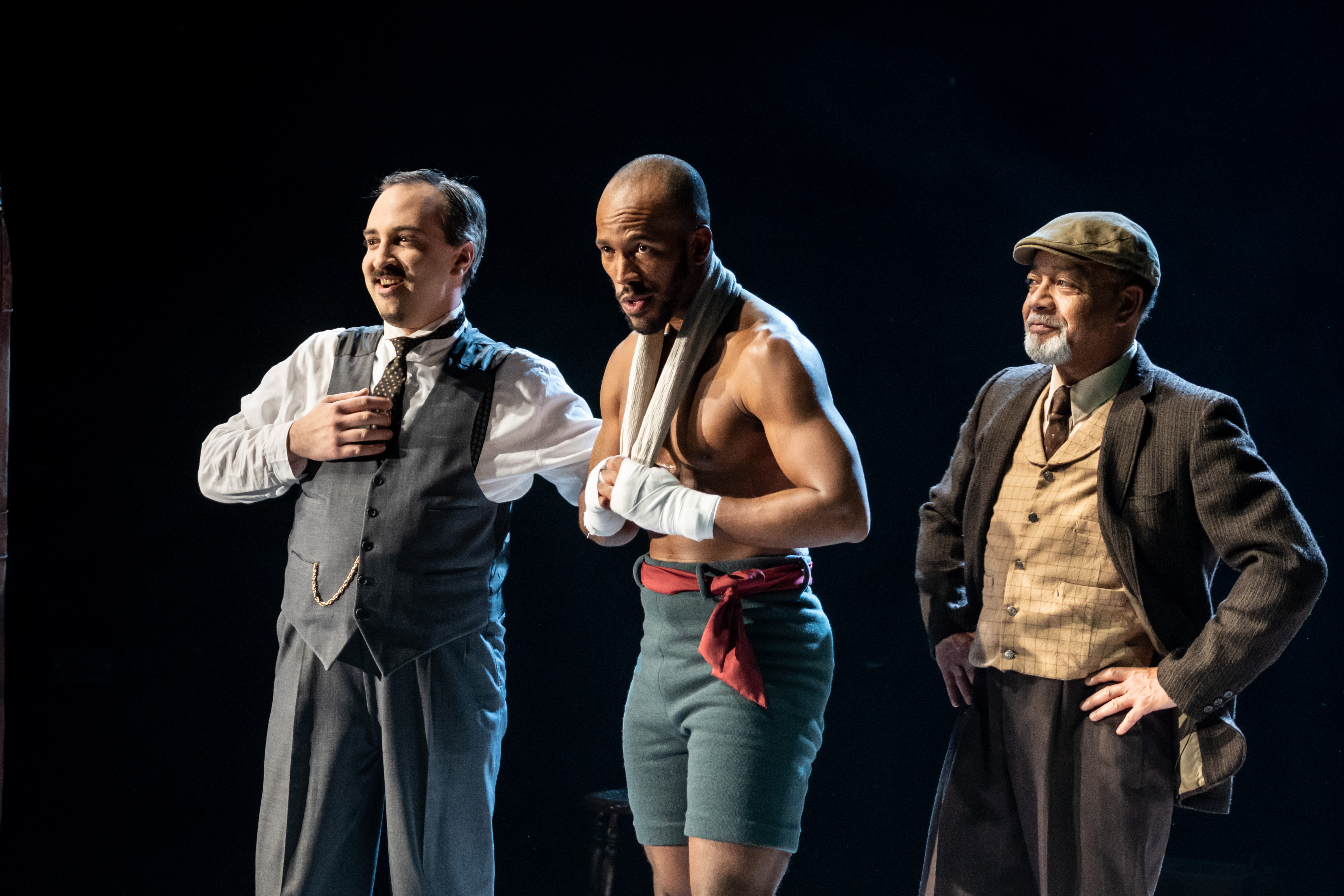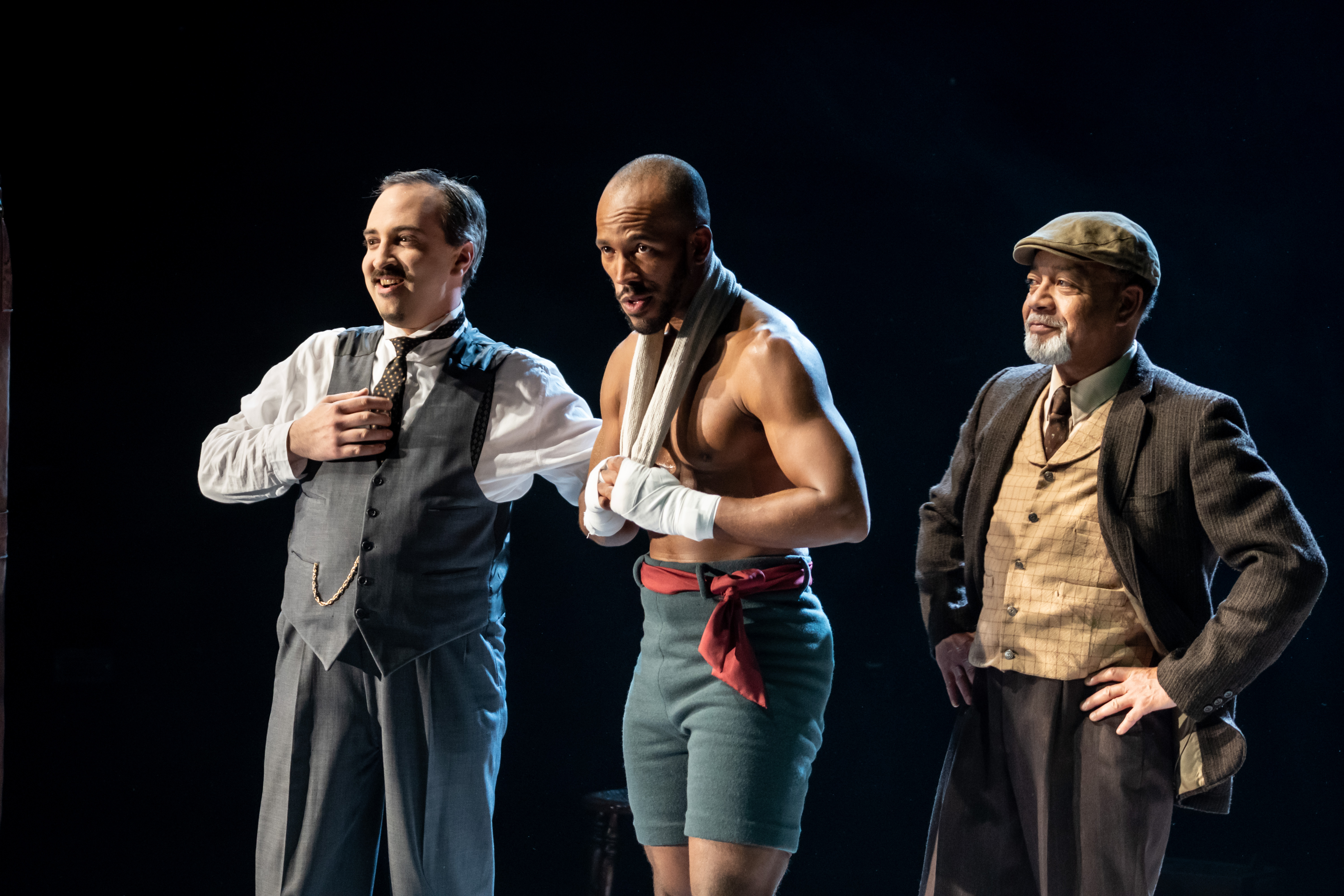 The Royale is a powerfully crafted piece of theater that addresses an issue that is still with us. Marco Ramirez' 85-minute play reflects on the legacy of Jack Johnson, the…