"'TILL LOVE HAS ALL HIS RITES": For theater couple, marriage just felt like the right thing to do
When Chelsea Rolfes accidentally came across a big blue envelope from Brilliant Earth in JT Nagle's backpack, she panicked. She didn't open it, thank heavens, because she knew that it almost certainly contained a receipt for the engagement ring that she had always dreamed of wearing. It also meant that JT, her partner of seven years at that time, was about to ask for her hand in marriage. But oh, the suspense: She knew it was going to happen, she just didn't know where or when.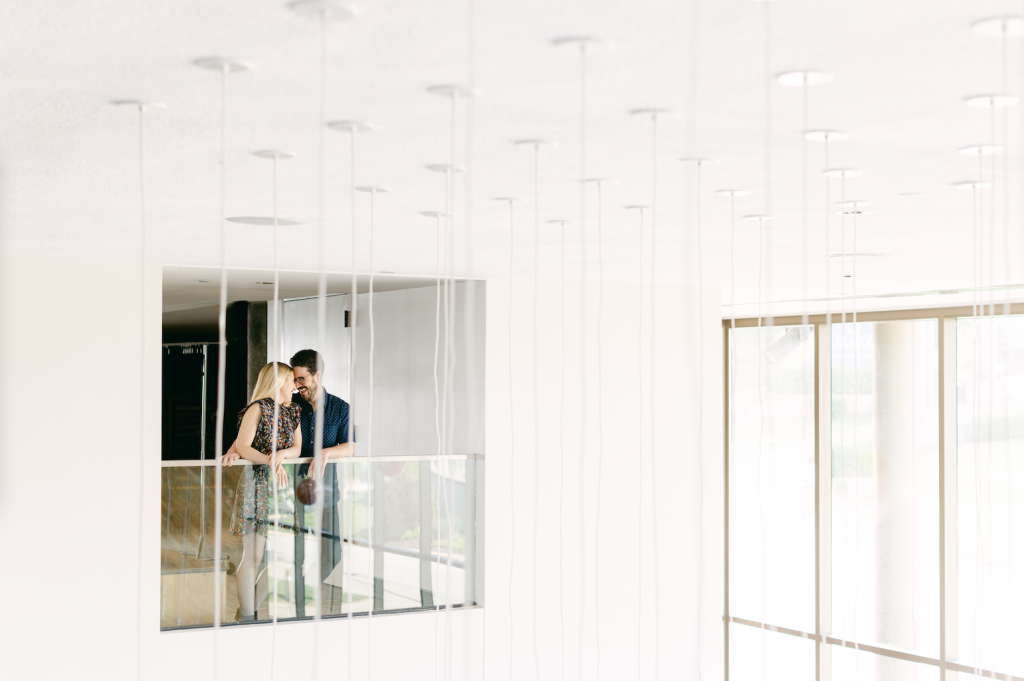 "It was the most shocking day of my life, and I had to keep it all to myself," said the actor recently with a laugh, as she and JT lounged in the lobby outside of Spencer Theatre, in the UMKC Performing Arts Center where they both finished their master of fine arts degrees in theater (he in 2021, she in 2022). 
What came next was even worse. "I kept getting online ads for Brilliant Earth," Chelsea said. "I knew exactly what they were, but I kept thinking, Why are these popping up on my Instagram?" 
To be sure, Chelsea and JT, who today divide their careers between Chicago and Kansas City, had in fact already discussed marriage. But by no means had Chelsea expected a proposal this soon. And now that the secret was out, she couldn't help wondering how JT would "stage direct" his down-on-bended-knee moment. It finally happened in July 2018, on a pre-arranged "fake" guided tour of Chicago's Field Museum of Natural History. They stopped in front of the moose display (Chelsea's favorite animal), with taxidermized mammals as a backdrop. "He got down on one knee," Chelsea said, "and as it turns out, the tour guide's wife was standing around the corner filming it." 
They had come a long way since their first encounter in 2011, at a season-long children's theater gig in picturesque Auburn, New York, just west of Syracuse. Each year, the Merry-Go-Round Playhouse (now The Rev Theatre Company) would contract 14 actors from August through May, who lived together as a happy family in the same apartment complex. 
Chelsea, a Cincinnati native, was fresh from Syracuse University's rigorous theater program, which is known to produce actors who often go straight to Broadway after graduation. "When I got the job at Merry-Go-Round, I thought, well, I can either go to New York City and try to figure out what I want my life to be, or I can go do something that I know I love."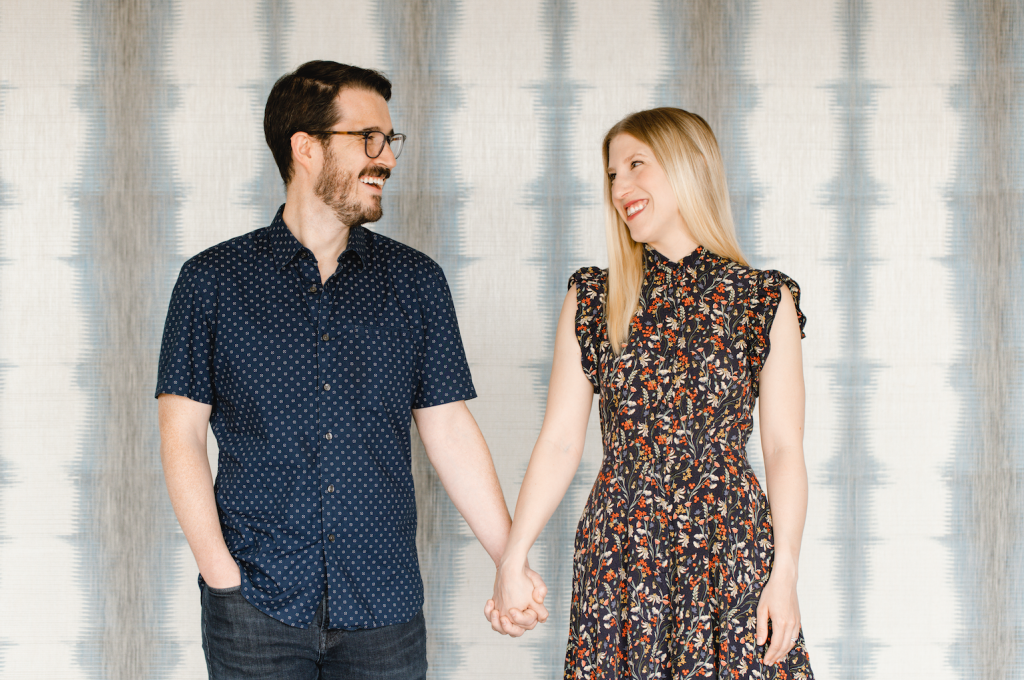 Soon after arriving in Auburn, she met JT, a fellow Merry-Go-Round cast member who grew up in Kansas and Oklahoma and had just finished his bachelor of fine arts degree from The University of Kansas. Her first impression? That he was kind of a jerk. "The director was saying, The men will have to be clean-shaven, and JT had a beard," Chelsea recalled. "JT says, Eh, we'll see about that. And I thought, who is this guy?" She would soon learn this was just JT's brand of wit. "Now that I understand his sense of humor, I know that he was just kidding." 
JT found Chelsea intriguing. "It wasn't immediately like, Oh she's the one," he said. Actors on a nine-month contract aren't normally looking for love with someone they might never see again. "We became best friends, and then it all happened pretty quickly." Within a month, he was infatuated. "It was the biggest crush I've ever had in my life." 
Chelsea came around, slowly. "The second that I was drawn to him, it was because he was so funny," she said. "When I began to understand his humor, which is biting, as is mine, then it was okay." Their first real conversation happened during a late-night Taco Bell run. "We ended up just spilling our lives," Chelsea said, "telling each other things about our families. … We connected over Taco Bell." But "it was not a romantic thing yet," JT said. "We were both just letting down walls." 
Their first kiss was at a lavish Halloween party. JT was dressed as the Hamburglar, Chelsea as Helga G. Pataki from Hey Arnold! "We were like, oh! So we like each other!" Chelsea said. "Maybe we should go on a date and make this formal." The date was a whirlwind evening in downtown Syracuse: dinner at the iconic Pastabilities, and a turn on the ice at Clinton Square. "From there it was: So, we're going to do this thing, okay?" Chelsea said. 
The next year they returned to Auburn for another Merry-Go-Round season, after which they decided to "tackle Chicago" together. Both began to get professional work. JT was Tom in The Glass Menagerie, Chelsea was Beatrice in Much Ado About Nothing at Muse of Fire Theatre Company. They had day jobs: Chelsea as a legal assistant, JT in finance. (He had minored in business at KU.) 
Soon they were both getting roles at Muse of Fire, eventually as Shakespeare's Hermia and Lysander. Thus, not only were they in love onstage, they were "getting married" every night in A Midsummer Night's Dream. When would life begin imitating art for Chelsea and JT? They were having fun, they were working, they were in love. Would they take the next step? 
"I always knew I wanted to get married," Chelsea said. "My mother told me I was not allowed to until I was 30: I knew she was kidding, but it kind of stuck." JT felt the time was right. "There's something about taking it to another level," he said. "We had grown so much as people and it was nice to start another chapter: in marriage." He also felt a desire to "commit formally, in front of our friends, and have a big party to celebrate it." 
Chelsea concurred. "It just kind of felt right: We felt it in our bones: Okay, now it feels right to get married. Whereas before, it felt like we were just trying the learn how to be adults, live in a big city, get a dog." 
By 2018 they had been working in Chicago for five years, but they yearned to reach higher. Shortly after his marriage proposal, JT took off for the UMKC Conservatory. A year later, Chelsea joined him, and pandemic notwithstanding, they both reveled in the school's world-class training, through a combination of live, virtual, and hybrid classes. 
Master's degrees in hand, they began finding more satisfying work. Today they appear regularly on Kansas City's major stages, and on Chicago's as well. JT played, memorably, the racist stranger in Antoinette Nwandu's Pass Over (Black Repertory Theatre of Kansas City). Chelsea was a delightful Ariel in The Tempest (UMKC Theatre/Heart of America Shakespeare Festival), a role she reprised this summer at Southmoreland Park.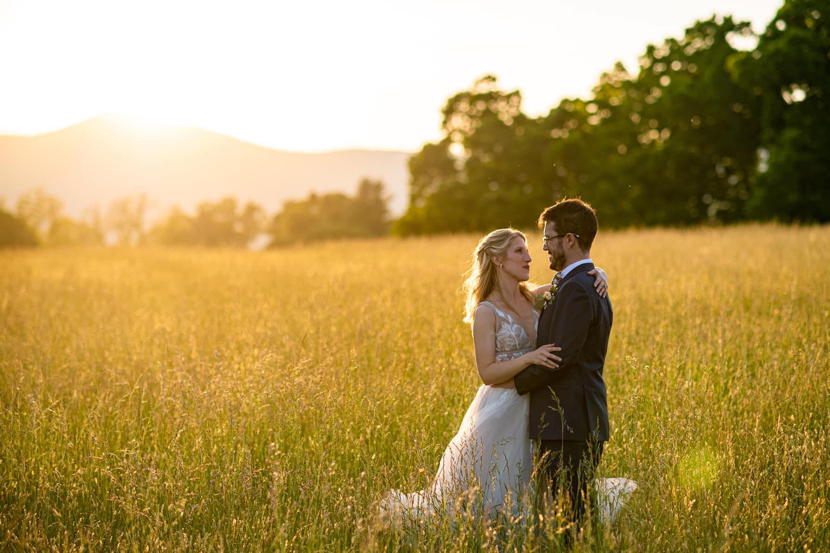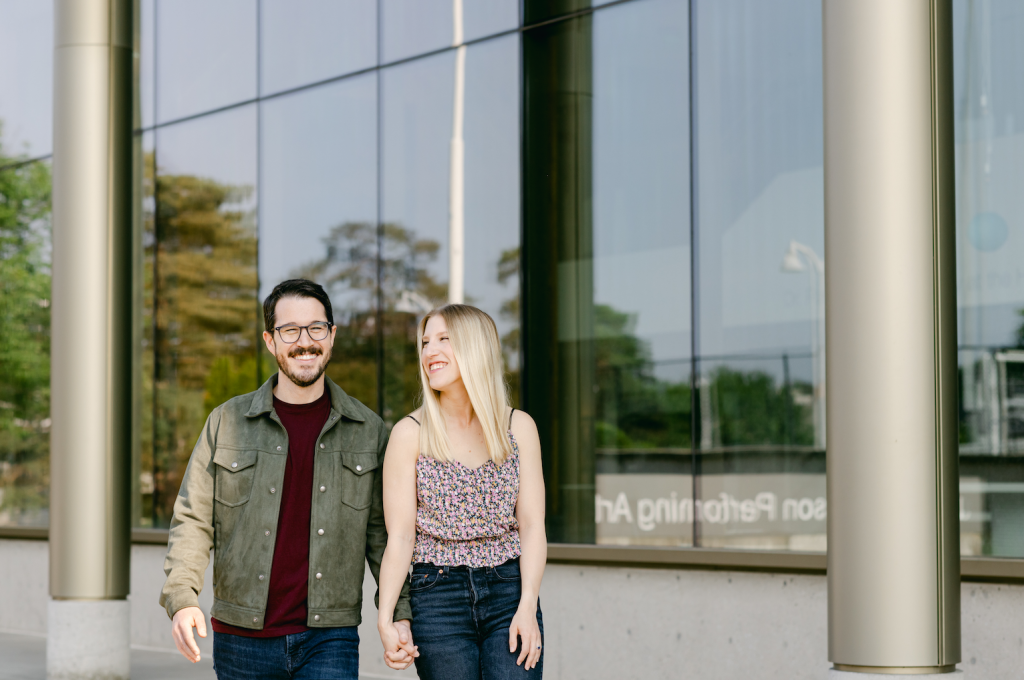 The wedding finally took place on May 21, 2021, almost exactly 10 years from their first meeting in Auburn. Officiating was Jemma Alix Levy, Muse of Fire's former director, at The Farm, a verdant venue outside of Asheville, North Carolina. 
"We are really happy," Chelsea said of married life, to which JT added: "I feel like we found a life, found a balance." In addition to acting, Chelsea does voiceovers for several major clients. JT does commercials, voiceovers, and standup. In 2019, the couple's Visceral Theatre made its debut here with the interactive horror thriller, ICARUS. 
To this day, in addition to marking May 21st as their "official" anniversary, they celebrate October 31st. For that was the day in 2011 when they stood in the attic dressed as Helga G. Pitaki and the Hamburglar… and kissed. Fade to black. 
Featured in the July 8, 2023 issue of The Independent.
Photo Credit: Rita Clark
By Paul Horsley
After more than two decades and four deans, it was beginning to look as if the UMKC Conservatory's dream of a new facility would remain just that: a dream. Until…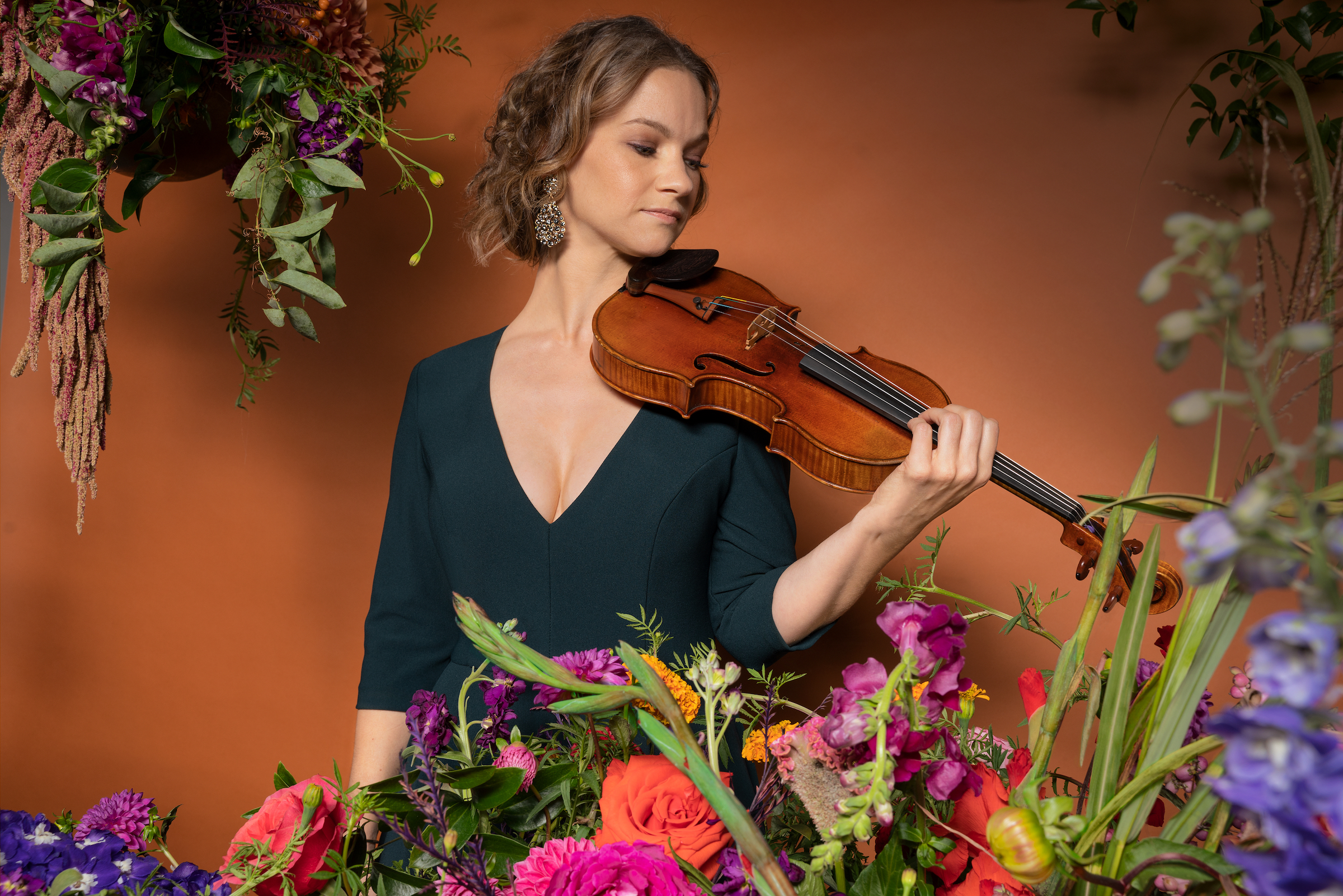 One woman, standing alone onstage. No pianist, no music-stand: Just Hilary Hahn and her violin, creating miracles. That is what Harriman-Jewell Series audiences are likely to experience this October 13th,…
Oh the weather outside is frightful(ly hot). But it won't be for long, so take a close look at this fall's diverse and provocative mix of music, dance, and theater:…
Kansas City Ballet always seems to be building something. For decades, it engaged in refitting existing buildings to meet its day-to-day needs: from the Westport Allen Center to the National…