Toast To Olde Tymes – Gertrude Freyman
"I work quickly, without trying to put any message into my painting," Gertrude Freyman told the Kansas City Star in 1959. She added, "I don't think too much about what I am doing. Perhaps, unconsciously, I seek a kind of design, but I paint what I feel."  Her artwork, and particularly her whimsical pictures of animals, have found an enthusiastic audience for several generations. That said, she isn't as well-known as some of the other students who attended the Kansas City Art Institute during the 1920s.  
Gertrude was born in June 1901 in Chicago, Illinois. Her parents, Anna and Henry Freyman, were both immigrants from Germany.  After moving to Kansas City, the family would call 6220 Indiana Avenue home for decades. Gertrude had a sister, Margaret, and two brothers, Hans and Henry, who was known as Hank. Gertrude was a decade older than Hank; in later life, they would live together.  
The Freymans were active in the Kansas City Turners Society, (Socialer Turnverein in German), which emphasized physical education and gymnastics. At a meet at the Turner Hall in Leavenworth, Kansas, in 1922, Gertrude placed second in the category "ladies, apparatus." (Your guess is as good as ours. Floor exercises? We suspect vaulting wasn't considered ladylike, but perhaps we're wrong.) In 1982, Gertrude's brother-in-law, Karel Booey, then 90 years old, would be honored for 70 years of membership in the Kansas City Turner Society.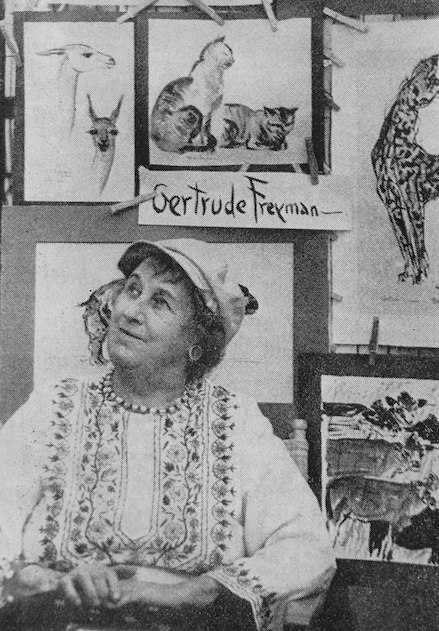 The exact date is unclear, but at some time in the late 1920s or early 1930s, Gertrude was awarded a fellowship by the Louis Comfort Tiffany Foundation. At least two Kansas Citians had preceded her: Daniel MacMorris (at that time known as Leroy D. McMorris) was a winner in 1923, and Walter Alexander Bailey (then simply Walter Bailey) in 1924. Both had studied at KCAI. Fellowship recipients traveled first to New York, and then to Laurelton, a palatial estate in Oyster Bay on Long Island that had belonged to Louis. Once there, they devoted themselves to their art. One clue to the date: a September 1933 review of an exhibition of her watercolors, etchings, and oils that was held at the Women's City Club. The critic mentioned an etching titled, Sunday Morning, noting that it was "what Miss Freyman found one Sunday when she arrived at the Tiffany Foundation." A painting of a young zebra was favorably mentioned, as were a portrait of a young man and one of Sister, a dog who belonged to Lucy Drage, (a prominent interior decorator of the era), and a number of landscapes as well as still lives featuring flowers and fruit.    
Gertrude seemed to thrive on participating in local art fairs and exhibitions. She was a frequent exhibitor at the Plaza Art Fair in the 1950s, and she was 81 years old when she had a booth at Art Westport '82 – a photo from that event appeared in The Independent the following year.   
Gertrude's father was what was then called an "interior decorator," and a substantial part of her career included mural painting and interior design. For a time in the late 1920s, she was in Topeka, Kansas, where she worked on murals in homes. Back in Kansas City, Gertrude and Beatrice Lawhon were busy during the summer of 1931: they were creating murals of travel scenes for the Pickwick-Greyhound Union Bus Terminal's waiting room and lobby. William Drewin Wight, the architect, hired her to beautify his home on 56th Street. (The house predated the Wight family's occupancy; he didn't design it.) As his daughter Jean Wight Rosahn later recalled in an interview with Laura Rollins Hockaday of the Star, "He had Gertrude Freyman come in and paint wildflowers of the Middle West over the dining room walls and trees on the sun room walls." 
The murals for the Airport Restaurant (as it was called in Swing magazine's May 1946 issue) were designed by Earl Altaire (yet another prominent local interior designer) and executed by Gertrude. In 1969, she was one of nine artists who created murals for the Rehabilitation Institute. The others were Philomene Bennett, Bob Bailey, Rod Cofran, John Coleman, Patricia George, Frederic James, Lou Marek, and Matthew Monks. (Most, if not all, of these names would have been familiar to readers of The Independent in those days. Patricia George was well-known as a fashion illustrator, and her unsigned work often graced the magazine.)
Gertrude was the only woman to have her work included in a portfolio created by Business Men's Assurance (BMA) in celebration of its 75th anniversary in 1984. Her fellow artists were Charles Goslin, Frederic James, Charles Kimball, Jack O'Hara, Tom Phillips, Henry Scott, and Dick Sloan. The company bought the paintings, and then created sets of prints to give away.          
Gertrude died in July 1994. The discerning collector may still find her artwork available for purchase. Alas, it gives us no pleasure to report that an oil painting titled Cedars, still bearing the tag proving that it was shown in a Louis Comfort Tiffany Exhibition, sold for a mere $500 (plus buyer's premium) at auction in December 2018. Perhaps we would feel differently if we had placed the winning bid.  
Featured in the February 18, 2023 issue of The Independent.
By Heather N. Paxton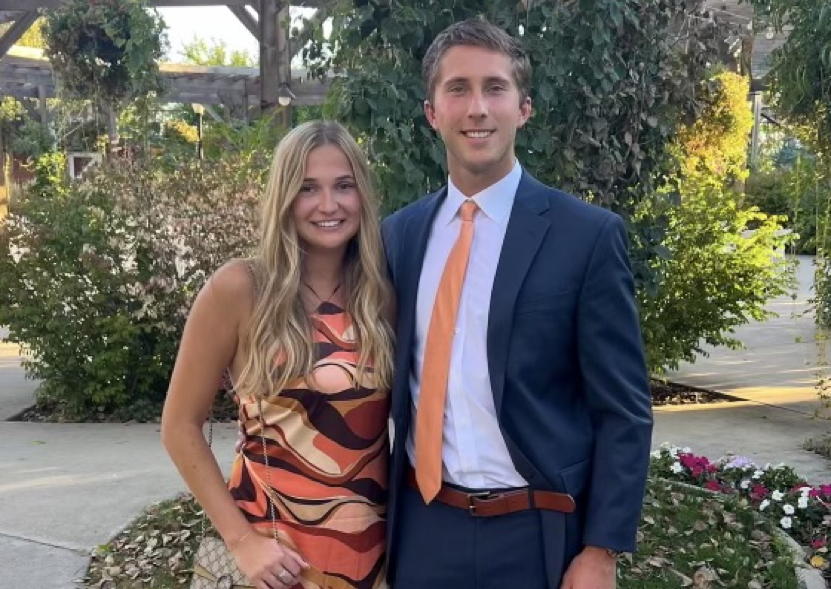 The Loop KC brings together similar yet unique minds to create genuine friendships and ignite the next generation of business leaders in Kansas City. Members of The Loop KC are…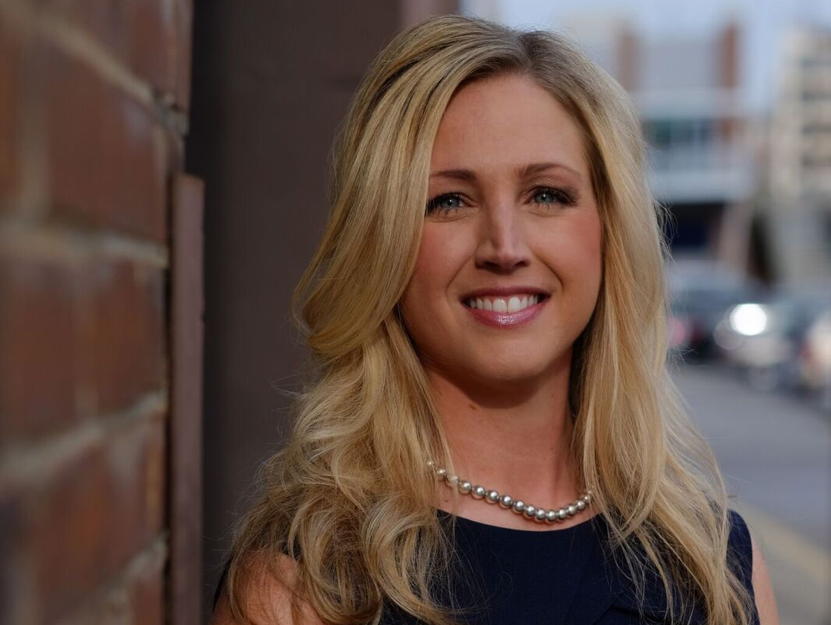 To learn more about becoming a member of the Association of Fundraising Professionals, Greater Kansas City Chapter, please visit afpkc.org. The Independent is proud to be the exclusive media partner of AFPKC.…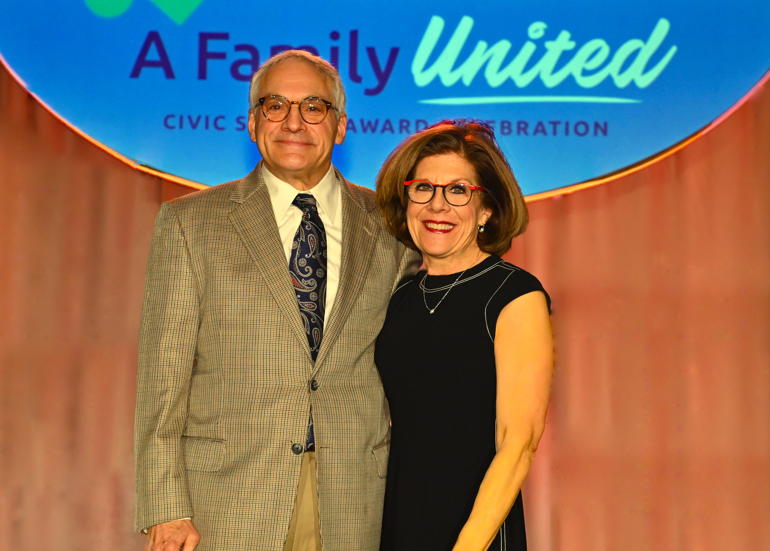 Alan Edelman was the honoree at Hyman Brand Hebrew Academy's Civic Service Award Celebration, "A Family United." The event, a brunch this year, was held on January 22nd at The…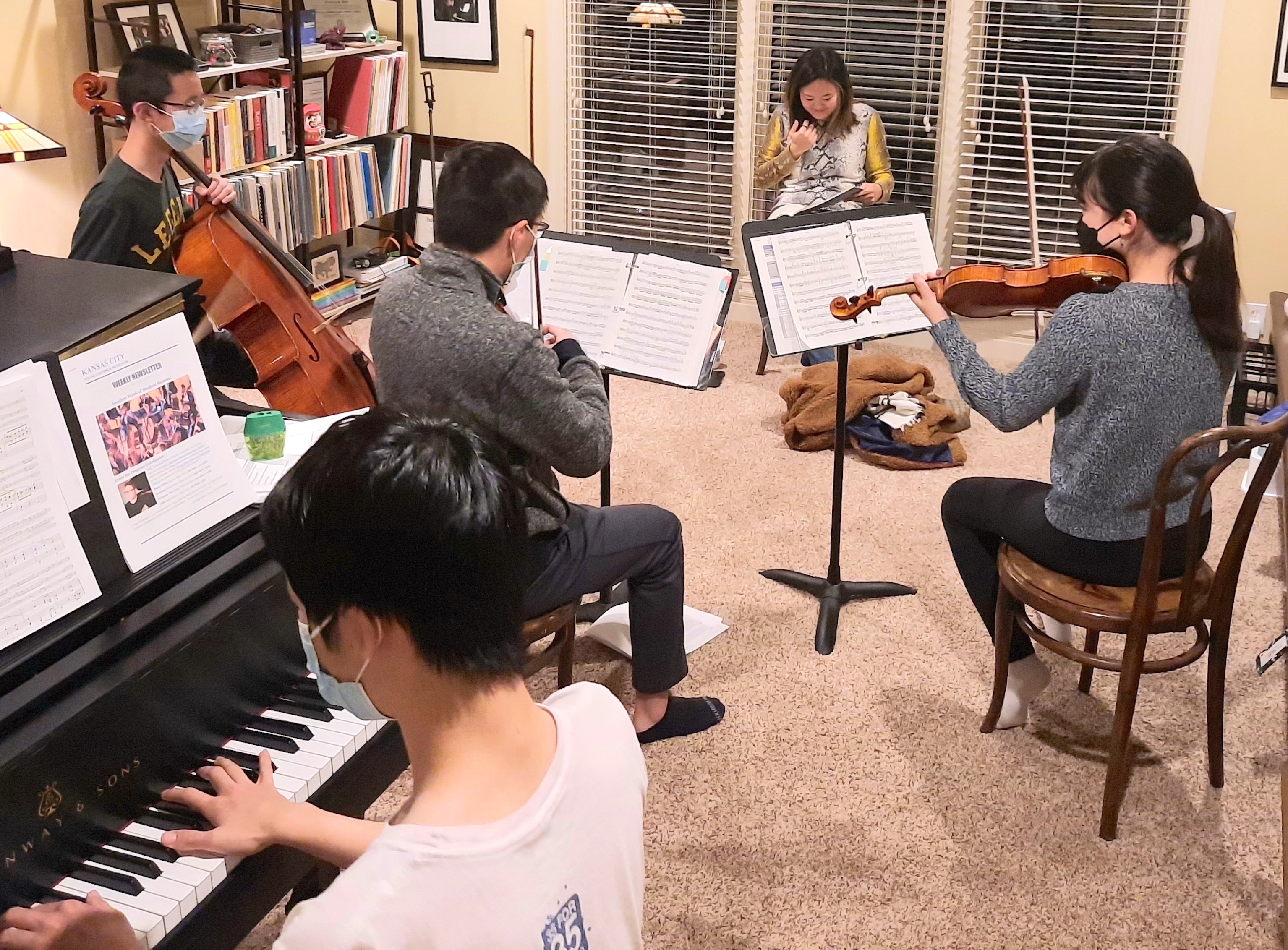 Young classical musicians often dream of stardom. But the reality is that even if they make it to the big time, they will probably be playing with other musicians for…