The Dish With Ann – Broadway Deli
Many of us MOTs (Members Of the Tribe, for those of you who aren't Jewish) have long mourned the closing of The New York Deli (of blessed memory), which was an iconic eatery at 70th and Troost. My mother always had me pick up loaves of rye bread she ordered by phone (thin sliced, of course!). I even loved the chipped, linoleum floors and the torn banquettes at the New York Deli. Many of us who attended the old Temple, Congregation B'nai Jehudah, located at 69th and Holmes, would ditch our Sunday School classes and quickly gobble up bagels and cream cheese before our teachers discovered we were missing. Thank you, Barbara and Jim Holzmark, for the great memories and great food.
And then, years later, TooJay's, the inimitable South Florida deli, landed in Leawood for about a New York minute. Bad management, too many food options? Who knows why it closed.
Don't get me wrong. We have a terrific place in Our Town, d'Bronx, which serves delicious deli fare, but also well-known for its pizza.
What we were craving was a real Jewish deli. Bill Fromm, co-founder at Barkley, Service Management Group; has come to the rescue with the real deal. One of the slogans reads "Broadway Deli: Thought about since 1964." There is a lot of truth to that statement. When Bill was a student at Northwestern University in Chicago, he used to go to Manny's Cafeteria and Delicatessen every Sunday. Now, the Raskin family that owns and runs Manny's (the late Manny Raskin was the founder) are partners and provide the delectable meat. Our Town's Steve Ellenberg of Bagel Works has duplicated the bread and bagels at Manny's just for Broadway Deli.
Years ago, Bill even tried to buy the New York Deli. "That obviously didn't work out, but the timing was right on this location. It used to be an Italian deli that went out of business, so the restaurant already had all the kitchen equipment."
Barkley also designed the space, with its clean industrial lines and black and white décor. Of course, the signage is hilarious. "Shalom means hello. Refund means goodbye." "Please feel free to plotz." "Oy vey, you look thin." And the sandwiches come in two sizes–off-Broadway (thinner) and Broadway (extra thick). Some are named after local celebrities such as The Tom Watson, The George Brett and Helzberg Meat and Potatoes. Breakfast items include bagel, lox and cream cheese, matzo brie, and The Len Dawson scramble.
My husband, Tom, my sister-in-law, Jenny, native New Yorker Ilene, and I stood in the fast-moving line. It was lunchtime, and the place was packed. Tom and I ordered four potato pancakes and a knish for the table, and we split The Original, which was pastrami topped with coleslaw and 1000 Island dressing. The potato pancakes were hot, crispy and thick, flavored with lots of onions. The knish was soft on the outside and flavorful on the inside.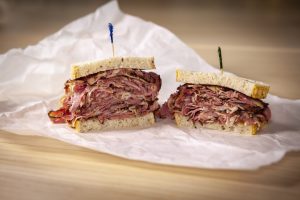 Jenny and Ilene split a corned beef sandwich and asked for the meat to be lean. (Both of them agreed that the sandwich would have been even better if they asked for the rye bread to be toasted.) "The corned beef is delicious and not too dry," said Jenny. Ilene loved the spicy mustard from Manny's that had a nice kick of horseradish. They also got a side of corned beef hash, which had just the right amount of salt and potatoes. 
What will make all of us kvell is that Bill wants to add white fish, rugelach and mandel bread to the menu. He also is planning to serve dinner in the future with a full bar and perhaps add a second location out south. 
"Grab life by the matzo balls," the sign says at Broadway Deli:  So go on—drive on down to the Crossroads and order some good nosh at Broadway Deli.
Also featured in the July 7, 2018 issue of The Independent
By Ann Slegman
Photo Credit: Matthew Wilson
Broadway Deli
2101 Broadway Boulevard
Kansas City, Missouri 64108
(816)207-0077
www.broadway-deli.com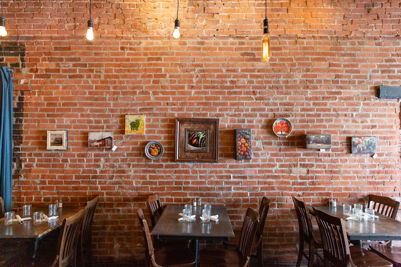 Co-owner and Chef Michael Foust feels fortunate that his restaurant, Black Sheep + Market, is located in the same spot as one of Our Town's iconic, now-shuttered bistros, Cafe Allegro.…
Leasa Caron, the owner of Jovito's Italian Café, is steeped in the lore of Our Town's local food establishments. Her former in-laws, The Fiorellas, owned all the Smokestacks and Jack…
Rick Mullins, executive chef at Café Sebastienne at Kemper Museum of Contemporary Art, got into cooking by default "I was working in bars throughout my '20s, living close to the…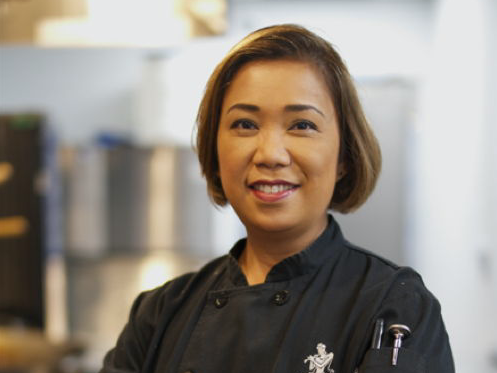 As the executive chef at Waldo Thai Place, Pam Liberda represents a new generation, a branch of a storied family tree that consists of her husband, Ted, and her mother-in-law,…