The Dish With Ann – The Russell
Before you even enter The Russell, Our Town's fabulous lunch spot on Main Street, which opened in February, the smell of hickory wood and savory roasting food emanates from the Argentinian fire table, measuring 10 feet and weighing three and a half tons. Located in the heart of the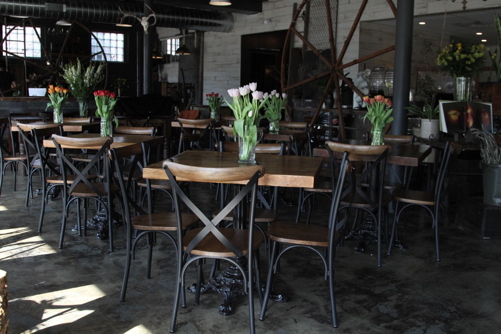 kitchen, it was handcrafted by Co-owner and Chef Amante Domingo. He and his business partner, culinary entrepreneur Heather White, have created a refined rustic oasis that serves delicious, grilled food, soups, salads, and desserts with layers of simple flavors. As a matter of fact, Heather and Amante built the entire restaurant themselves, taking it down to its raw state. "The space was simply terrible and was divided by a huge wall," said Amante. The exposed industrial ceiling, cement floors, antiques, and vintage objects (giant spool wheels plucked from a field, turn-of-the-century typewriters, rolling pins, saddles, and wooden buckets) are just part of the visual feast at The Russell, all of it fashioned and designed by Heather and Amante.
It is no coincidence that these two gastronomic visionaries joined forces to create The Russell. Heather is originally from Vancouver, Canada, and for 15 years, had a business, Cupcakes by Heather and Lori, with her best friend, Lori Joyce, that had 19 locations. She and Lori even had a reality TV show, The Cupcake Girls, on the W Network for three seasons. 
Amante is from St. Joseph, Missouri, and grew up on an organic farm. His mother and grandmother were both artists, and during the late 1990s, his family owned the Sunshine Café. Amante is trained as a professional photographer and designer but grew up cooking. "To support myself as a photographer, I originally trained as a sushi chef," said Amante. "Restaurants have always been there for me, to feed me." (Amante's creativity knows no bounds; he designed the Japanese inspired aprons that the entire staff wears.)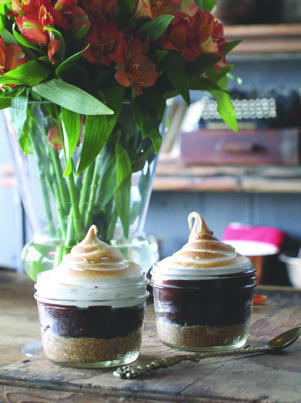 When Heather's husband was transferred to Our Town for business, she sold her business to her partner in Vancouver and worked on brand management for Jo Marie Scaglia at The Mixx, where she met Amante, who was in operations. "We started talking about different restaurant ideas," said Heather. "We began with a catering business in 2017, working out of a commissary kitchen, before we rented from building owner Dick Keller and renovated the space for The Russell." 
With my cadre of foodie friends, Kathy, Merilyn and Ilene, we walked into the packed restaurant, full of hipsters and young professionals, and decided on a variety of dishes. (Get there early because there are no reservations, and the restaurant fills up by the noon hour.) Having snagged a good table and gone up to the counter to order, Kathy decided to have the bibb salad with grilled chicken, pancetta, avocado, spiced cashew, bibb lettuce, and asiago cheese, with Green Goddess dressing. Merilyn got the grilled veggie sandwich, with mixed grilled vegetables, spinach pesto and herb goat cheese. For the table, we ordered chicken street tacos, the Mediterranean shrimp bowl and the BLT. 
We were all impressed by how quickly the food came to our table and how beautifully plated it was. Merilyn declared that her veggie sandwich was the best she had ever had. "The spinach pesto really adds a different twist," she said. Kathy said that the chicken on her bibb salad was moist and tender, and it was not overdressed. The street tacos had an uncomplicated, clean flavor, but we all swooned over the grilled ear of sweet corn that accompanied the tacos. The shrimp bowl was sublime with a nice kick of flavor. Ilene loved the sandwiches, especially the smoky grilled sourdough bread. "This place is so arty, modern and fun," she stated. Merilyn liked the hip vibe, and Kathy said it was like a warm and inviting urban loft. Of course, we had to try the desserts, inspired by Heather, and we settled on the kitchen sink cookie, the crack bar and the lemon meringue tart. We adored all three, but the crack bar, with its layers of peanut butter, marshmallow and chocolate was probably the one we grabbed for the most.
The Russell has a communal, rustic feel that is unique to the local food scene, bringing people together with fire-cooked food. Eventually, Heather and Amante would like to have once or twice a month dinners, partnering with local food and wine producers such as Green Dirt Farm and Vox Vineyards. "With our simple classics, we try to create elevated flavors all in one bite," said Heather. "But most of all we play with flavors and have fun with food."
The Russell
3141 Main Street
Kansas City, Missouri 64111
816-492-7557
www.therussellonmain.com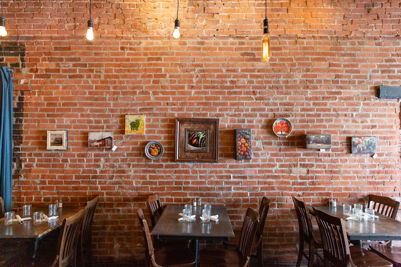 Co-owner and Chef Michael Foust feels fortunate that his restaurant, Black Sheep + Market, is located in the same spot as one of Our Town's iconic, now-shuttered bistros, Cafe Allegro.…
Leasa Caron, the owner of Jovito's Italian Café, is steeped in the lore of Our Town's local food establishments. Her former in-laws, The Fiorellas, owned all the Smokestacks and Jack…
Rick Mullins, executive chef at Café Sebastienne at Kemper Museum of Contemporary Art, got into cooking by default "I was working in bars throughout my '20s, living close to the…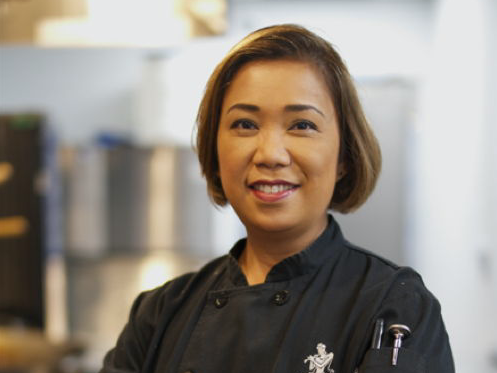 As the executive chef at Waldo Thai Place, Pam Liberda represents a new generation, a branch of a storied family tree that consists of her husband, Ted, and her mother-in-law,…