2019 Directors of Philanthropy
In the Directors of Philanthropy issue, The Independent celebrates the remarkable people in Our Town who donate so much of their time and talents to charitable organizations. They make Kansas City a better place to live.
---
Baptist-Trinity Lutheran Legacy Foundation
To provide support in the greater Kansas City area for crisis related medical assistance, neighborhood school health grants, and health education programs and services. To seek philanthropic support for these areas of emphasis. To preserve the legacies of Baptist Medical Center and Trinity Lutheran Hospital and their Foundations.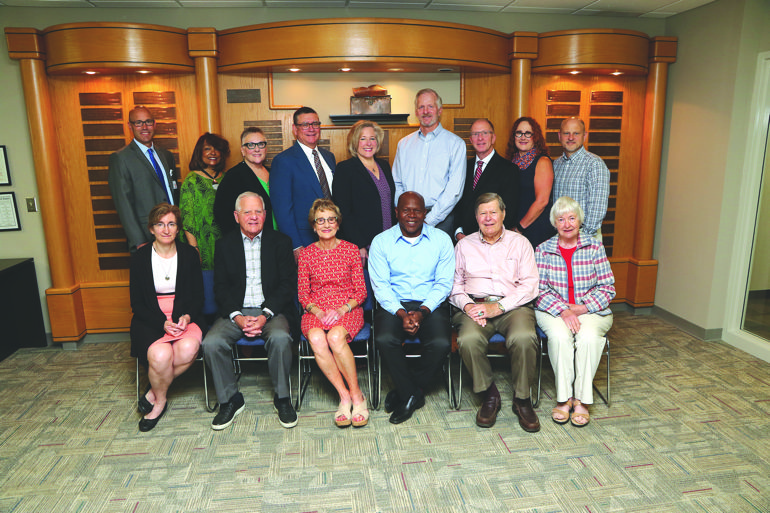 Board Members: (Seated) Dr. Jennifer Tieman, Dr. James B. Earnest, Sara Colt, Jason Lofton, Al Tikwart, and Bette Croes (standing) Robert Schlicht, Cheryl Anderson, Susie Law, Harley Metcalfe, Beth Radtke, Baptist-Trinity Lutheran Legacy Foundation; Rich Jones, Kurt Saylor, Elizabeth Deckert, and Craig Roeder
---
Children's Campus of Kansas City
To promote the well-being of children and families through collaboration, research, practice, and advocacy.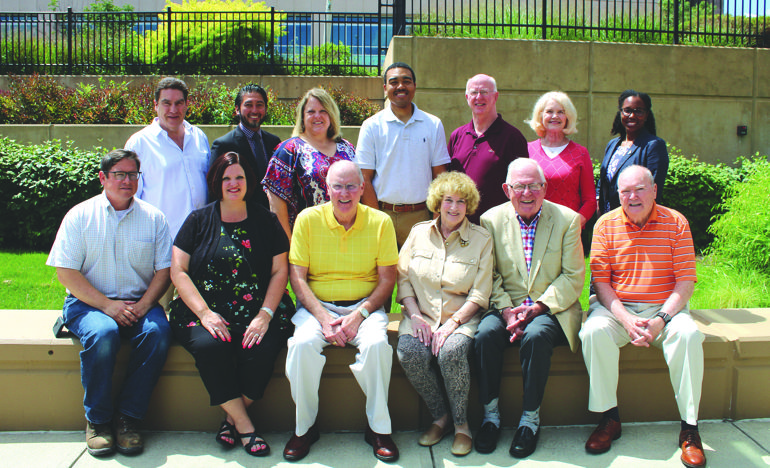 Board Members: (Seated) Bill Dunn III, Lisa London, Morris J. "Jery" Nunn, Barb Friedmann, Bob Graham, and W. Terrence Brown (standing) Joe Privitera, Randy Lopez, Kim Shaw, Dr. Brian Boyd, Dr. Brian McKiernan, Martha Staker, and Cynthia Fails (out of camera range) Dean Olson and Betty Shelton
---
Folly Theater
To preserve Kansas City's oldest historic theater as a premier performance venue, we commit to maintain our building's heritage, diversify our program and entertainment offerings, and be an enthusiastic participant in the continuing revitalization of downtown Kansas City.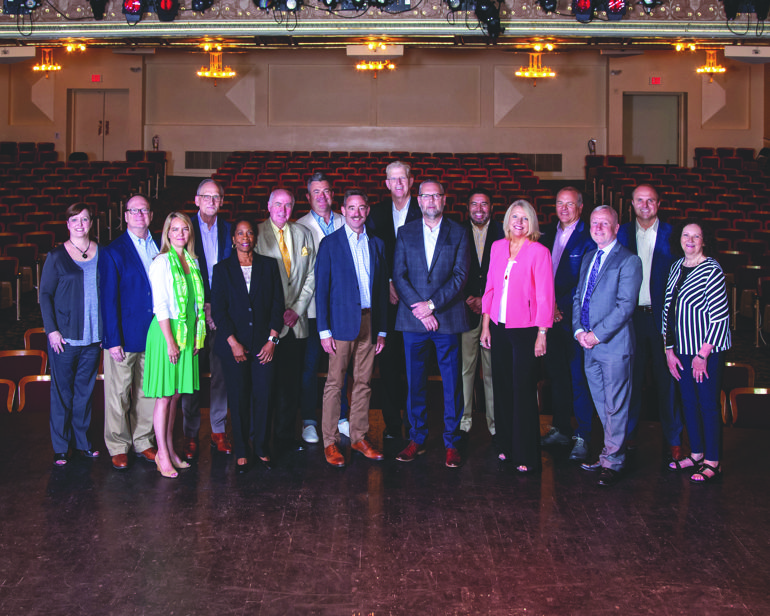 Board Members: Sara E. Welch, Steve Paddock, president; Stacy Purvis, Richard Starks, Rosetta Robins, James G. O'Sullivan, Doug Richards, Pete Browne, Mark Eagleton, Mark Seely, Alex Solorio, Jayne Siemens, James Hailey, Sean Barnard, Chris Benner, and Lyla Perrodin (out of camera range) Hoang-Anh Tran Photo credit: J. Robert Schraeder Photography
---
The Greater Kansas City Sports Commission and Foundation
To drive Kansas City's overall sports strategy to enrich the quality of life, create economic impact, and raise visibility for our region.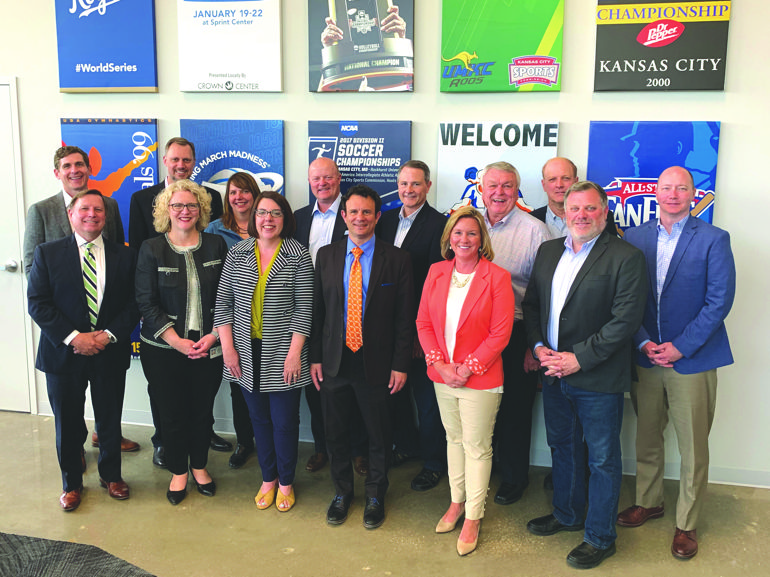 Board Members: (Front row) Charlie Rozanski, Stacey Paine, Jennifer Hannah, Steve Cosentino, Kathy Nelson, and Michael Chalfie (back row) Matt Kenny, Dow Draper, Babette Macy, Denny Scott, Kevin Noblet, John Kane, Tom Busch, and Jason Booker (out of camera range) Regina Croucher, Adam Zieren, Tom Waggoner, Randy Bredar, Rick Frazier, Angela Hurt, Brandon Martin, Teresa Martin, Kevin Pistilli, Jake Reid, CiCi Rojas, and Tom Terry
---
High Aspirations
High Aspirations will raise African American males' aspirations by initiating innovative ways to improve their lives socially, emotionally, academically, and spiritually. Their vision is to be the recognized resource in the Kansas City urban core for developing personal and life-skills in African-American young men to enable them to live socially productive lives.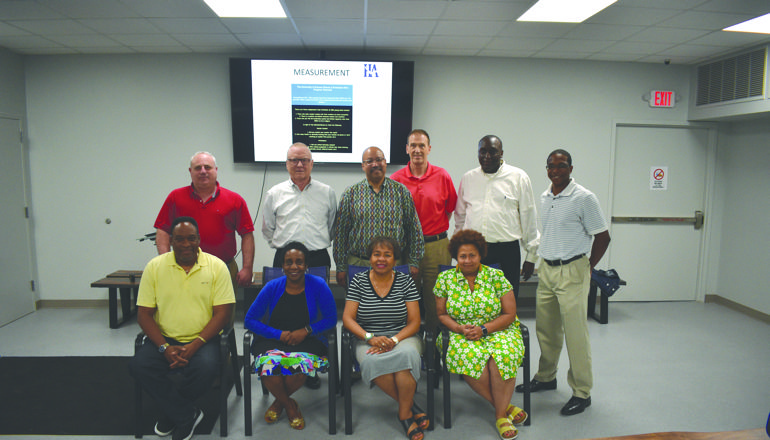 Board Members: (Seated) Damon Bryant, Jeanette Countee, Anita Maltbia, and Trudy Williams (standing) Stan Starks, John Schmidt, Dr. Lester Blue, Robert Sniezek, Henry Wash, president and founder; and Marcus Williams
---
JDRF
Improving lives today and tomorrow by accelerating life-changing breakthroughs to cure, prevent and treat type 1 diabetes (T1D) and its complications.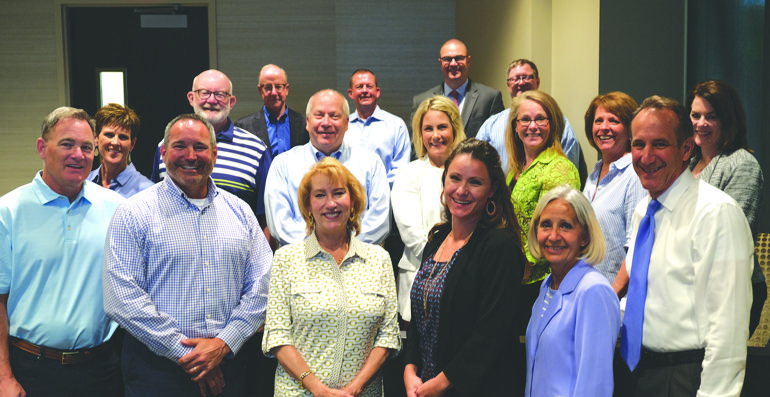 Board Members: (Front row) Reed Garrett, Keith Tate, Leanne DeShong, president; Erin Merrill, Sarah Jury, and Greg Swetnam (middle row) Amy Fauss, Wes Blanton, Kevin Kennedy, Kelsey Walsh Perry, Kathy Young-Adams, Sandy Russo, and Stacie Prosser (back row) John Moffitt, Lance Gorsuch, Joe Hyde, and Dr. Mark Clements (out of camera range) Kathy Adams, Cathy Baier, Colby Brown, Dr. Blake Cooper, Tim Cowden, Richard Dinkel, Brandee Faille, Jim Fornelli, Eric Geis, Brett Gordon, Robert Hulsey, Hunter Johnson, Doug Krtek, Kerri Lindsay, Rachel Lupardus, John Martin, Anthony Matthies, James McEntire, Dean Newton, Matthew Rau, Norman Ross, and Brent Vander Ark
---
Kansas City Symphony Alliance
The Kansas City Symphony Alliance (KCSA) is a group of enthusiastic volunteers who support the Kansas City Symphony through the Symphony Shop and the Symphony Designers' Showhouse. In addition to supporting the Symphony financially, KCSA hosts many social events and opportunities to learn more about the Symphony.
Board Members: (Seated) Sylvia Brush, Gloria Christison, Annette Szulc, and Kate Hodel (standing) Kellie Sullivan, Ruth Gerald, Patti Lindstrom, Ann Hauser, Nancy Johnson, and Peggy Jacobson (out of camera range) Kathy Ballard, Cathy Radek, and Mike Minor
---
KC Scholars
To increase postsecondary education attainment in the greater Kansas City area. KC Scholars provides the means – through scholarships, financial incentives to promote college savings and support services – for low and modest-income students and adults.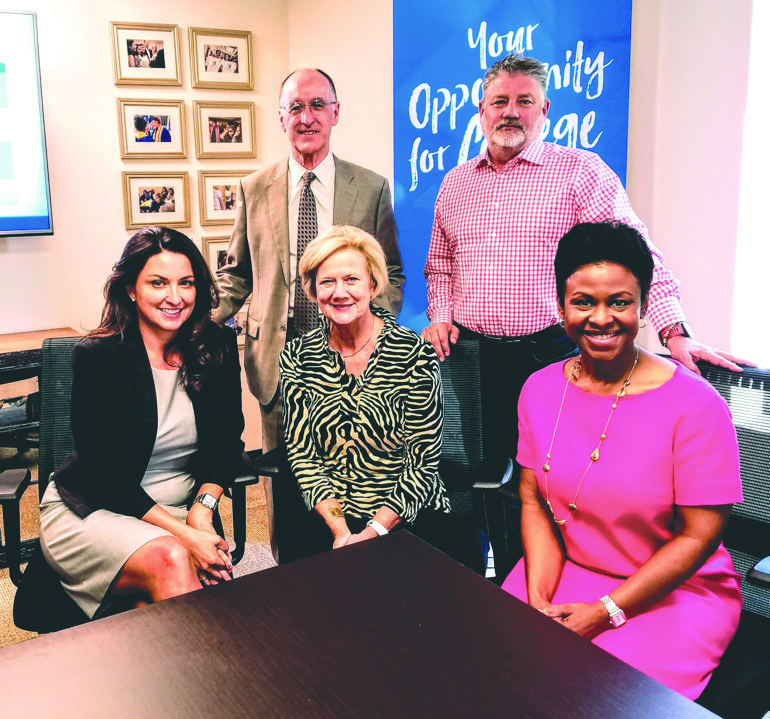 Board Members: (Seated) Michelle Kay, Jan Kreamer, and Tammy Edwards (standing) David Warm and Terry Bassham
---
Wayside Waifs
Preparing pets and people for the bond of their lives.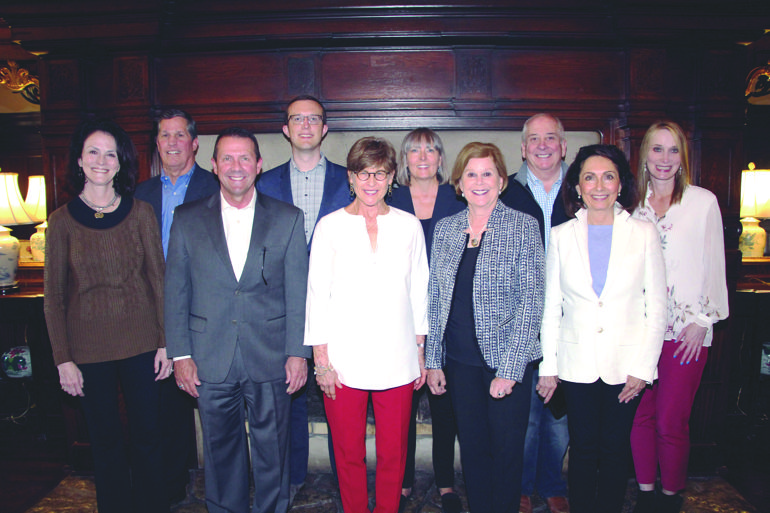 Board Members: (Front row) Becky Turner Chapman, Craig Wallace, Sandy Johnson, Capital Campaign co-chairman; Jill Turner, Capital Campaign co-chairman; and Susan Wally, external affairs committee chairman (back row) Rusty Smith, secretary; Andy Ellebrecht, treasurer; Lisa Rolf, internal affairs committee chairman; Perry Brandt, chairman; and Ruth Brackney (out of camera range) Harold Melcher, chairman emeritus; Jodi Robinson, chairman-elect; Ellen T. Hanson, Kostas Kontopanos, and Betty Scott
---
Women's Committee for the UMKC Conservatory of Music and Dance
The Women's Committee for the UMKC Conservatory of Music and Dance was organized in 1941 by a group of philanthropically minded women to support the Conservatory and provide financial assistance to students.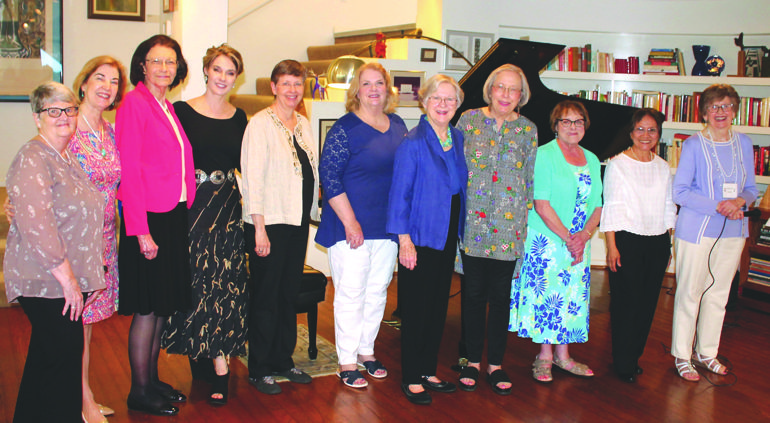 Executive Board Members: Jean Rosenfield, Lois Scanlon-Geffert, Marylou Turner, Michele Hamlett-Weith, Lyn Buckley, Barbara Lutman, Emily Ballentine, Linda Eddy, Mary Denise Wagner, Napaporn Schwegler, and Charlotte Brown
---
Boys & Girls Clubs of Greater Kansas City
To promote the development of self-esteem, values, and skills for boys and girls, ages five to 18, with special emphasis on youth from disadvantaged circumstances.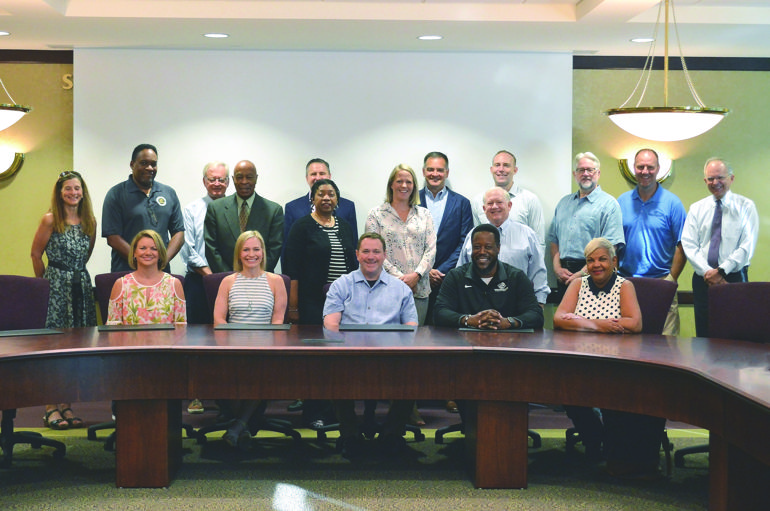 Board Members: (Seated) Jo Anne Gabbert, Jennifer Lowe, Chris Cox, Dred Scott, president; and Marjorie Williams (middle row) Jim Echols, Trudie Hall, Macaela Stephenson, and Bill Schafer (back row) Margaret Donnelly, Damon Bryant, Whitey Kuhn, Paul Fischer, Andy Burczyk, Grant Killion, Brad Bodamer, Steve Sestak, and Charles Hunter (out of camera range) Cathy Beaham Smith, Kevin Bryant, Frank Caro, Rob Cleavinger, Stephanie De La Torre, Holly Doering-Powell, Bob Firnhaber, Mike Haggerty, Sylvia Haverty, Dan Heckman, John January, Joy Johnson, Zalman Kohen, Kirsten Krug, Mark Larrabee, Vercie Lark, Ryan Matthews, Scott McVicker, Mike Naatz, Susie Oliver, Roshann Parris, Keith Pence, John Rose, Eric Schroeder, Daniel Silva, Greg Spears, Shani Tate Ross, Sean Toohig, Mike Torti, Tom Turner, and Tim Waltrip
---
Cornerstones of Care
Cornerstones of Care has a long legacy of partnering with children and families to create safe and healthy communities. It serves more than 11,000 children and families through education, mental and behavioral health, foster care and adoption, youth and family support, and community trainings in Kansas, Missouri, and beyond.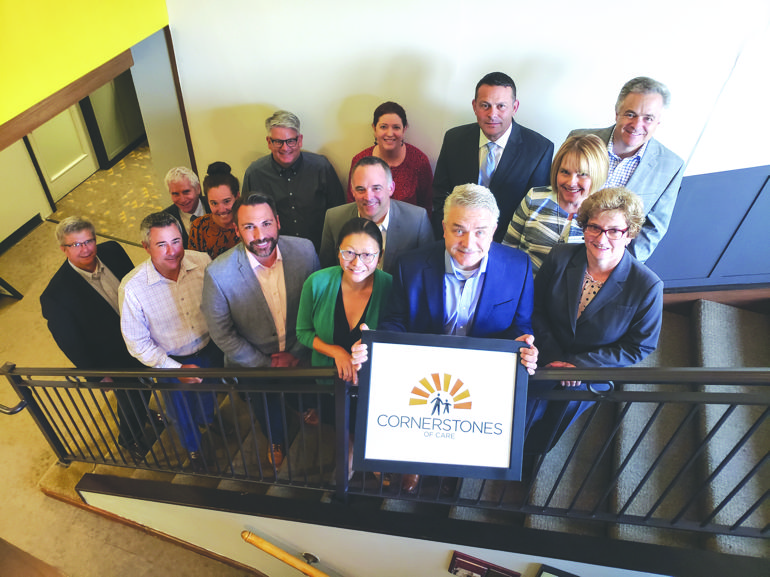 Board Members: (Front row) Jon Appleby, John Burgess, board vice chairman; Ryan Dowis, Cornerstones of Care; Helen Jorski, David Leavitt, board chairman; and Denise Cross, Cornerstones of Care (middle row) Andrea Duckworth, Eric Giovanni, Cornerstones of Care; and Julie Barnett (back row) Jim Hogan, Richard Wood, Laurie Monsees, Jody Vanarsdale, and Tom Kientz (out of camera range) Stephanie Rawe, Brian Merckens, Amy Bradshaw, and Jennifer Seyller
---
Heartland Therapeutic Riding
To serve children and adults with disabilities and to improve quality of life through equine-assisted activities and therapies. We are committed to changing lives, one ride at a time.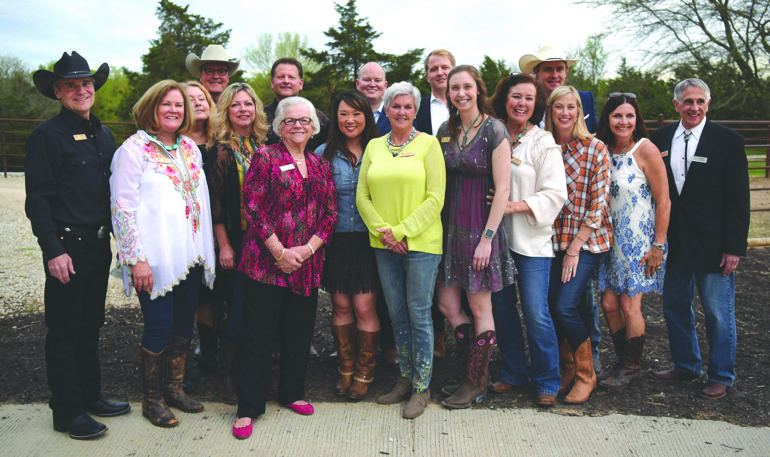 Board Members: (Front row) Skip Peavey, board chairman; Melissa Scher, Joni Roeseler, Lisa Cummings, Sandy Rose, Katie Loomis, Vicki Messbarger, Natalie Truman, Pam Cowan, Courtney Fahey, board vice chairman; Dana Benjamin, and Stan Woodworth (back row) Joe Rebein, secretary; Parrish Lucas, Tyler Bachman, treasurer; Tom Bauer, and Rob Holland (out of camera range) Vinita Canright, Austin Berke, and Sarah Ferguson
---
Hope House
To break the cycle of domestic violence by providing safe refuge and supportive services that educate and empower those impacted by domestic violence. Hope House will advocate social change that protects and engenders a person's right to live a life free of abuse.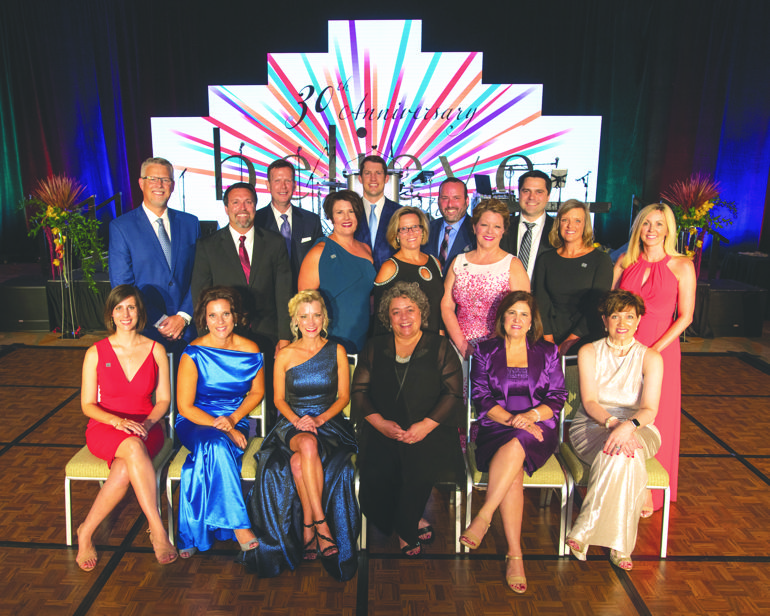 Board Members: (Seated) Tara Steiner, Julie Ross, Abby Mocek, MaryAnne Metheny, Hope House; Dr. Lynette Wheeler, and Tina Johnson (middle row) Doug King, Lee Moore, Angela Presnell, Carolyn Walters, Monica Alderson, Amy Doll, and Whitney Bartelli (back row) Michael Cline, Samuel Dean, Neil Getzlow, and Douglas Schmitt (out of camera range) Michael Moore, Brian Herrmann, LaToya Garcia, Joe Kauten, and Janelle Williams Photo credit: Chris Crum
---
Horizon Academy
To empower students diagnosed with language-based learning disabilities to become effective learners and confident self-advocates.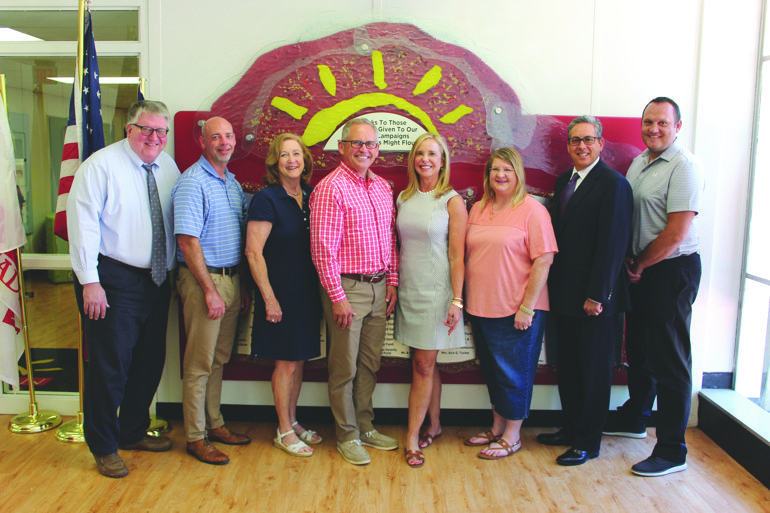 Board Members: Fred Crouch, John Griggs, Liz Barnes, Steve Heeney, Kelly St. Clair, Lori Miller, Patrick Meraz, and Andy Trucksess
---
Johnson County Young Matrons
To serve, support and promote philanthropies in our community.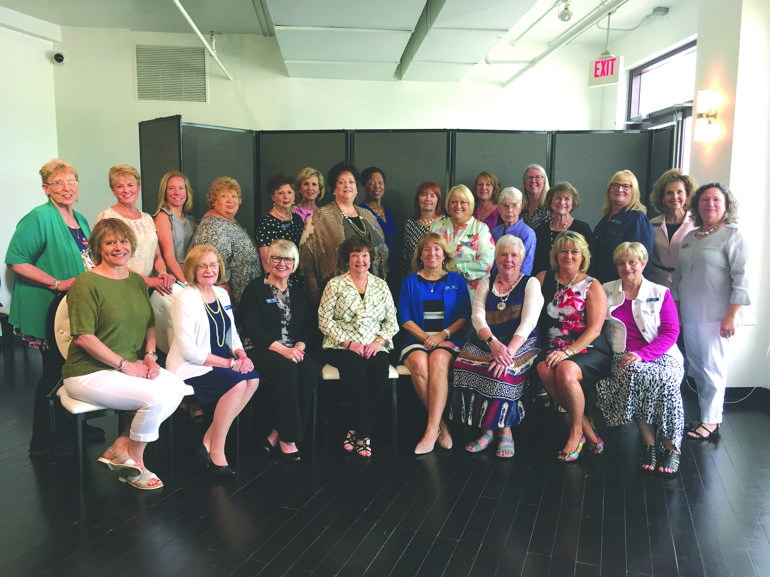 Board Members: (Seated) Stephanie Baughman, Linda Wright, Sharman Wilson, Snookie Krumbiegel, Alisa Ford, Martha Wofford, Patty Gay, and Judy Ransom (middle row) Nancy Nash, Jill O'Connor, Tara Gatti, Doris Yantis, Margie Harden, Debra Scott, Winky Bergeson, Shay Ashley, Barbara Mock, Kathy Hood, Cathy Misemer, and Mary Ann Cappo (back row) Revelyn Alpaugh, Rosie Bettis, Margie Ray, Rhonda Masilionis, and Cheryl Gettinger
---
The Junior League of Kansas City, Missouri
The Junior League of Kansas City, Missouri (JLKCMO) is a 501(c)(3) organization of women committed to promoting voluntarism, developing the potential of women, and improving communities through the effective action and leadership of trained volunteers. Its purpose is exclusively educational and charitable.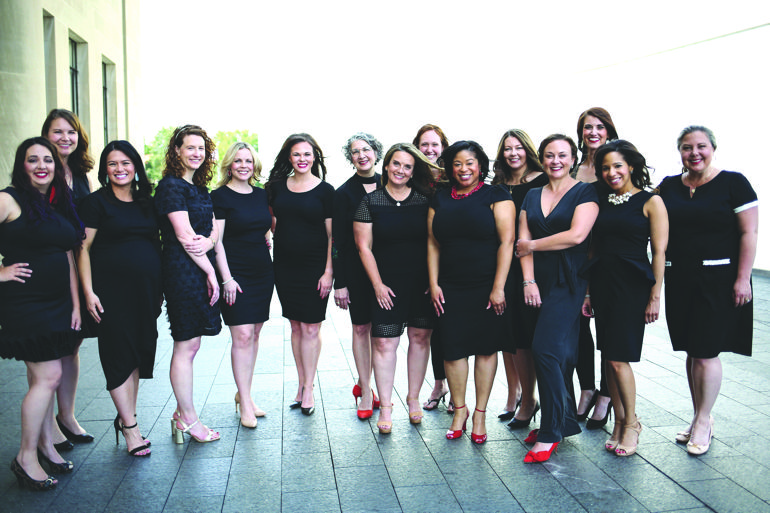 Board of Directors: Aaron Fulk, step-up director of marketing; Kristen Yates-Booth, bylaws chairman; Decemeber Brammer, step-up director of fund development; Sarah Kelly Harris, director of training; Heidi Minnis, nominating chairman; Jessica Matthys, step-up director of community; Celeste Greenlee, JLKCMO; Karen Crnkovich, president-elect; Liz Webb, director of finance; Jennifer Graves, director of membership; Katie Werner, president; Megan Allen, director of fund development; Stephanie Davis, director of marketing; Ericka Duker, director of planning; and Lisa Rinehart-Hoffman, director of sustainers Photo credit: Ashley Thornton
---
The Kansas City Jazz Orchestra
Through performances and education programs, The Kansas City Jazz Orchestra preserves the rich heritage of jazz, nurtures its growth, and encourages its appreciation as an art form for all ages.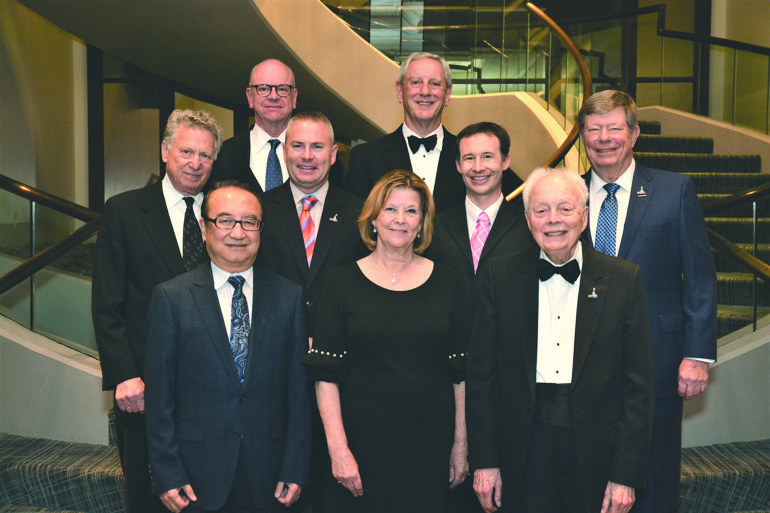 Board Members: (Front row) Benny Lee, Sally Bibb, and Gene Hall (middle row) Jon Goodman, Brian Johnston, Mike Fischer, and Dick Fagerberg (back row) Rick Powell and Jim Prevost (out of camera range) Jennifer Trusty
---
Nonprofit Connect
Nonprofit Connect links the nonprofit community to education, resources, and networking so organizations can more effectively achieve their missions.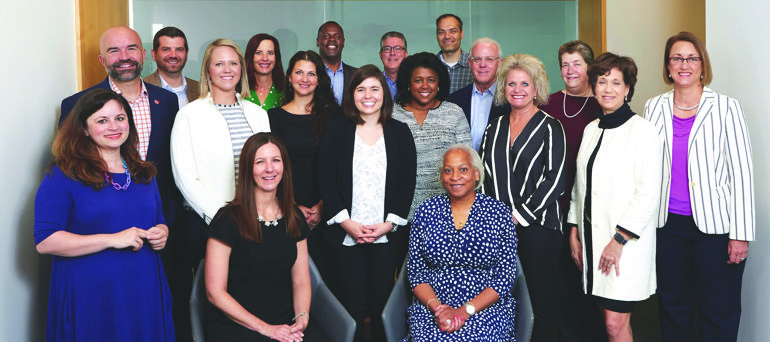 Board Members: (Front row) Amy Kligman, Tondeé Lutterman, past president; and Valerie Nicholson-Watson, president (middle row) Jake Jacobson, secretary; Macaela Stephenson, vice president; Leslie Sims, treasurer; Cassie Pikarsky, Precious Stargell Cushman, Lewis Gregory, Laura Berger, Rita Cortes, Lynne Brown, and Jennifer Ingraham (back row) Drew Elliott, Sheri Johnson, Clifton Campbell, Martin Kraus, and Jami Shipman Photo credit: Gary Rohman
---
Park University
Park University transforms lives through accessible, student-centered, quality higher education.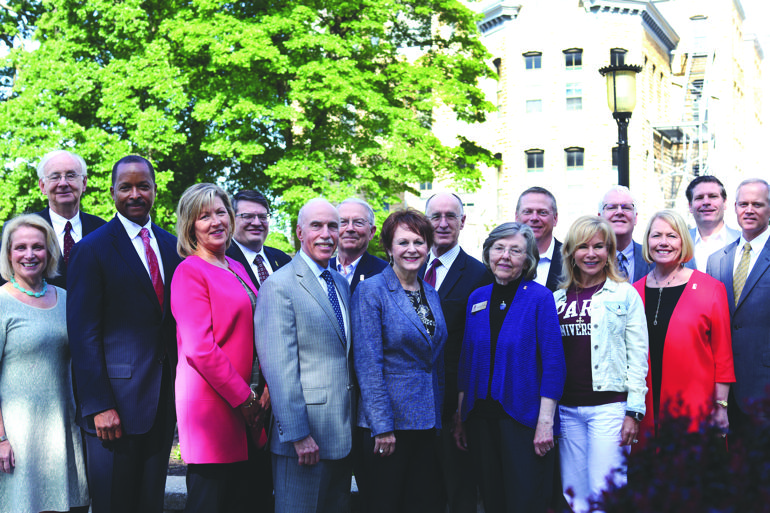 Board Members: Cyprienne Simchowitz, Bill Perry, Vince Clark, Ann Hansbrough, Greg Gunderson, Park University; Irv Belzer, outside counsel; Richard Keller, Jackie Snyder, David Warm, Rosemary Plakas, Troy Teague, Jeanette Prenger, board chairman; Scott McRuer, Lynn Craghead, Kris Flint, and Andy Shoffner (out of camera range) Mitzi Cardenas, Mara Cohara, Michael Collins, Jim Cornelius, Dennis Fisher, Anthony Melchiorri, Sarah Moe-Meyers, and Eric Wade
---
Big Brothers Big Sisters Kansas City
Big Brothers Big Sisters Kansas City works to clear the path to a child's biggest possible future by matching them with a caring, adult mentor in a one-to-one friendship. "Bigs" help "Littles" ignite, empower and defend their potential by standing with them.
Big Impact Group Junior Board Members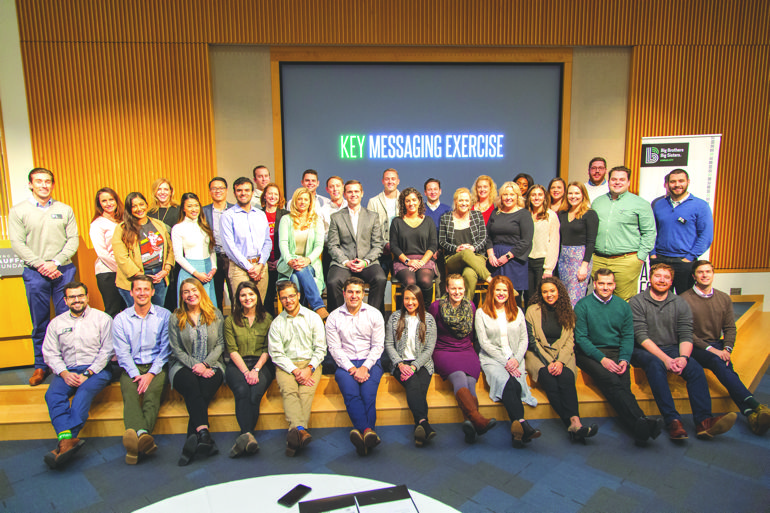 (Front row) Andrew Vogliardo, Kevin Clarke, Maggie Klos, Micheala Mathiesen, Alex DeMarais, Stephen Elias, Kathleen Hoang, Emily Shipman, Meggie Snipes, Shelbi Neel, Alex Hunter, Derek Stuchlik, and Kenneth Ritchey (back row) TJ Collins, April Soberon, Katasha Kumar, Taylor Grossenkemper, Jocelyn Yao, Jordan Dietrich, Ramin Rostampour, Robert Givens, Amelia Mendus, Cassie Sandidge, Daniel Kusmin, Patrick LeSage, Tommy Kennedy, Tim Jardine, Alyssa Dinberg, Hamilton Eubanks, Courtney Henriksen, Whitney Dunn, Sydney Sutherland, Amanda Johnson, Courtney Hullinger, Melanie LawRance, Olivia Corazzin, Zach Harsch, William Underwood, and Peter Gottsacker
Board of Directors
(Seated) Chris Ferraro, Anthony Carey, Elise Kirchhofer, Cary Miller, and Kimberly Wilkerson (middle row) Jeff King, Scott Strawn, Jeremy Schafer, Erica Cohen, Shannon Stites, Rachele Kolom, Dana Jermain, and Ruth Brackney (back row) Derek Dummermuth, Jeff Keyes, Chris Kolquist, Melissa Beltrame, Cynthia Simpson, Tanner Cain, Christine Ricci, and Rob Adams
Diversity, Equity, and Inclusion Task Force Members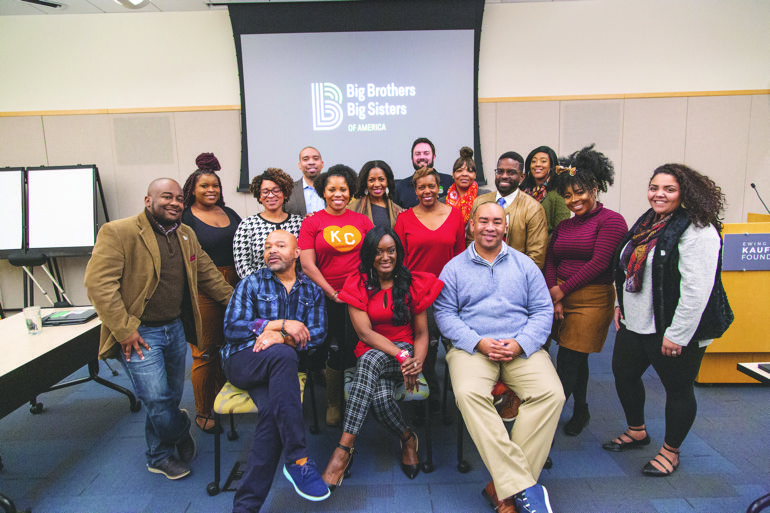 (Seated) André Davis, India Williams, and Gene Willis (middle row) Eric Wilkinson, Chantell Garrett, Tiffany Willis, Alicia Walker, Adam Miller, Jazzmin Hill, and Jordan Cox (back row) Nina Trespalacios-Paris, Tahir Atwater, Nicole Jacobs-Silvey, Scott Cruce, Kisha Bausby, and Tiffany Scantlebury
Donation Center Board Members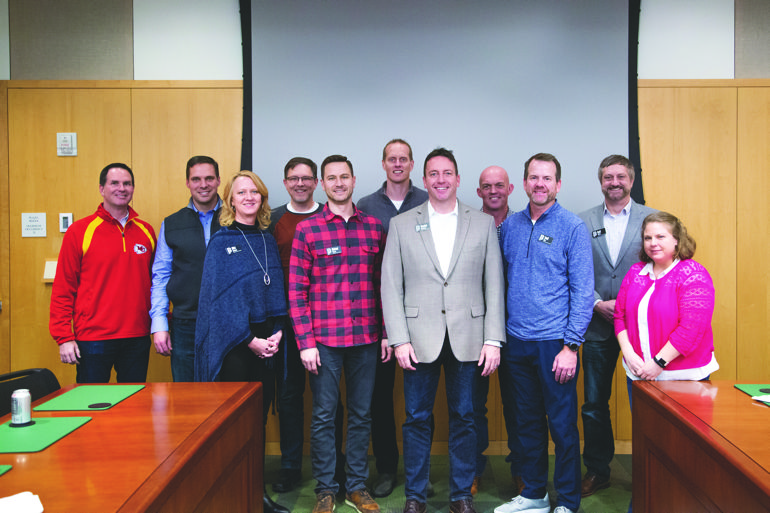 Colby Jones, Robert Beltrame, Mitzi Craft, Craig Mattke, Michael Brisco, Ed Broxterman, Brandon McManamy, Jeff Shipley, Scott Keen, Brett Wacha, and Audrey Johnson
---
Community LINC
To end homelessness for this generation and the next.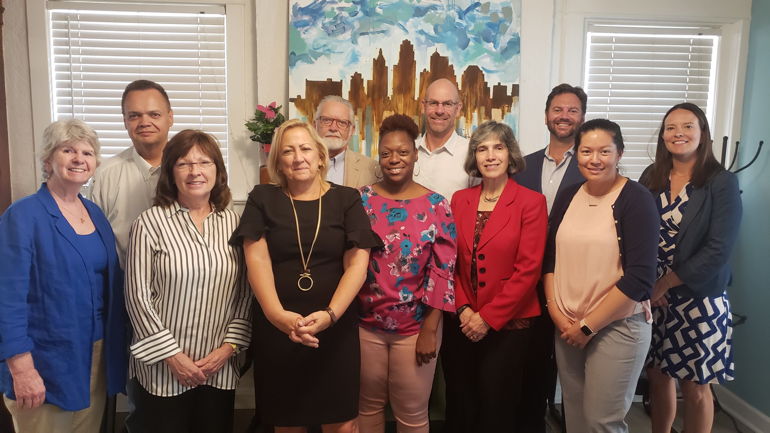 Board Members: (Front row) Ann Harbin, Deb Eveans, Tina Ussery Franklin, Jackie Hunter, Wilma Collado, and Jess Borries (back row) Bob Wright, Bob Kroeker, Brian Schaefer, Dan Carroll, and PJ Longman
---
FIRE Foundation
To provide children with special needs the opportunity for an inclusive Catholic education in their home parish schools.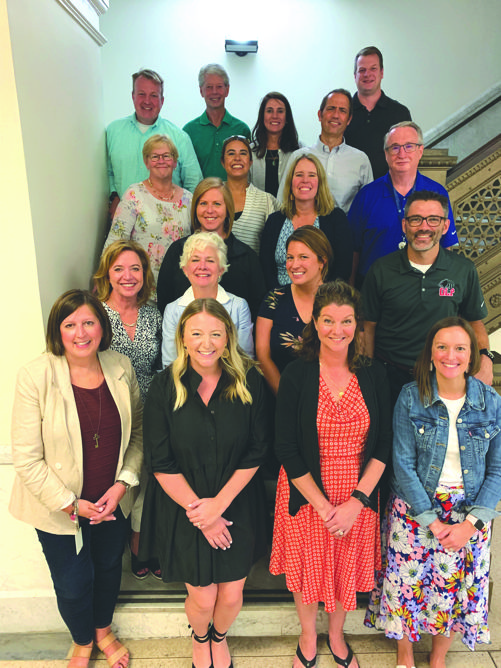 Board Members: (First row) Lynn Hire, FIRE Foundation; Mary Stuckey, Carol Caron, and Jenny Stasi (second row) Mary Madden, Katheigh Degen, Lindsey Anderson, and John Joyce (third row) Peggy VanDyke, Erin Neuburger, Marie Kissick, Buffy Gunter, and Dan Peters (fourth row) Pat Fanning, Mark Ungashick, Gretchen Vosburgh, Mark Rieger, and Sean Switzer (out of camera range) Erin Duba, Michele Markey, Debbie Whittaker, Adriana Martinez, and John Tyner
---
First Call
To reduce the impact of alcohol, drugs and addiction by providing quality services to individuals, families and the community.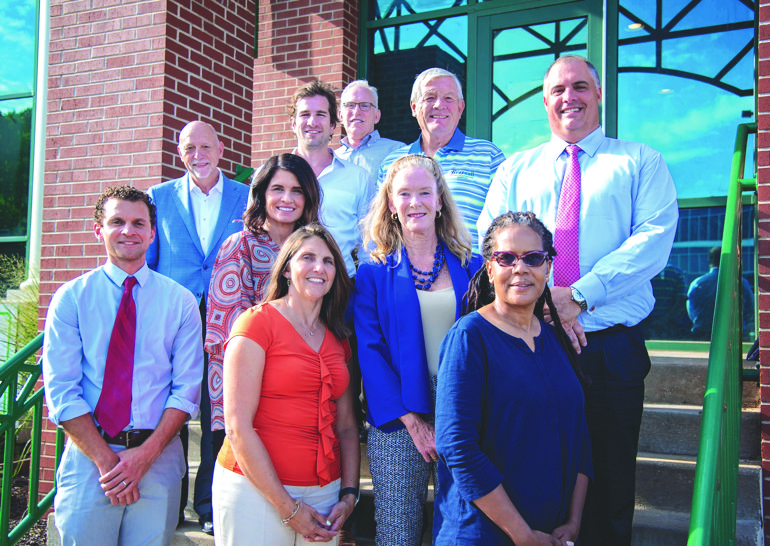 Board Members: (Front row) DJ Pierre, Trisha Hokanson, Karen Gerson, Susan Whitmore, and Kirby Randolph (back row) Richard D. Rhyne, Chris Rosburg, Dee Pack, Ralph A. "Lon" Switzer, Jr., and George Lopez
---
Jackson County CASA
To be a child's voice in court. We recruit, train and support lay volunteers who act as advocates on behalf of the best interests of abused and neglected children.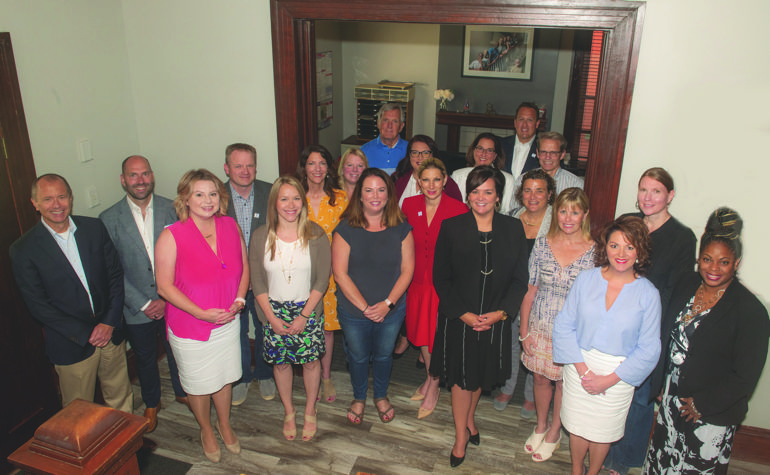 Board Members: (Front row) Shannon Gordon, Jessica Lyons, Nicole Fisher, Mira Mdivani, Angie Blumel, Jackson County CASA; Sandi Fried, Michelle Anderson, Rebecca David, and Kisa Caruthers (back row) Don Kirkpatrick, Peter Kowalski, Nate Lindstrom, Jenny Meegan, Twynette Neer, Gary Bussing, Jacquie Ward, Lisa Carpenter, Zach Bickel, Luke McGlynn, and Monica Tiffany (out of camera range) Michael Macias, Stephanie Robinson, Bert Seefeldt, Vanessa Sims, and John Vaglio Photo Credit:  David Remley
---
Ronald McDonald House Charities
To reduce the burden of childhood illness on children and their families.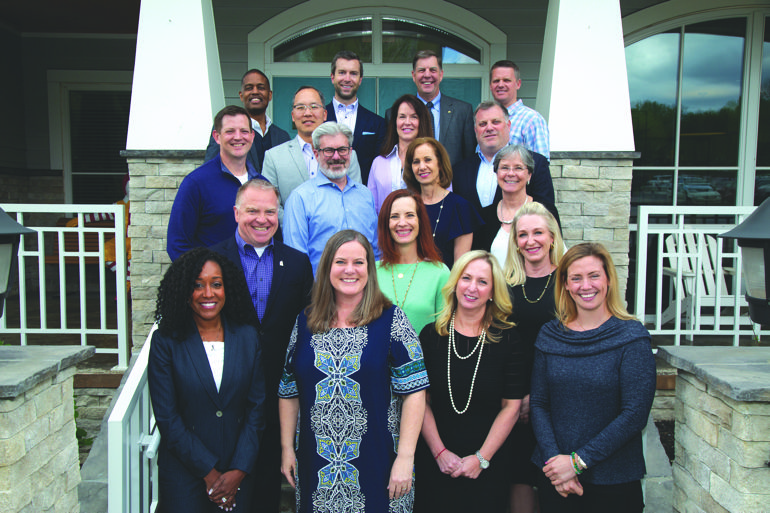 Board Members: (First row) Teresa Walsh, Tami Greenberg, Kerri Reisdorff, and Blair Gentile (second row) Jon Gribble, Sheri Johnson, and Darlia Morris (third row) Donn Hess, Kelly Simari, and Gretchen Gold (fourth row) Dr. Ryan Fischer, Richard Hu, Stephanie Williams, and Michael Chalfie (fifth row) Vernon Williams, Matt Wildman, Mike Gremaud, and Tyler Epp (out of camera range) Steve Fleischaker, Chris Habiger, Stacie Prosser, Jo Stueve, and Jon Wright
---
United Way of Greater Kansas City
Mobilizing Greater Kansas City's collective generosity for the greatest good.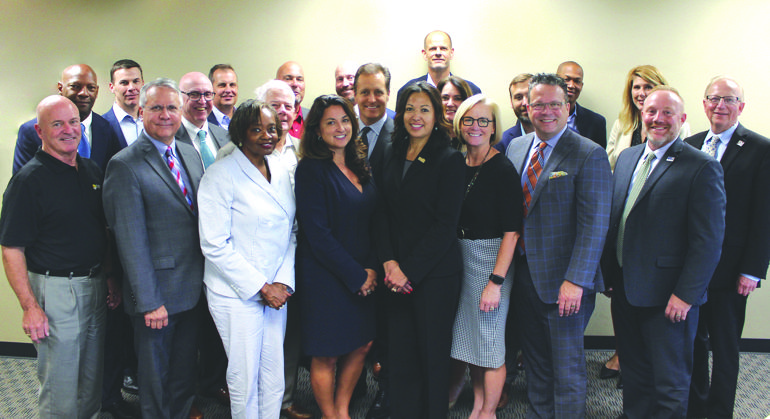 Board Members: (Front row) Rick Viar, Dean Olson, Stacey Daniels-Young, Michelle Kay, Penny Postoak Ferguson, Julie Quirin, Ron Coker, and Doug Cowan (middle row) Brent Stewart, United Way of Greater Kansas City; John Murphy, W. Russell Welsh, Dean Newton, Laurie Roberts, Marshall Lockton, and Spencer Fields (back row) Greg Sweat, Todd Pleimann, Patrick "Duke" Dujakovich, Kevin Zimmermann, Will Souder, Kevin Lockett, and Sonci Bleckinger (out of camera range) David Anderson, Rosana Privitera Biondo, Molly Biwer, Doug Boessen, Rob Bratcher, Steve Edwards, Esther George, Maria Jenks, Craig Kuckelman, Derek Locke, Alise Martiny, and CiCi Rojas
---
Benedictine College
Heir to the 1,500 years of Benedictine dedication to learning, Benedictine College in its own time is ordered to the goal of wisdom lived out in responsible awareness of oneself, God and nature, family and society. Its mission as a Catholic, Benedictine, liberal arts, residential college is the education of men and women within a community of faith and scholarship.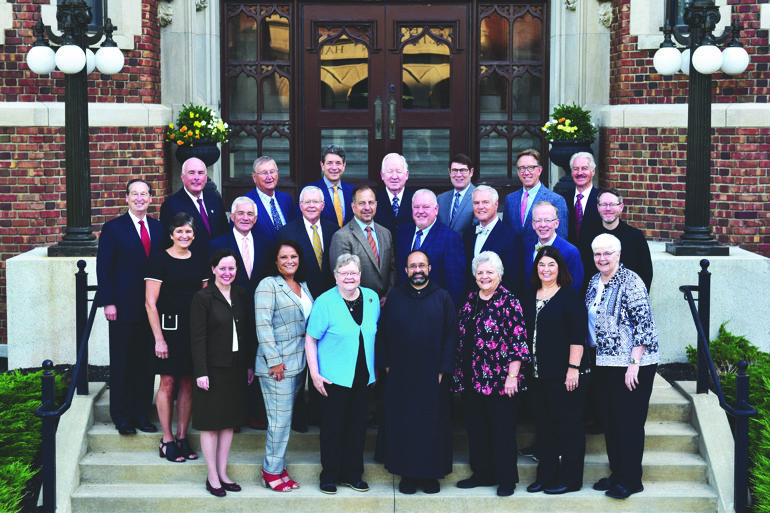 Board Members: (Front row) Alietia Caughron, Lené Westerman, Sister Jeannine Neavitt, OSB; Father Jay Kythe, OSB; Prioress Esther Fangman, OSB; Kathryn Dalzell, and Sister Diana Seago, OSB (middle row) Stephen D. Minnis, Benedictine College; Theresa Murphy, Jack Newman, Bob Wholey, Pat George, Kevin O'Malley, Patrick Stueve, Dr. Jerry Brungardt, and Father Jeremey Heppler, OSB (back row) John Harpole, Larry Buessing, Dan Fangman, Dave Laughlin, Sean Doherty, Dr. Michael Boland, and Mike Gangel (out of camera range) Rt. Reverend Abbot James Albers, OSB; Davyeon Ross, Joan Charbonneau, Helen Healy, Michael Kuckelman, and Carol Rogers
---
The Children's Place
Where children and families heal from life's deepest hurts.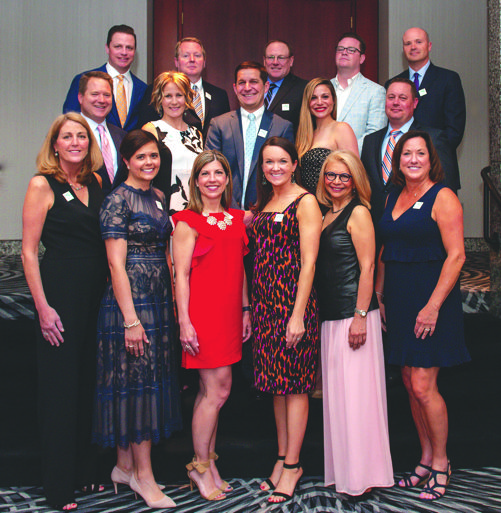 Board Members: (Front row) Ann Tinsman, Molly Hunter, Gretchen Fitzgerald, Anne Scharf, Dr. Mabel Tinjaca, and Laura Jones (middle row) David Hellen, Stacey Saladin, Michael Ensz, Kalinda Calkins, and Nathan Tesmer (back row) Matt Benge, Mitch Peterson, Paul Schieber, chairman; Meyer Sosland, and Chad Rock (out of camera range) Amy Allen, Jacob W. Bayer, Jr., Dr. Ann Davis, Katie Erwin, Angela Fera, Celeste Greenlee, Nora Lockton, Josephine Njoroge, Ivan Nugent, Aaron Siders, Dr. Julia Thompson, Richard Wetzel, and Adam Zieren
---
Giving The Basics
To restore human dignity across the Kansas City area by providing personal care products to those unable to access products like toilet paper, deodorant, toothpaste, and other products not covered through government programs. The Young Executive Board's mission is to raise awareness for the organization throughout the Kansas City area through fun events, volunteering, and spreading the mission of Giving the Basics.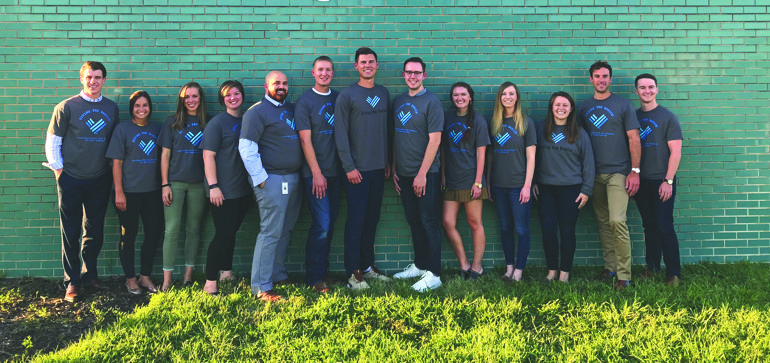 Young Executive Board Members: Zach Frey, Aurora Unger, Kristin Halford, Danielle Brown, Julian Furrow, Marc Meyer, Jake Waldenmeyer, Jon Greene, president; Hope Ortego, Lindsey Voss, Mary Reed, Joseph McGroder, and Jeremy Eutsler (out of camera range) Alex Thompson and Kelsey Price
---
Kansas City Young Audiences
To engage all youth in the arts, promote creativity, and inspire success in education.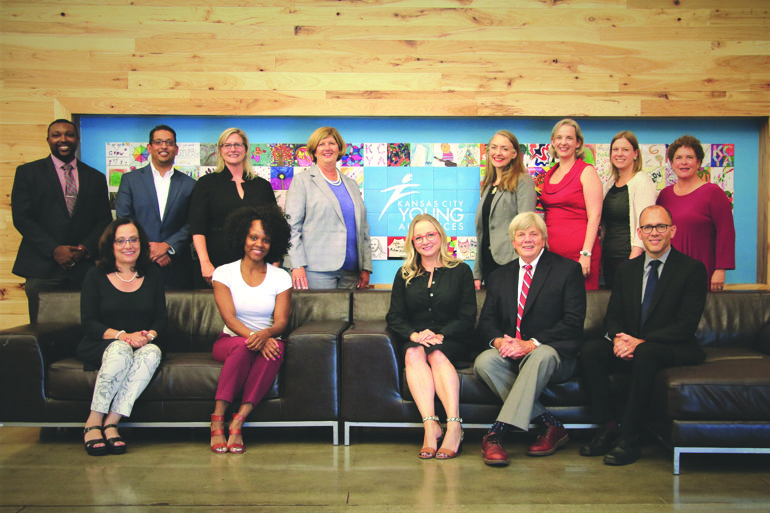 Board Members: (Seated) Lisa Williams, Tanesha Goshon, Kara Bouilette, Jim Dunn, and Brad Welle (standing) Brian Edwards, Anupum Luhar, Jennifer Parker, Jill Warren, Kristin Raven, Cat Larrison, Elizabeth Hatting, and Jenny Isenberg (out of camera range) Bernard Hamblin, Jason Banks, Brent Bowen, Jonah Brotman, Renee Keffer, and Stacy Stotts
---
KidsTLC
To transform the lives of children and families in our community.
Board Members: (Front row) Shelley Coe, KidsTLC; Kathy Baker, Jill Phillips, Dr. Erin Dugan, KidsTLC; Heather Winiarski, Sister Marie Joan Harris, Dr. Pat All, and Sharman Wilson (back row) Darren Odum, Tom Mertz, Marty Cole, Gary Church, Jason Wright, Shawn Barber, Rhonda Harrelson, LaDonna McCullough, Darrin Ives, Mike Butaud, and Maggie Kolb
---
The Nelson-Atkins Museum of Art
To welcome and provide free admission to all and deliver unparalleled opportunities to enjoy, appreciate, and understand the finest visual arts and the varied cultures they represent.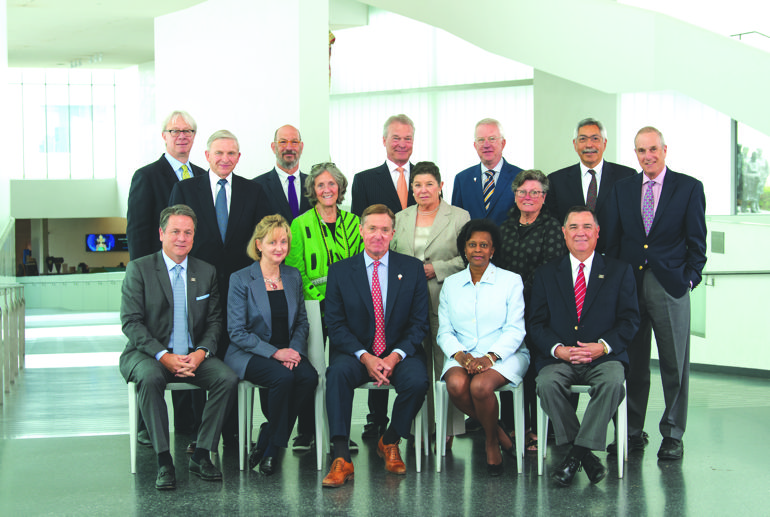 Board of Trustees: (Seated) Greg Maday, Evelyn Craft Belger, Richard C. Green, chairman; Sandra A.J. Lawrence, and Kent Sunderland (middle row) William B. Taylor, treasurer; Sara Morgan, Shirley Bush Helzberg, and Susan McGreevy (back row) Julián Zugazagoitia, The Nelson-Atkins Museum of Art; Neil D. Karbank, secretary; William M. Lyons, Mark M. O'Connell, Ramón Murguía, and Thomas M. Bloch (out of camera range) G. Kenneth Baum, Paul DeBruce, Grant Burcham, Bill Gautreaux, and Don Hall, Jr.
---
Warriors Ascent
To provide a path to healing and save lives of veterans and first responders suffering from post-traumatic stress.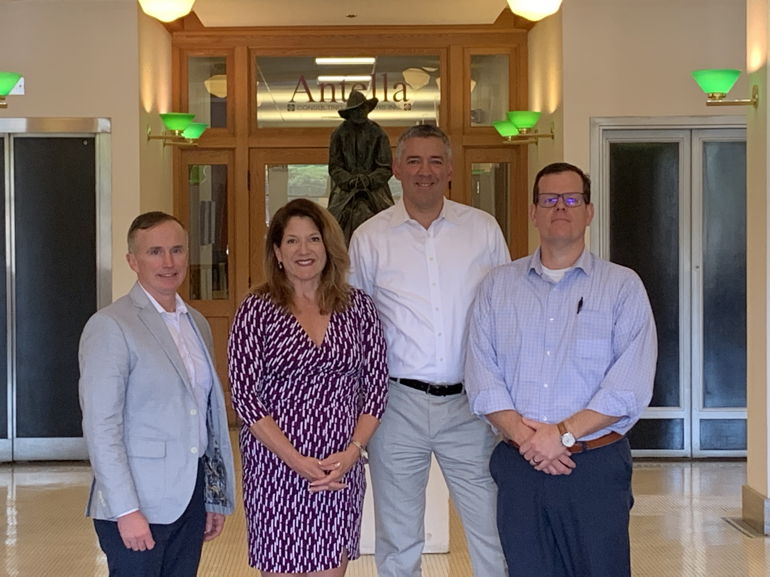 Board Members: Tim Carroll, Molly Kerr, Phil Bressler, and Steve Tanner (out of camera range) Greg Forney and Chris Maglich
---
Wonderscope
To spark a lifelong love of learning through the power of play!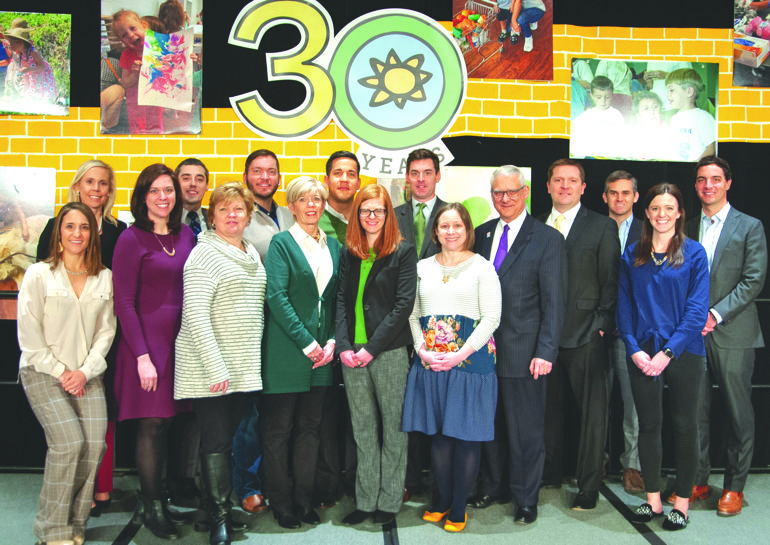 Board Members: (Front row) Katie Kincaid-Longhauser, Jennifer Berhorst, Sara Prem, Sally Stanton, Stephanie Whitacre, Kate Bender, and Kendall McGreevy (back row) Ashley McDonald, Sam Clevenger, Eric Newell, Nilson Goes, Billy Palmer, Bob Regnier, Aaron Siders, Jon Atlas, and Michael Bell
Also featured in the September 28, 2019 issue of The Independent
October 28th is the date for American Cancer Society's Making Strides Against Breast Cancer of Kansas City, which will be held at Crown Center. The Walk is a celebration of…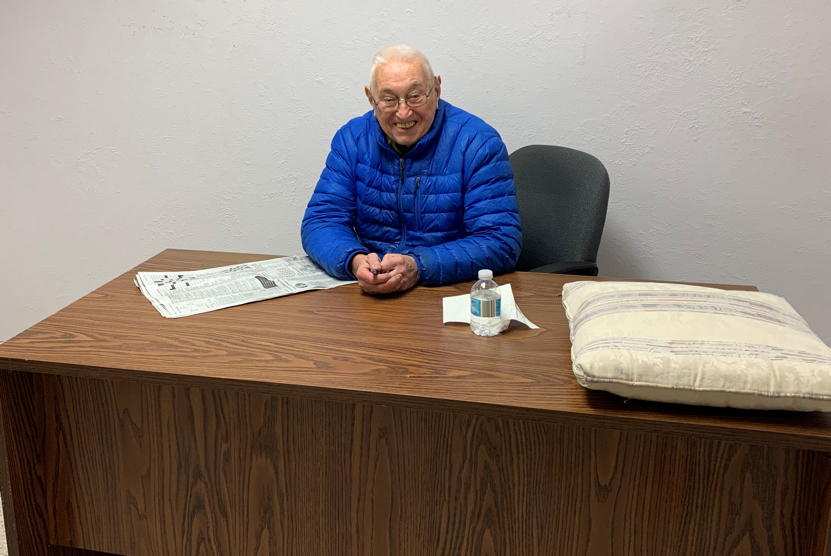 Charlie Lynn volunteers at the SKC Serve & Lift Center of Catholic Charities of Kansas City-St. Joseph. What does he do there? He helps in any way he can. Charlie…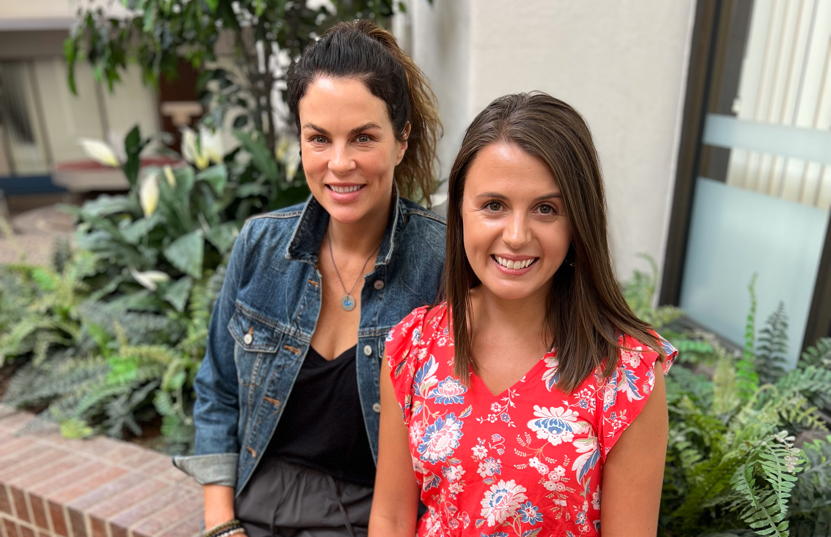 The 19th annual Night Out with MOCSA Cocktail Party and Auction will be held at The Midland Theatre on November 4th. Tiffany Melton Meeks and Lisa New are serving as…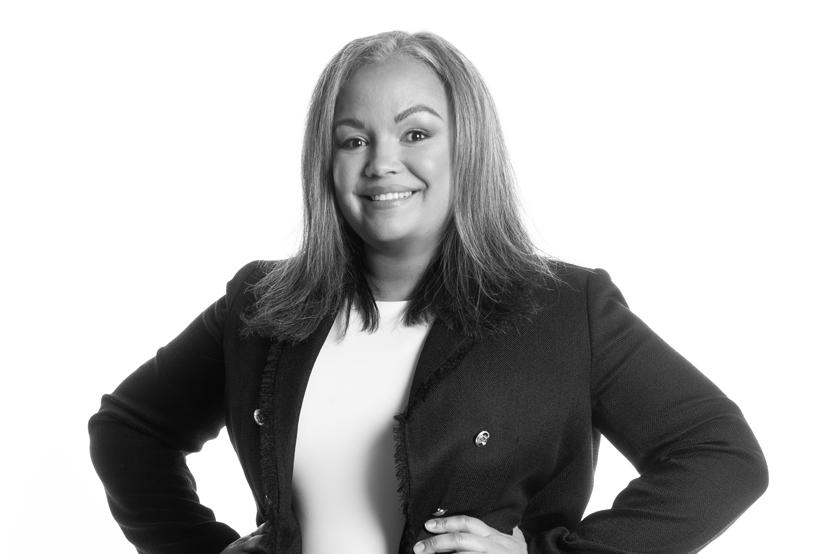 As a model of Kansas City's civic spirit, Amy Guerich's steadfast altruism has earned her the title of Rising Star by The Independent. With a diverse range of philanthropies and a…