Art Scene – Christianne Bohannon
This much is undeniable – Christianne (Chris) Bohannon has a delicious sense of humor and a big heart. Everything else about this St. Louis born – but Kansas City is home – animal lover can be subjective, but the humor and the heart are self-evident. Acrylic paint and brushes are her tools, but improv could be her gig. Just get a load of these series titles: "Medieval" series: Large works imagining pets of the Middle Ages; "International" series: Globetrotting pets in foreign settings; "KC Metro Mischief" series: Fantastical works depicting Kansas City as a pet's playground; "Dictionary" series (also known as the "Quarantine 2020" series): Upcycled dictionary pages spell out what's illustrated on each of these canvases; and "Fun-sized Fur Babies": Small works featuring, usually, furry pets.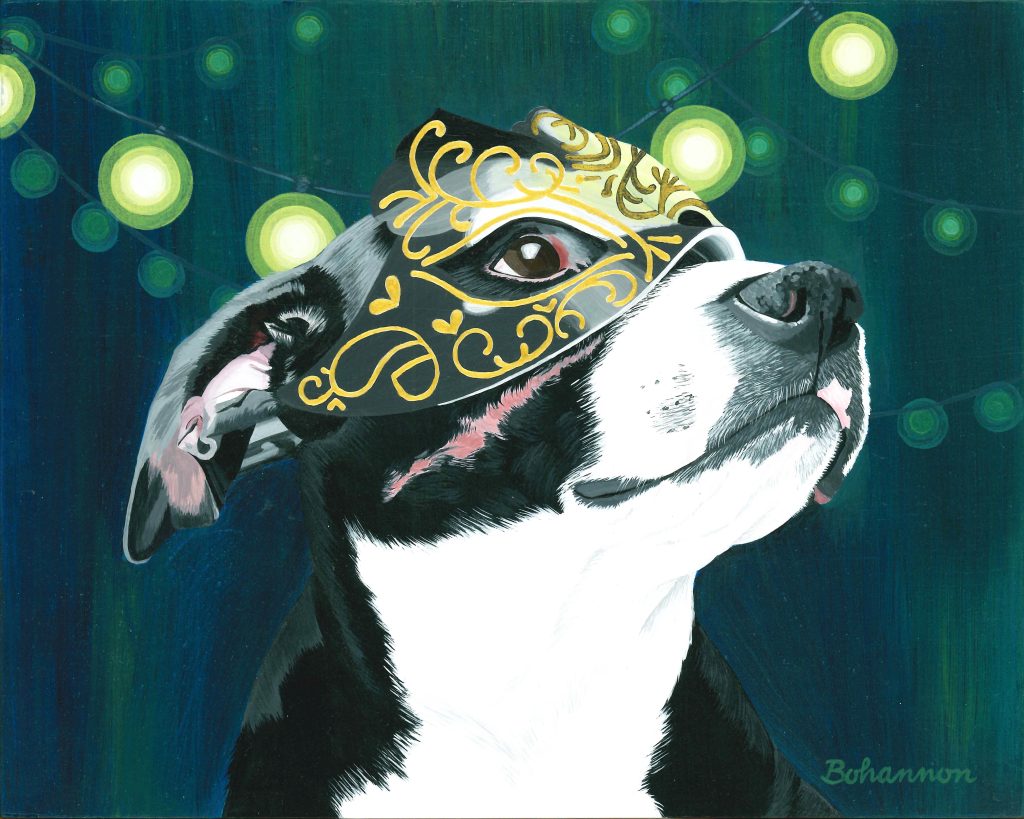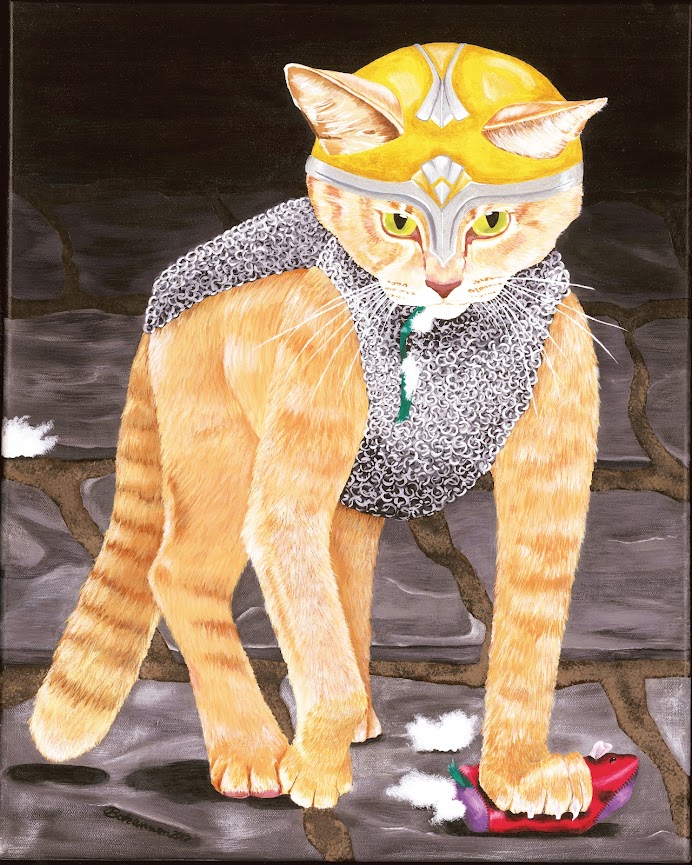 ---
With a bachelor's degree in art, and a master of arts degree in education and visual art, and following a lengthy career teaching in the Gardner School District, Chris could no longer deny her passion for creating – specifically her passion for creating portraits of pets, whether imaginative or realistic. As the artist herself said, "I have a great love of animals and find fulfillment in celebrating them with others." Since 2017, Chris has built a small business based on commissions from clients as well as creations from her own clever mind. In addition to traditional paintings, Chris' work – and a beloved pet – can be found on stickers, buttons, tapestries, cards, framed items, tote bags, phone cases, mugs, apparel, stationery, and more. 
Arriving at this point in her life, Chris said, "I found I finally had the time to paint a memorial of my beloved cat, Copper, who passed away a few years before. (I chose to depict him as a Medieval warrior, dressed in his battle gear, as he slays the stuffed mouse infestation in the castle.) I worked feverishly on that canvas for several weeks and found true joy and satisfaction in the process. I was also finding more time to volunteer with my local cat rescue [Another Chance Cat Rescue in Waldo]. Both worlds of art and animal welfare naturally came together to form my business as a commissioned pet portrait artist." Information regarding commissioned works can be found at artistkc.com.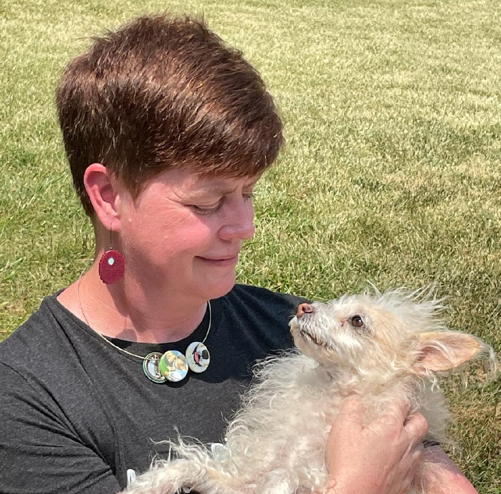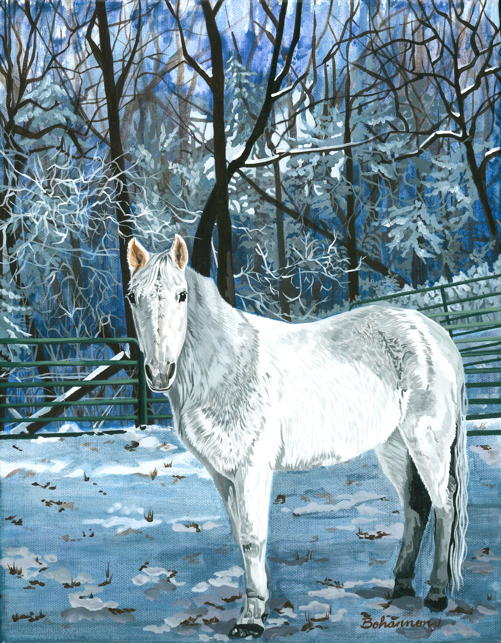 ---
When asked the ways Chris characterizes the pet-loving people in her life, she responded, "Boundless. As a lifelong animal lover, I am often overwhelmed by the emotional pull an animal can have on my heart. It's not just the expected cats and dogs for me, but any animal really." She continued, "I've had the opportunity to meet and work with many animal advocates as well. These folks are true heroes to me and truly make a difference daily. I'm talking about animal rescuers, veterinarians, vet techs, animal transporters, shelter volunteers, managers of feral cat colonies, or the resident in your building who's always asking you and the neighbors 'Is that your cat? Does it need a warm bed or food?' All of these folks and more have proven to me that humanity's compassion for animals is immeasurable."
Her love of animals and respect for the people who take care of them belies the fact that some people are, indeed, not so nice, and to be blunt – are irreparably cruel. But, in Chris' world, the animal always comes out on top. Such is the case with her most emotional project so far – Kristin and Gloria. (Because we are such animal lovers – spoiler alert – Gloria is glorious.) "One project that will always hold a special place in my heart is a portrait I painted of Gloria. Gloria began her life living outside at the end of a chain in rural Missouri. She eventually came into contact with a man who shot her in the face. Down a long road of surgeries, rehabilitation, and love, Gloria found her forever home with Kristin. Gloria is now living her best life with Kristin."
"All his life he tried to be a good person. Many times, however, he failed. For after all, he was only human. He wasn't a dog."
– Charles M. Schulz
Featured in the April 16, 2022 issue of The Independent.
By Anne Potter Russ
To learn more about becoming a member of the Association of Fundraising Professionals, Greater Kansas City Chapter, please visit afpkc.org. The Independent is proud to be the exclusive media partner of AFPKC.…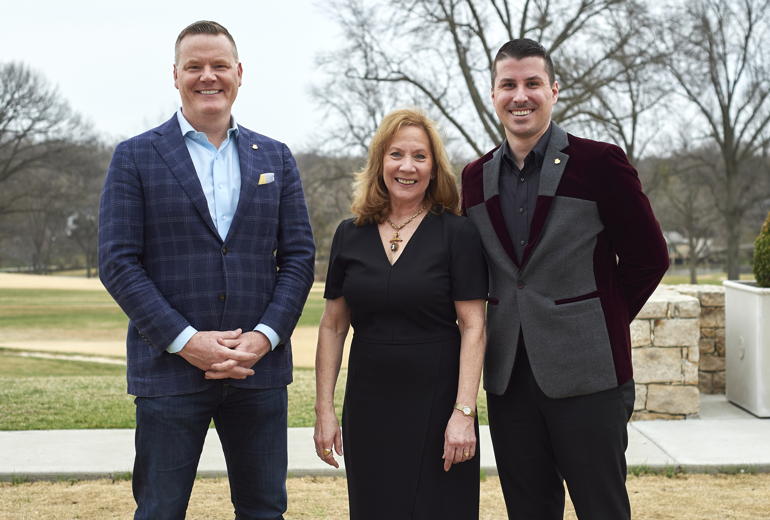 Mission Hills Country Club was the site for a Benefactor Party for Stanislav and Friends: A Benefit for Park University's International Center for Music. Park International Center for Music student…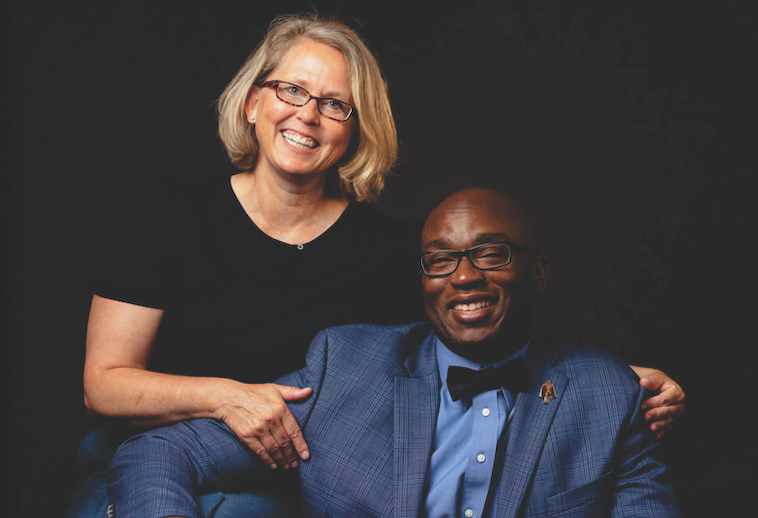 September 17th is the date for Johnson County Library Foundation's 2022 Library Lets Loose event, which will be held at the newly-renovated Central Resource Library. Senia and Will Shields will…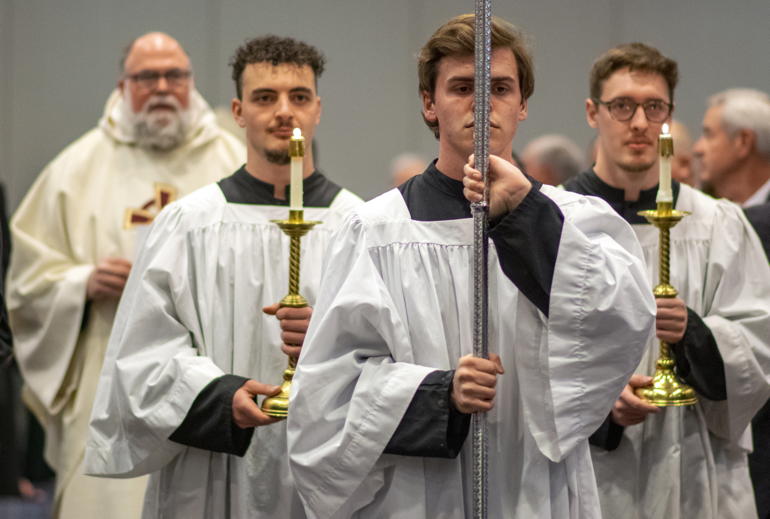 The Overland Park Convention Center was the site for Benedictine College's 50th Annual Scholarship Ball on February 26th. Colleen "Cocoa" and Kevin O'Malley and Lené Westerman served as the co-chairmen.…