Art Scene – #AAPI TRAILBLAZER: Allan Chow
Need some color? Explore Allan Chow and explode the senses with the most delicious palette knife layers of luscious hues and contrasts that invite the soul to jump in and play. Dive into the Flint Hills with the sun, the grass, the fires, the rebirth, the storms – it's all there. Desire something a bit more urban? The normally ubiquitous Western Auto sign and the Broadway Bridge are veritable vacation destinations on these canvases. The Kauffman Center for the Performing Arts is absolutely glowing, and the Missouri River through Allan's eyes is gorgeous and tempting, enticing, and blue. Allan's talent and technique immerse the audience in the pool of color, and the audience can't wait to become engulfed in his world.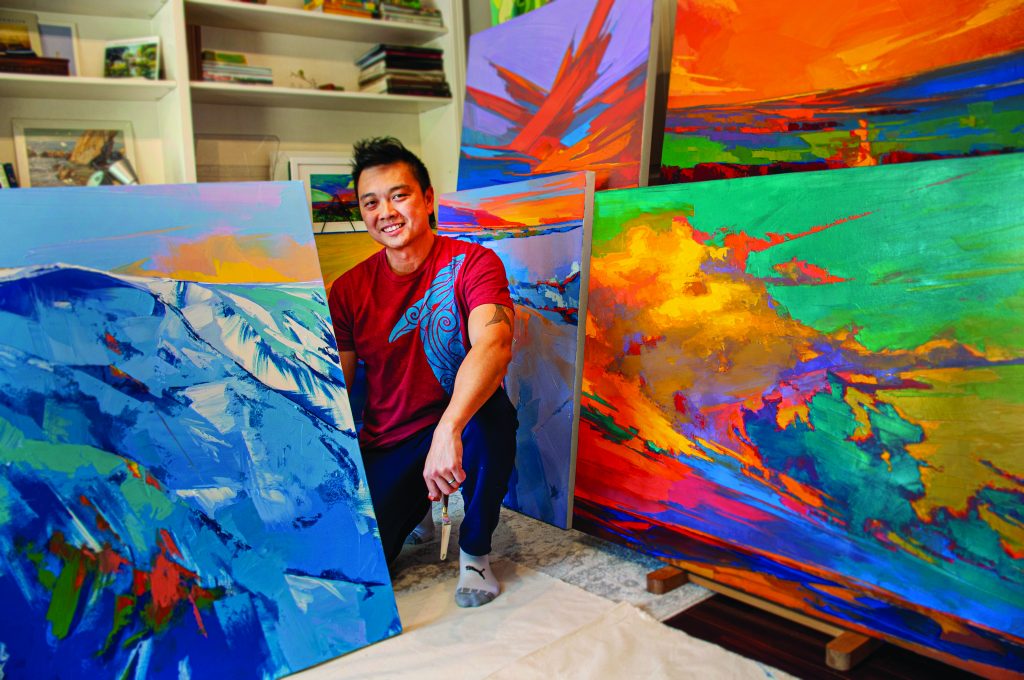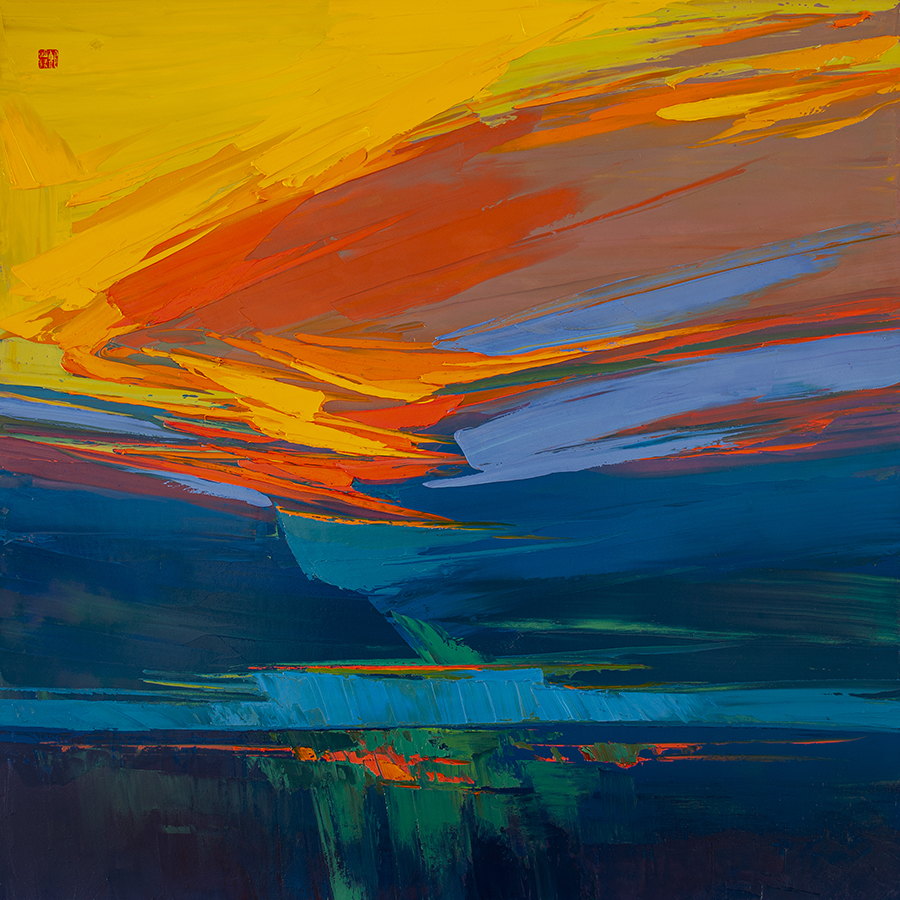 ---
Born and raised in Kuala Lumpur, Malaysia, and living and working in America, Allan's artistic sensibilities are clearly influenced by both his Malaysian and stateside environs. Blending cultures turns out to be more difficult than blending his intoxicating colors. Being transplanted as a 13-year-old from Malaysia to Austin, Texas, with his two younger brothers presented a challenge for the young artist. Allan's father had received a work opportunity in Austin, and his parents felt like it was a great chance for their sons to receive a western education. While that may have been true, the social and emotional price of relocating took its toll on Allan. But, despite the teen angst, he was lucky to have an art teacher in high school who served as a mentor for the budding artist. 
The budding artist had an innocent enough beginning to his quest. According to Allan's memory, "I remember when I was five standing in my living room and hovering over my mom's shoulder looking at an ad for art classes in Malaysia. She signed me up and I attended every Sunday until I was about 12. I believed my teacher, who was an incredible Chinese calligrapher and artist, made a positive impression on me and inspired me. I grew up in a country where pursuing a career as an artist is not encouraged."
Fast forward to the art teacher in Austin, and he made a recommendation to Allan and his parents to take a look at The Kansas City Art Institute. Starting at KCAI in 1987, he spent four years earning his degree as an illustrator. But … his heart was anchored in the thought of displaying his fine art in galleries and shows. Having created a portfolio of sorts with works depicting scenes from Malaysia, he wanted to pound the pavement, so to speak, and get discovered in Kansas City's rich artistic incubation scene. The only problem with that dream was ensuring his ability to stay in the States with a green card. Existing on random shows and gallery stints will not satisfy the requirements.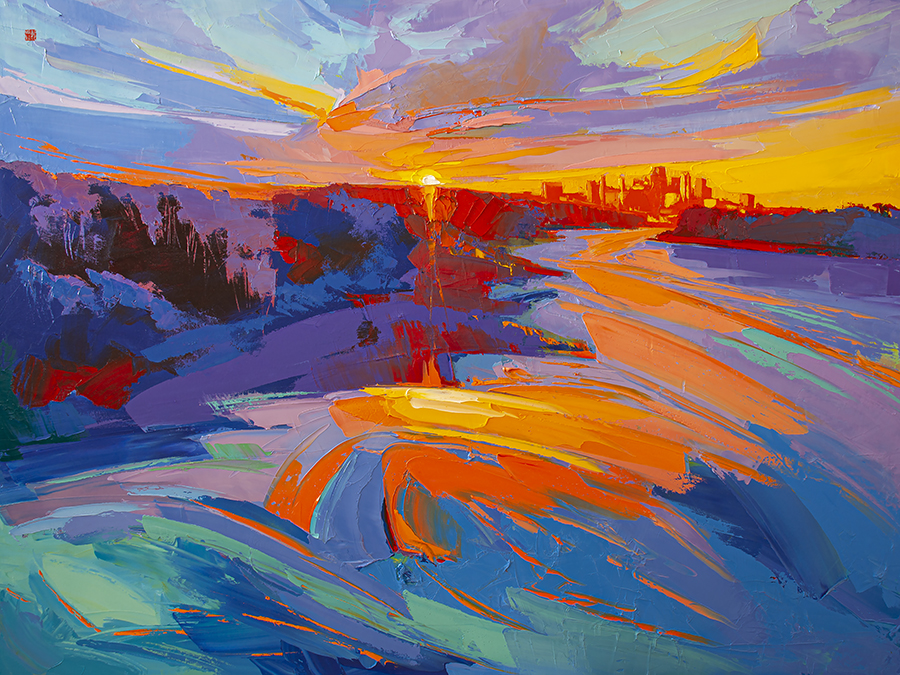 ---
To that end, Allan spent time learning graphic design in order to obtain a job with Grand Communications. While that didn't last long, it gave him enough time to make the contacts to be represented by Prairiebrooke Arts – an association he still is proud to have. This partnership led to Allan being a self-sustaining artist with his works being in the collections of H&R Block, the Kansas City Chiefs, Russell Stover Candies, the Kauffman Foundation for the Performing Arts, and The University of Kansas Medical Center, among others. 
After a stint in Portland, Oregon, he and his wife and children now live and work in Houston, Texas. He is able to keep Prairiebrooke Arts well-supplied by bringing pieces in person, while his wife visits family in the area. Oregon residency coincided with the pandemic, and again found Allan struggling to make ends meet as an artist. The relocation to Houston, was, "… because we found a diverse community where we want to raise our children and the cost of living in Texas is much less than Oregon. Looking back, moving to Texas allowed our children to resume school quicker (post-pandemic), which gave us time to focus on regaining stability in our careers."
The settled, happy Allan Chow is evident in his work. No matter his current location, he is clearly able to preserve and recreate extraordinary memories that turn into audacious and vibrant works. We could be very happy and settled, ourselves, gazing into the Flint Hills as Allan sees them. 
Featured in the May 13, 2023 issue of The Independent.
By Anne Potter Russ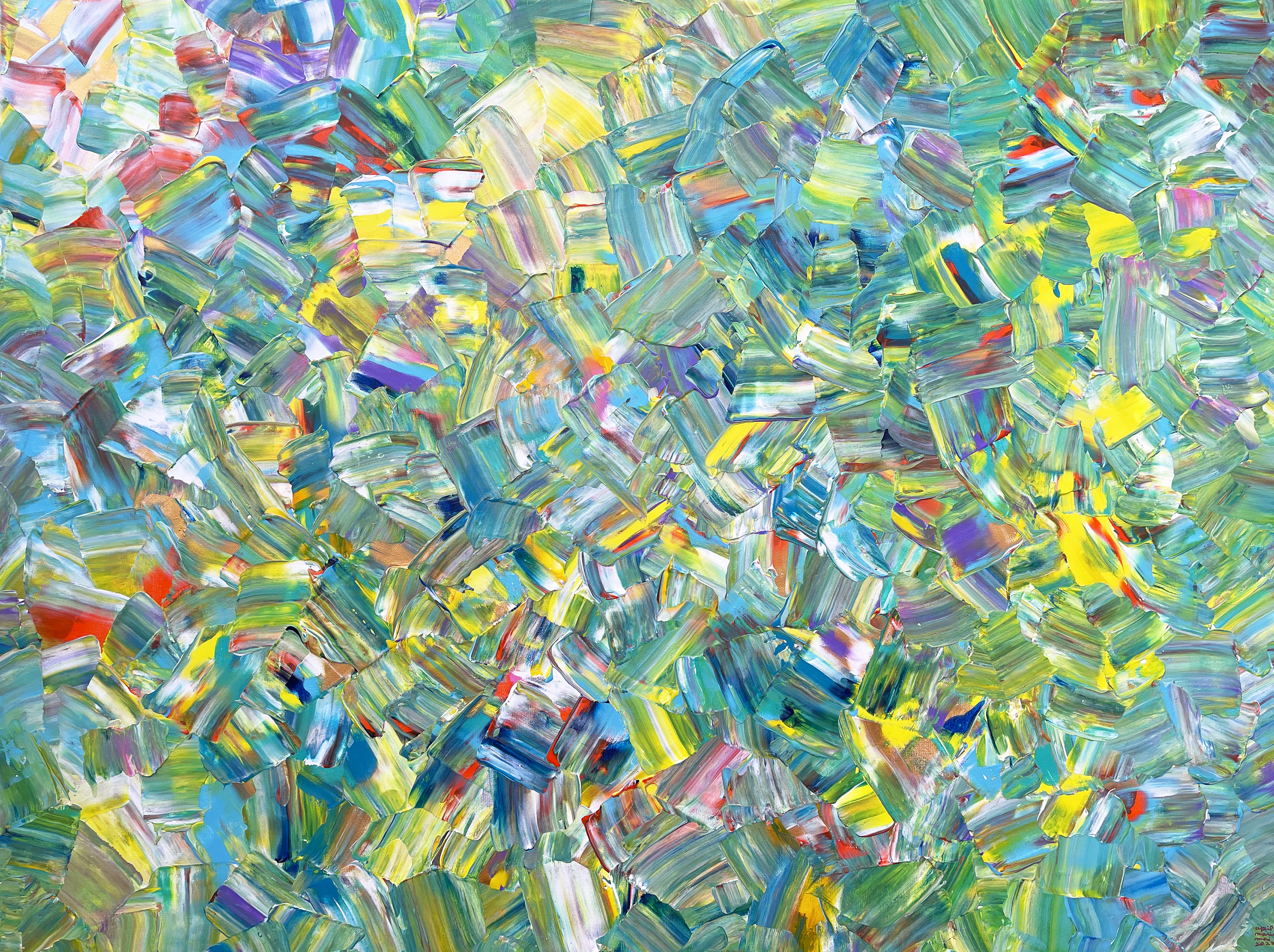 We are all so magnificently different. The recent trend seems to be the wielding of differences to pry people apart. It seems like a much better use of time to…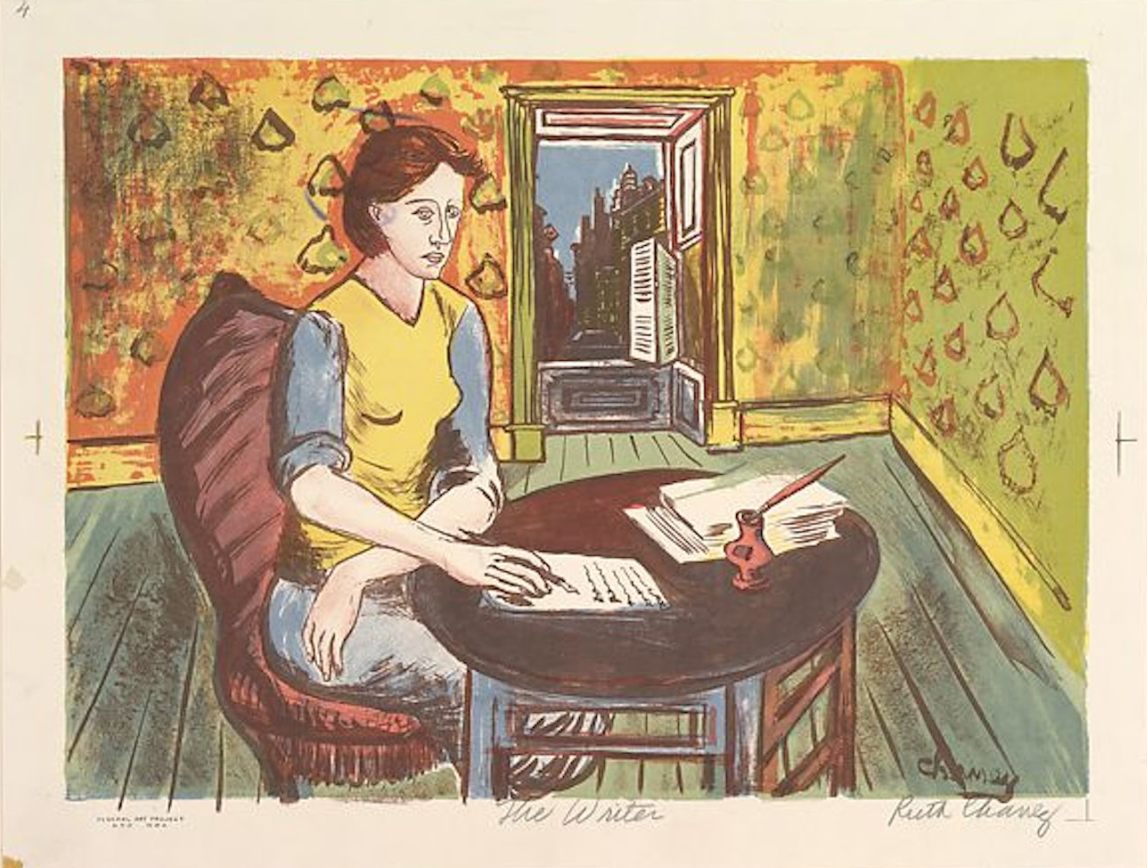 Never underestimate the power of a hungry, talented, artistic woman on a mission. What strikes us as we learn more about these mavericks, is the sheer length of each of…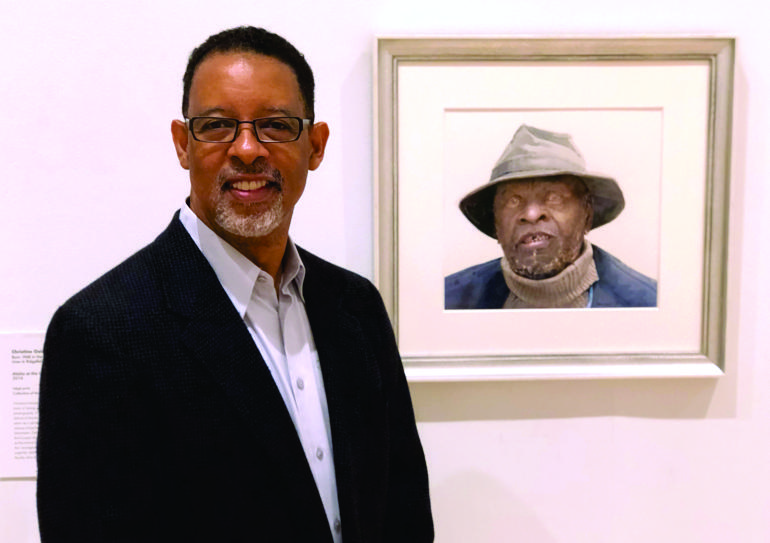 Peaceful, quiet, contemplative, witnessing – all descriptors of Dean Mitchell's art thoughtfully created in a variety of media. Whether this prolific, powerhouse artist is working in oil, watercolor, or acrylic,…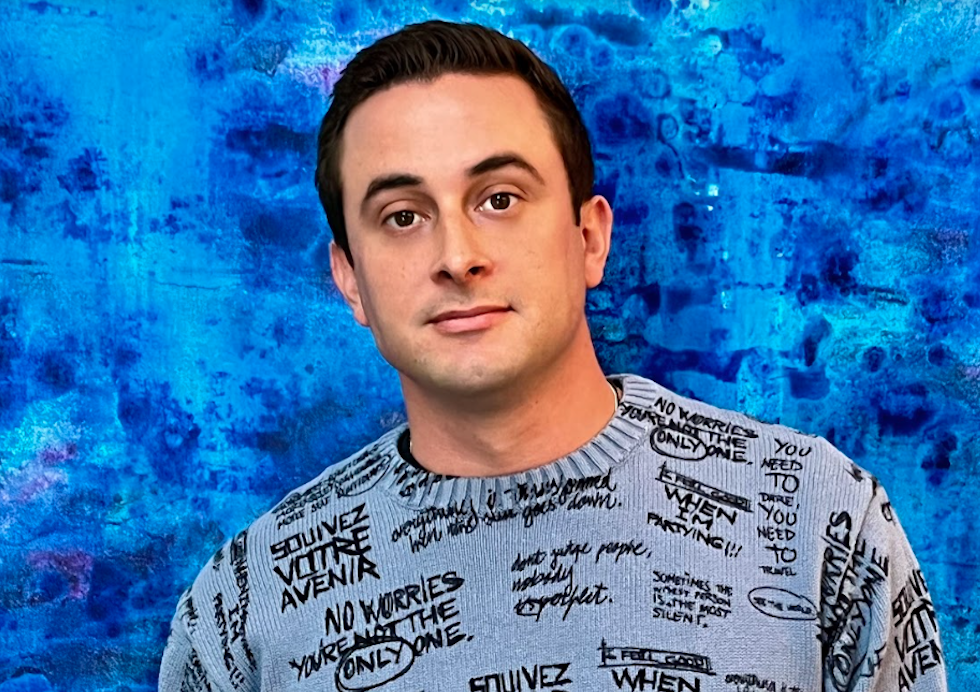 Homegrown and brilliant, Designer and Artist Brady Legler might be the most significant creative export from Kansas City in the last few decades. While he calls New York home now,…