Culinary Curiosity – Mattie's Foods & The Fix
Beginners, be not afraid! Neophytes, knowledge is everything! Bravely go where others have tread and embrace the new, the tasty, the vegan. The land of all things vegan doesn't mean that beef must be banished, it just means that eating a plant-based meal or two can be pleasant, nay – delicious! For those committed to a completely vegan way of life, there are two delightful additions to the food landscape in Kansas City. For those who have worried that quality and taste might be an issue, these two local establishments won't let you down. 
Mattie's Foods is located on 63rd Street right off of Holmes Road with a bright storefront, yellow banners, and garage doors for great weather (not like the 12 degrees we had!). Finding a brightly painted leafy mural on the wall and warm greetings, we dove into the menu.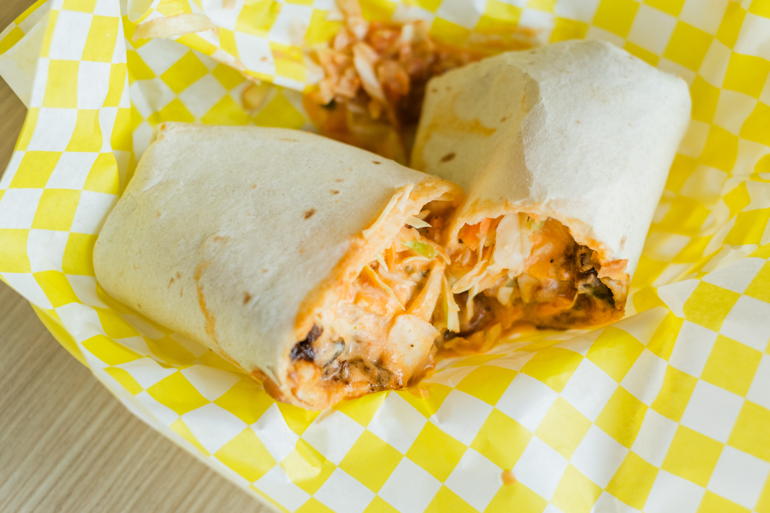 Before we tempt the taste buds, let's talk protein. Sans meat, there are a few popular offerings in the protein department, and both of the restaurants we visited took advantage of being creative with protein. First, the surprise substitute for rookies is the jackfruit. The jackfruit is a species of tree in the fig, mulberry, and breadfruit family, with its origins in southern India and the rain forests of Malaysia. In its young state, the fruit has a consistency of pulled pork and can be flavored to be savory and included in many typical meat dishes such as sandwiches, tacos, nachos, etc. (Once the jackfruit is ripe, it takes on a sweet, fruity flavor and texture.) Second is the ubiquitous tofu, which can be fried, flavored, chopped, cubed, etc., and is made from soybeans. And, third, is Seitan, which is hydrated wheat gluten, the protein source found in wheat. All of these proteins can be flavored to suit any style of cooking, as they are all quite versatile. 
Back to Mattie's menu – we chose from the lunch offerings (breakfast is served from 9 to 11 a.m.) and decided on Buffalo Mac, Load 'Em Up Burrito, and Cornbread. The Buffalo Mac was delicious with macaroni, Mattie's signature vegan queso, cashew sour cream, jackfruit flavored with a barbecue sauce, and some mighty Buffalo Sauce over the whole thing. A large portion, it can serve two or three people. The Burrito was equally large and equally delicious, with cabbage, cashew queso, pinto beans, and jackfruit all loaded in a flour tortilla. The cornbread was moist, sweet, and a great compliment to the barbecue and Buffalo Sauces. Even more interesting is the story behind Mattie's Foods of two sisters, Arvelisha Woods and India Monique, who named the restaurant after their grandmother, Mattie. The sisters were hairstylists who went on a fast as a part of their mission work, prayed for a lifestyle change, adopted being vegetarians, and finally excelled at vegan cooking. Being nacho-loving girls, their vegan queso is now quite famous, and quite delicious, and a staple for Mattie's menu. Their food truck can be rented, and their queso can be ordered online at mattiesfoods.com. 
The Fix resides at the corner of 31st Street and Cherry, and beckons guests with a bright green storefront. Being the sublime, hip neighbor, The Fix bills itself as a comfort food restaurant, and "just a good food resto." Their menu is quite large, and usually features specials, plus Facebook "off menu specials." Breakfast is hearty and choices include a fried breakfast burrito, pancakes, biscuits and gravy, and gluten-free offerings of oatmeal and avocado toast. We sampled from the lunch menu and chose a chicken sandwich that is housemade "chicken" with a secret recipe. Flavored with barbecue sauce, the taste and consistency were truly reminiscent of chicken and served with a hearty portion of crispy onion rings. We also chose a vegan burger, which was cooked perfectly and boasted a bean base. Served on a kaiser roll with romaine, tomato, and a paprika mayo, we inhaled it, in true burger fashion. The breaded and fried cauliflower bites in barbecue sauce were light, tasty, and honestly could have been a meal in and of themselves.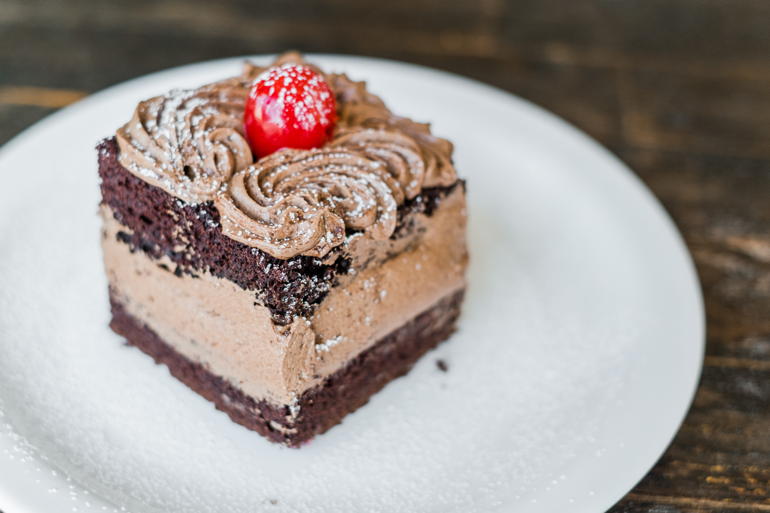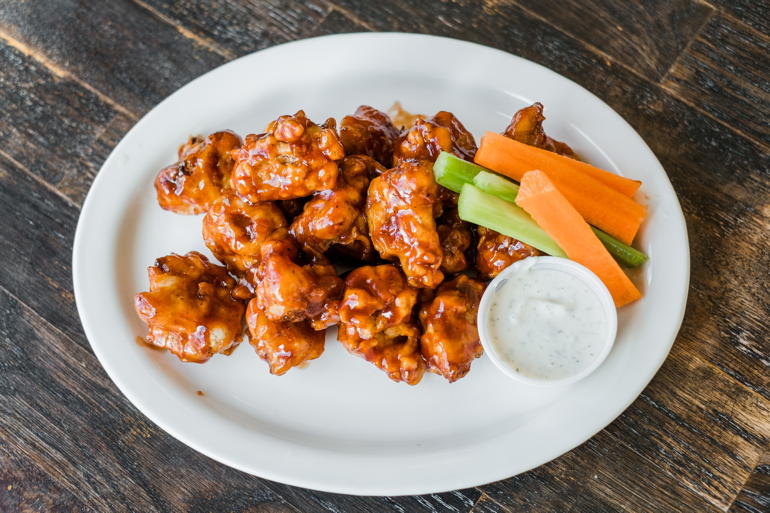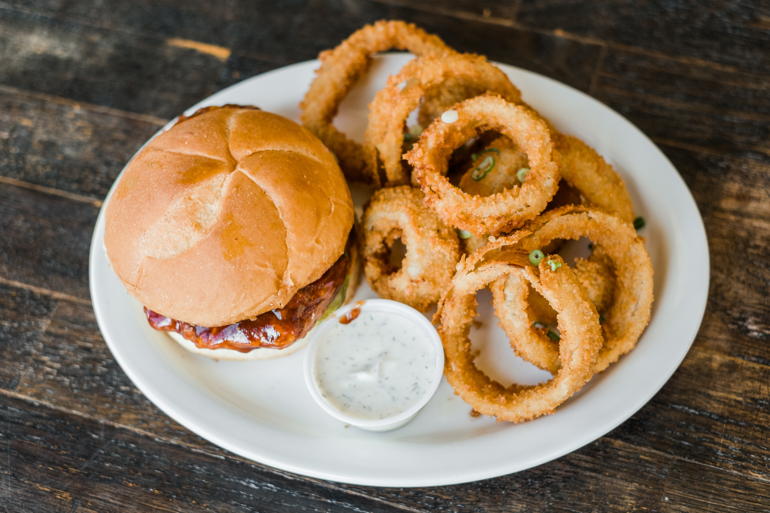 We splurged on dessert at The Fix, and found a chocolate cake with fluffy layers of chocolate icing. Unfortunately, we were too full to take advantage of their extensive beverage menu, which includes lattes, macchiatos, teas, kombuchas, Roasterie cold brews, and more. Still, a cappuccino would have been great with the cake! Equally unfortunate was that Owner Dave Swarts was not available during our visit, as he has been stuck in a foreign country during COVID-19. But, his absence is not hindering the staff from giving patrons their fix of delectable delights, which can also be ordered and picked up through thefixkc.com. 
These newly-minted vegan-appreciators will return to both of our new-found neighborhood nuggets very soon. 
Also featured in the March 6, 2021 issue of The Independent
Photo Credit: Bailey Pianalto Photography
By Anne Potter Russ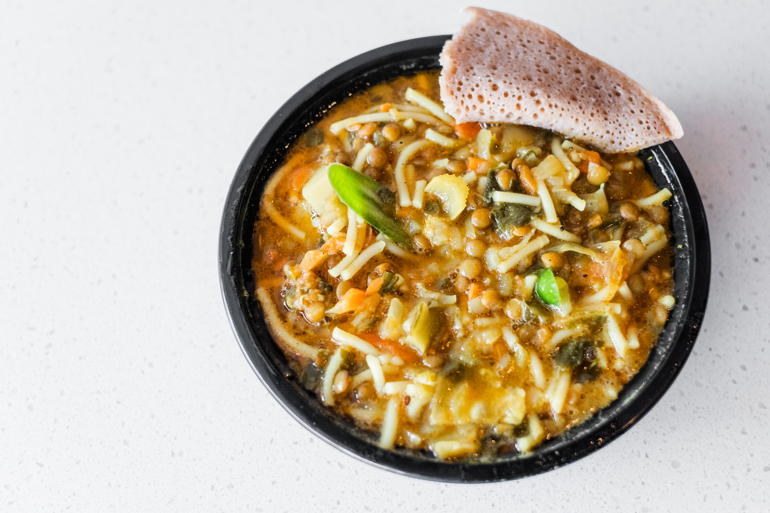 Some restaurants require diving in with both feet – or hands, as it might be in this case. Eating Ethiopian food is an intensely interactive activity, a community experience, and…
"All is right," is the Italian translation of the name Va Bene – the newest restaurant member of Corinth Square at 83rd and Mission Road. With Kristi Burns (formerly of…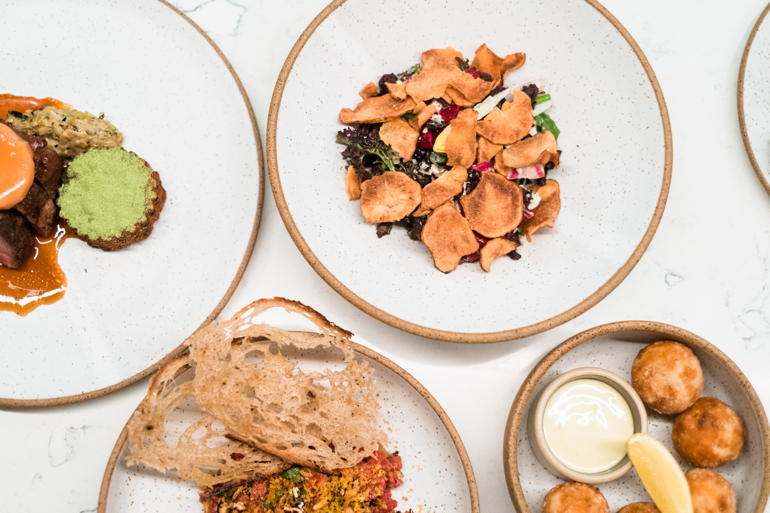 All good artistic endeavors start with setting the stage, appealing to all of the senses… immersion. Let's set the stage for The Town Company, the signature restaurant in the Hotel…
Let's start with a confession or a few. They had me at the name – Duck and Roll redefines clever, and I fell for it. Second confession: going to Duck…