DIVA DOGS: Local pets continue to energize Kansas City stages
Kansas City's canines have a message for audiences of theater, opera, and dance: We are ready for our closeups. Some might ask, Why put a dog on the stage in the first place? But perhaps the real question is, Why do we do it so seldom? Think about it: Dogs love people, they love adulation, and they feed off the excitement of those around them. And most disconcertingly for theater artists, they can memorize stage blocking with nearly as much precision and accuracy as their two-legged colleagues.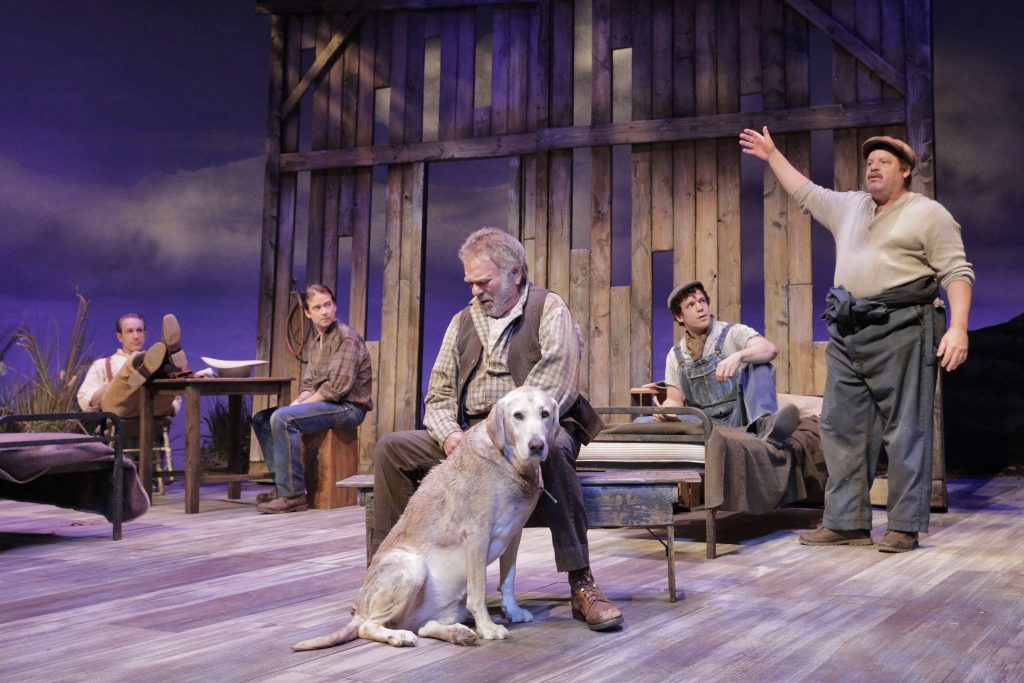 "They are aware that they're doing something special for their humans, for their people, and that it is repeated on a nightly basis," said stage and screen veteran Manon Halliburton, who over the years has lent out two of her beloved canines for local and regional theater. "So it's like training."
Molly Halliburton, a purebred yellow Labrador adopted from the Friends of Parkville Animal Shelter, made her stage debut in the Kansas City Repertory Theatre's Of Mice and Men in 2018. She knew her blocking and was attentive to her colleagues and her surroundings. "She was so good," said Manon, sounding every bit like a proud stage mom. "She did everything she was supposed to do: She came in, she laid down next to Rusty (Sneary), she was a rock star."
Dogs are, of course, aware of an audience, even on opening nights when they are confronted with a crowded theater for the first time. "They know there are people out there," said Manon, who mourned Molly's passing in 2021. "They can smell them, they can see them." Molly's performance actually improved during the play's run, which is not unusual for stage animals. "It was repetition, it was consistency," Manon said. "She was a well-trained dog who knew basic obedience."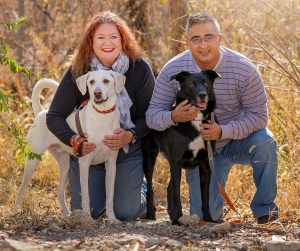 And therein lies the rub: Dogs, like human actors, require education and obedience training. With the right preparation, there is almost no limit to what they can do.
Tracy Davis-Singh, the Lyric Opera's director of production, learned this when she "cast" her Murphy in the company's La traviata last year. In Director Francesca Zambello's version of Verdi's Act II, Alfredo and his companions have just come in from a hunting expedition, so it seems natural that he has a Labrador/Border Collie/Husky mix at his heel.
"Murphy is just a confident dog," said Tracy, who together with her husband, Amit, adopted the 12-week-old from the Great Plains SPCA in 2013 and honed his skills at Mike Deathe's Keep It Simple Stupid (K.I.S.S.) and Northland Agility. "I was able to hand him off to the singer who was to enter with him," she added, "and then go out of eyesight so I wouldn't be a distraction."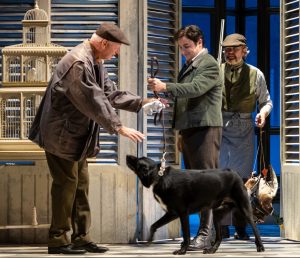 Murphy "had no problem being on a leash with another person … and walked his path until the super brought him to the other side of the stage. He was pretty chill through the whole process."
Theater productions find canines through a variety of means. Frequently, a cast or staff member will have a pet who is well-behaved and even stage-ready. Actor Jan Rogge's Buster, for example (an adorable Cairn Terrier mix), has been in a number of productions at Heart of America Shakespeare Festival, where he hardly needs coaching at all.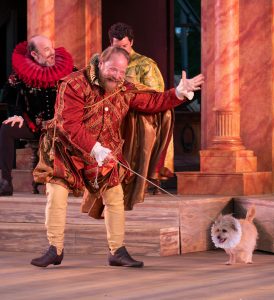 But sometimes a company has to hold "auditions" for the right dog, as in the Lyric Opera's 2008 La Bohème, which called for a "toy dog" for Musetta to hold during her Act II aria "Quando m'en vo."
"The director wanted Musetta to enter with a little dog that could fit in her arm," Tracy said, "and we had four or five dogs come to that audition."
If you have ever stood next to an opera singer when he or she is projecting full-force into a large theater, you know how deafening it can be. "We had the soprano hold the dog and sing really loudly," Tracy said, "to make sure we found a good, calm dog that didn't freak out."
Occasionally a production calls for a specific breed, one that might be a bit outside the ordinary. When the Kansas City Ballet first presented the ballet Giselle in 1999, the production team was charged with finding a pair of very large wolfhounds. "My mouth dropped open," said Amy Taylor, the Ballet's veteran director of production. "And I said, Where am I going to find these dogs? And [Ballet Master] Karen Brown was very specific about what she wanted. So I started the hunt."
It has become a tradition in productions of this 1841 ballet to bring on at least one large Borzoi or Irish Wolfhound, using these magnificent breeds as a means of conveying Albrecht's regal blood. The Ballet has continued this tradition in every Giselle since, most recently in the production that opened the current season.
And as it turns out, there are local sources for Irish Wolfhounds, which has become the norm here. This year the Ballet reached out to Denise and Tony Ortbals, partly because the "wolfhound community" knew about Tomas, the Ortbals' huge, strikingly handsome hound.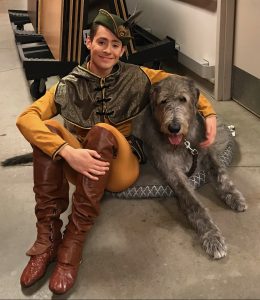 "Originally they wanted to use two dogs, one on each side," said Denise, who made sure she had prepared a second animal just in case. But because of Tomas' size (190 pounds of pure muscle), the company decided he would be more than enough for dancer Gabriel Lorena to handle.
"Tomas is very well leash-trained, and he does take commands pretty well," Tony said. "But it takes quite a bit of experience to handle a wolfhound."
Denise spent a great deal of time preparing Tomas for his moment, "playing the music day after day, so that he would get comfortable with it, and sometimes dancing around the living room myself, so that he could get used to people dancing around him."
Audiences will not soon forget Tomas' attention-grabbing performance. "People just loved it," Amy said. "Every night when Tomas came onstage, audiences just got really excited about it."
Partly there is the element of surprise. "If you've not been to the ballet, or if you don't really know Giselle… you're watching a ballet and then all of a sudden you hear the sound of the trumpets and people start walking out in big costumes and then there is this enormous dog. … It always gets a reaction. People just love the fun of it."
—By Paul Horsley
Front photo: Gabriel Lorena and Tomas posed backstage with Denise Ortbals, who said she fell in love with Irish Wolfhounds the first time she saw one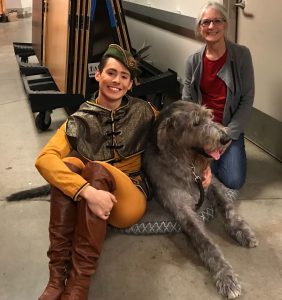 To reach Paul Horsley, performing arts editor, send an email to paul@kcindependent.com or find him on Facebook (paul.horsley.501) or Twitter/Instagram (@phorsleycritic).
Some of the most extraordinary inventions are born almost inadvertently, on the way to creating something entirely different. Even the Slinky was the byproduct of industrial springs manufactured to protect…
Enjoy the best of Kansas City's thriving arts landscape JUNE__________ June 2-4: Kansas City Symphony; Michael Stern conducts Mahler and Montgomery; Superstar Soprano Julia Bullock performs Jessie Montgomery's newly commissioned…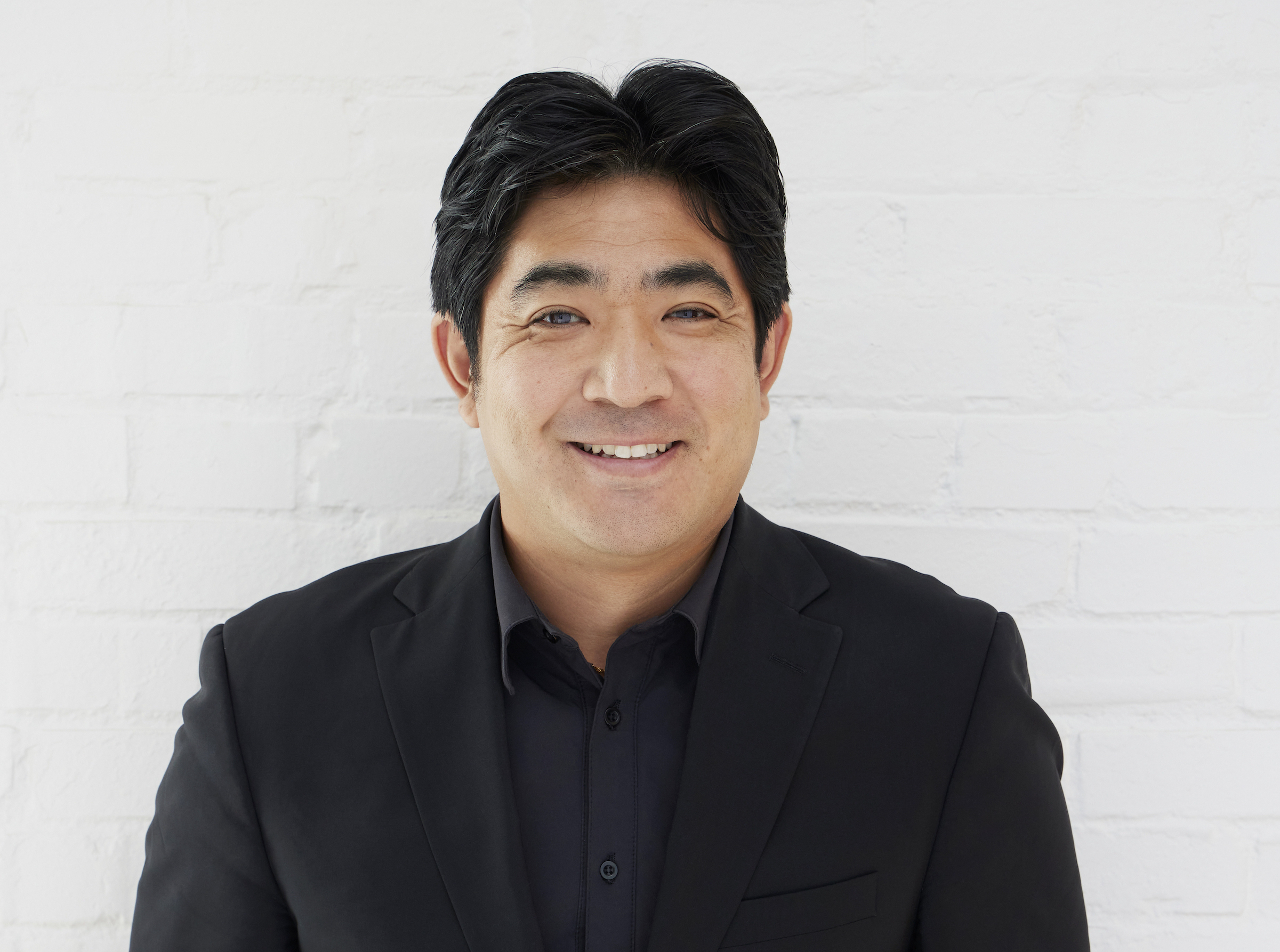 If you grow up in a home with a celebrated pianist for a mother and a world-renowned cellist for a father, there's a pretty good chance you'll at least consider…
There are many roads to a theater career. Andi Meyer prepared for her profession by way of several traditional routes: She studied theater as a teen in North Dakota and…