Fountains In Our Town – The Children's Fountain
Anita B. Gorman, a resident of the Northland, became the first woman to be a member of the Kansas City, Missouri Board of Parks and Recreation Commissioners in 1979. She served as its president from 1986 until 1991. One project dear to her heart was the creation of The Children's Fountain in North Kansas City. The plans were announced in December 1990. The Missouri Highway and Transportation Department donated the site. The location is a triangular area of five acres at the intersection of three streets in North Kansas City: North Oak Trafficway, Burlington Street (Missouri Highway 9), and Northeast 32nd Street.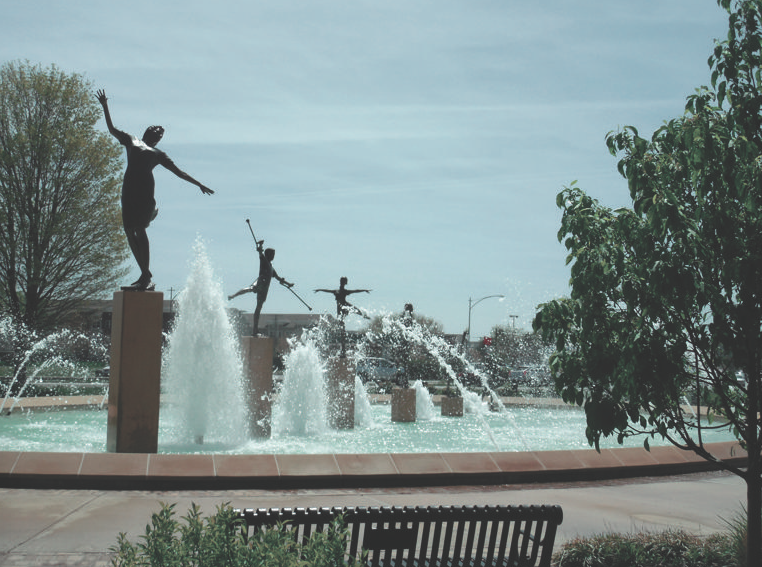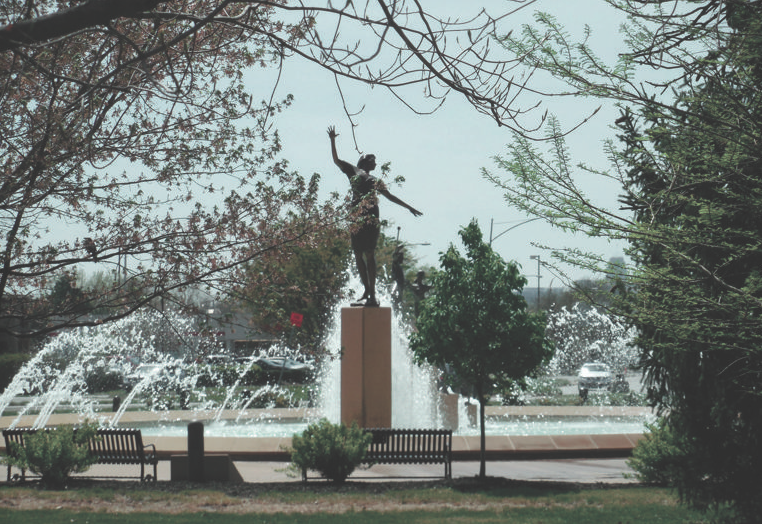 Charles Garney, the head of Briarcliff Development Corporation, served as co-chairman of The Children's Fountain executive committee with Anita. They oversaw a committee of about 50 members, including their spouses, Patty Garney and Gerald Gorman. Marli Murphy, a Kansas City Star columnist, viewed the property with Anita and Charles before the work started. Several years later, she wrote: 
"I admit I had serious trouble visualizing the finished product, what with traffic rushing by us on two sides, a brambled thicket of overgrown trees sprawling across one end of the site and little room for parking.
"The most gnawing concern in my mind, however, had nothing to do with traffic or parking or scraggly landscaping, and everything to do with the location. Would citizens – both private and corporate – be willing to donate more than $1 million to build a major fountain in a place many area residents think of as uninhabited prairie across the Missouri River, somewhere between Worlds of Fun and KCI?"
Contributions were solicited from a variety of sources. The Kansas City Star quoted Anita as saying, "We need more money!" People living in the Northland were especially urged to donate. Some companies volunteered their services. In an effort to encourage donations from individuals, commemorative bricks were sold. Purchasers could have them inscribed and then placed along the walkways. In all, the costs totaled approximately $1.7 million dollars.
The talents of many professionals enhanced the making of The Children's Fountain. Lorie Doolittle (now Lorie Doolittle-Bowman) of Theis Doolittle Associates was the architect. (The firm, which is now known as BBN Architects, received a Cornerstone Award from the Kansas City Economic Development Corporation in 1995 for its work on the project.) The contractor was Bruce E. Anderson of J.E. Dunn Construction Company. David Schwartz of Larkin Associates was responsible for the engineering. (Larkin merged with Lamp Rynearson in 2013.) Mark L. McHenry, then the deputy director of the Kansas City Parks and Recreation Department, was the project executive.  
Tom Corbin, a prominent artist based in Kansas City, was hired to create the bronze sculptures depicting children. "I had worked with Anita Gorman on the Firefighters Memorial in 1990. From that relationship, she approached me about The Children's Fountain in 1993. Upon receiving the commission I arranged for children from the Northland to pose for the sculptures. It made sense considering the location. Secondly, I designed the fountain in a linear fashion vs. the more traditional circular form. The juvenile figures appear to be playing follow the leader behind their adult counterpart. Simply, a celebration of young lives," Tom recalled recently. (At the time that he was working on The Children's Fountain, his studio was located in the River Market area. In 2009, Corbin Bronze moved to a former firehouse in the Rosedale neighborhood of Kansas City, Kansas.)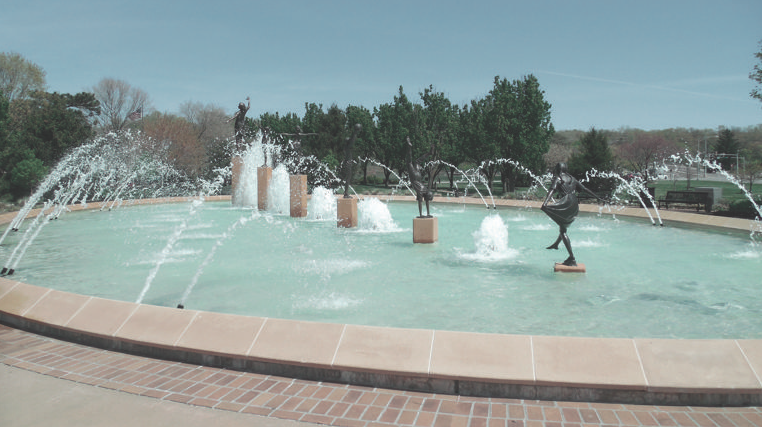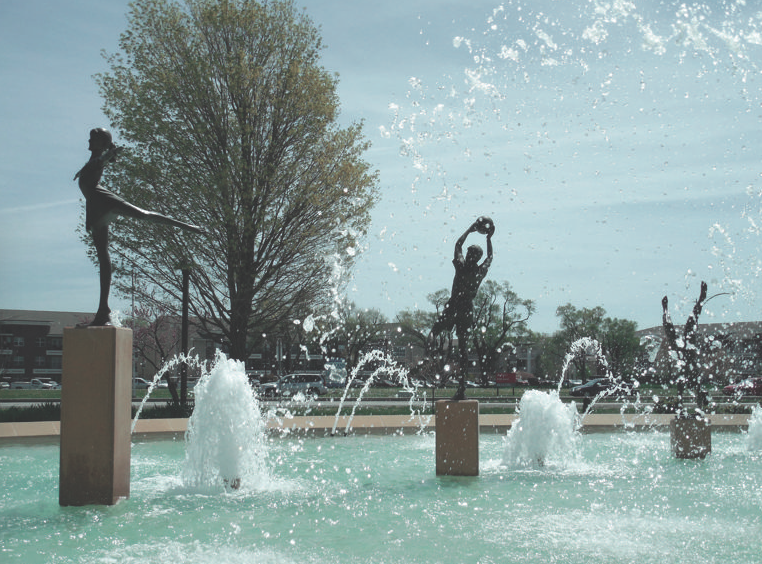 Tom created six statues for The Children's Fountain, all of them larger than life. "The bronze figures represent children everywhere to whom this fountain is dedicated and the activities that shape young lives making childhood a joy," the dedication plaque states. "Joy," an adolescent girl, was a gift from Patty and Charles Garney, and was inspired by their six daughters. Tom's model for "Girl Wading" was Aubree Collins, whose father, Paul Collins, was a park district manager. "Girl Wading" was donated by the Clay County Fine Arts Council. Jill James Skjervem, daughter of Mr. and Mrs. C.G. James, was the model for "Ballerina," which was given by Boatmen's First National Bank of Kansas City. Susan L. Perry gave "Soccer Player," and Tom McClung was its model. "Meeting Challenges," a boy with crutches, was donated by the Victor E. Speas Foundation, administered by Boatmen's First National Bank of Kansas City. "Handstand Boy" was a gift from Kansas City Southern Industries as "A tribute to all children." (While several of the models are identified on the dedicatory plaque, no names are recorded for "Meeting Challenges" and "Handstand Boy.")      
The groundbreaking ceremony was held in April 1994 and included a performance by the North Star Brass Band. June 21, 1995 was the date chosen for the dedication. The event was held at 7 p.m., following an hour-long party for children. Officiating were members of Kansas City's Parks and Recreation Board: Ollie W. Gates, president; Anne Garney, daughter of Patty and Charles Garney; and Sheila Kemper Dietrich. Anita Gorman, then president of the City of Fountains Foundation, drew praise from many for her steadfast devotion to the cause – and was spotted helping with the clean-up at the end of the evening.   
The Kansas City Star noted of the 60' x 100' elliptical fountain, "The two-foot-deep basin with 4,800 square feet of surface area holds 72,000 gallons of water. Pumps can send 5,600 gallons of water a minute through the nozzles and give the image of children skipping on water."
Bill Graham, writing a commentary for the Star, provided a detailed description of the new fountain and the area around it:
"Six bronzed boys and girls gleefully hop, skip and handstand their way across an aquatic playground. Nearby are brick walkways, benches, some older pine trees and some plantings of new trees and gardens.  
"Best of all, I like the sound. 
"A constant gurgle and whoosh brings an enchanting calm. When the garden and shade trees are fully grown, it will be a mesmerizing place." 
As the years passed, it was clear that Bill Graham's words had come true. The Children's Fountain turned 21 in 2016. At that time, the fountain and statuary had just undergone restoration, thanks to funding from the City of North Kansas City, Missouri, Perry Foundation, Waddell and Reed, Cerner Corporation, City of Fountains Foundation "Wish Upon A Fountain" Campaign, Kansas City, Missouri Board of Parks and Recreation Commissioners, J.E. Dunn, Construction Services, and Taggart Objects Conservation, Sculpture Conservation. A party was held on June 21, 2016 – and yes, there was birthday cake.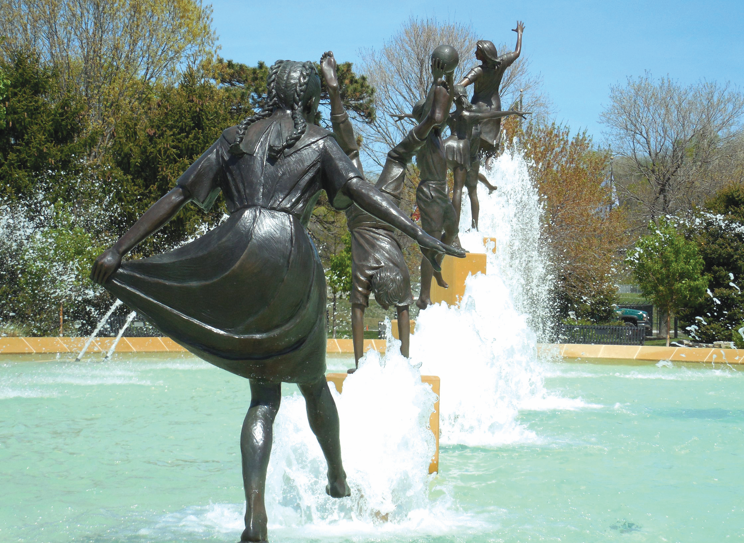 Acknowledgment: With special thanks to Ann McFerrin, Archivist at Kansas City Missouri Parks and Recreation, for research and editorial assistance. 
For further reading:
* Bellinger, Beverly. Tom Corbin Continued. Kansas City, Kansas: Corbin publishing, 2019.
* Bellinger, Beverly and Dana Self. Tom Corbin The Inevitable Artist. Kansas City, Missouri: Corbin Publishing, 2006.
* kcparks.org
* kcfountains.com
Also featured in the July 25, 2020 issue of The Independent
Photo credit: Bradley Cramer
By Heather N. Paxton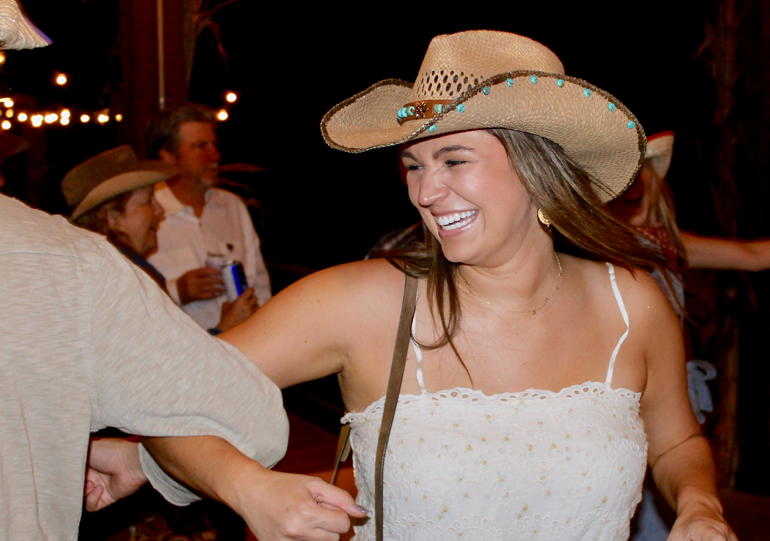 BOTARs and Escorts enjoyed a delightful fall evening at Faulkner's Ranch on October 1st. Partygoers enjoyed a sumptuous barbecue dinner, line dancing, square dancing, and bull riding. Bridget and John…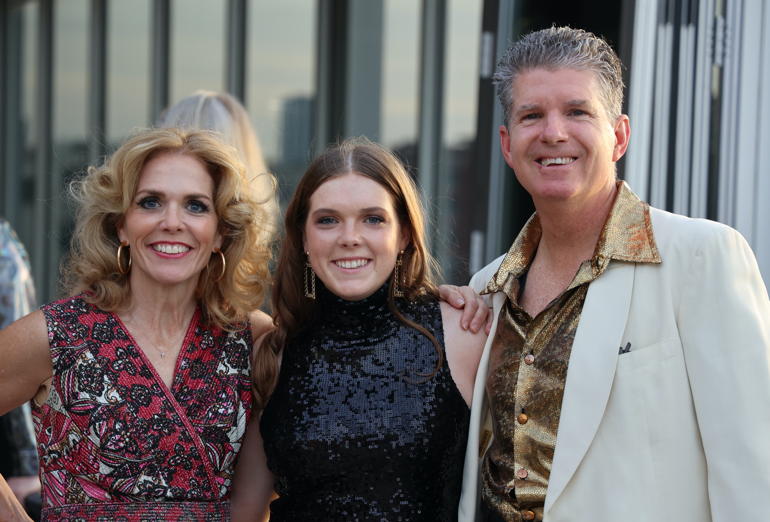 The Lead Bank Rooftop in the Crossroads was converted into Studio 54 for a party hosted by BOTARs Meg Burditt, Anna Harding, Tyler Lockton, Bonnie Longan, Maddie Mann, Claire McCann,…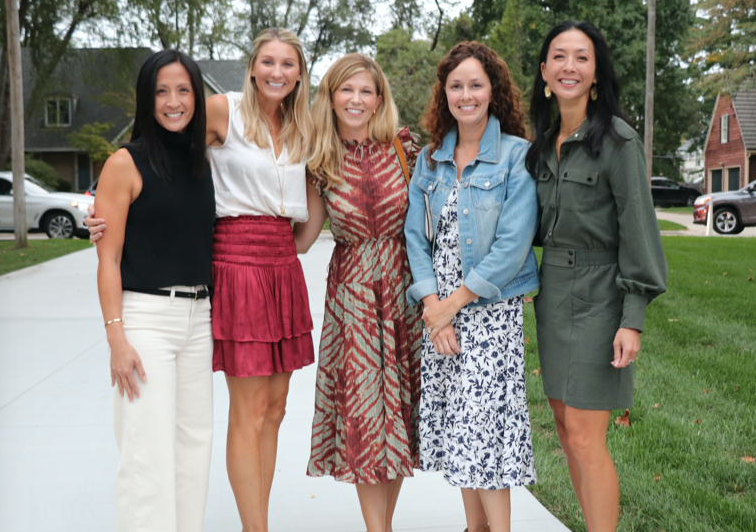 The Gathering is an annual event, now in its ninth year, that benefits Catholic Charities of Northeast Kansas' program, New Roots for Refugees. October 5th was the date, with Missy…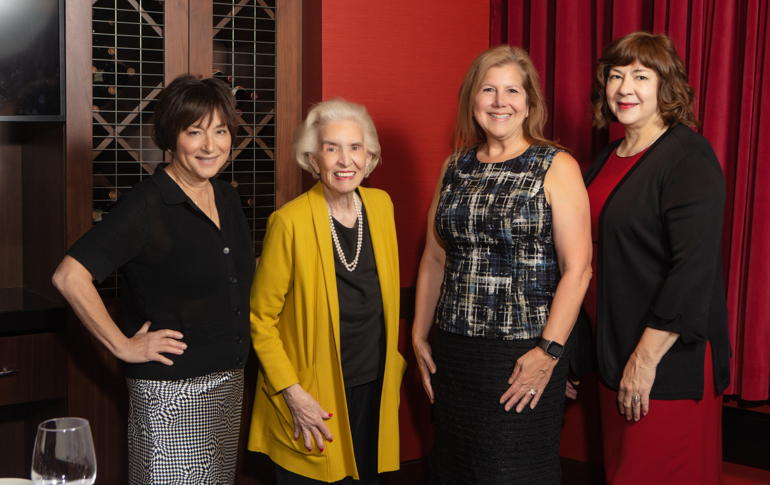 The Lyric Opera Circle's Fall Luncheon was held at The Capital Grille on October 6th. Mary Leonida, Circle president, and Ann Nigro were the co-chairmen. Deborah Sandler Kemper, Lyric Opera…