Fountains In Our Town – William Volker Memorial Fountain
William Volker was born in 1859 in Germany. He came with his family to the United States in 1871, and he settled in Kansas City in 1882. A newspaper advertisement from January 1889 shows William Volker & Co. at 602 and 604 Delaware Street. The firm announced itself as "Headquarters for Mirrors, Picture Frames, Etchings, Engravings, and Picture Stock of all kinds," with "Framing to Order." In later years, window shades and linoleum would be among the main products of the business. He made vast sums – and then made a point of giving much of it away, so quietly that he was known as "Mr. Anonymous."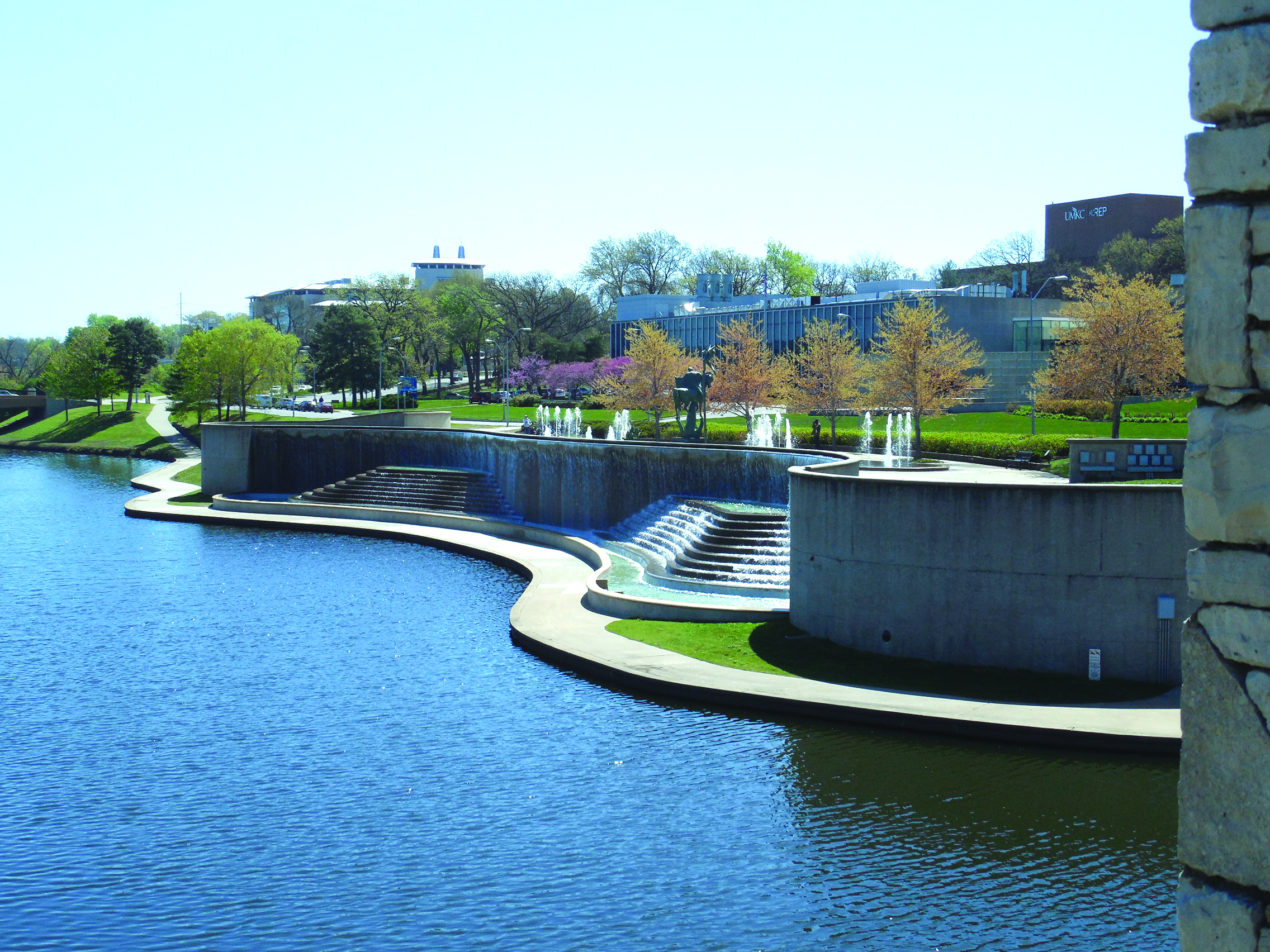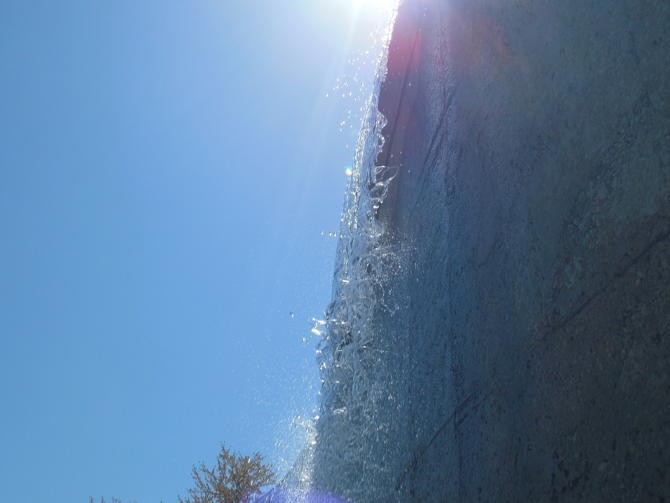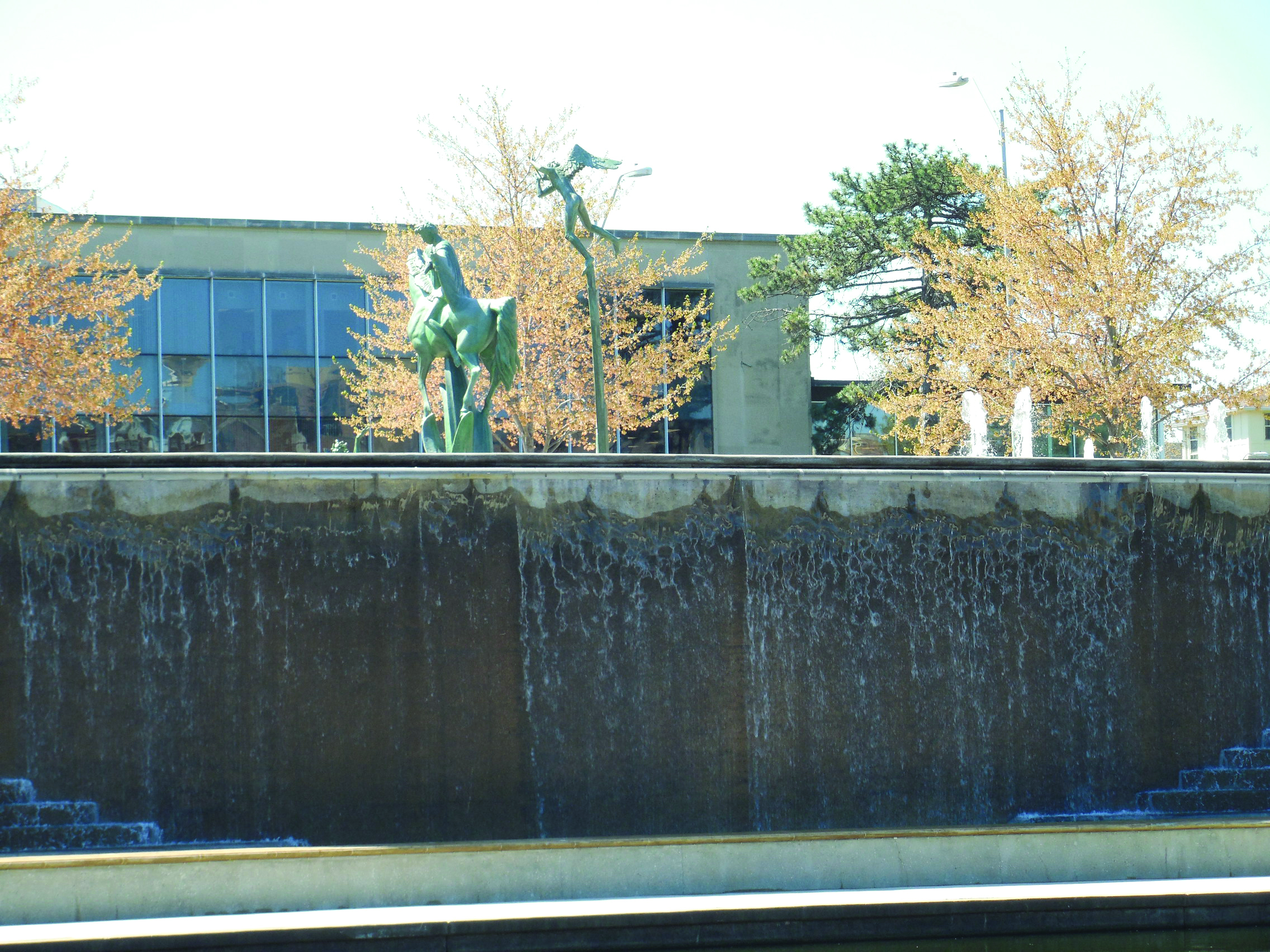 In 1889, William moved to a newly-built house at 3717 Bell Street, which became known as Roselawn. He remained there the rest of his life. Due to his importance in Kansas City history, Roselawn is now on the National Register of Historic Places. As the application noted: "It was estimated that Volker gave over one-third of his annual income each year of his life for charitable purposes, and, from 1911 until his death, he expended an estimated ten million dollars on philanthropy. In 1932, he established the William Volker Charitable Fund, which he continued to administer for the remainder of his life and which was to remain active for thirty years after his death." Through the years, family members lived with him, but he didn't take a bride until 1911, when he was 52. He married Rose Roebke, a longtime friend. It was reported that he gave her one million dollars – and intended to give away the rest of his fortune. 
After his death in November 1947, the Kansas City Times noted his words on his philosophy of giving: "We try to do something wherever the need arises. It is confined to no type of need. Long ago I learned that unemployment is not the only cause of distress." William joined the then new board of pardons and paroles in 1909. During his two-year term, he expanded the scope of its operations. It eventually became a public service agency, and he served as its president. He served for 14 years on the school board. His view there, as the Times quoted, was that "book learning was not enough, that the school's duty was to turn out men and women capable of making a living." William took on projects both large and small, ranging from providing students with milk, to setting up retirement funding for teachers, and to ensuring that a relief office stayed open for a few more months. Research Hospital, Children's Mercy Hospital, the Wheatley-Provident Hospital, and the Helping Hand Institute (now Goodwill of Western Missouri and Eastern Kansas) were among his beneficiaries. His generosity to the University of Kansas City (now the University of Missouri–Kansas City) included funding for the original campus and several buildings. For that reason, the school's main campus is called the Volker Campus. 
Within months of his death, planning was underway for a way to honor him. On January 25, 1948, a Kansas City Star headline trumpeted, "Majestic Fountains Of The World Inspire Planning For Volker Memorial." In 1950, Volker Boulevard was named in William's honor. The road was completed roughly a year later.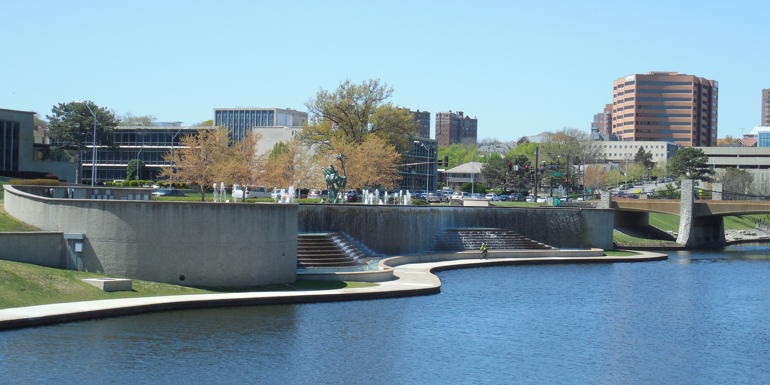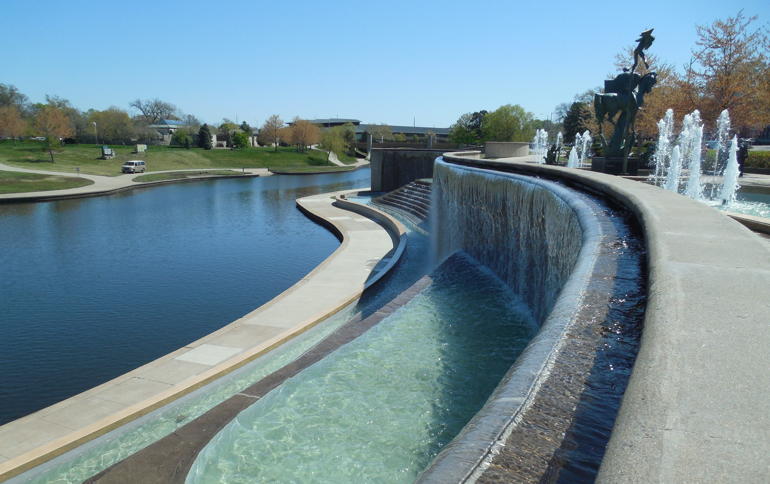 The Memorial project would take longer than expected. The Memorial committee selected Carl Milles, a prominent Swedish sculptor, to create the design. Carl visited Kansas City and chose the site for the placement of the Memorial. The location was south of the Nelson Gallery (now The Nelson-Atkins Museum of Art). The area was part of a plan envisioned as a "Cultural Center park development," which included the Nelson Gallery, the University of Kansas City, and Research Institute (now MRI). Clearing the space involved removing houses, rerouting Locust Street, and moving the Rockhill Tennis Club. Edward Delk and Edward Tanner were the architects for the Memorial placement.
Carl planned four statues. One depicted St. Martin of Tours, on horseback, sharing half of his coat with a beggar. This represented William's generosity. An angel from on high observed the scene, while playing a flute (which is upside down). Also watching were a faun (described as "bewildered" in several accounts) and another angel, who is sporting a wristwatch. Of his work, Carl said, "What I try to do is to combine the serious with a touch of humor. This forms a bridge between people." Carl died in 1955 before the statues were finished, and the work was completed by others. Four fountain jets were added to the statuary, and the William Volker Memorial Fountain was dedicated on September 20, 1958.  
The site did not have an official name at the time. It became known as "Volker Park," and was a popular gathering place for all sorts of events, including rock concerts, in the late 1960s and early 1970s. After the death in 1965 of Frank A. Theis, who was the president of the Kansas City, Missouri, Board of Parks Commissioners, the area was named Frank A. Theis Memorial Mall. In 1991, that was changed to Frank A. Theis Park.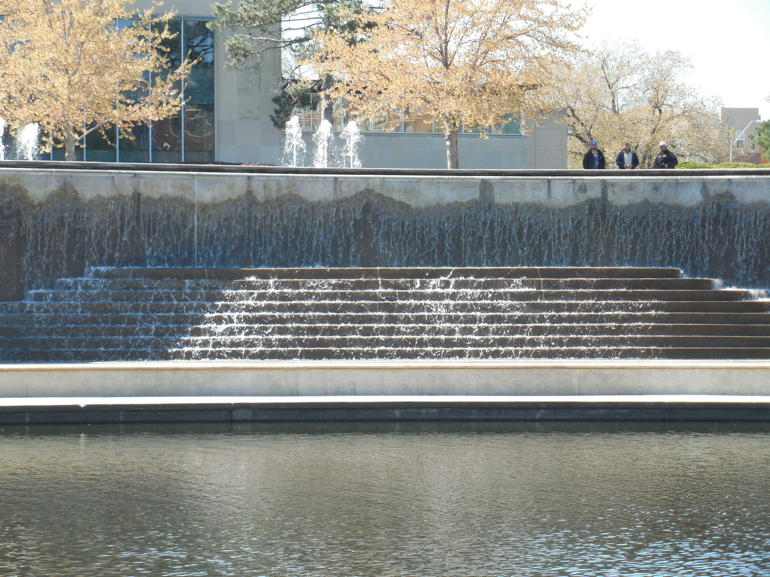 A Brush Creek flood control project in 1995 led to the decision to move the William Volker Memorial Fountain slightly further south the following year. This was controversial at the time. It now is located directly north of Volker Boulevard, in a site that also features a waterfall and a basin. Following its most recent restoration, a celebration was held at the William Volker Memorial Fountain on Fountain Day in April 2016.        
For further reading: 
Board of Parks & Recreation Commissioners. History & Dedicatory Monuments of Kansas City. 1987. 
Piland, Sherry and Ellen J. Ugucciono. Fountains of Kansas City: A History and Love Affair. Kansas City, Missouri: City of Fountains Foundation, 1985.
kcparks.org
kcfountains.com/fountains
Acknowledgment: With special thanks to Ann McFerrin, Archivist at Kansas City Missouri Parks and Recreation, for research and editorial assistance.
Also featured in the July 11, 2020 issue of The Independent
By Heather N. Paxton
Photo credit: Bradley Cramer
A Blooms For The Bride shower is my absolute favorite bridal party to host and to attend! Flowers play an integral role in all of life's celebrations and meaningful moments.…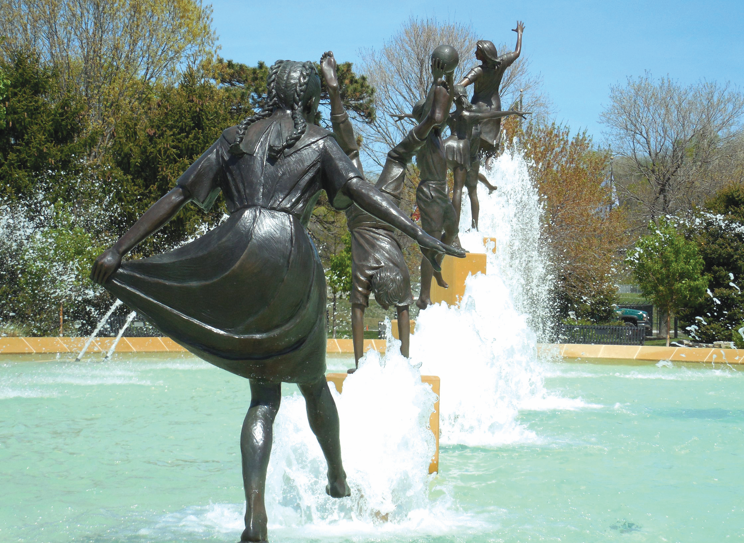 Anita B. Gorman, a resident of the Northland, became the first woman to be a member of the Kansas City, Missouri Board of Parks and Recreation Commissioners in 1979. She…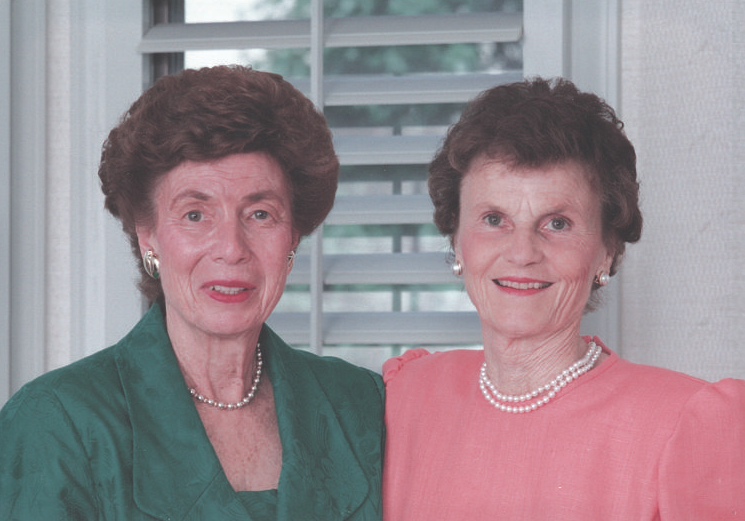 Finding employment and keeping employment are challenging enough tasks. When women in our community add in the stress of starting a new business or trying to navigate the repercussions of…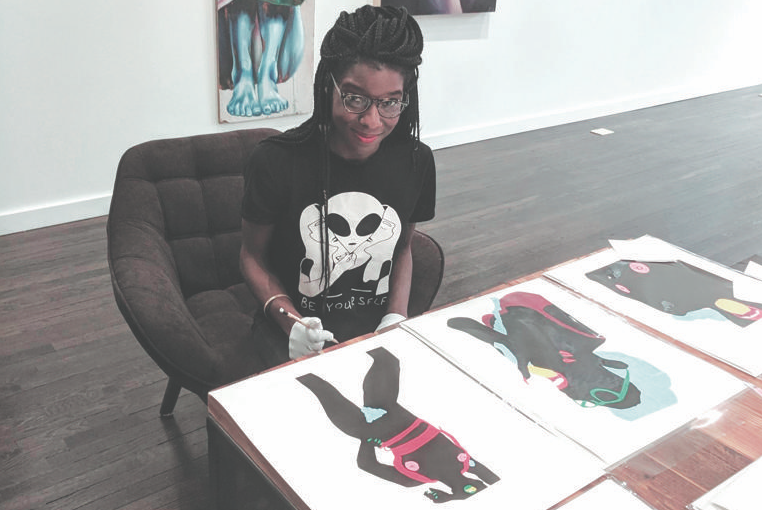 Twenty-seven-year-old Onnissia (pronounced oh nee see yuh), born in South Central Los Angeles, became interested in art when she was seven years old. "I was told by everyone that I…