Homegrown – Cozying Up With Crafted Coffee This Winter
For most of my adult career, I've worked from home. I hopped on the home office train in the year 2014 B.C. – "before children," and "before COVID." Working from home has shown me the power of working smarter, not harder. My flexible schedule led me to master the skills of time management and productivity in order to work shorter days while dominating my to-dos.
Now, don't be fooled – working from home is not for everyone. And, to be honest, it's not as glamorous as many think. It takes a lot of discipline, and, for me, a consistent routine. My energy is fueled by two things: caffeine and a fresh scene away from my four walls. Coffee shops are my starting point to soak in the silence, turn off mom mode, and get to work.
Our Town is filled with darling coffee spots that bring the best of the Midwest beans and delicious drinks. Coffee shop vibes are quaint, warm, and welcoming. For me, they ease my everyday hustle and bustle. I'm always exploring new coffee corners. My favorites, the tried and true of brew, currently are: Hi Hat Coffee, Broadway Cafe, and, most recently, my own coffee bar.
Hi Hat Coffee
My husband and I made a Prairie Village pact to never move again, so please don't tell him that I truly feel I belong in Westwood Hills. I adore the neighborhood, its unique architecture, and great location minutes away from the Plaza. Nestled in the corner of Westwood Hills at State Line Road and 50th Terrace is Hi Hat Coffee.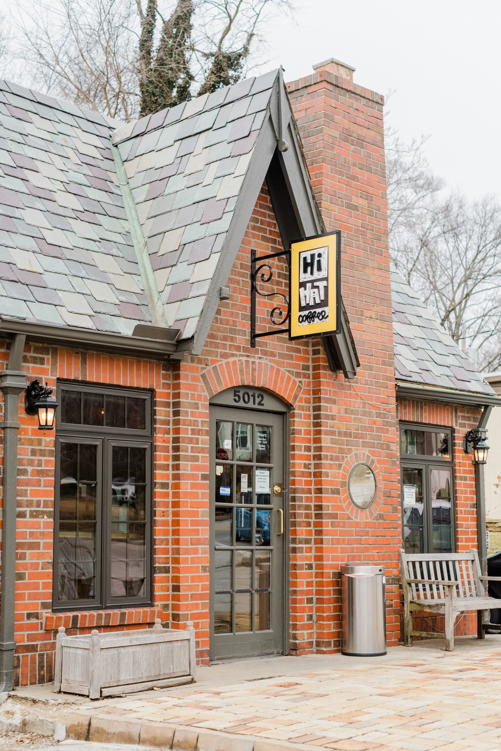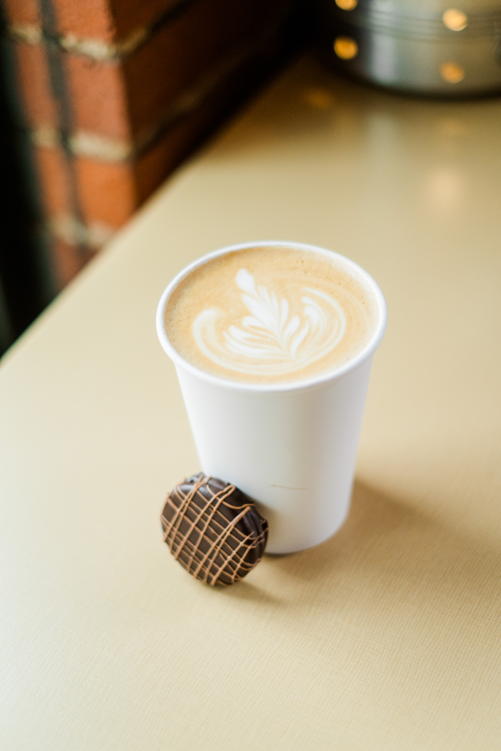 The tiny brick tudor, originally constructed as a Phillips 66 Gas Station, has been home to Hi Hat and its imaginative menu of coffee creations for the last 22 years. "Our space is too small to roast our own beans. We supply our coffee from two local roasters: Messenger Coffee and The Roasterie. It's really worked out to our benefit," said T. Jensen, Hi Hat owner.
While Hi Hat's outdoor seating is best to enjoy with sunshine, this winter I find myself going often for a quick pick-me-up. My hands-down favorite drink to accompany my alone time is the Honey Lavender Latte. It's one of my "if today was my last day on earth" kind of must-haves. This drink is a year-round flavorful concoction that is subtly sweet, with bold hints of lavender syrup for a true treat.
Pro Tip: Sweeten your afternoon and stop by Annedore's Fine Chocolates, located just a few shops away from Hi Hat. A four-piece box of handmade chocolates pairs perfectly with a sip-in-peace coffee. I'll enjoy one (okay, maybe two) and save the others for an after school bribe for my little ones.
Broadway Cafe
Located in historic Westport is an OG of KC: Broadway Cafe. It boasts an eclectic atmosphere that is filled with energy, upbeat jams, and baristas who know their beans. The Cafe, while currently limited to offering to-go orders only, is my go-to spot when I need that extra burst of magic in the morning.
Broadway Cafe's menu has a variety of complex drinks. However, what keeps me coming back is as simple as it gets: the coffee. No frothy fluff or sweetened syrup is needed for a truly decadent cup of joe. In my opinion, it is the best coffee in Kansas City. The flavors are fantastic, with lots of layers and body for a smooth finish.
From bean to brew to stir to sweet, the Cafe uses its own roasting recipes and methods for its delicious creations. Right up the road in an old Westport Fire Station is the home of the Broadway Roastery. The beans are roasted by locals, and, from bag to delivery, each batch is sealed with love. 
Pro Tip: Ask an expert. Anytime I pop in for a coffee, I pick up a bag of beans to bring home. The flavors and creations are always changing, so I lean on the barista to guide me to try something new. Be sure to ask for your beans to be ground if you don't own a grinder. I recently tried the Chiefs-inspired creation, "Hennething is Possible," with notes of peanut brittle and sweet cherry cola.
Be The Barista
One of my favorite spots in my home is our coffee bar. For a few years,  it was our designated bottle-making station. Today, I celebrate the small victories of baby steps (literally) to taking back what is ours. The first quiet moments of morning that I spend perfecting my espresso and froth are something I look forward to every day. My barista talents are limited, so I prefer to keep it simple with a two-shot espresso and steamed oat or almond milk. Oat milk does not froth as well as dairy, but the nutty taste balances the espresso. If I'm feeling extra wild, I will add a pump of flavor.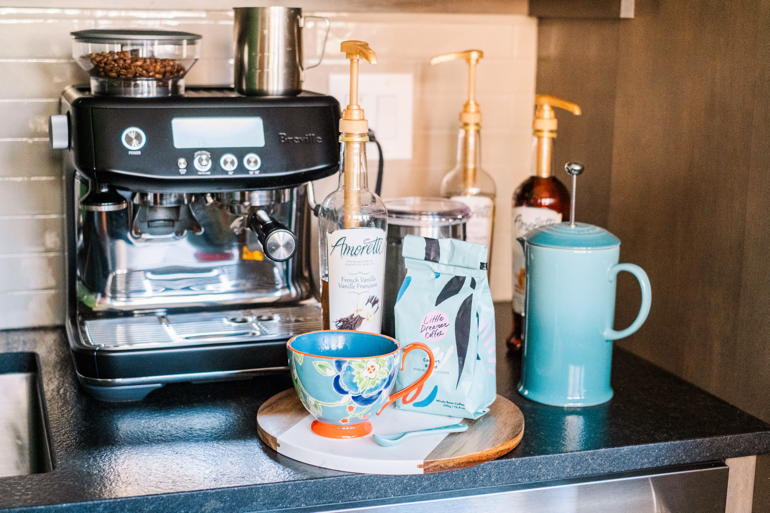 We have learned quite a bit about the art of brewing like a barista from my friend and up-and-coming Kansas City coffee guru, Griffin Foley. Griffin, a long-time resident of Our Town, followed his dream to open his first coffee shop, Carport Coffee, in College Station, Texas. Griffin said, "Don't be nervous to fail. Some of the best baristas and brewers I know are those who have learned from trial and error." If you're curious about coffee, Griffin shared a few tips and tricks to become a home brewer:
Use purified water rather than tap water, every good cup of coffee starts with a good cup of water.

Identify what type of coffee you enjoy.

Roast profiles range from light to medium to dark. If you are someone who thinks coffee has a bitter taste, consider switching to a higher grade, medium profile, and adjusting from there.

Choose your brewing method: Chemex, Clever Dripper, and various pour over methods.

Research the grind size. Grind size is pivotal when brewing coffee based on a specific process.

The Specialty Coffee Association has a number of publications and videos that can be very helpful.
Coffee is culture, and coffee is community. It's often the focus for many great connections, bright ideas, and meaningful meetings. The Kansas City coffee scene is one to get to know. I'm learning to appreciate and savor each sip of coffee, just like a fine wine.
Also featured in the February 20, 2021 issue of The Independent
Photo Credit: Bailey Pianalto Photography
By Kelsey Potts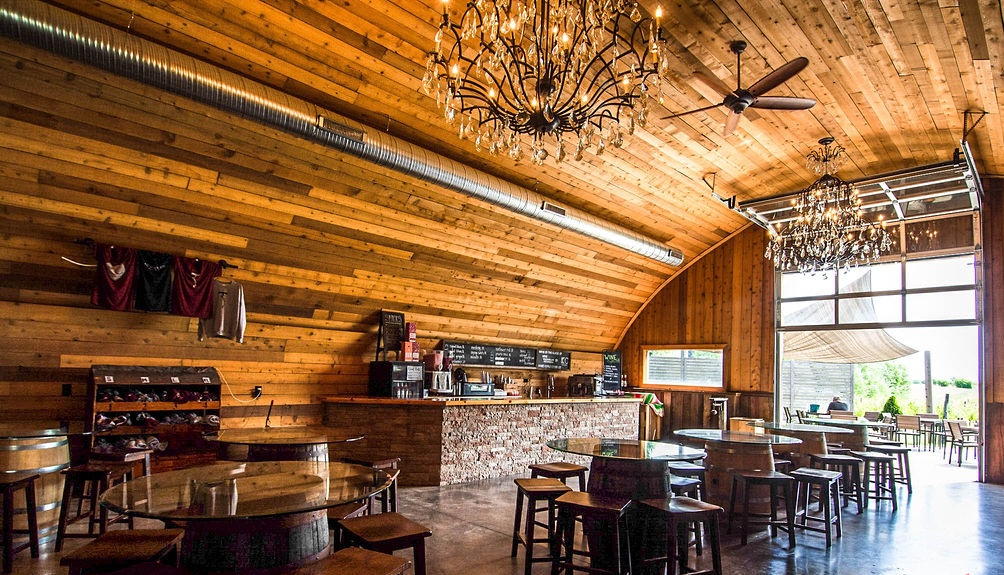 We recently returned from a fabulous trip to Napa Valley where we sipped wine and soaked up the sunshine while learning to appreciate the art of winemaking. We listened to…
Another piece to the perfect day is having guests come from near and far to celebrate the love of two people they care about. Whether you're thanking guests when they…
Wedding season is back, and it is better than ever! The celebrations are elevated, and the guests are elated to be part of the party. With so much love and…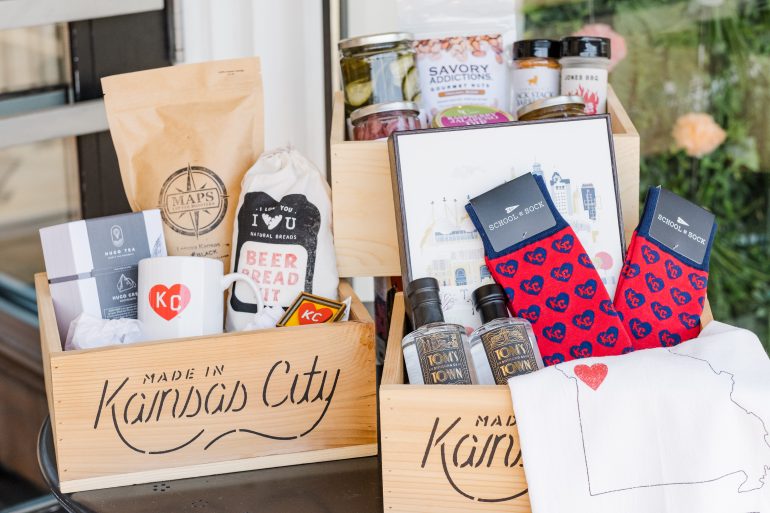 My favorite part of my wedding was having my absolute favorite people around me for an entire day. It really is a rare treat to have the most important people…