IN REVIEW: EQUAL PARTS DANCE AND DRAMA: KC Ballet presents new version of durable classic
Devon Carney has already demonstrated his skill as choreographer in the four full-length ballets he's created since becoming the Kansas City Ballet's Artistic Director in 2013. What stood out in his Romeo and Juliet, which received its world premiere October 13th at the Kauffman Center, was the former Boston Ballet Principal Dancer's unwavering skill as storyteller. Full-length ballets are as much theater as dance, and Devon's recognition of this was clear: The movement was gauged toward narrative and character-building, with a strong feel for the clarity that comes naturally to ballet dancers. The eye was never bored: Granted, not all dancers are first-rate actors, but the leads held their own. With Prokofiev's peerless score issuing from the orchestra pit (the Kansas City Symphony was led by Ramona Pansegrau) the ear was kept busy as well.
At the center of the maelstrom were the delicious solos and small ensembles, in particular the series of increasingly passionate, and ultimately tormented, pas de deux of the title characters. Molly Wagner, who danced Juliet on opening night, was limber and womanly even at the outset—her innocence reflected in her first shy encounter with Romeo at the Capulet Ball, where in the midst of the meticulously staged, impressively "symmetrical" group dance she rather accidentally came face to face with Romeo, the technically dazzling Liang Fu on opening night. (The other casts through the run include pairings of Kaleena Burks with Michael Davis and Tempe Ostergren with Lamin Pereira dos Santos.) At first they danced demurely, almost without touching, but when the whole company conveniently moved upstage to the banquet table for a snack (facing the wall upstage, somewhat awkwardly), the couple began a florid if cautious duo. (She "gave in" a bit too quickly for my taste, but what's a little kiss after all?)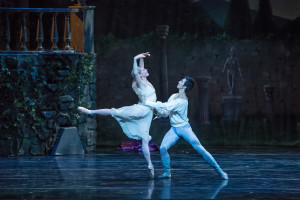 The second big duo occurred at the celebrated balcony scene, where Juliet ran outside to descend to the stage and the movements grew continually "bigger"—at once more intimate and more exuberant. If any doubt remained of their love, it was dispelled by Devon's convincing combination of pointedly classical and relaxed, liquid movement. Especially impressive were Juliet's perilous leaps into her lover's arms—outbursts of explosive joy that occurred just as he was beginning a turn: He never missed, of course, and in fact he completed the dance by raising her high in increasingly precarious lifts.
The third pas de deux came the morning after the couple's passionate first night together (following secrets nuptials courtesy of Friar Laurence). This time the movement was limpid and more knowing. Innocence has been placed aside: Romeo is shirtless, Juliet is in a sort of nightgown, and reality is already setting in. Tension builds, as Romeo knows he must leave before he is discovered. It is their final farewell: We know it, but they don't.
After he left and Juliet descended to feign consent to the hapless Paris (a role danced with restrained force by Humberto Rivera Blanco), she embarked on a raucous solo of grand gestures that mixed joy with an edge of sheer terror. (What have we just done?) The solo ended with her prostrate on the floor. The final "duet" was the heartbreaking scene with a freshly awakened Juliet cradling the actually dead Romeo on the floor—as she raised his limp, rag-doll arms to her shoulders in a faux embrace.
Among the more impressive ensembles was pas de trois (Romeo, Mercutio and Benvolio) outside the palace door. Just as well-crafted but less tidily executed was the pas de six of Juliet and friends, imbued with a joyously casual airiness. The fight scenes were more balletic than theatrical, that is to say they seemed stylized to the point of parody at times (oddly in keeping with Prokofiev's puzzling music somehow). Mercutio's "death scene" (danced with boisterous, fun energy by Dillon Malinski)—he attempted to reassure everyone he's okay when in fact he's bleeding to death—bordered on camp.
The large-scale scenes were well-outfitted and "sculpted": Devon has a knack for handling the corps with a balance of electricity and restraint. Angelina Sansone was magnificent as the "character" of Fate, costumed to look more like Firebird than like La Forza del Destino, perhaps, but always lending the right touch of seriousness or, in Act III, calm finality. The costumes of the other leads were sumptuous and subdued, while the corps at times looked like a riot of color. James Kirby
Rogers was a nicely hot-burning Tybalt, with a righteous temper that one could almost grasp. (Who is this Romeo, anyway?) Parrish Maynard was the deeply concerned, almost unctuous Friar, which he danced with a gravity that at times made him seem like the only sane person onstage. Grace Holmes was Juliet's touchingly devoted Nurse, who suffered at least as much as the girl's parents at the fate of the young woman she had practically raised.
Alain Vaës' set designs are still lovely to look at, lavishly painted and invested with a simplicity that kept dance front-and-center. (It is the same set that Devon danced on some 30 years ago, and is still one of the better Romeo sets you can see.) Trad A Burns' lighting lent such naturalness to the production that you were scarcely aware of it—which is a goal, nicht wahr? Prokofiev's score was played with accuracy, for the most part, though musical inventiveness was often sacrificed to the providing of a secure accompaniment to the dance.
Romeo and Juliet runs through October 22nd. For tickets call 816-931-8993 or go to kcballet.org.
Photos by Brett Pruitt & East Market Studios / Courtesy of Kansas City Ballet.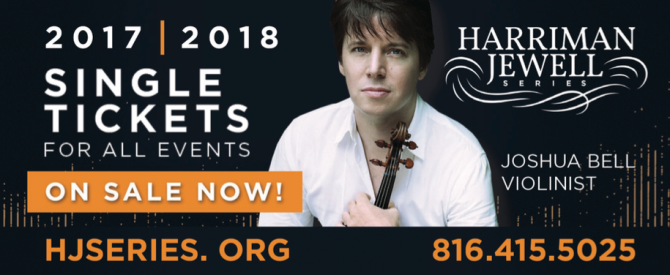 To reach Paul Horsley, performing arts editor, send email to paul@kcindependent.com or find him on Facebook (paul.horsley.501) or Twitter (@phorsleycritic).
 Vanessa Severo  The actor, writer, choreographer, and director is the daughter of Brazilian immigrants. She has appeared on all the major stages in Kansas City and on quite a few…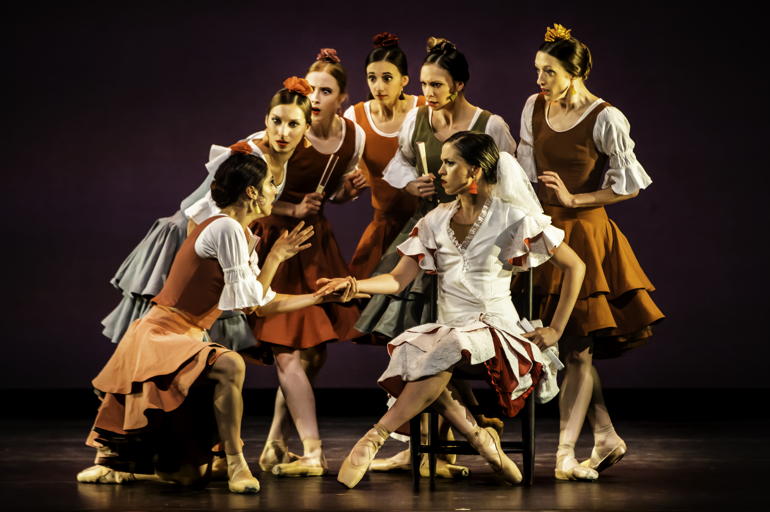 Latin Americans have played a major role in the growth of greater Kansas City for at least two centuries, probably beginning with the founding of Independence, Missouri, in 1821. Yet…
Nearly all of Beau Bledsoe's musical adventures have grown out of a lifelong love of the classical guitar, also known as the "Spanish" guitar. So it made sense that Ensemble…
After more than two decades and four deans, it was beginning to look as if the UMKC Conservatory's dream of a new facility would remain just that: a dream. Until…