IN REVIEW: 'Hamilton' finally takes the stage in Kansas City (and good luck getting a ticket)
Part of the genius of Hamilton lies in Lin-Manuel Miranda's recognition that rap and hip-hop, which have already brought enormous energy to nearly every aspect of American culture, might also cast light into some of the more obscure, moribund corners of the Broadway musical. From the very first number of this instant classic ("Alexander Hamilton") one is uplifted by the sheer joy of hip-hop's confrontational beat: It is an energy that rarely flags through the work's nearly three-hour length. Granted, Hamilton ranges through a wide variety of musical-theatrical styles, including r&b, "big tunes," and the occasional Elton John-like parody (for King George's effete song-and-dance numbers).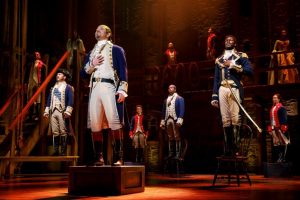 More than four years after its premiere, on June 19th Hamilton finally landed in Kansas City, for a two-and-a-half week run at the Music Hall. It is a presentation of the Sabates Eye Centers' KC Broadway Series and Broadway Across America Kansas City. And skeptic that I was going in, I would have to say that (accolades notwithstanding, including 11 Tony Awards and the Pulitzer Prize for Drama) this is easily as interesting as any musical I can think of, with the possible exception of West Side Story.
Like Bernstein's classic, Hamilton (with book, music and lyrics all by the creatively effusive Miranda) succeeds partly through genre-bending: It is a fluid synthesis of musical theater, rap, operetta, music-video choreography, and even the still-emerging genre some have called "hip-hopera." And yet for all that, it feels "of a piece," managing to keep the eye and the mind engaged for all but a brief stretch in Act II—where the barrage of energy flags momentarily.
Hamilton's life-story, as interesting as it may be, is not something you would think of as fodder for musical theater: His contribution to the founding of the nation is relatively arcane, consisting not of heroic war victories but of behind-the-scenes political and intellectual battles. Miranda is able to make even these seem vibrant: The show's most unforgettable number ("The Room Where It Happens") grows, to an extent, from the fierce conflict between Aaron Burr's savvy maneuvering and Hamilton's real-life belief in the power of ideas.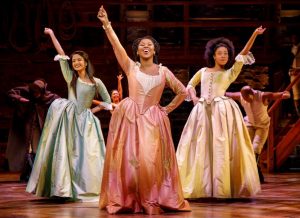 Other aspects of Hamilton's life, however, do lend themselves to conventions of the musical stage: The Schuyler sisters (Emily Jenda as the yearning Angelica, Erin Clemons as Eliza, the sister who nabs Alexander, and Nyla Sostre as Peggy) form a stentorian female vocal trio, delivering dazzling harmonies that occasionally  leap from the rap "prattle" when you least expect them. (Sostre also delivers a gorgeous, Lauren Hill-flavored vocals as Maria Reynolds, the woman with whom Hamilton had an affair.) Likewise Hamilton (Joseph Morales) and his inner circle of Lafayette (Nick Sanchez, who later doubles as a campy Jefferson), Mulligan (Fergie L. Philippe), and Laurens (Elijah Malcomb) form a male vocal ensemble that is set in counterpoise to the women's ensemble.
Hamilton's own lyrics are almost entirely rapped, with a hilarious lilt that is like a cross between Nas and Gilbert & Sullivan, as are to a large extent those of Burr (the commanding Nik Walker, whose presence threatens to overshadow nearly everyone else's). The chorus delivers its contributions at times in pitch-perfect harmony, at times with loose, musical-theater jazziness.
Jon Patrick Walker as King George presents a series of spiteful show-stoppers ("You'll Be Back," "What Comes Next?") with Baroque curlicues. His "whiteness" contrasts sharply with the multi-ethnic makeup of the "American" cast, and his lyrics, music, and demeanor all serve to highlight this otherness. Desmond Sean Ellington brings gravity and a sort of staid vocalism to the role of Washington.
Thomas Kail's sure-footed direction and Andy Blankenbeuhler's genre-shifting choreography are a source of constant wonder. The dance alternates between big-number, Broadway style numbers and (more often) hyperactive hip-hop moves the likes of which you might see backing up some headliner vocalist. David Korins' scenic design consists of crafted brickwork upstage and a two-level wooden wrap-around wall, along with "moving parts" such as a rolling staircase that serves both practicality and "pomp."
Alex Lacamoire's musical supervision and orchestrations keep the ear entertained but always respect the preeminence of the lyrics (the orchestra is led by Roberto Sinha), and Howell Binkley's lighting design maintains mostly warm tones that make the final blanched-out "death sequence" especially potent. The Music Hall's amplification has rarely sounded with such clarity, an essential element for a work whose rapid-wit lyrics are part of its very essence.
Hamilton tries to honor historical accuracy to the extent practical: The story of Hamilton's life is essentially correct throughout (tragically absurd death and all), although one could argue that Miranda has taken license by casting Burr as a somewhat two-dimensional villain. Nevertheless, Walker made the most convincing impression of the evening, with glowering unctuousness and a well-tempered vocal apparatus. His subtlety was in full display both in his "Dear Theodosia" (where he shows surprising vulnerability in the face of fatherhood) and in his "Wait For It," which he imbued with a confidence that was perhaps more tentative and conflicted than Burr himself might have wanted us to see.
Hamilton runs through July 7th. For possible remaining tickets call 800-745-3000 or go to ticketmaster.com. To reach Paul Horsley, performing arts editor; send an email to paul@kcindependent.com or find him on Facebook (paul.horsley.501) or Twitter (@phorsleycritic).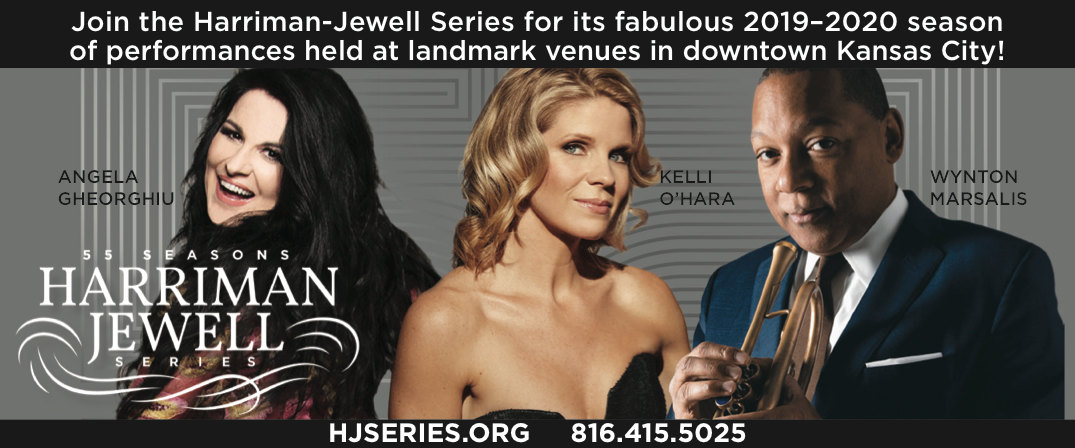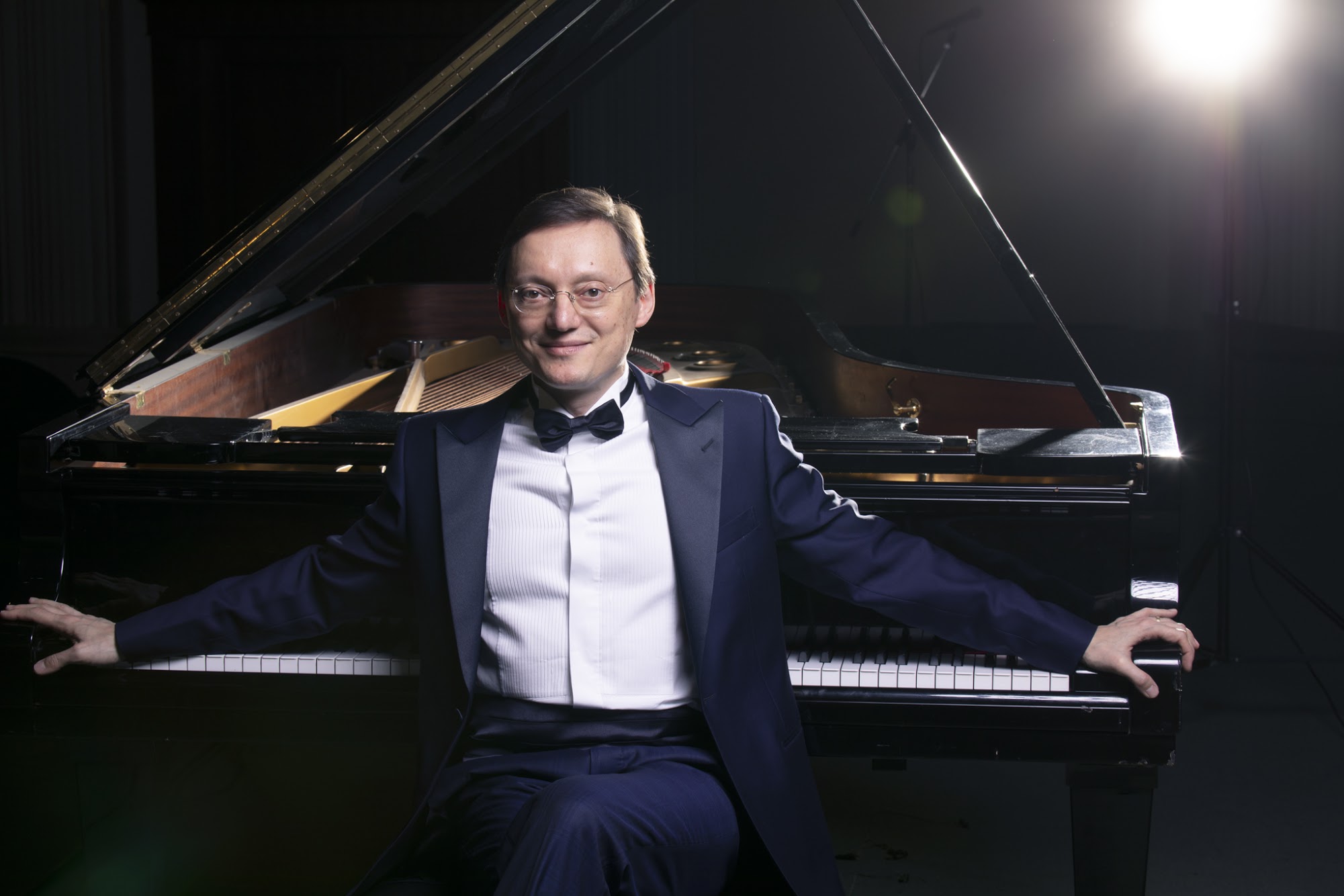 Music competitions: High-stakes horse races, followed by lucrative prizes and worldwide fame, right? Well, not exactly. The competition of today has in fact become a sort of "second education" for…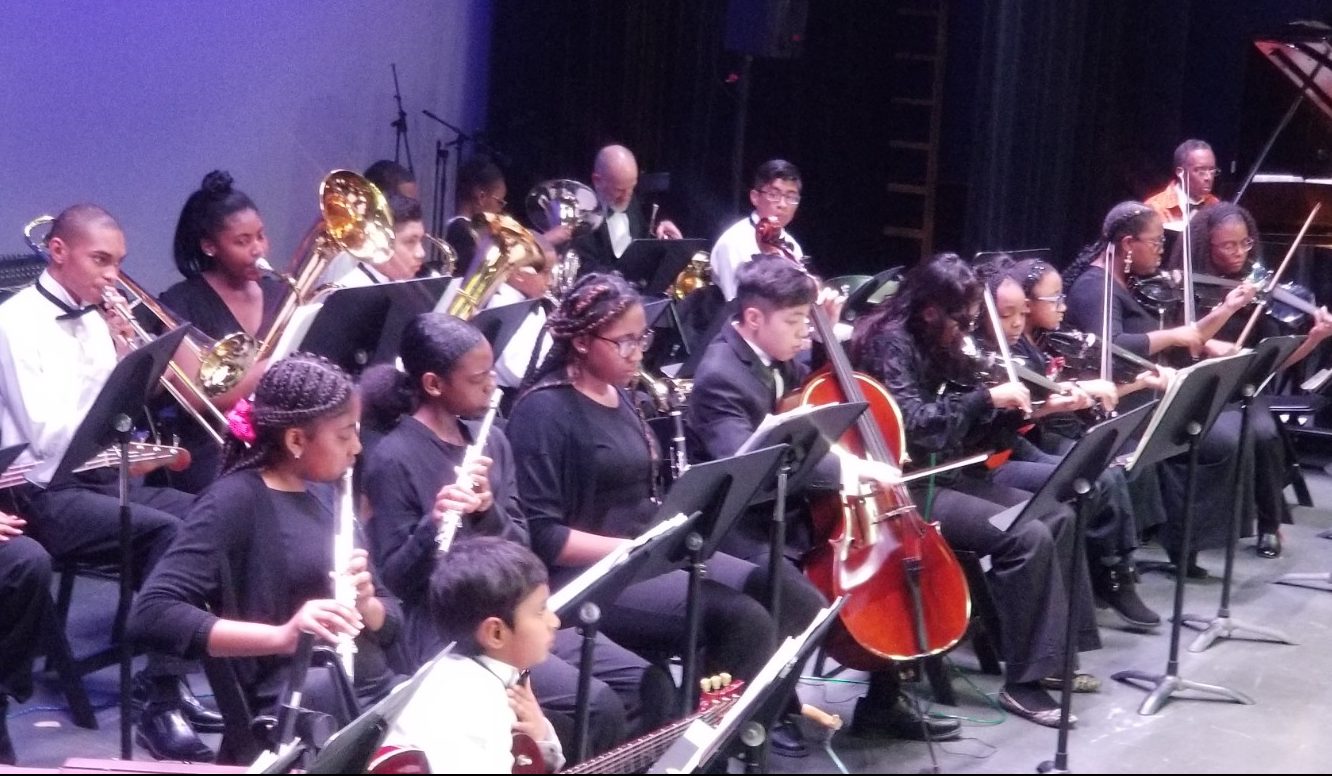 When Darryl Chamberlain established the A-Flat Music Studio Inc. in 2016, he had several goals in mind. First, he believed that young people ages 10 and up should learn how…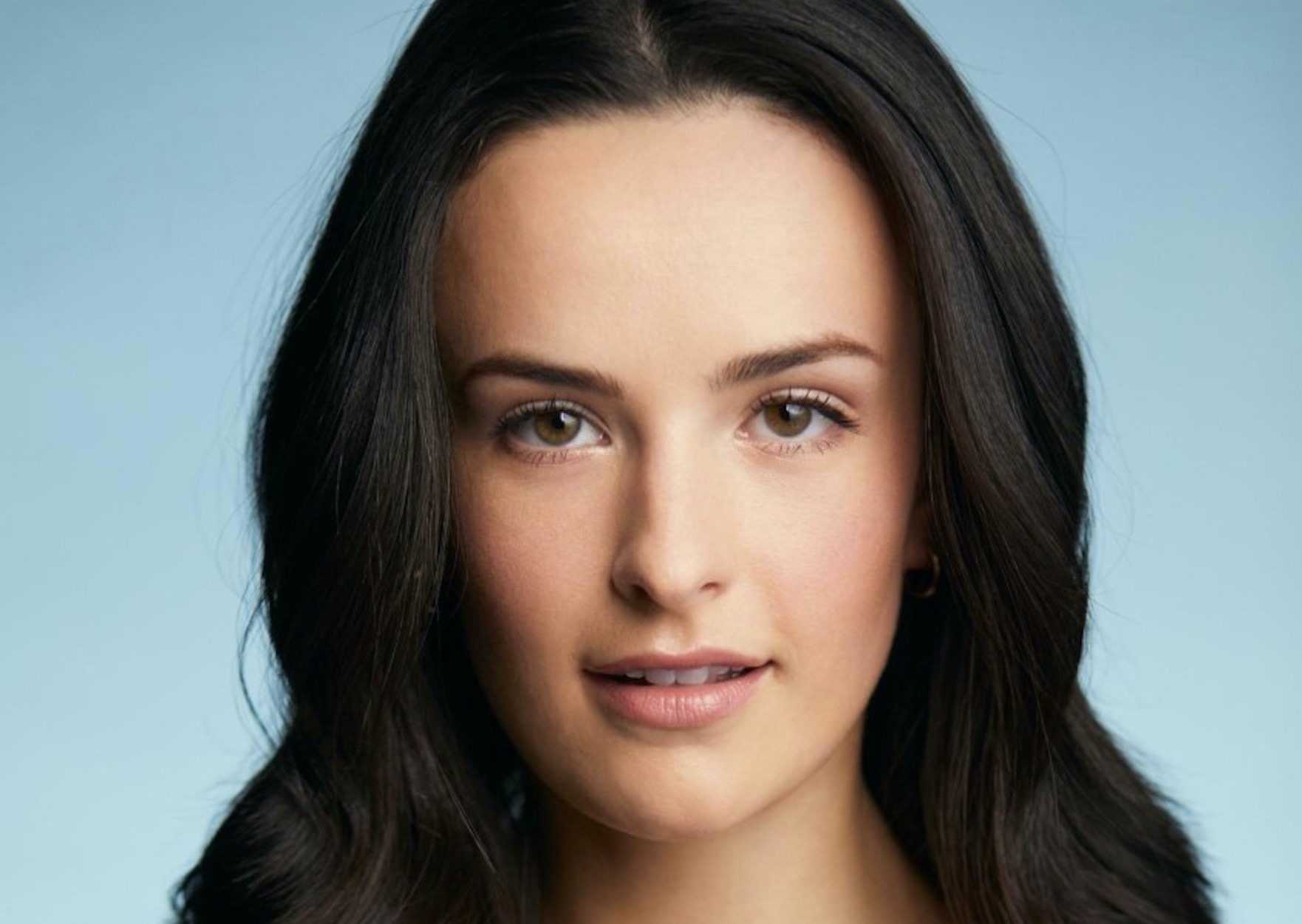 Heart of America Shakespeare Festival started pretty much the way many Kansas City performing arts organizations have begun: Nobody really knew if it was going to get off the ground…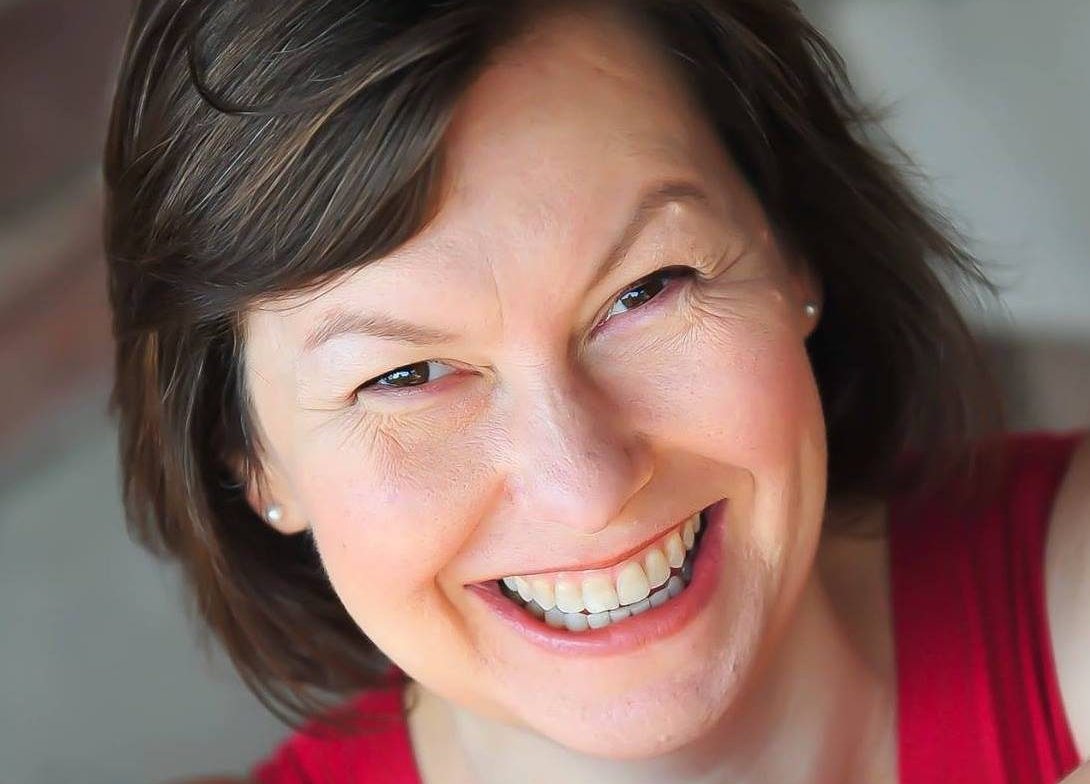 We often say that an actor on stage or screen has "leonine grace," or eats like a ravenous wolf, or moves with reptilian stealth. What you might not realize is…