LIGHTS, CAMERA, JETÉ: Film is offering local performers new means of expression
After local arts organizations got over the shock of not being able to perform in their normal manner, they began setting up cameras everywhere: streaming performances live, filming them to share on the web, or creating both live and "archived" versions at the same time. Today, more than a year into this "age of innovation" for the arts, savvy groups have begun to realize that the act of filming a performance is actually an opportunity to create something new.
The result is a boon for local filmmakers, many of whom initially were as uncertain as to how to make a good film of a performance as the artists themselves were. Suddenly the arts scene is awash with films of all sorts, representing not just a temporary substitute for the live experience but also a new means of collaboration.
"It's going to be a part of our future going forward," said Devon Carney, the Kansas City Ballet's artistic director, whose company has been a bellwether in forming alliances with filmmakers, sound and lighting designers, and local museums and galleries toward creating its New Moves: The Broadcast Series. "It's a new wave of expression, and … we have to be ready for it to continue existing within the world of dance."
The Ballet's inventive series, which began in February of this year and will continue at least into the early summer, consists of works that are, by their nature, as much film as dance. "It's not a dance on film," Devon said of the videos, which are created by a broad range of top-flight local filmmakers. "It's film with dance in it."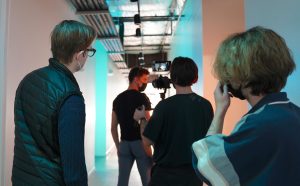 Other groups, too, are finding that exceptional films can go a long way in maintaining audience interest, and in helping to ensure that the performing arts remain a mainstay of the city's future.
"This content is out there potentially forever," said Lisa Hickok, executive director of Park University's International Center for Music, which has produced a broad range of filmed concerts. We spoke at a recent web-recording session of Park pianists Behzod Abduraimov and Kenny Broberg, who were delivering a hair-raising rendering of Rachmaninoff's two-piano Suite No. 1.
"The 1900 Building has been amazing in helping us make sure that we are able to put out the highest-possible level of performances," Lisa said. "Because let's face it … this content lasts into perpetuity. So what we put out there needs to be the best that we can possibly produce."
The producer on this particular evening was ICM Artistic Director (and videographer du jour) Stanislav Ioudenitch. "I bought these cameras myself," he said. "Because right now I'm just teaching, teaching, teaching, and I thought, why not start a video library of performances?"
But Park has gone out of its way to ensure the highest level of quality, employing the services of (among others) Emmy Award-winning Mitch Weber of Toto TV Media, whose background in broadcast helps him understand the immediacy with which film can convey a concert experience.
"The audience is seeing more now than they did before, because we're able to move into the action," said Mitch, whose firm does work for a wide variety of local organizations. "At a live performance, you might not get that really good close-up of the hands on the keys, for example. … We're able to give the viewer basically a TV broadcast version, where they're closer to the performer than ever before."
Audience retention is not the only aspect driving this media craze. The performers themselves need incentive and reassurance that they aren't forgetting how to perform live.
"There are so many exciting things that happen when you're in a live performance," said Matthew Shepard, founding director of Te Deum, which has produced a series of excellent filmed performances. "And when you're not there live, it's a lot harder to keep someone engaged. … A single camera from a pew would make for the most boring thing ever, so you have to think in a more theatrical way, to keep the audience as engaged as they would be if they were there in person."
Brad Hull, a recording engineer and lighting designer for Village Presbyterian Church, was the videographer for Te Deum's most recent Kreutzige concert. That program, with a soaring rendition of Heinrich Schütz's Seven Last Words for choir, soloists, and the Kansas City Baroque Consortium, was taped in a single four-hour session at Village Church in which lighting, sound, and video were all crucial.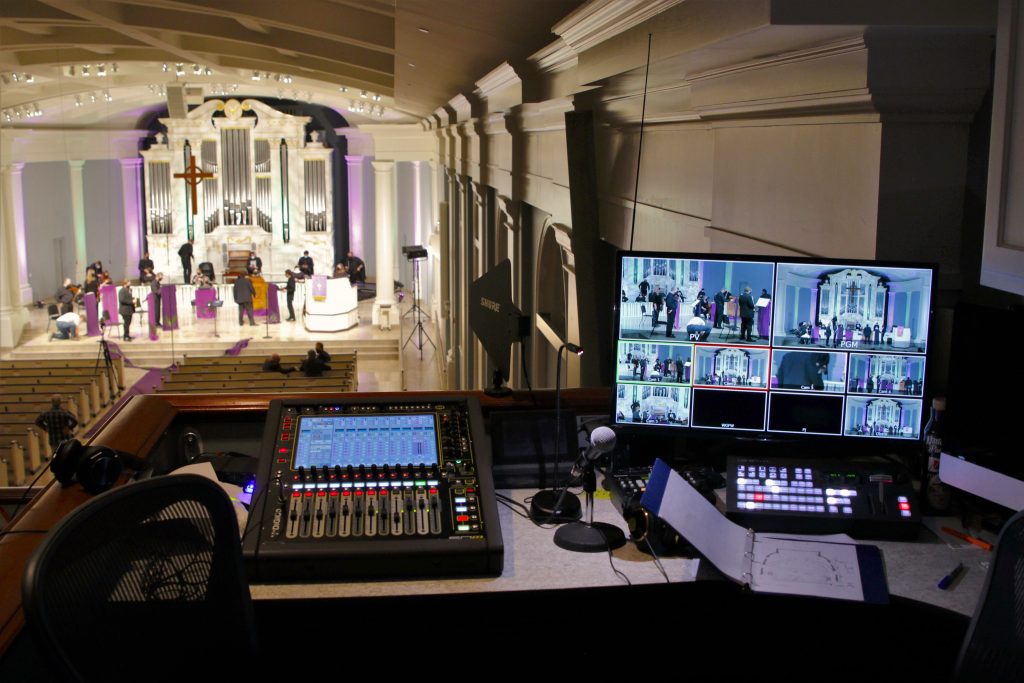 "I always come at it from a collaborative standpoint," said Brad, who earned a BFA in lighting design from The University of Kansas and knows quite a bit about joint efforts. "I want to be there to support and help the presentation: to help tell the story, push the story forward."
Just how do performers feel about this video phenomenon? Many musicians are already accustomed to broadcasting their performances through a variety of formats, so it's difficult to faze them. "I play the same, whether I'm in Salina, Kansas, or Carnegie Hall," said Behzod, who attended Park's ICM and is now an Artist in Residence. "Maybe with cameras there's a little more pressure at the beginning, but if you forget about it, the music comes. I do wear something nice, though."
Behzod and Kenny both miss live performance. "It will be better when we can return to more of a hybrid situation," Kenny said, "where there are people in the audience." He added that "you might have millions watching online, too, but you don't think about that because there's an audience right here."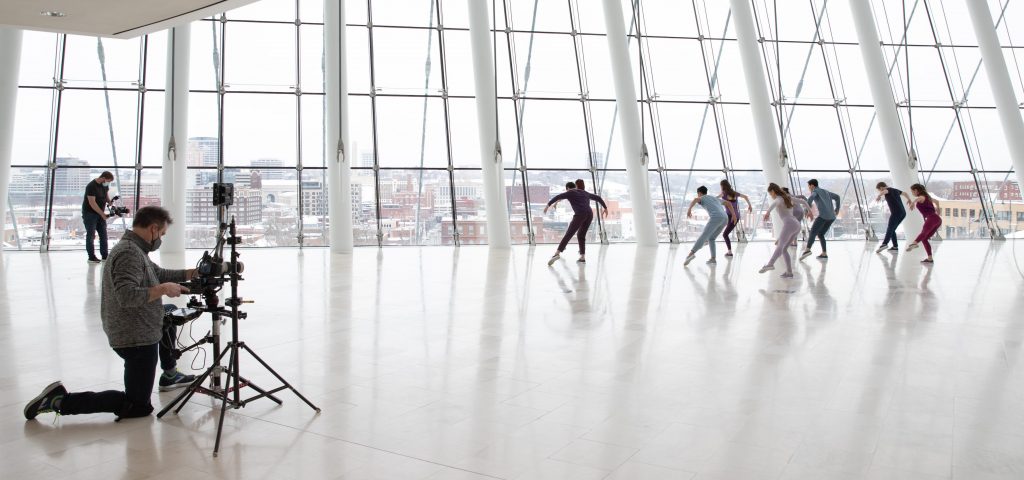 Several local groups are producing fine videos, but so far none has explored the intersection of cinematography, visual art, lighting, dance, and location to the extent that the Ballet has. "Choreographer and camera are intertwined and interactive," said Elizabeth Stehling, the Ballet's digital marketing manager. "Both are active creators in the making of the art, along with the space that they are in."
Chris Burrow, a locally based filmmaker and photographer who recently created a video of Christopher Costantini's Tenebra, brings cinematographic techniques into the mix even when it means occasionally colliding with dancers: sometimes quite literally.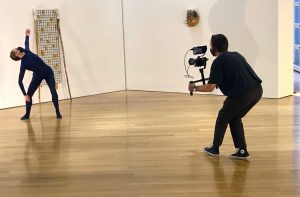 "I keep finding myself wanting to get closer," said Chris of his recent experience filming at the Charlotte Street Foundation. "I'm going to zoom in so that we have a more intimate feel. … But with video I can flow around the dancers, flow through them."
His primary goal is to serve the performers, while at the same time creating a unique and engaging film. "Most of the work is done by the choreographers and the dancers, who have rehearsed these for weeks. I come in and try my best to bring to life what they envisioned."
Dancers possess a comfort level with cameras, Chris has found. "They're definitely aware of where I am at all times," he said. "But they're performers at heart, so they realize that the camera is their 'audience' right now, as I'm filming. And they did a very good job focusing all their effort and attention toward the camera."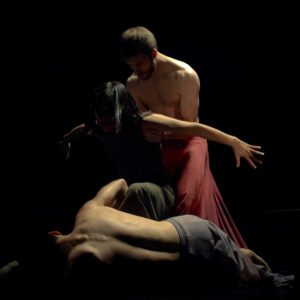 The response to these videos is beyond anything the Ballet expected. "It's a real moment," Devon said of the numbers (some 15,000 views in the first month or so). "Because we can't go into our theater, we can spend our energies and focus on deeper relationships and collaborations with all the arts: the museums, the galleries, and other visual arts in the city."
—By Paul Horsley
Cover photo: Choreographer Margaret Mullins' 'Felicity Found' was created for Kansas City Ballet at the Kansas City Museum and filmed by AWStudio. 
For links to the videos mentioned (and others by these groups), go to kcballet.org, icm.park.edu, te-deum.org.
To reach Paul Horsley, performing arts editor; send an email to paul@kcindependent.com or find him on Facebook (paul.horsley.501) or Twitter (@phorsleycritic).
After more than two decades and four deans, it was beginning to look as if the UMKC Conservatory's dream of a new facility would remain just that: a dream. Until…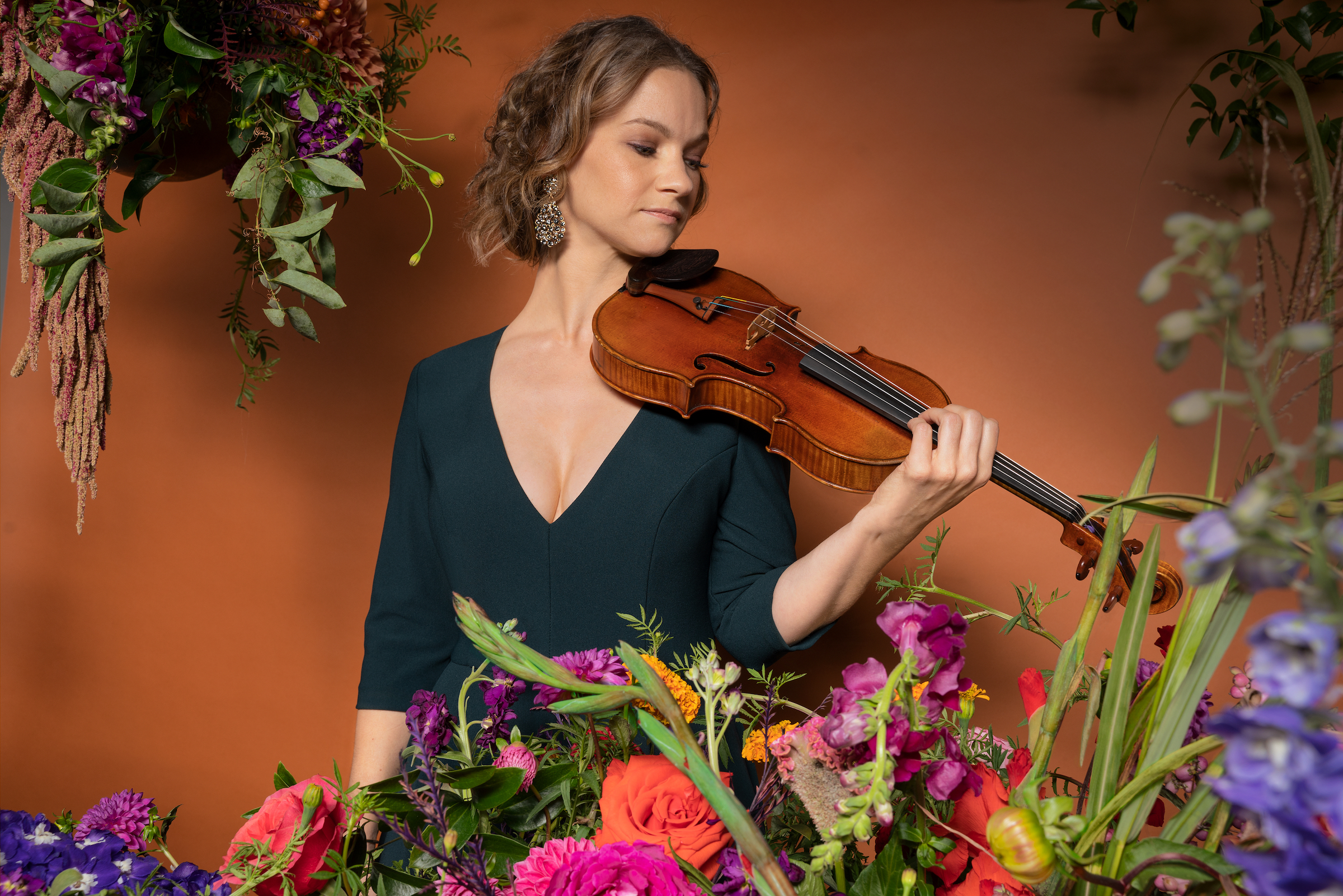 One woman, standing alone onstage. No pianist, no music-stand: Just Hilary Hahn and her violin, creating miracles. That is what Harriman-Jewell Series audiences are likely to experience this October 13th,…
Oh the weather outside is frightful(ly hot). But it won't be for long, so take a close look at this fall's diverse and provocative mix of music, dance, and theater:…
Kansas City Ballet always seems to be building something. For decades, it engaged in refitting existing buildings to meet its day-to-day needs: from the Westport Allen Center to the National…