REVIEW OF 'MEMPHIS': Black Rep/White Theatre at the J collaboration wins the heart, sets the mind thinking
At the heart of Memphis lies a conversation about cultural veneration versus cultural appropriation. Based loosely on a real-life Memphis DJ who, during the early 1950s, began to spread the appeal of R&B to white radio listeners, this Tony Award-winning musical ran for 1,166 performances at New York's Shubert Theatre before closing in 2012 and subsequently spreading throughout the world. By now the show (with book and lyrics by Joe DiPietro, and music and lyrics by David Bryan) is essentially part of the contemporary Broadway canon, partly because the questions it asks feel as relevant as ever.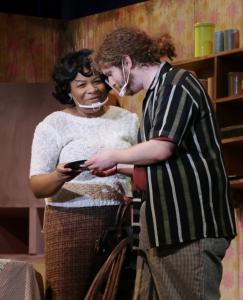 The current production running at the White Theatre at the J, a co-production with the Black Repertory Theatre of Kansas City, is as winning as they come, with commanding direction by Black Rep founding artistic director Damron Russel Armstrong, top-drawer musical direction by Pamela Watson, fine performances by the singing actors, and deft production values including choreography by Christopher Barksdale, scenic designs by Jeremy Smith, lighting and projection designs by Justin Dudzik, and costumes by Eboni Fondren. The smooth-flowing, musically sincere, and dramatically convincing show runs through February 20th. (I attended on February 10th.)
Memphis' Huey Calhoun (played here by Tyler Rowe) is a white DJ who becomes enamored of what the industry called "race music" at the time, and when he visits one of Memphis' popular Black nightclubs, he also becomes enamored of its lead singer, Felicia Farrell (Valerie Chamberlain). She is not immune to his charms despite his disheveled appearance ("You look like a Christmas tree with a drinking problem," Huey's mother tells him). Her brother, club owner Delray (Douglass Walker), is wary. When Huey declares his affection for the powerful music he hears at Beale Street clubs ("The Music of My Soul"), Delray challenges his presumption, stating that "it's the music of my soul … and my soul don't want your soul stealing none of my music."
And therein lies the heart of the matter. As Huey (and others around the nation, at it happened) begin to popularize the recordings of this music, the white-owned music industry took the money and ran with it. "It's the American way," Delray declares, ruefully, later in the show. On the one hand, it's easy to see how those accustomed to the mild sounds of Perry Como and Patty Page were taken by the depth of feeling in R&B: It expressed a level of suffering that white suburbanites could barely imagine, yet within its raw pain lay universal truths. On the other hand, once the music had been packaged, marketed, and mass-produced, the billion-dollar industry was predictably stingy in sharing profits with those who had lived and created the music.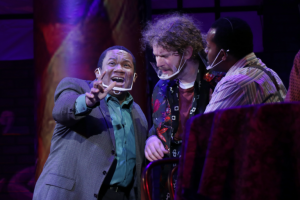 Damron's experienced directorial stamp is ever-present here: He knows how to "clear the air" for an important line or moment, to quiet the motion and noise onstage so that we can focus on a punchline or a bon mot. The show contains several really good songs, the titles of which themselves tell a story: "Someday," "Love Will Stand," "Change Don't Come Easy," and "Steal Your Rock 'n' Roll." A few of the songs are forgettable, and frankly Act II goes on a bit long for my taste.
Valerie and Douglass completely inhabited their roles, and one was quite taken by the soulfulness of Tyler's voice for much of the show. (He is onstage almost continuously, and this two-and-a-half-hour show is a long haul for anyone.) I was also taken by the gleaming, golden vocals of Robert Vardiman as Bobby, and the powerful presence of Hewleek McKoy as Gator, the young man who stopped speaking when, as a child, he watched his father lynched. The list of accomplished performances includes those of Marshall Rimann as Mr. Simmons (the station's owner) and Joy Richardson as Huey's mother. The ensemble sang and danced like accomplished collaborators.
—Paul Horsley
Memphis runs through February 20th. Tickets: 913-327-8054 or thewhitetheatre.org. For more information about the Black Repertory Theatre's season go to brtkc.org.
To reach Paul Horsley, performing arts editor; send an email to paul@kcindependent.com or find him on Facebook (paul.horsley.501) or Twitter/Instagram (@phorsleycritic).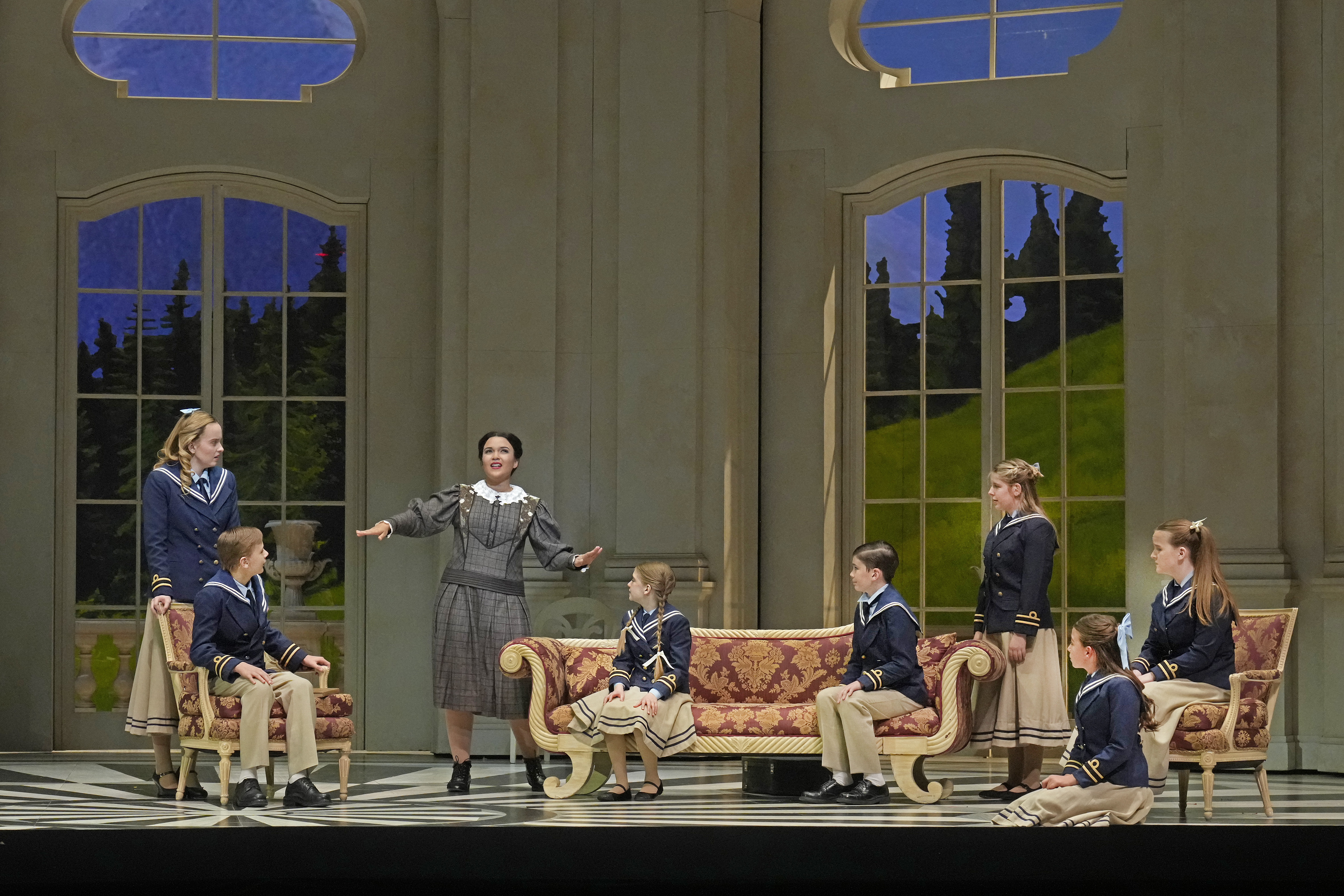 If any musical is worthy to be performed by an opera company, it is The Sound of Music. Its best songs are not just Rodgers & Hammerstein at their most…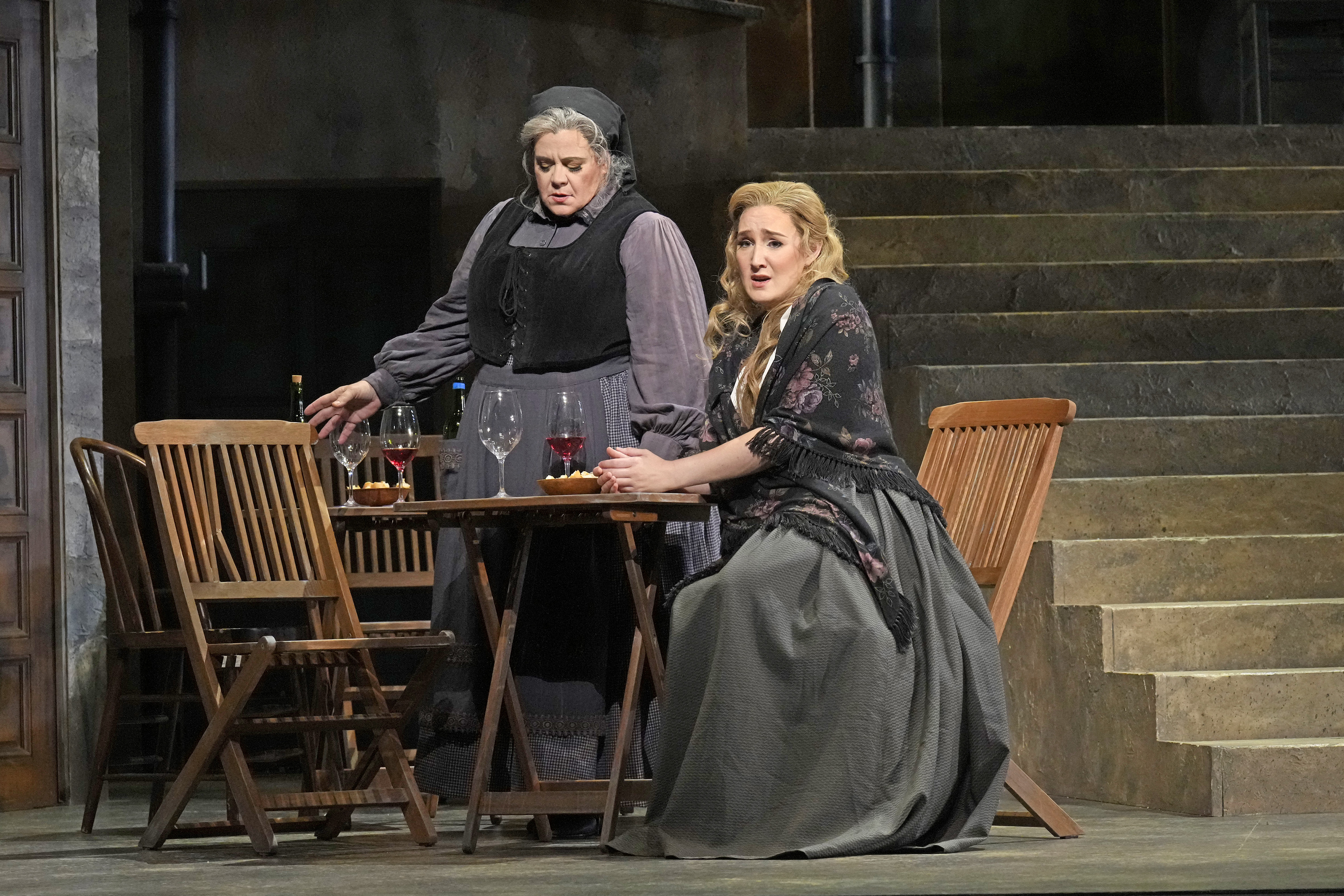 The double-bill of Pietro Mascagni's Cavalleria rusticana (1890) and Ruggero Leoncavallo's Pagliacci (1892) remains one of the most accessible evenings at the opera. With busy choruses, passionate arias and ensembles,…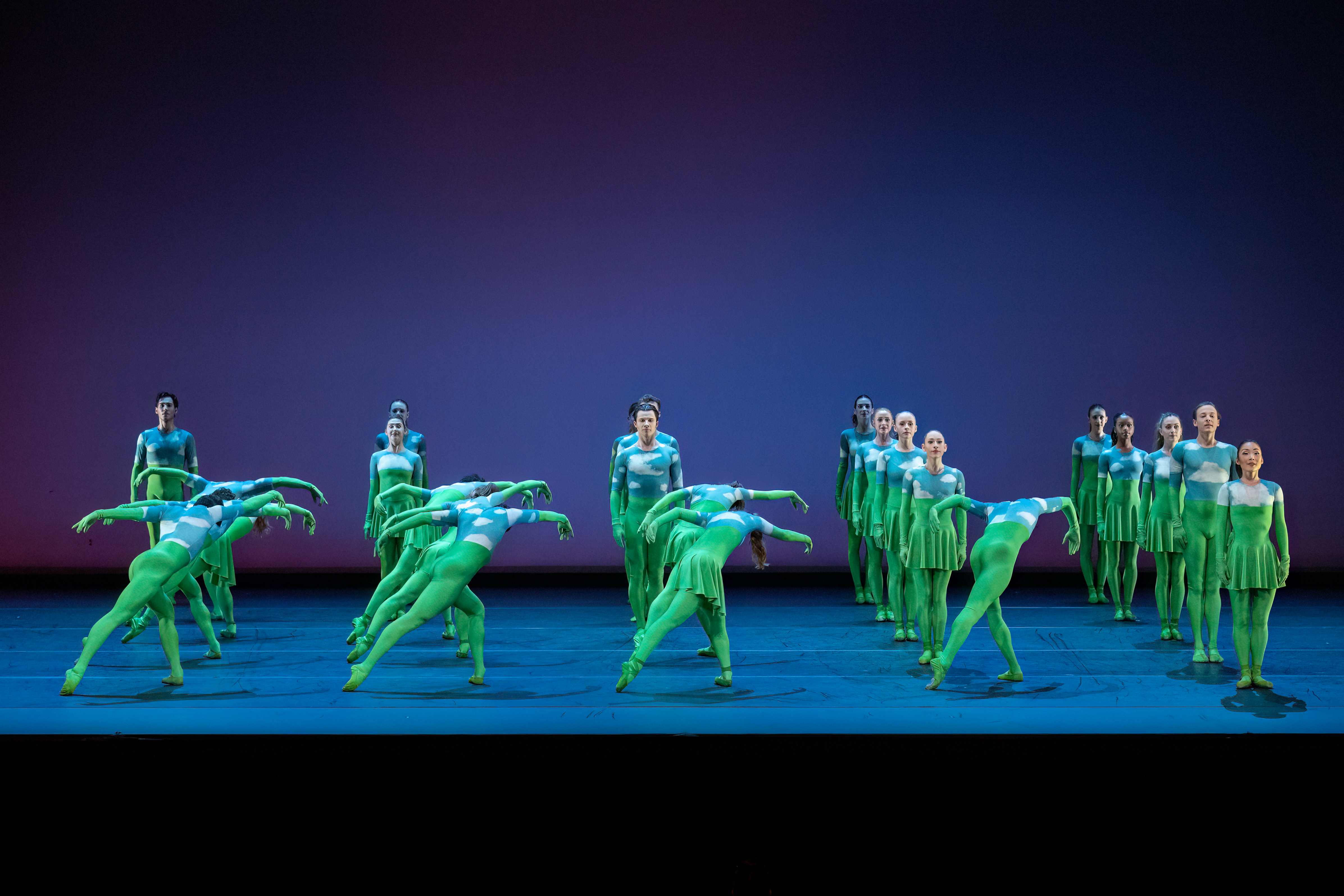 Each spring, the Kansas City Ballet presents a program of mixed repertoire embodying some of the more fascinating trends in contemporary ballet: where dance has been recently, where it stands…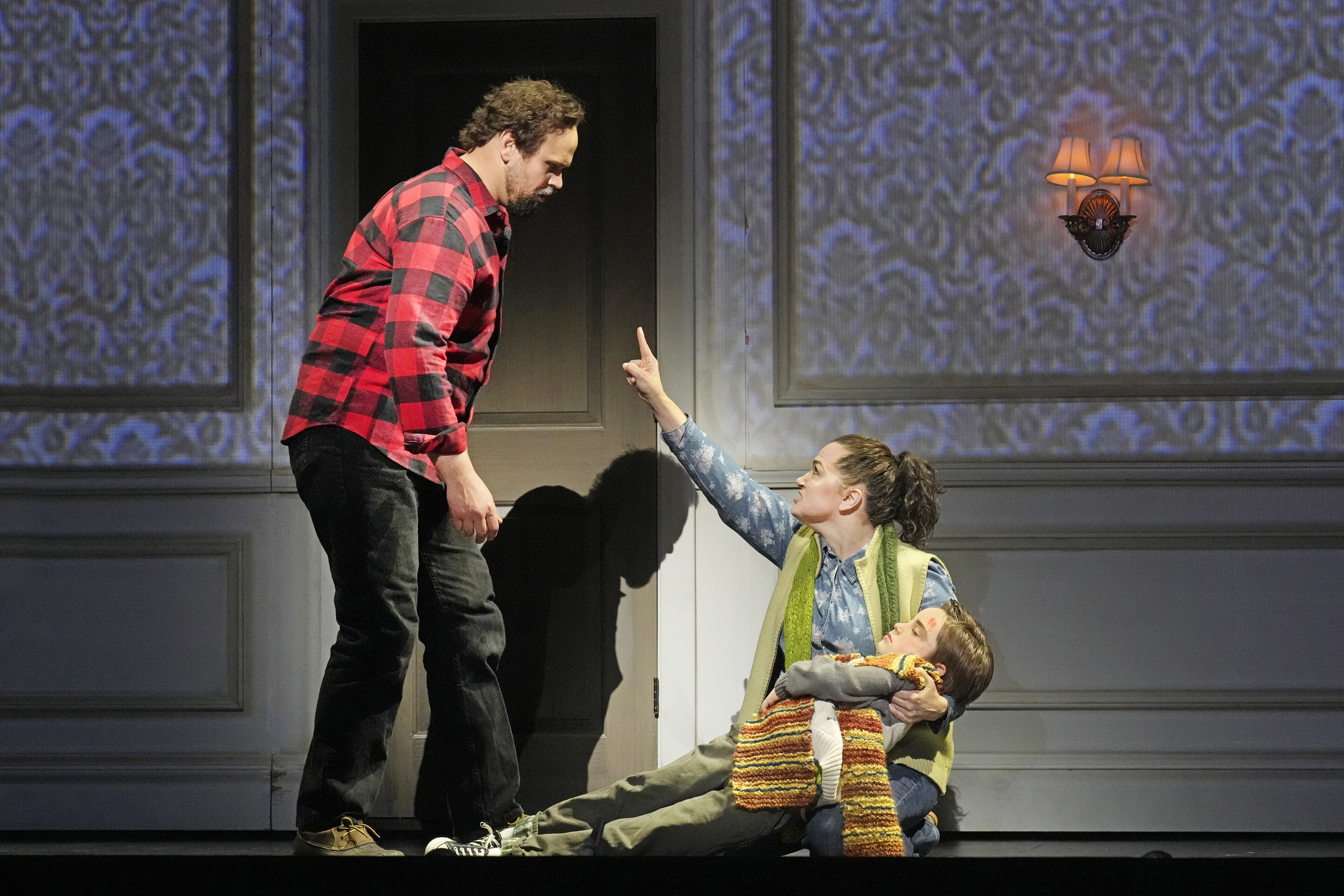 One of the reasons that Stephen King's horror stories are so indelibly etched onto our consciousness is that their macabre ingenuity has lent itself so readily to screen adaptation. Far…