REVIEW: Visually appealing 'Pearl Fishers' entertains by embracing the opera's conundrums
Contrary to popular opinion, Bizet's The Pearl Fishers does not rely on a single beautiful duet: It has several quite lovely numbers and a few choruses that are worth your time. To be sure, taken as a whole this opera, which preceded the inimitable Carmen by 12 years, is a bit of a mess. Yet to be fair, the composer was not yet 25 when he dashed off Pearl Fishers in a matter of weeks during the summer of 1863. History has not been kind to "Bizet's other opera," and the Metropolitan Opera's drab 2016 version, an ENO co-production that appeared on the Met's HD broadcasts, was fairly well sung but so tediously overwrought as to remind us of why the piece hadn't been seen at the Met in nearly a century.
The Lyric Opera of Kansas City's restaging of a well-traveled and more cheerful American production, which opened on April 27th at the Kauffman Center, actually made the opera seem fun, whether it's supposed to or not. There are hormone-fueled love scenes, deft (and scantily clad) "Ceylonese" dancers, and a plot that resembles Brokeback Mountain more than some opera fans might care to admit. Leila (soprano Maeve Höglung) has taken a vow of chastity, because as a priestess her prayers are apparently what keep the fishermen of this Ceylonese village safe on the high seas. Meanwhile Nadir (tenor Sean Panikkar) and Zurga (baritone John Moore) are both in love with her, but as lifelong buddies they have sworn not to let their mutual love form a wedge that could destroy their own friendship.
When Leila shows up on their seaside village, she and Nadir are inexorably drawn to each other (as one might expect of the soprano and the tenor in a 19th-century opera). Yet Zurga, who is now the town's chieftain, is bound by yet another vow to keep his village safe, even if it means punishing his friends.
The success of this production, created for San Diego Opera in 2004 and credited, by some, with singlehandedly rekindling recent American interest in the opera, lies partly in the way that it moves with as much celerity as possible from one nice tune to the next. And there are indeed some gorgeous melodies in this opera: Not just the famous friendship duet "Au fond du temple saint" (which often appears on gala programs partly because of the paucity of decent tenor-baritone numbers in the repertoire), but also Nadir's indescribably beautiful "Je crois entendre encore" (which in my view is as good as anything in Carmen) and Leila's scrumptious "Comme autrefois dans la nuit sombre." And in this version the torrid duet/fight between Zurga and Leila in Act III becomes a central musico-dramatic number. (It also takes on a tawdry nature, as he brutally tries to force herself on her: Villainizing him makes the ending seem perhaps less gratuitous than it might.)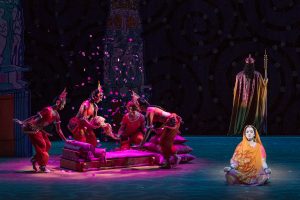 But one would be remiss not to emphasize that this production is also quite attractive to look at. English fashion designer Zandra Rhodes reportedly visited Sri Lanka to observe the culture, the architecture, the clothing, and even the manner in which the fishermen go about their work. She has created brightly hued costumes that are stylishly lavish but not absurdly extravagant, and scenic designs that are emblazoned with schematic scribbles of Ceylonese imagery. (At times, one can't escape a feeling that we're actually seeing textile designs on the walls and columns.) Director Andrew Sinclair, who was a part of the San Diego production, has a feel for small moments but also for large-scale action, painted in broad strokes. John Malaschock's original choreography embeds members of the fishing community (performing re-imagined versions of indigenous dances) into the forward-motion of the drama: The "knife dance," for instance, is a sort of madcap stylization (perhaps) of "how to shuck an oyster." As was the custom in French opera since its inception, dances are written into the score: Here they are also incorporated into the action. The vibrantly rhythmic choruses, too, enhance a sense of life in a fishing community.
Andrew and his creative team have continued to enhance and tweak the production over the years (the savvy lighting designs by Ron Vodicka are critical in creating a wide range of visual effects, from the intimate to the explosively brilliantine), and it has been honed to a fast-paced two and a half hours. It helps that Acts I and II are breezed through in a single, 90-minute first half, and that the eye and ear are kept continually busy with dancing and well-designed choral activity. It also helped, on Opening Night, that guest conductor Antony Walker coaxed the Kansas City Symphony into a tidy, idiomatic reading of the score.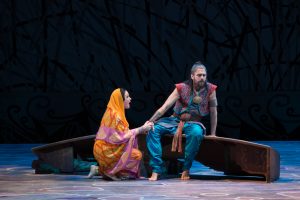 The four soloists were of variable quality, though overall not bad. It was announced from the stage beforehand that Maeve was not in top form vocally yet had "graciously agreed to go on anyway." Such announcements of course make a singer critic-proof, and though it's true there were times one felt that she was holding back a bit, for the most part her tender soprano seemed to be in working order. Hers is a complex role, as it is difficult for a modern audience to wrap its head around ancient Ceylonese religious rites. The priestess Leila has presumably been imbued with lofty mystical powers, yet in the love scenes she is revealed as all too human. Maeve did the best she could to veer between these extremes.
Sean has grown into a more expressive singer than when I first heard him in St. Louis several years ago, and though he had to sing his "Je crois" partly in head-voice (not many lyric tenors can master its impossibly high tessitura), he was as convincing dramatically as anyone onstage. John displayed a delicious, sweetly colored baritone, if not an especially wide range of affect (as befitting, perhaps, his characterization of the hard-headed, type-A male). Christian Zaremba sang Nourabad, the high priest who represents the "old guard," with suitable stolidity, his oaken bass lending a sort of bullyish authority. Nourabad is especially alarmed by all the shenanigans, which threaten the opera's inscrutable code of ethics.
All of the characters, in fact, are operating under some set of ethics that are rather difficult for a modern-day audience to grasp. (I'm not sure the authors had a firm handle on them, either.) Zurga is declared "chieftain" at the outset, but the word "roi" is also used. Is he a king, or is he more like the village mayor? This becomes crucial when he is required to punish the passionate Leila and Nadir at the end, partly out of jealousy, but also out of a sense of duty. The villagers expect Zurga to act according to "code," and thus one can't help feeling his fate shouldn't be too harsh, especially considering the mercy he extends. The authors provided different endings, and directors have made their own choices through the years. I was somewhat disappointed at the choice this production made, but in the final analysis there is perhaps no logical conclusion to such a tangle of vows and oaths in what is (let's be honest) one of the more bizarre love-triangles in all of opera.
The Pearl Fishers continues through May 5th. For tickets call 816-471-7344 or go to www.kcopera.org. To reach Paul Horsley, performing arts editor; send email to paul@kcindependent.com or find him on Facebook or Twitter (@phorsleycritic).
After more than two decades and four deans, it was beginning to look as if the UMKC Conservatory's dream of a new facility would remain just that: a dream. Until…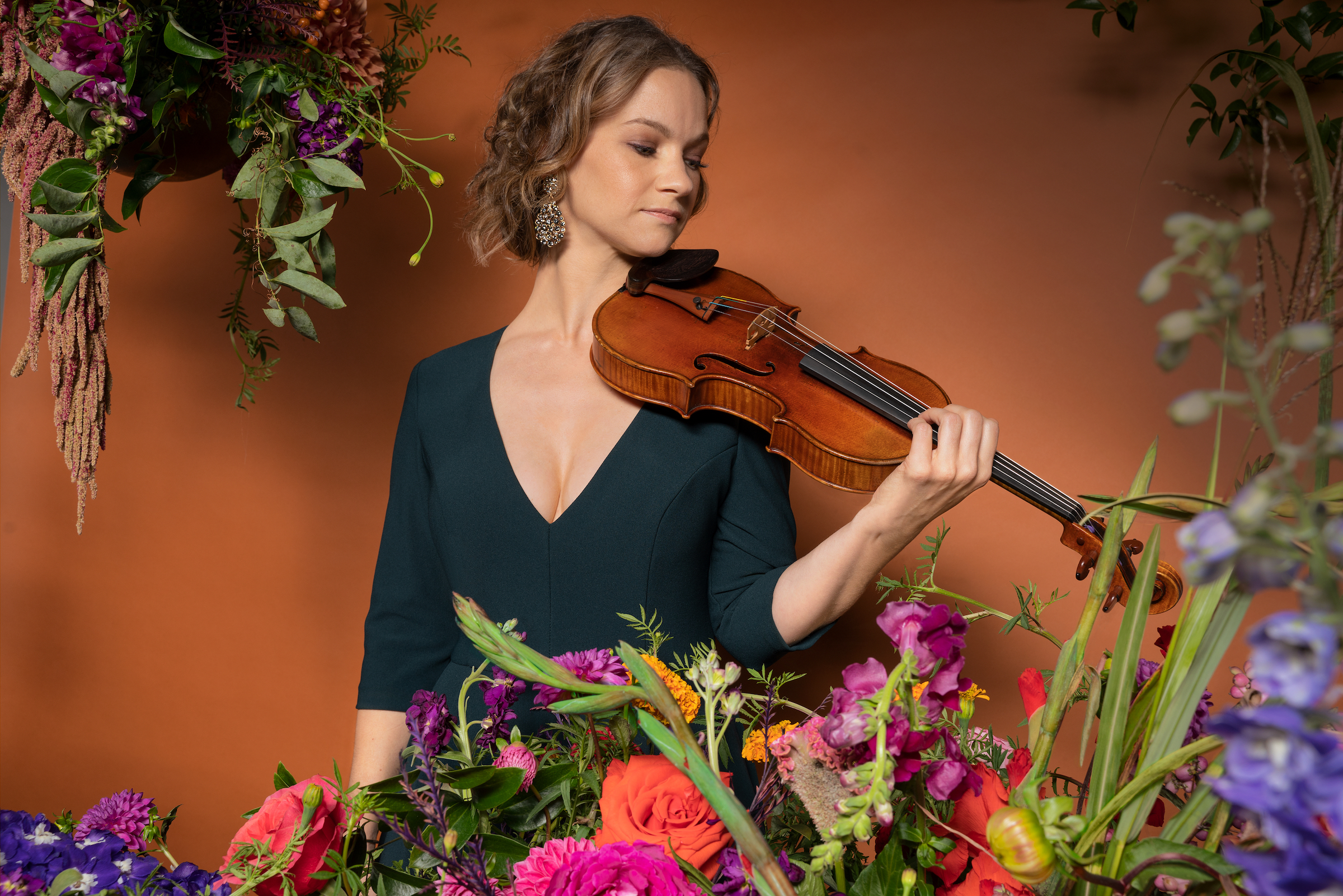 One woman, standing alone onstage. No pianist, no music-stand: Just Hilary Hahn and her violin, creating miracles. That is what Harriman-Jewell Series audiences are likely to experience this October 13th,…
Oh the weather outside is frightful(ly hot). But it won't be for long, so take a close look at this fall's diverse and provocative mix of music, dance, and theater:…
Kansas City Ballet always seems to be building something. For decades, it engaged in refitting existing buildings to meet its day-to-day needs: from the Westport Allen Center to the National…