Mary McGavran & Charles Reed "Charley" Cook
Sometimes, we like to imagine the places we've loved in the days long before we knew them. The Country Club Plaza is one such site. J. C. Nichols created it, and other entrepreneurs gave it their own stamp. Here is the story of two of them, Mary McGavran (Mrs. John C. McGavran), who found her niche late in life, and Charles Reed "Charley" Cook, who started young and built a company that long outlived him. (Why these two? Oh, their businesses were featured on the cover of The Independent!)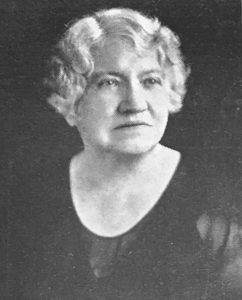 Mary B. Love was born in Jefferson City, Missouri, during the Civil War: July 10, 1863, to be exact. She moved to Lamar, Missouri, when she wed Dr. McGavran, who was already the father of five children. In her spare time, (copious, we're sure), Mary painted portraits and other works in a studio in the loft of their barn. She also gave piano lessons. After the McGavrans moved to Our Town, she first assisted her husband in his office at 1114 Main Street, before founding a beauty salon at the same address in 1904. When the Marinello shop opened in Harzfeld's Parisian (a department store later known just as Harzfeld's) in 1914, our scribe noted in a column titled "Smart Shops And Shop Talks" that Mary had an affinity for her work: "As a guarantee of faith in the new Marinello shop one has only to understand that Mrs. McGavran, who owns the New York Hair Shop and the Baltimore Hotel Beauty Shop is also the proprietor of the Marinello Shop in the Parisian." The new beauty parlor was no small enterprise. Not only did it take up half the space on the ninth floor of the building, it boasted 20 rooms, "all operating rooms being finished in white enamel and and hung with washable draperies.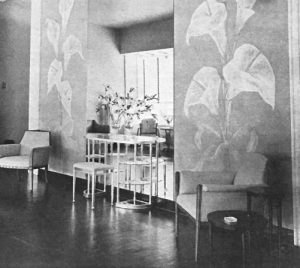 The operators are all women except the one French barber who docks the hair of the tiny folk. Before his door is a miniature barber pole, and inside is an elephant that nods and shakes its head, to the delight of the small girl or boy. Every operating room has a big window, and the cool wind sweeps through, careless of the dignity of towels and aprons." Plus: "The newest in electrical contrivances, the most ultra creams and bleaches and the stiffest of pastes for spit curls, all have a place here." In 1916, the McGavrans purchased a house at 3734 Walnut Street. After John died at the age of 74 in September 1918, Mary continued to live there for the rest of her life. She was a charter member of the Women's Chamber of Commerce, serving as president in 1918 and 1920. (She lived long enough to be the last of the charter members.)  In addition, she was a charter member of the Women's City Club.  J. C. Nichols himself requested that she open the Marie Earle salon on the Country Club Plaza in 1934. (Both Marinello and Marie Earle were franchise names.) Mary was honored as one of the "Plaza Pioneers" in 1949, along with the late Fred Wolferman (of English muffin fame) and C. A. Chandler, the florist. The Marie Earle salon was still located on the Plaza when Mary died at the age of 96 on July 27, 1959; by then, it was under the capable leadership of Ada Rafter, who had worked with Mary for many years.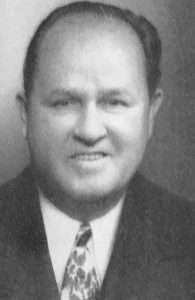 Charles Reed Cook, who was known as Charley, married Minnie Kieckhefer, a Milwaukee belle, in 1910. Just three years later, he set up shop in a two-story building at 2107 Broadway. Charley founded the Cook Paint & Varnish Company, which became one of the largest paint manufacturers on the globe. In 1928, the Cooks and their daughters Helen Louise (later the mother of Clinton Hoose and Charles Hoose and the wife of Esthmer Skinner) and Betty Ann (later the wife of Dr. Desmond Curran and mother of their sons, D. Patrick Curran, Dr. Terrence Curran, and Timothy Cook Curran) moved into 1405 Dunford Circle, (now known as 3 Dunford Circle), an impressive home of the Jacobean Revival style that was designed by Henry Hoit for Charles A. Braley, a lawyer. It was built by the R. A. Long Construction Company and completed in 1919. The Cooks were the third owners. "Just as zestful in his play as in his work was Charley Cook," The Independent noted in his obituary. "Golf and tennis were top favorites and no day was too hot for a strenuous round on a golf course under a blazing sun." As Cook Paint & Varnish Company grew, it expanded to a plant in North Kansas City. Charley Cook's love of music led the company to acquire the WHB Broadcasting Company.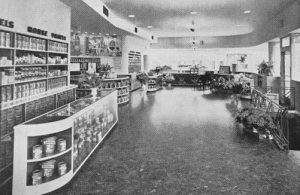 For the Country Club Plaza store, which opened in 1939, the goal was simple: "The Most Beautiful Paint Store in America!" That's what the ad said, and it's unlikely that any other paint manufacturer was competing on such a grand scale. Murals on the history of color were painted by Walter Alexander Bailey, whose artwork already graced the Nelson Gallery (now The Nelson-Atkins Museum of Art) and Municipal Auditorium. What other store could claim a five-room bungalow, decorated by Robert Keith's, the well-respected furniture emporium? Visitors were invited to: "See how paint, wallpaper and furnishings combine in perfect harmony! Ask the home decorating experts in charge about your decorating problems." Minnie and Charley wintered in Florida, and it was there that Charley died on April 2, 1949. At that time, the company had plants in Detroit and Houston in addition to the sizable one in North Kansas City. Minnie sold their Dunford Circle home to Dorothy and Earl Katz in 1950. She outlived Charley by more than two decades. Minnie was a longtime board member of the Children's Convalescent Center, (later part of Children's Mercy). She was predeceased in 1965 by her daughter, Helen, who had moved with her husband and sons to Newport Beach, California, about 15 years earlier. Betty Ann Curran, known to her intimates as Puddin, shared her father's athleticism: she won the ladies' golf championships at The Kansas City Country Club in 1956 and 1970. She set the ladies' course record with a 71 on August 28, 1955. (That record was equaled only once in her lifetime, and it had not been surpassed when the club celebrated its 100th anniversary in 1996.) Many of the Currans' descendants still reside in Our Town.
Also featured in the April 27, 2019 issue of The Independent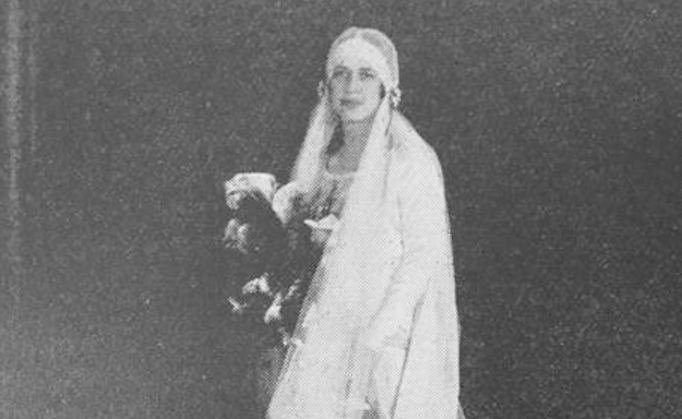 In 1942, Random House published Instruct My Sorrows, a first novel with a distinctly unusual author's bio: "Clare Jaynes was born some thirty years ago in Kansas City and again…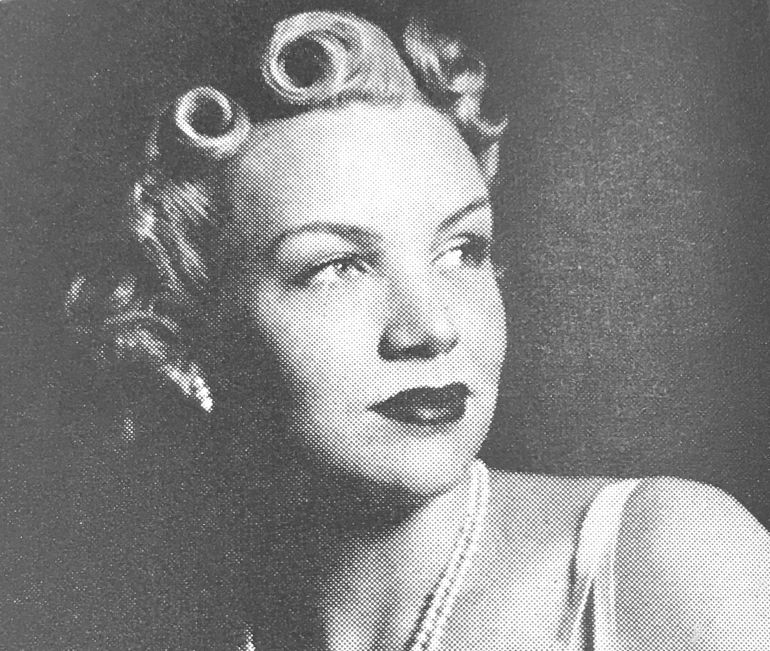 Are these the eyes of a killer? Technically, no. All that was years in the future… Back in July 1939, our scribe wrote glowingly of a young woman who graced…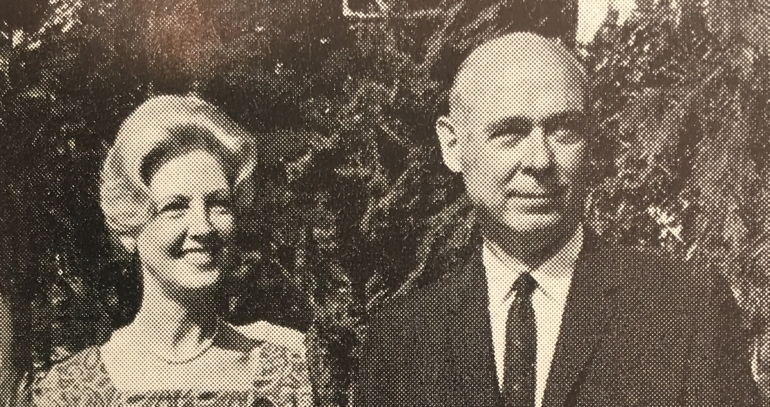 She married a jazz musician. That doesn't completely explain Tillie Heyle's love for the Conservatory, but it's a good start. During his college days at the University of Missouri, Alvin…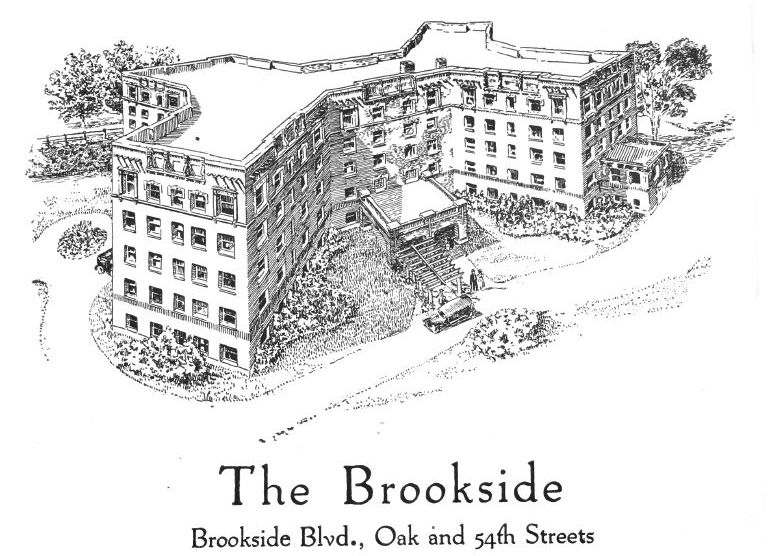 Author's note: A decade ago, Michael Churchman wrote Storied Halls: The Brookside Hotel, Treadway Hall, and the Crestwood Condominiums Through Ninety Years, and this scribe is heavily indebted to him…