THE BIG 12: Top Moments in KC Performing Arts for 2011
This year will go down in history as a milestone in Kansas City's performing arts life, as the opening of the Kauffman Center has spurred all of our local arts groups to new heights. Here are a few of my favorite moments of the year, listed in chronological order. All of these have been reviewed on this blog: Use Search screen at upper right.
 
Harriman-Jewell Series: Joshua Bell, violin, and Sam Haywood, piano. Joshua delighted a sold-out Folly Theater audience with his signature earthy-sweet tone and lovely, long-breathed phrasing, in a program that included Brahms' Second Sonata, Schubert's Fantasy in C major and Grieg's Second Sonata. His collaborator is one of the most musically adept and sensitive pianists I've heard in recent years: His fragrant underpinning made for fine partnering.
Kansas City Ballet: Jerome Robbins' Moves. This remarkable ballet, performed in total silence, was part of the company's spring performance. It is quite literally a study in moves – some as small as a shrug, others big and dramatic and angular – and is remarkable in that it has an inner "beat" despite the lack of music. It shared a program with the premiere of William Whitener's Mercy of the Elements, in which choreography responded naturally and intelligently to musical phrasing and structure.
Quartet Accorda: Beethoven Op. 95 and Dvorak Piano Quintet No. 2. It was a sad day when violinist (and KC Symphony concertmaster) Kanako Ito and cellist Martin Storey moved to the United Kingdom two years ago, so it was a delight to welcome them back for a concert at Park University with their fellow quartet members, violinist Ben Sayevich and violist Chung-Hoon Peter Chun. Their Beethoven was marvelously textured and dense; they were joined by the excellent pianist Marina Sultanovain the Dvorak, which was played with rare clarity of articulation and expressiveness.
Kansas City Repertory Theatre's Cabaret. When you do a piece by a KC native son, in this case John Kander, you'd better do it up right. This production, directed by Eric Rosen, featured a central disc that rotated, surrounded by seats on all sides. It was an incredibly effective way of communicating a sense of claustrophobia, as the encroaching threat of Nazism tightens its grip and makes us feel more and more trapped.
Friends of Chamber Music: Handel's Acis and Galatea. The Boston Early Music Festival presented what was most likely the first fully authentic production of a Baroque opera in Kansas City's history. Though its conceit of a "play within a play" was a bit strained, the voices were attuned to 18th-century vocal style – especially those of Teresa Wakim, Aaron Sheehan and Douglas Williams. The capital chamber ensemble was led by two of the leading figures in early music, Paul O'Dette and Stephen Stubbs.
Bachathon, sponsored by The Kansas City Chapter of the American Guild of Organists. If you're going to devote a whole afternoon to the music of one composer, it might as well be the greatest who ever lived. The AGO has been hosting this for 32 years (!), and it's almost always a highlight of the concert season. Especially memorable this year was Jan Kraybill's bracing performance of the "St. Anne" Fugue, one of the most amazing displays of virtuosic musicianship I have heard in Kansas City.
Kansas City Actors Theatre: Harold Pinter's The Birthday Party. This harrowing early play by the late British playwright, directed by Bruce Roach at the intimate H&R Block Stage, was given a first-class treatment by a cast that included T.J. Chasteen, Robert Gibby Brand, Melinda McCrary, Mark Robbins and Brian Paulette. It's mysterious and creepy and funny and altogether a theatrical tour de force.
Kansas City Repertory Theatre's August: Osage County. This sprawling family tragedy reminded me of the great plays of Tennessee Williams and Eugene O'Neill, and its content is very nearly on the same level. It was another landmark in Eric Rosen's years at the Rep. Merle Moores led an incredible cast of local actors, who worked together as comfortably as any theatre ensemble I've ever seen.
Openings: The Kauffman Center for the Performing Arts and the Todd Bolender Center for Dance and Creativity. What a year it was for our performing arts organizations, as the Kansas City Ballet opened its newly renovated building in the Union Station complex and the Kauffman Center opened to grand acclaim after 16 years of planning and construction. The national press was out in droves, and the initial reactions were quite favorable. The Ballet can now boast one of the finest dance facilities in the country, and the Kauffman is going to alter the face of Kansas City's cultural landscape forever.
Kansas City Ballet's Tom Sawyer. Years in the making, the ballet based on Mark Twain's classic novel was a risky undertaking but paid off big, in a production that was sophisticated, humorous and engrossing. The music by Maury Yeston featured singable tunes, and the choreography by artistic director William Whitener contained a good-natured mix of ballet and a wide range of other styles.
Lyric Opera of Kansas City's Cosi fan tutte. Part of the beauty of this production, directed by the gifted Kristine McIntyre, is that it showed off how ideal the Muriel Kauffman Theatre can be for small-scale chamber-like operas (and not just huge spectacle). The cast was exceptional, led by Amanda Hall, Marie Lenormand, Matthew Plenk and David Won. The celebrated Metropolitan Opera star Susanne Mentzer nearly stole the show with her command of the stage in the wildly comic role of Despina.
Behzod Abduraimov, pianist, with Michael Stern and the Kansas City Symphony. The 21-year-old Park University student, who won the London International Piano Competition, played Rachmaninoff's Paganini Rhapsody with verve, virtuosity and poetry, in one of the first Symphony concerts in glorious Helzberg Hall. This young man is headed straight for the top, and I'm grateful we got to know him here first. This spring his first CD comes out, one of Decca's first discs by a young pianist in a very long time.
Most of us have experienced at least one extraordinary moment in our lives in which we feel we've been visited by a miracle: and perhaps we have been. Such a…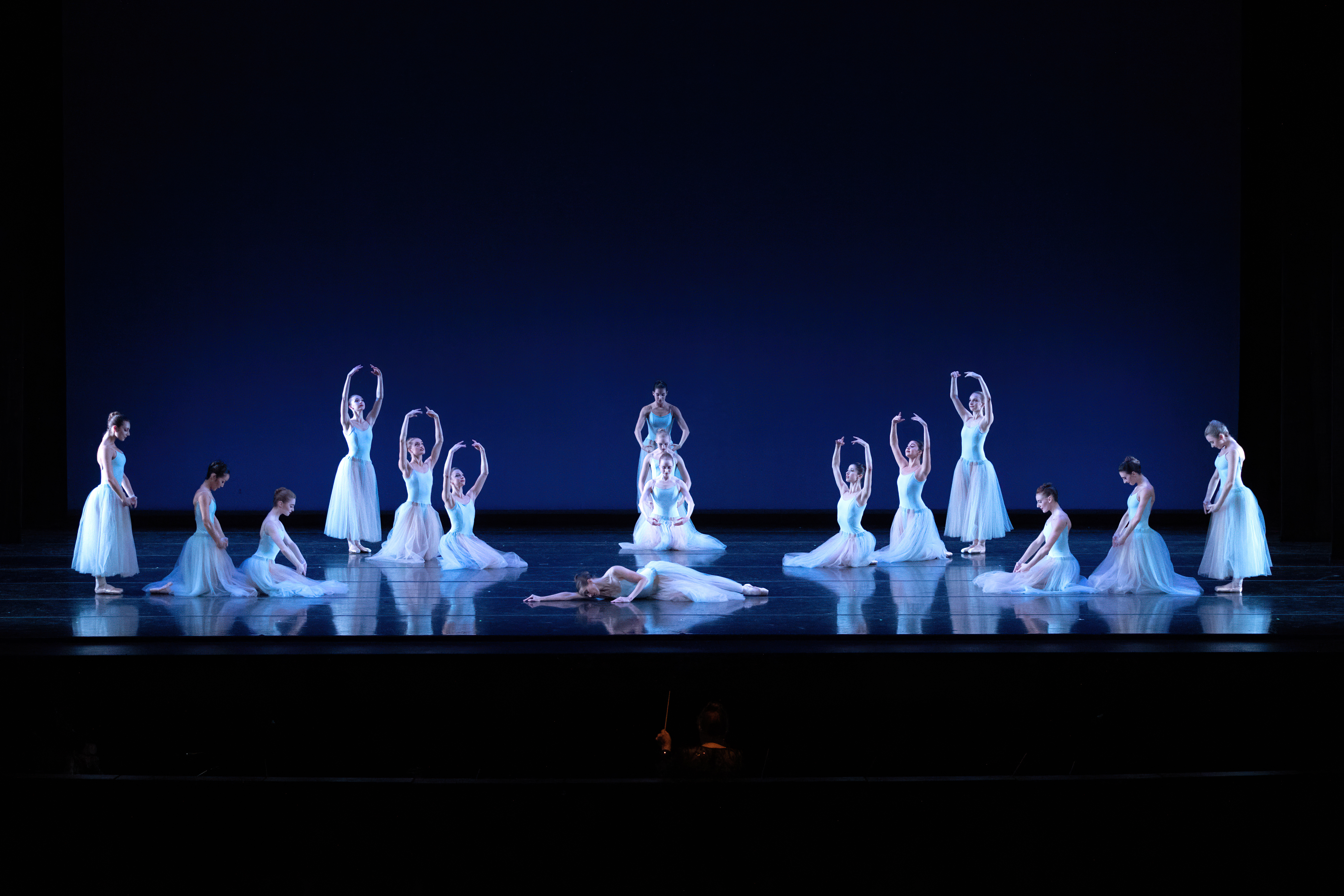 Oh, how George Balanchine's teachers back in Russia must have chafed at the finale of his Serenade, in which three women assert themselves through the most startling of means: After…
Many of the shows we are highlighting this fall are actually indoors! But always confirm your event a day or two ahead. SEPTEMBER August 27-September 19 Kansas City Repertory…
Devon Carney's great affection for classical ballet stands front and center in his lovingly choreographed Swan Lake, which the Kansas City Ballet introduced here in 2016 and is currently revisiting.…