The Dish with Ann – Afterword Tavern & Shelves
"One sip of this will bathe the drooping spirits in delight, beyond the bliss of dreams." John Milton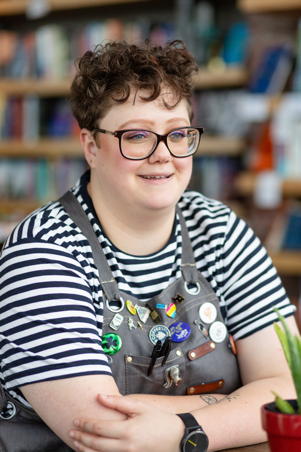 There might be a night when you just want to curl up with your laptop and tweak your work presentation, sipping a glass of Sean Minor Napa Valley cabernet sauvignon, while sitting at a long, custom-made bar. There might be a night when you want to have a book club discussion with your friends with small plates and cocktails served to your table. There might be a night when you and your significant other wander into a delightful venue and find one of your favorite books for sale, Hunter S. Thompson's Fear and Loathing in Las Vegas and buy it right then and there for your significant other, who has never read it.
That is the allure and charm of Afterword Tavern & Shelves. With its worn brick walls lined with books, and festooned with a large, handsome brass chandelier, it can accommodate any mood or social groupings. The restaurant and bookstore also offers readings and live music. Said Manager Vanessa Waters: "We have been open less than a year, and we already have regulars. We have so much fun here. It's the best place I've ever worked. As a writer and former teacher, I love to talk about literature with guests and ask them what they are reading. On any given night, there will be one person writing, one person drawing, and two people playing cards at the bar. And who wouldn't want to drink and read books for hours."
Owners Christian Overgaard and Luke Pitz, who both have jobs at Cerner, had dreamed about opening Afterword Tavern & Shelves since college. "They love exploration and buying books," said Vanessa. "Their inspiration was Shakespeare and Company, which has locations in both Paris and New York."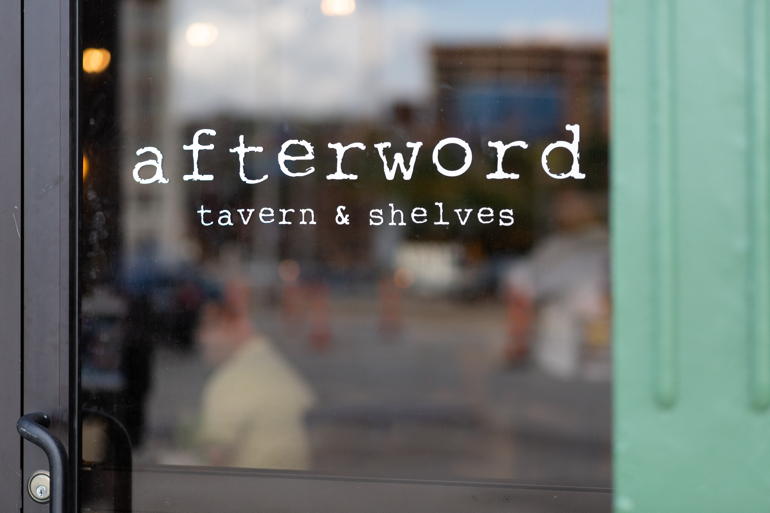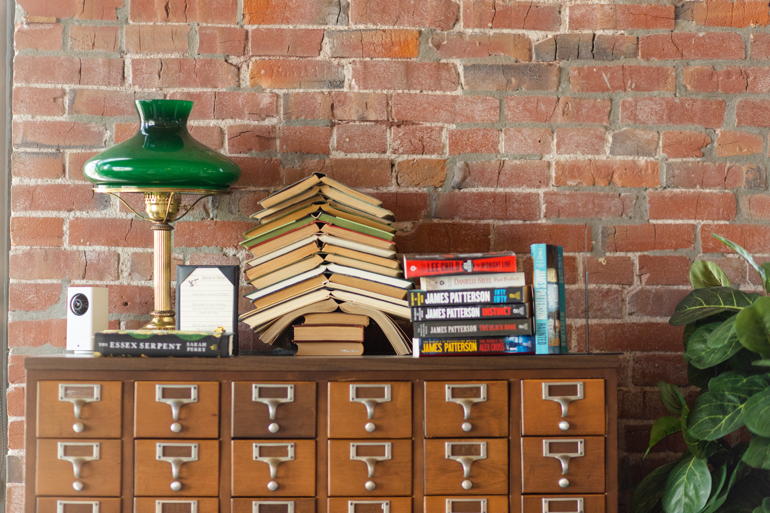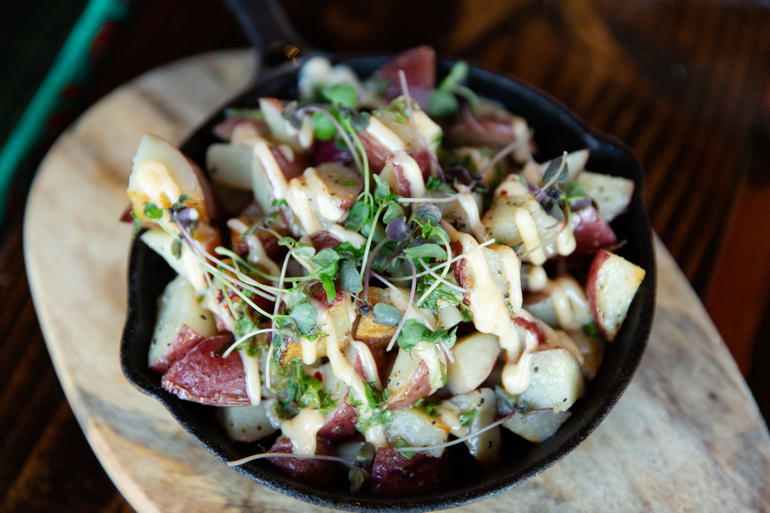 Ryan Maybee hired Vanessa to be a bartender at Manifesto, where she learned her shaking and stirring skills. "I was taught how to bartend by the best. Everyone in this industry is really good about mentoring and passing their knowledge on." She and Christian became acquainted at the Paris of the Plains Cocktail Festival and was brought on as manager when Afterword Tavern & Shelves first opened. "I am definitely the front of the house and happen to love spreadsheets," Vanessa said, laughing. And because of her formidable skills, she will fill in for the talented bartenders on an as-needed basis. "Chef Sydney Montgomery and I are good partners. Her terrific food helps elevate what is being done at the bar."
Our group was excited to try some of the creative cocktails. A few of the standouts, ideal for warm weather, were A Harlequin Summer Romance, consisting of J. Rieger & Co. gin, Copper & King's destillaré orange curaçao, lime, coriander, Fever Tree citrus tonic, and candied peppers, and the Honeydew Me Right with Elvelo tequila, honeydew melon and mint shrub, honey, and sparking water.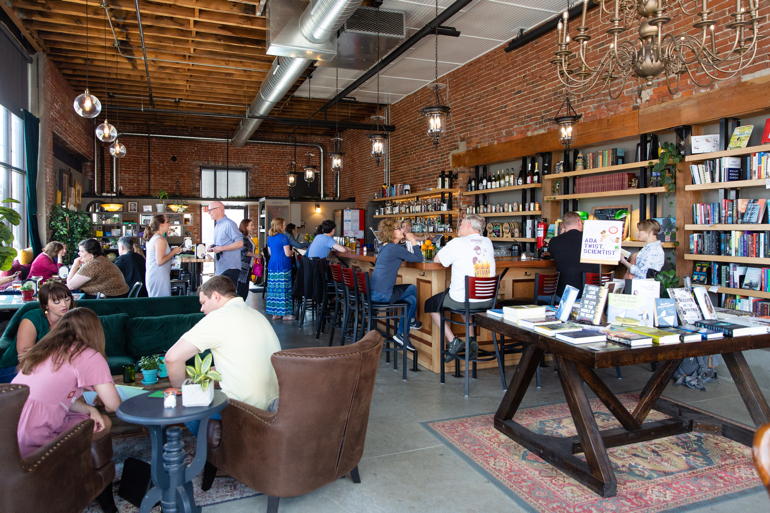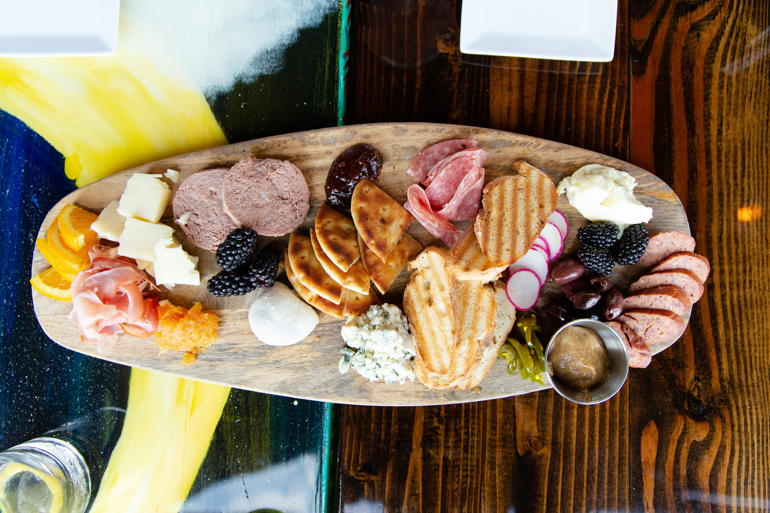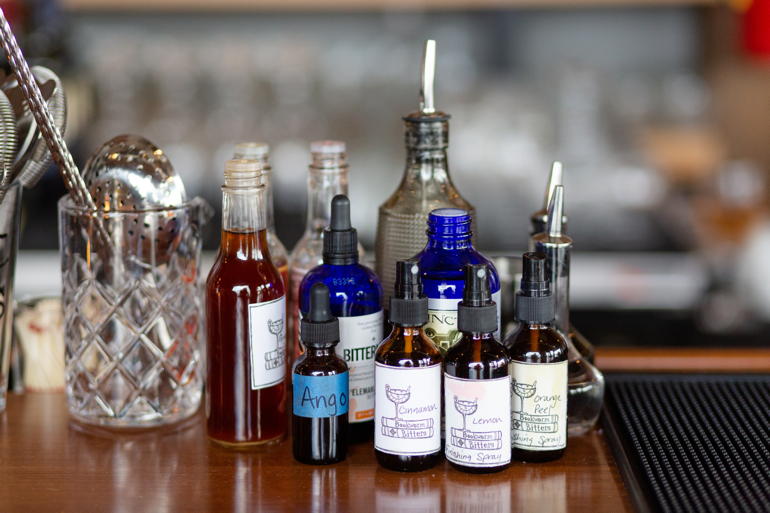 Many of the menu items are meant to be shared. The long charcuterie board, heaping with delicious cheeses, meat, and fresh baguettes and naan, was a knockout. The Nacho' Nachos, with candied jalapeño, carmelized onion, house cheese sauce, hot sauce, and a choice of chicken or pork, were absolutely scrumptious. The turmeric hummus with roasted garlic, smoked pepper coulis, kalamata olives, and naan, was considered some of the best anyone had tasted. We absolutely couldn't resist the deviled eggs with smoked salmon, shallots, capers, and micro greens, and the patatas bravas with spicy aioli. One of our friends who lives within walking distance declared that this restaurant was the best kept secret in the Crossroads. He and his wife were also excited that Afterword Tavern & Shelves was open for Sunday brunch since there seems to be a dearth of downtown brunch spots.
So come to Afterword Tavern & Shelves to drink. Or eat. Or read. Or work. Or discuss. Or listen. Or all of the above. You, too, might become a regular.
Also featured in the August 17, 2019 issue of The Independent
Photo Credit: Bailey Pianalto Photography
Afterword Tavern & Shelves
1834 Grand Boulevard
Kansas City, Missouri 64108
816.569.3001
afterwordkc.com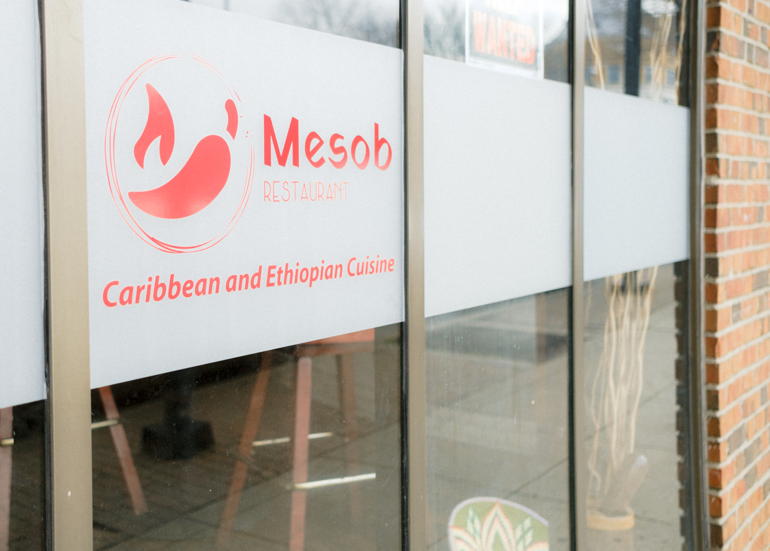 When I first asked Chef Cherven Desauguste where he was from, he said, "Planet Earth." This exemplifies his sense of humor and joie de vivre in terms of cooking and…
In this age of coronavirus, there is only so much cooking a person can bear. Yes, baking can be soothing when you're feeling anxious and cooped up. But let's face…
The coronavirus has changed everything, especially the way we eat. Some of us are cooking more. Many of us are picking up or having food delivered. As I am writing…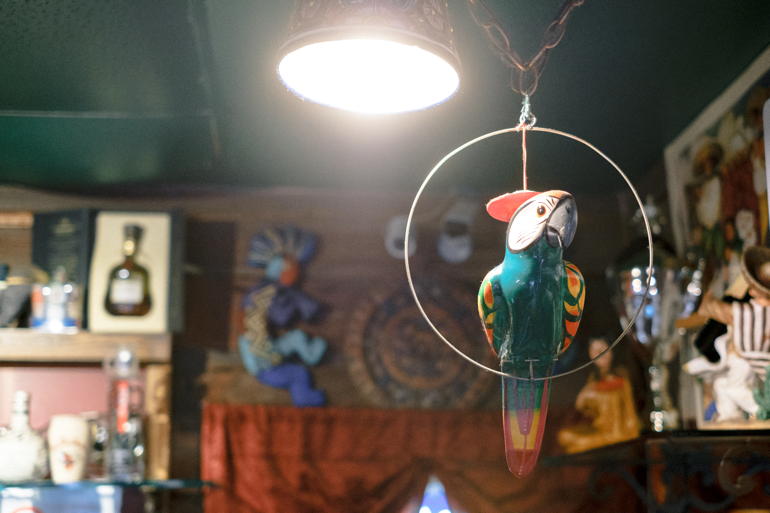 When I was looking for a restaurant I hadn't visited, my friend, Lynne, said, 'Have you considered one of my family's favorite Mexican restaurants, Dos de Oros?" I hadn't. But…