The Dish with Ann – Poi-ō
Tucked off Southwest Boulevard, Poi-ō – a play on the enunciation of the Spanish word for chicken, pollo – has a hipster vibe that is obviously attractive to the non-stop flow of customers. This fast casual restaurant has a counter for ordering, a clean, simple decor, communal seating, and is festooned with floor to ceiling murals by local artists. Carlos Mortera, Jr., along with his father, Carlos Mortera, Sr., have created a new favorite go-to spot for moist and crispy cherry wood-fired chicken, fall-off-the-bone ribs, and side dishes.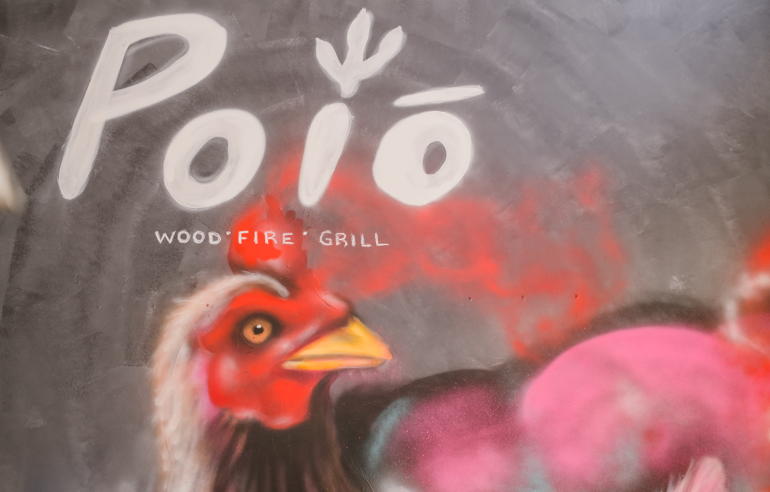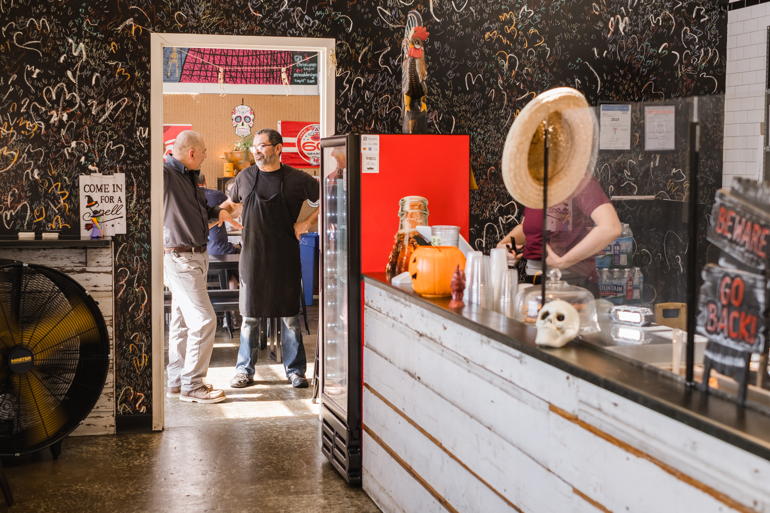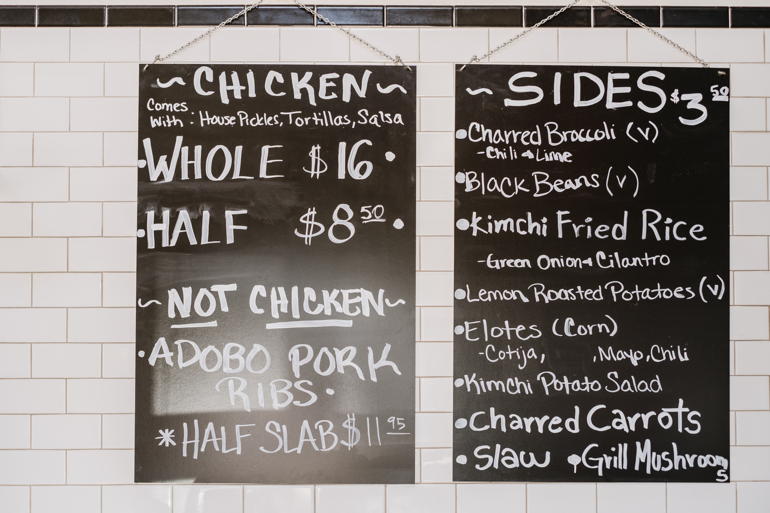 At the age of 13, Carlos, Jr. came to Our Town from Queretaro, Mexico, where his father owned several rotisserie-style chicken restaurants. "Our immediate family immigrated to the United States when the economy crashed in Mexico," said Carlos. His grandfather continues to operate restaurants, bars, event spaces, and even a sugar cane farm in Mexico, and two of his siblings live and work there. His youngest brother is a sous chef at Carlos' sandwich shop in the River Market, The Bite. Carlos also has two catering companies, one for events and weddings, the other providing craft services for movie and commercial sets. Because of Carlos, Jr.'s entrepreneurial streak, his father operates Poi-ō on a day-to-day basis.
Carlos said he has been working in kitchens and restaurants since he was in his early teens. He refined his culinary skills at Michael Smith, Houlihan's, and Ted's Montana Grill. "At one point, I enrolled in culinary classes, but realized I knew everything they were already teaching," he said, laughing. "I always wanted to work with my dad, and his specialty is a traditional grilled chicken. I love it, too, but I wanted to modernize it, add more Asian flavors, with chili, garlic, and lemon. Growing up, we always ate at Asian buffets and then I fell in love with Korean food. Asian and Mexican flavors match up well, and Filipino cuisine is very similar to ours. After all, Mexico and the Philippines are both distant cousins to Spain and Portugal."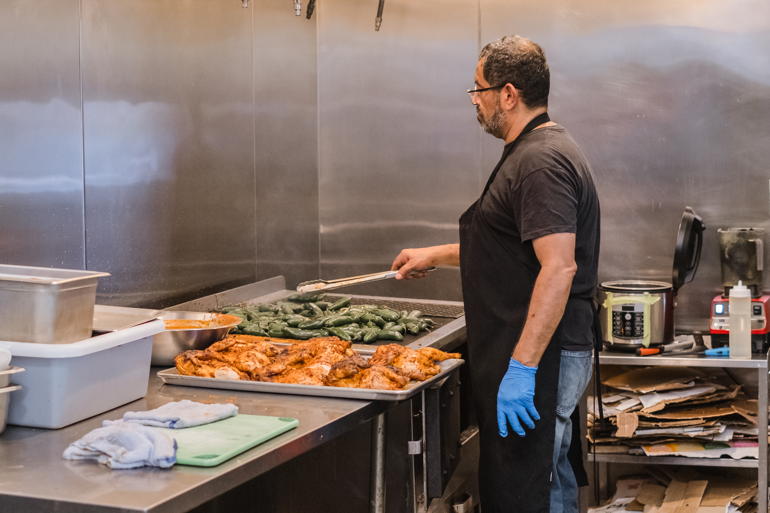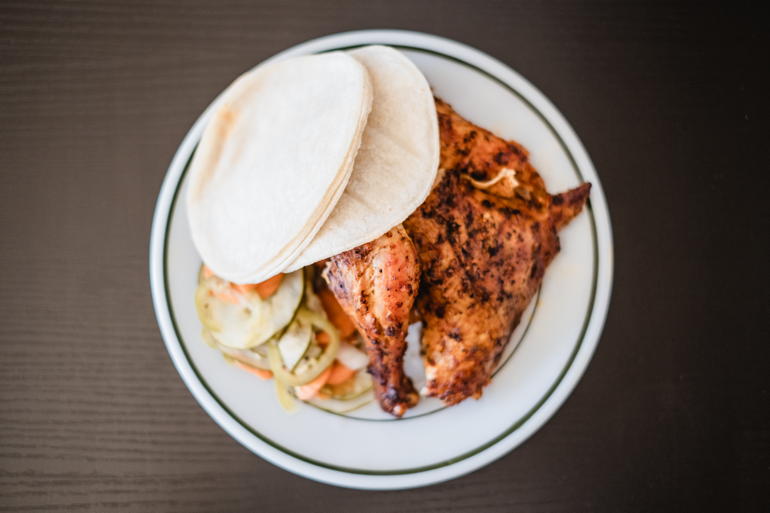 According to Carlos, 95 percent of the food they serve here is fresh and made from scratch and is one of the reasons why they stick with a curated menu. "Since Kansas City is the barbeque capital of the world, I thought I would try to make it, too. We braise our ribs with Filipino adobo sauce, hoisin, and garlic and throw them on the grill. There is a guy who comes in here all the time who is a judge at the American Royal World Series of Barbecue and said my ribs would rate right up there!"
We couldn't wait to dig into the flavorful and sharable dishes. Of course we had to order a half of the wood-fired chicken brined overnight in vinegar, garlic, and chili powder, with house pickles, white corn tortillas, and salsa. The Filipino adobo glazed pork ribs were an ideal combination of sweet and tangy. But what about the sides? They all sounded delicious, and there were so many. We heard the kimchi fried rice with green onions and cilantro was a must-have from other Poi-ō regulars, and it was,hands down, one of our favorites. We also had the black beans in sofrito and the charred carrots and charred broccoli with chili and lime (very healthy and scrumptious). We absolutely loved the elotes or corn salad with cotija cheese, lime, mayonnaise, and chili.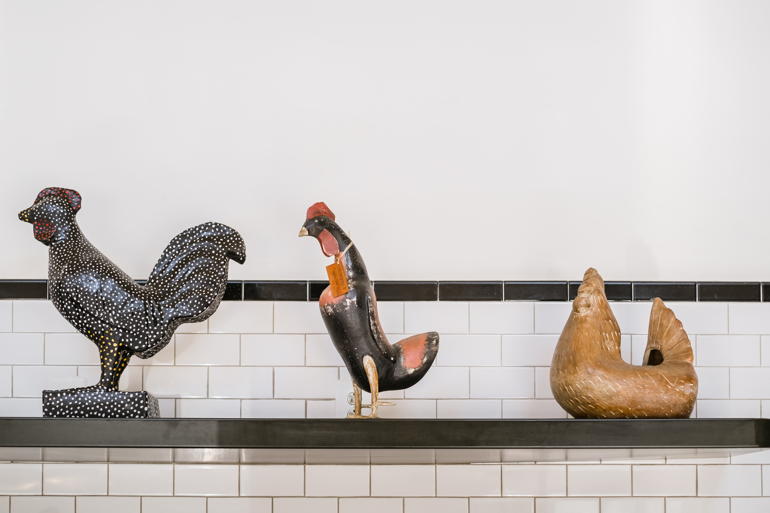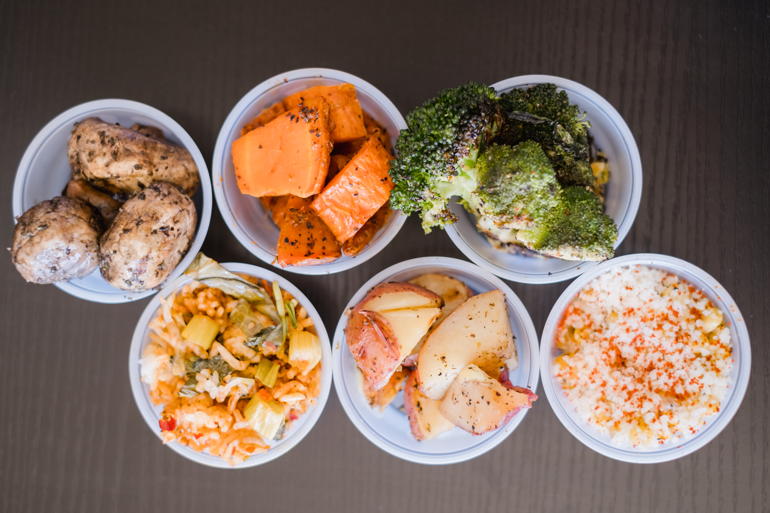 Don't stint on the array of homemade sauces on the side table, especially for the chicken, ranging from a verde sauce, charred jalapeno, and honey serrano. Because everything was so good at Poi-ō, there was not a scrap to take home for leftovers. But how perfect to plan several days of meals with all these mouthwatering sides, chicken, and ribs. Parents with young children and teenagers, take note! As Carlos said: "We cook what we like to eat and people will come."
Chef Carlos Mortera's Kimchi
Napa cabbage, Carrots, Green onion, Ginger, Garlic, Sugar, and Gochugaru (Korean pepper)
– Shred vegetables in a food processor.
– Add ginger, garlic, Korean pepper, sugar, and salt, and make a paste.
– Combine vegetables and paste, cover, and leave on counter overnight.
Also featured in the October 12, 2019 issue of The Independent
Photo Credits: Bailey Pianalto Photography and Renee Tay
Poi-ō
1000 West 25th Street
Kansas City, Missouri 64108
816-809-1900
poiotogo.com
One of Kansas City's most celebrated chefs, Michael Corvino, co-owner, along with his wife, Christina, of Corvino Supper Club & Tasting Room, was nominated as a finalist for the 2020…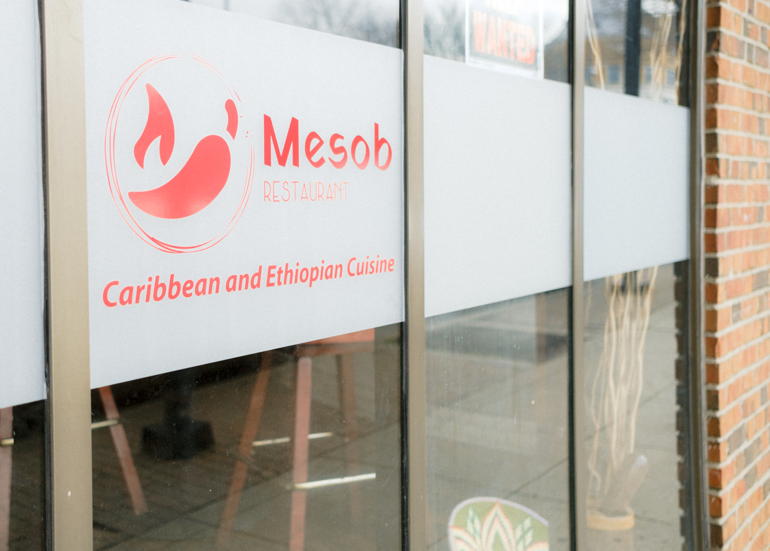 When I first asked Chef Cherven Desauguste where he was from, he said, "Planet Earth." This exemplifies his sense of humor and joie de vivre in terms of cooking and…
In this age of coronavirus, there is only so much cooking a person can bear. Yes, baking can be soothing when you're feeling anxious and cooped up. But let's face…
The coronavirus has changed everything, especially the way we eat. Some of us are cooking more. Many of us are picking up or having food delivered. As I am writing…