The Dish With Ann – Q39
When Chef Rob Magee opened up Q39 at the original 39th street location five years ago, barbeque lovers instantly knew there was a hot, smokin' talent in town. Lines formed outside the restaurant, and the positive online, newspaper, and magazine reviews (Zagat!) piled up higher than five slabs of ribs. But Rob was not just some backyard smoker with a dream of opening up his own joint. This Culinary Institute of America grad had real foodie chops under his belt and worked in some of the finest kitchens across the country. While Rob was an executive chef at the Hilton, in his spare time he put together a barbeque team called the Munchin' Hogs, which won competitions and national championships for more than 10 years. Since he and his wife, Kelly, opened up Q39, this pitmaster created the area's first chef-driven barbeque restaurant with an open kitchen. Said Rob: "I never tire of learning, honing my skill as an explorer of tastes and flavors, devising original sauces and rubs, continuously experimenting, and using only the finest scratch ingredients."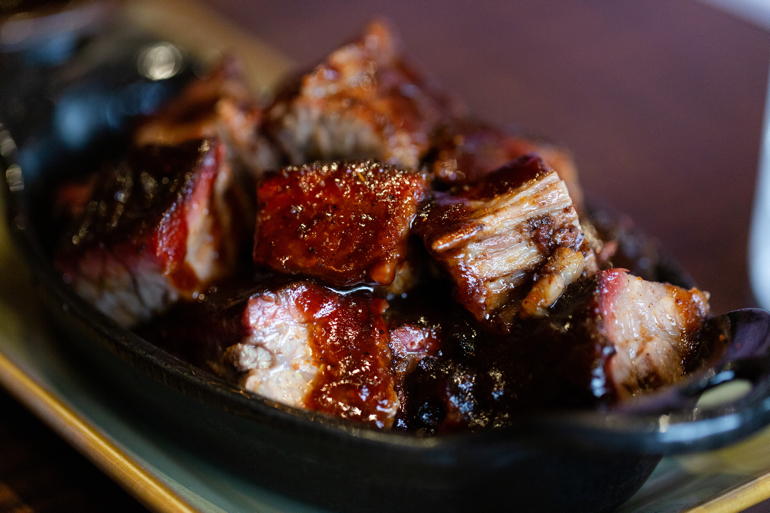 With its urban rustic flair, Q39 has continued to grow and expand under the discerning eyes of Kelly and Rob, adding 52 seats in 2017, along with private dining options and a four-seasons patio. It also has a second location in Overland Park.
We were lucky enough to sample Q39's 15 new menu items, which included specialty share-ables, sandwiches, wood-fired grilled plates, and desserts. But first, we had to start with some of Q39's craft cocktails. Bar Manager Josh Scott mixed up a Berry G. Basil Lemonade, consisting of Lenexa-based Union Horse vodka. This light and refreshing drink went down very, very easily. We were also extremely happy with her Smoke and Stormy, made with Stolen Smoked rum, orange bitters, lime juice, and simple syrup topped with ginger beer.
The dishes were served family style, and while fights did not break out, one had to be fast on the draw to grab a taste of some of the table's favorites. The smoked beef brisket poutine, a dish that has Canadian roots, was a sublime heap of crispy fries, chopped brisket, white cheddar curds, classic bbq sauce, and chives. The buffalo cauliflower wings had so much spicy flavor and is a welcome alternative for vegetarians. While I couldn't resist the chopped salad, with sharp cheddar, cucumber, eggs and pickled onions, the Q Wedge knocked it out of the park, packed with pork belly bacon lardons, oven roasted cherry tomatoes, smoked blue cheese, and smothered in spiced onion straws. The grilled pork belly sandwich had an amazing blend of flavors, with its bacon onion marmalade, sliced Granny Smith apples, and Dijon aioli, nestled between a crispy, toasted bun. The P.B.L.T., a clever twist on an American classic, had savory smoked pork belly, iceberg lettuce, roasted tomato, and aioli. The smoked beef belly dip sandwich, with a thick layer of provolone cheese and horseradish aioli atop a toasted hoagie, also had that wow factor.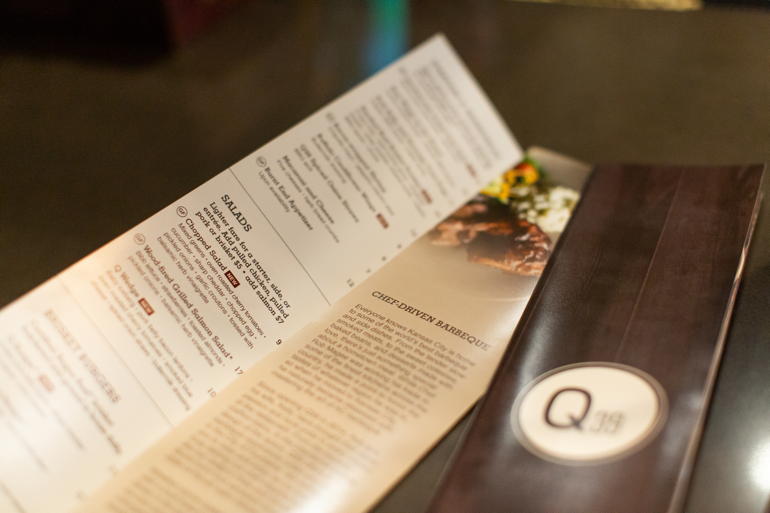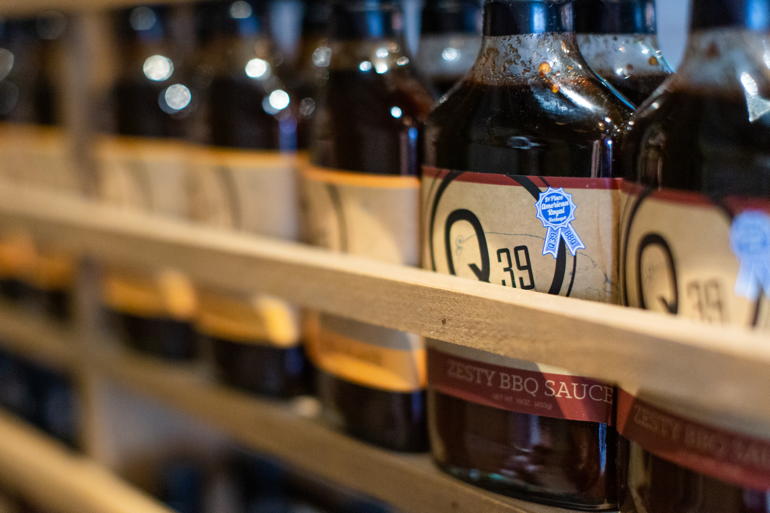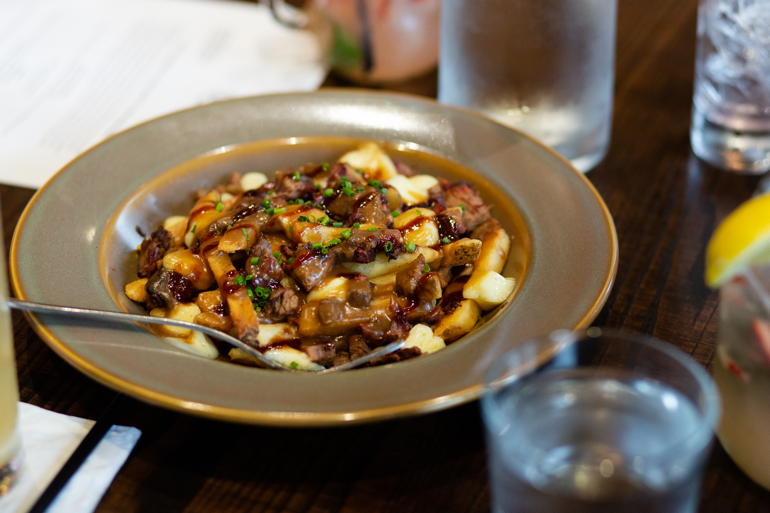 Then it was onto the wood-fired grilled plates. The bbq smoked pork shank, with baked beans and apple slaw, was delicious and rich in flavor, with hints of thyme and rosemary. Other new options are a smoked chicken cassoulet and a beef and pork belly platter. The stand out dessert was the moist and delicious carrot cake with lemon icing (if you still have room for dessert!). The mint ice cream pie was a refreshing finish to all the meaty delights.
What is truly extraordinary is how Q39 is constantly moving in sophisticated culinary directions, while still staying true to its seasoned, smoky roots. Rob is a perfect blend of the championship-winning pitmaster and the classically trained chef, and he continues to bring both continuity and surprises to his Q39 diners.
Q39 Midtown                        Q39 South
1000 West 39th Street                 11051 Antioch Road
Kansas City, Missouri               Overland Park, KS
816-255-3753                            913-951-4500
Also featured in the June 8, 2019 issue of The Independent
Photo Credit: Bailey Pianalto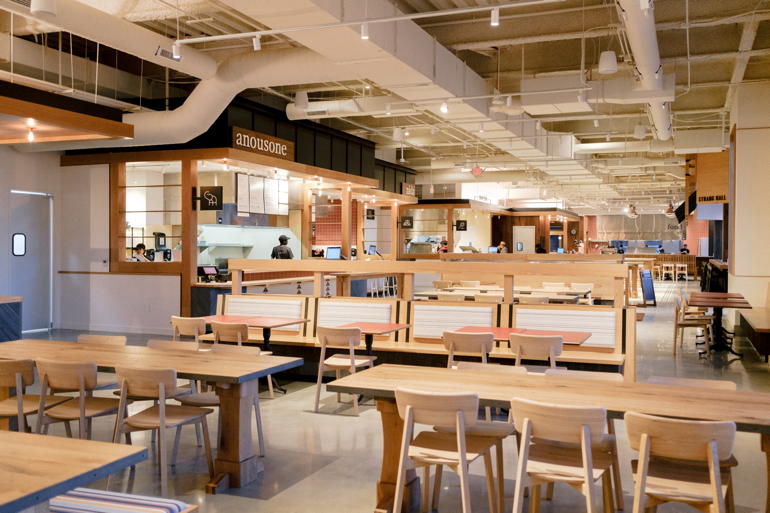 With its Scandinavian sleek and industrial minimalist design, Strang Hall is the cool new chef collective in downtown Overland Park. Named after William B. Strang, Jr., who platted Overland Park…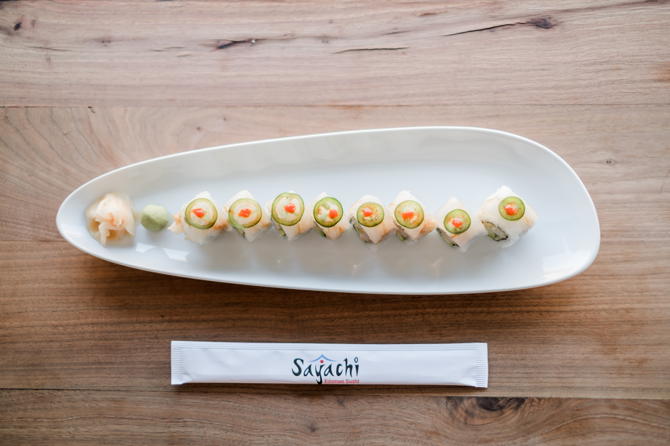 Sayaka Gushi Falcon is the owner of the new sushi and oyster spot, Sayachi, in Brookside, along with her husband, Chef Carlos Falcon of Jarocho fame. She may be one…
One of the joys of living in Our Town right now is the plethora of quality, home grown restaurants that serve farm to table, locally sourced produce, fruit, and meat,…
The cuisine scene in Prairie Village has become even more extraordinaire, thanks to the July move of the already popular French Market into the now-shuttered Pinot's Palette. And the secret…