VOICES OF CLARITY: Choral Foundation's Spanish-language choir gains momentum
Innovation often happens when the right people are at the right place at the right time: and have come prepared. When Leilani Velasco Vaughn applied to join the William Baker Festival Singers, she mentioned in her application that she was fluent in Spanish, had studied vocal music, and had led choirs. During her audition with William, all this became a topic of discussion.
"Bill said to me, I have this dream of starting a Spanish-language choir," said Leilani, a music teacher at Apache Elementary School who earned a bachelor of music education with vocal emphasis from Kansas State University. "And I said, Oh that's wonderful, because I have a dream of being a director. And he said, I think we should work together: Let's talk about this."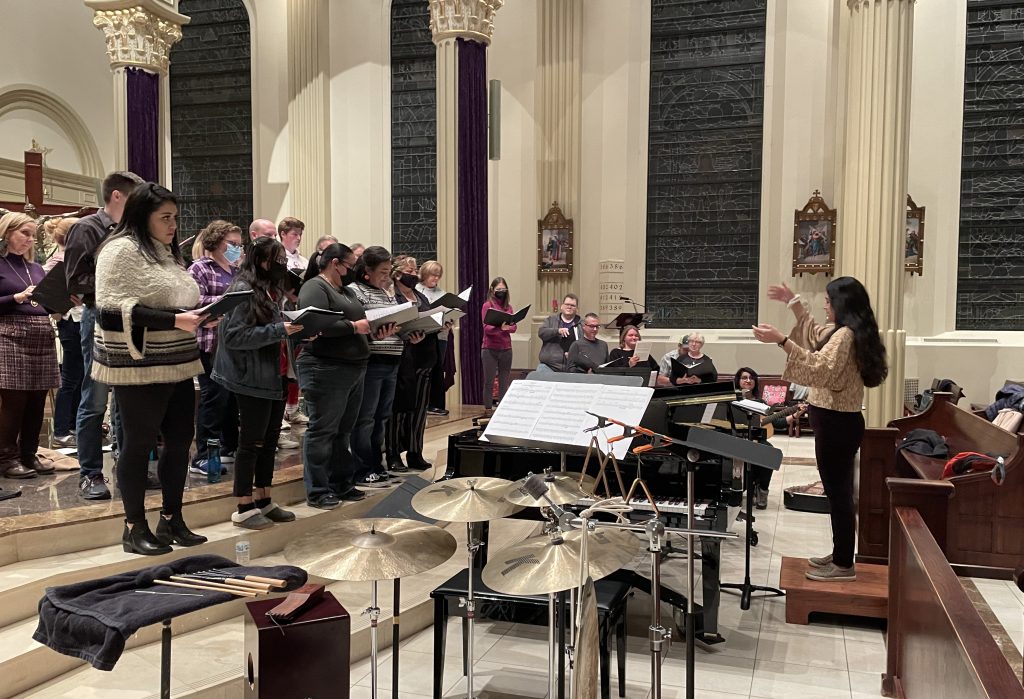 Choral ensembles that sing only in Spanish but are not connected to a church are so rare as to be almost nonexistent. Voces Festivas, established by Leilani in October 2021 under the Choral Foundation's auspices, was a maverick from the outset.
"In the Hispanic culture, SATB choirs don't really exist," Leilani said, referring to the four-part harmonic style that is common to most choirs. "They're not really out there, but the music exists. And man, it's beautiful music."
Leilani and William spent months setting up a plan for building a new chorus, promoting it, and making it a viable part of the community, and Voces Festivas became a reality.
"This is the only choral ensemble of its kind in the Kansas City area," said William, whose Roeland Park-based Choral Foundation already operates 10 ensembles in Kansas City, Atlanta, and Chicago. "The classical music community has all but ignored this population, so there's not really a tradition. … And because there's no model for it, I don't think it's unusual that people don't understand what it is."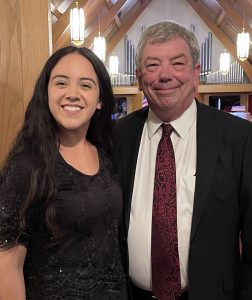 The goal of this new choir is to explore the vast range of Spanish-language choral music that has been published in Spain and throughout the Americas for several centuries, but is still rarely heard in the United States. "People were constantly asking, So is this a church choir? Will we sing every Sunday?" Leilani said with a laugh.
Voces Festivas sings music of Mexico, Colombia, Spain, Argentina, Peru, Venezuela, Costa Rica, and Chile, set to some of the most beautiful poetry in the Spanish language. Its performances will be accompanied by instruments such as pan flutes, bombos, tumbadoras, triangles, cascabeles, cocos, tambores, and guitars. Leilani teaches much of the music through "echoing": Each section hears its line played on piano and then sings it back by ear.
On December 9th at Our Lady of Sorrows Catholic Church, the choir will present its first-ever holiday concert, Navidad con Voces Festivas, a program of traditional tunes arranged for chorus, folk songs, and original compositions from around the world.
One of the choir's goals is "to encourage Hispanics to realize that this music exists," Leilani said, "to help them identify with it and to pull them closer to their culture… and to the music of their heritage."
Along with this comes a desire to engage the entire community with this music, which is often strikingly different from that of the standard Western European canon. "This music has so much 'story,' " Leilani said. "It has different rhythms and different notes and different instruments… that we're trying to bring to light."
Members have a wide range of reasons for taking part in Voces Festivas. "She comes from a very close-knit family," said Myrella Flores, a charter member who also happens to be Leilani's mother.
We spoke recently at Countryside Christian Church in Mission, where the choir holds its weekly Wednesday rehearsals. "When we found out she was starting this choir we said, we will be there to help you," Myrella added. "And now I love it and I don't want to go back."
For Daniel Vazquez, who spent his formative years in Paraguay, singing this music opens "a window into a different time, which becomes alive again… when you're singing with other voices." Non-Latinos sometimes have "a very simplistic view of Latinx or Hispanic culture," he added, whereas this music is "very sophisticated, and at the same time very natural. … It's music that reveals how old our culture is."
For many Latino listeners, the music also provides a nostalgic experience. "I'm thinking about the immigrants, the people who have migrated from their countries… and who have probably not been home for years and years," said Singer Diana Loera. "Being able to bring this music back to them, allowing them to hear it and to say, I remember hearing that when I was little… it's helping people to reminisce."
For Bob Abbott, a non-Latino member who heard about the group from his involvement with the Festival Singers, Voces Festivas brings an important message that "not all music from the last five centuries comes from Western Europe." Choral music is a global phenomenon, and professional choirs sing in multiple languages. Yet Spanish-language music remains a relative rarity.
"What we hope that this music will bring to other people is an understanding that music is universal," Diana said. "And regardless of whether you understand the language or not, there's beauty. … This music gives people an opportunity to go to a different place and time."
Voces Festivas is blessed by the Choral Foundation's vast holdings of choral scores, with some 8,000 works already catalogued, which can be searched by language. "We have one of the largest independent choral libraries in the country," William said, adding that the collection contains "quite a bit of music in Spanish, from Spanish composers and composers of Hispanic heritage." Moreover, the Choral Foundation is "in the business of finding things that are lesser known."
—By Paul Horsley
For tickets to Navidad with Voces Festivas, go to festivalsingers.org/vocesfestivas. To reach Paul Horsley, performing arts editor, send an email to paul@kcindependent.com or find him on Facebook (paul.horsley.501) or Twitter/Instagram (@phorsleycritic).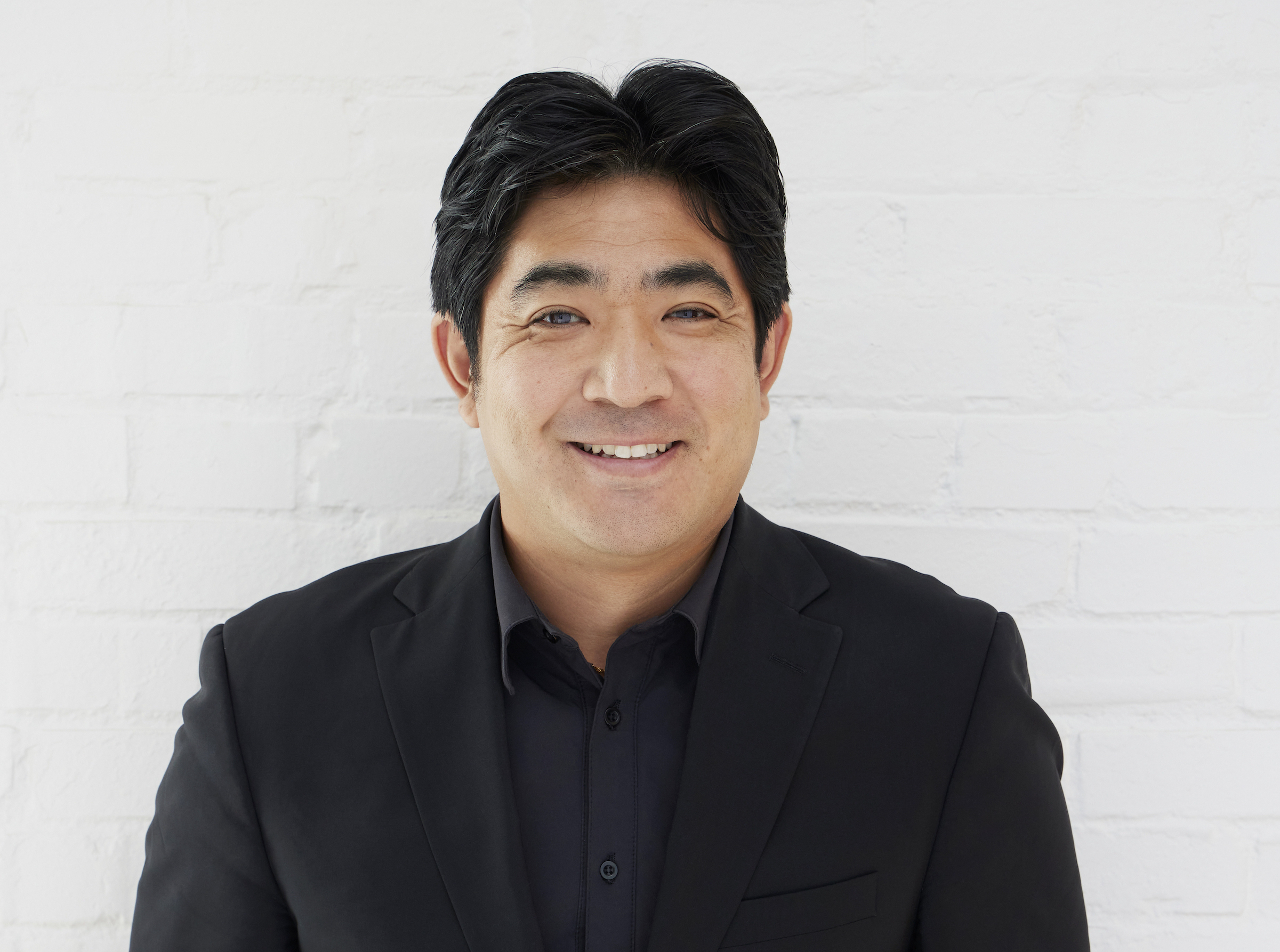 If you grow up in a home with a celebrated pianist for a mother and a world-renowned cellist for a father, there's a pretty good chance you'll at least consider…
There are many roads to a theater career. Andi Meyer prepared for her profession by way of several traditional routes: She studied theater as a teen in North Dakota and…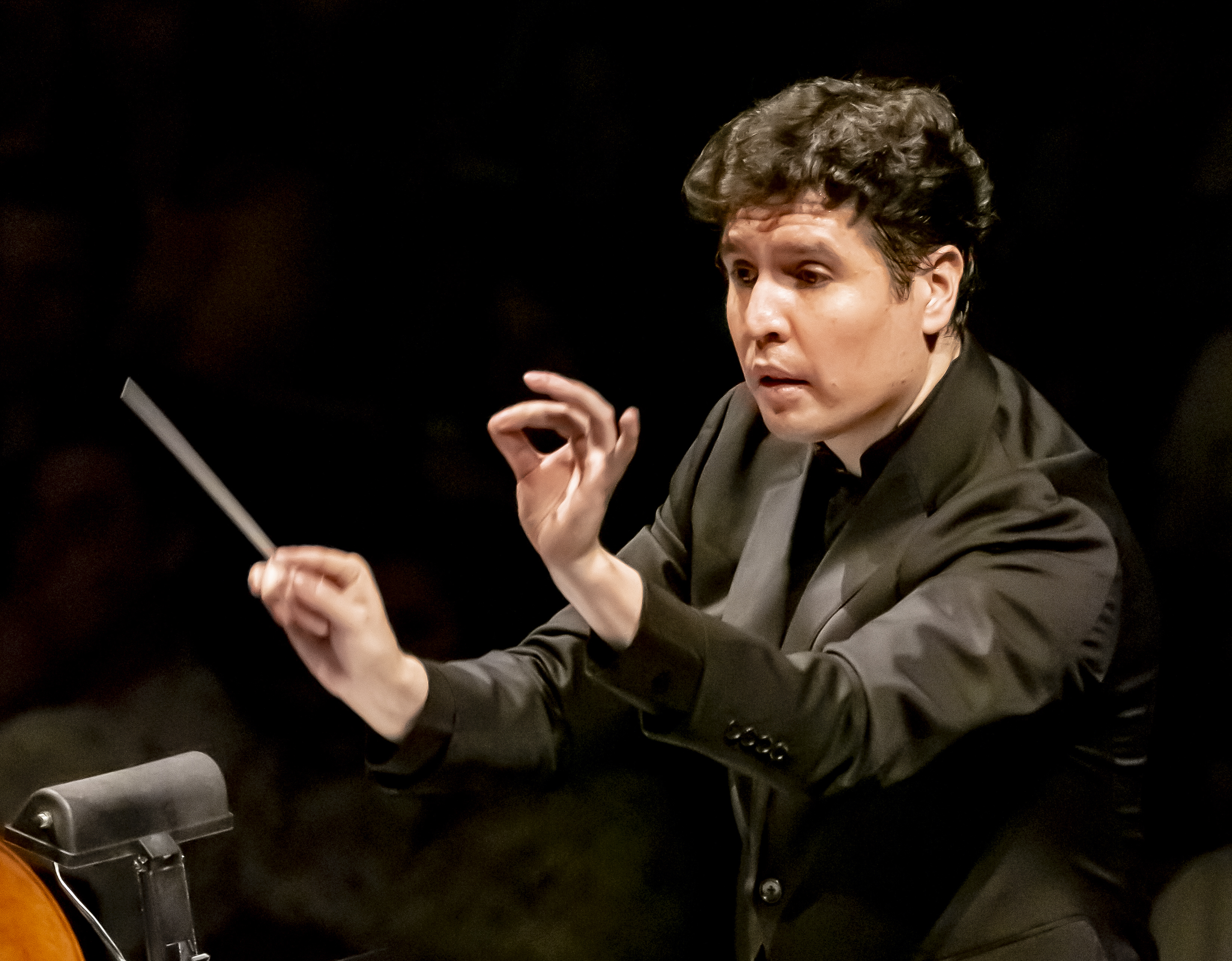 Gonzalo Farias may well be the busiest musician in Kansas City. The Chilean-born conductor, who this fall assumed the post of David T. Beals III Associate Conductor of the Kansas…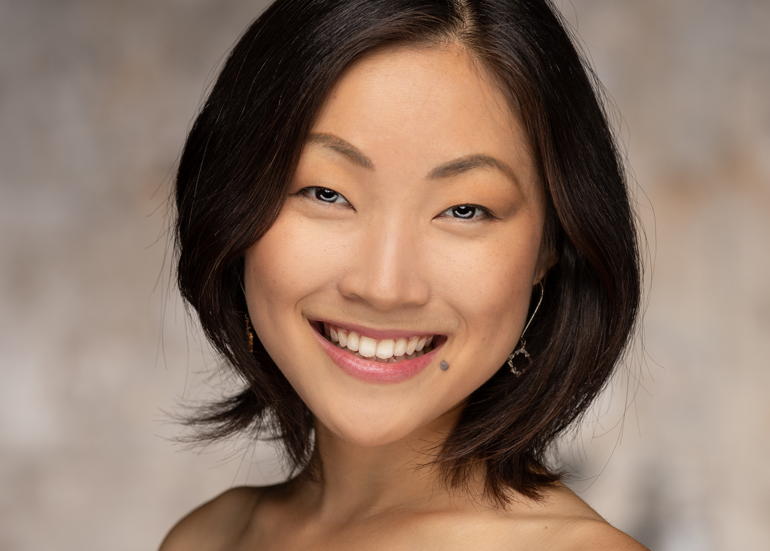 Naomi Tanioka's career path from her native Sapporo, Japan, to Kansas City Ballet might seem like a long and winding road, but in the context of today's dance world it…