WHITHER, BALLET? Season finale presents delights, conundrums, questions
Each spring, the Kansas City Ballet presents a program of mixed repertoire embodying some of the more fascinating trends in contemporary ballet: where dance has been recently, where it stands now, and where it might be headed. This year's program, Bliss Point, which opened May 12th at the Kauffman Center, brought us a deliciously executed trio of works ranging from the witty to the profound, with a final piece that seemed poised between the probing and the near-absurd.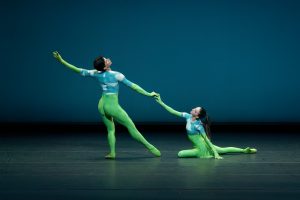 Mark Morris represents, in many ways, some of the most bright-spirited work of American dance, and his choreography continues to delight. Sandpaper Ballet is set to 11 of Leroy Anderson's loopy orchestral works, using the most familiar (the holiday favorite Sleigh Ride) as a pre-curtain opener. Costumed (by Isaac Mizrahi) to look as if they should blend into a landscape of fields and clouds, 25 dancers are placed in strict geometrical shapes, which at times replicate wind-swept corn fields, or dance-hall numbers, or a sort of distinctly American corps de ballet.
Along the way we see a typically Morris-like mixture of unselfconscious balletic movement and modern touches that suit each moment: a limpid pas de deux to the Trumpeter's Lullaby, a Baroque two-step for the Sarabande, a man "kneading" a woman with his feet on the floor (is it a pun?) in the Balladette, and Roaring Twenties pizzazz for the Jazz Pizzicato. The piece runs on a bit: Anderson's music is novel for a while but wears thin. Still, Morris' finale (The Syncopated Clock) is a tour de force of continually moving squares and rectangles that cleverly replicate the inner workings of a clock.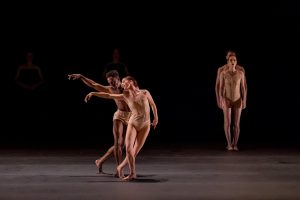 Jirí Kilián's Petite Mort, a solid, serious masterpiece of late-20th-century ballet, seemed less heavy-handed than when it was first presented here in 2018. Kilián has stated that it is a piece about sex, but to me it felt (this time) more like a statement on humanity's aggressive martial tendencies. A minor-key Mozart slow movement (from the Piano Concerto K. 488, played live by Sam Beckett and the Kansas City Symphony) accompanies the first of two sections, in which six men play with fencing foils and six women try to take the foils away from them: or at least to mitigate their potential impact. Kilián's always intricate movements were strikingly sculpted. (Elke Schepers staged this version). They stay in the mind.
The second section, also set to a Mozart slow movement (the elegant Elvira Madigan theme), sends the women gliding around in Joke Visser's ingenious "gowns" (actually just constructed façades), then weaning themselves off the gowns as if it were a liberating act. A stream of pas de deux presents a range of male-female dynamics (from the amorous to the rebellious), imbuing the work's cheerful novelties with genuine emotional depth.
Alexander Ekman's Cacti, originally created for Nederlands Dans Theater 2, is a bizarre and fun-spirited work that initially strikes us as much as a critique of contemporary dance (indeed, of contemporary art in general) as a satire of how we view it. The voice of a critic is heard attempting to "interpret" the dance we are seeing, which is both witty and disconcerting. Members of the Opus 76 String Quartet are embedded in the dance: Beginning upstage, they walk toward us while playing Schubert (Death and the Maiden) and later, Haydn and Beethoven. (Even the cellist plays standing up, probably something that many of us have never seen in our lives.)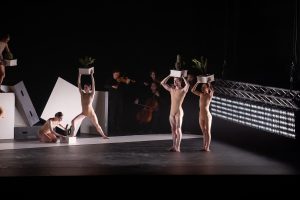 Men and women are dressed identically, to the point at which you are not quite sure who is who. They prank us with combative arm thrusts and faux-Egyptian poses, while white powder flies from their bodies at each slap.
Each of the 16 dancers has his or her own platform on which to stand, to maneuver, to tilt or slide about. At times the platforms are set upright to look vaguely like changing panels, or sauna chambers. At other times the dancers conduct some distant, cosmic band, and of course there are artificial cacti to toy with. Two dancers rehearse a set of moves amidst a narrated conversation about how little of the choreography they can remember precisely.
Ekman's piece is visually as attention-grabbing as anything we've seen recently, even if conceptually it is the music that renders more coherence to the piece than the dance itself: which is willfully all over the place. (The final pizzicato of Beethoven's Op. 59, No. 3, however, is maddeningly not allowed to finish its final descent.) Yet through it all, one could see how much fun the dancers were having, and this joy managed to break through the "noise."
—By Paul Horsley
Bliss Point runs through May 21st. See kcballet.org. To reach Paul Horsley, performing arts editor, send an email to paul@kcindependent.com or go to Facebook (paul.horsley.501) or Twitter/Instagram (@phorsleycritic).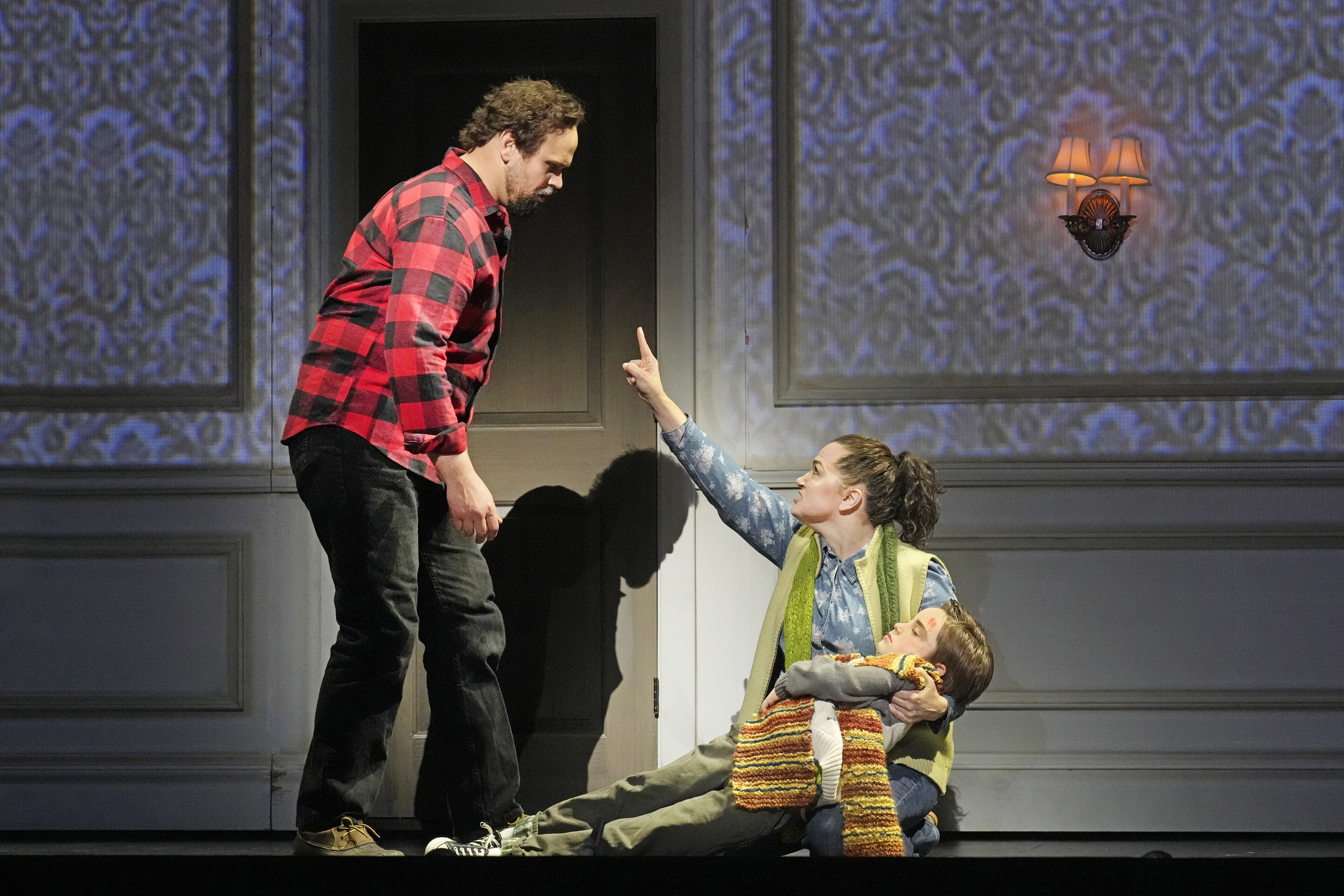 One of the reasons that Stephen King's horror stories are so indelibly etched onto our consciousness is that their macabre ingenuity has lent itself so readily to screen adaptation. Far…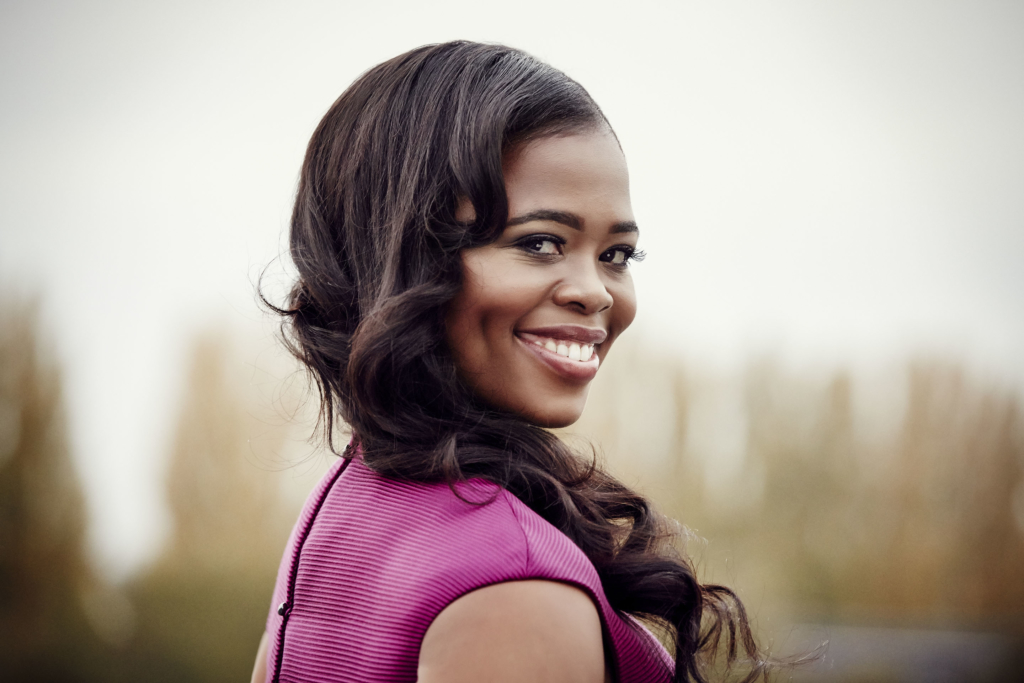 Just about everybody who is anybody has appeared on the Harriman-Jewell Series. Or so it seems these days, 58 years after the Series was founded by two William Jewell College…
Dance is live theater, and thus every performance of a work of choreography differs from every other. Standard works evolve from year to year, as well: Since 2015, when Devon…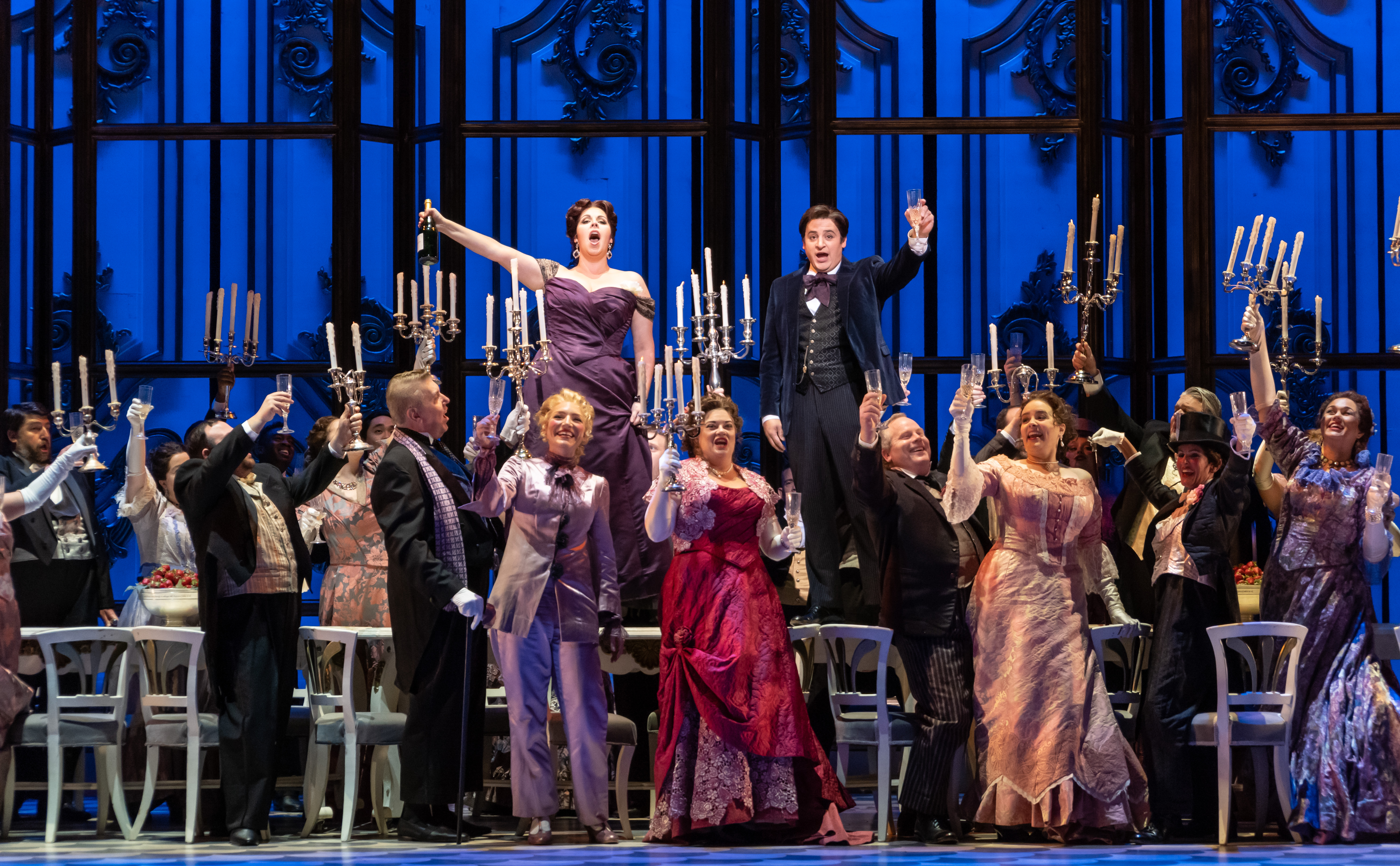 La traviata continues to fascinate us some 170 years after its inception partly because it presents the viewer with no clear-cut heroes or villains. Its principle characters are a lot…